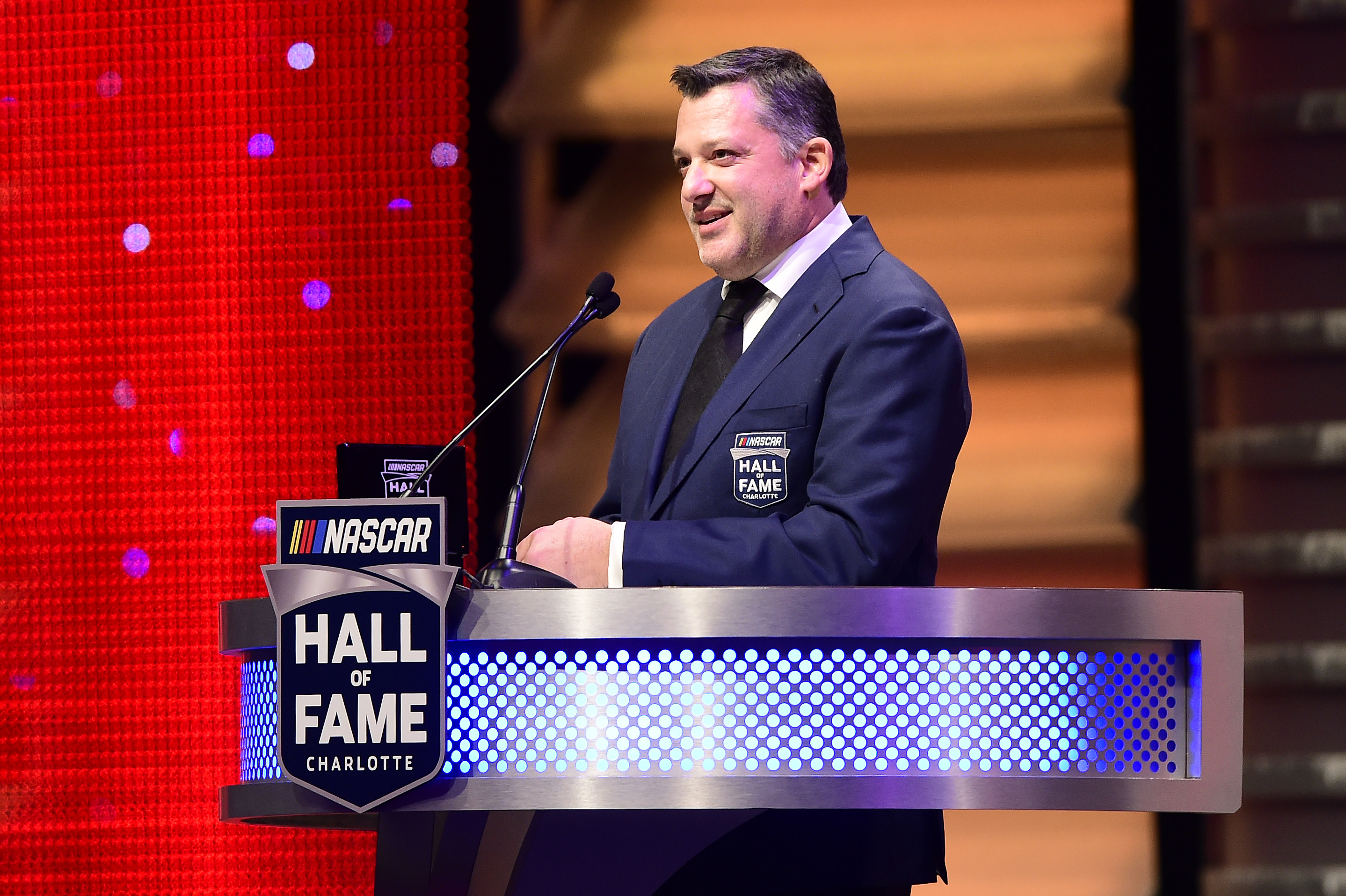 Tony Stewart Once Had an Impressive Off-the-Track Performance He Later Called the 'Greatest of All Time'
Tony Stewart had an impressive off-the-track performance back in 2012.
Tony Stewart won a lot of NASCAR races in his time. During his 19-year run in the NASCAR Cup Series, Stewart collected 49 victories. He probably could have added some more hardware to his collection had he gone into acting. Stewart recalled a post-race interview he did that would likely have gotten him an Oscar for his acting skills.
Tony Stewart's Hall-of-Fame NASCAR career
During an 18-year run in the NASCAR Cup Series, Tony Stewart was one of the best. The fiery Stewart, nicknamed Smoke, collected three Cup Series titles, winning in 2002, 2005, and 2011. He later added another championship as an owner with Kevin Harvick driving in 2014.
In his 618 Cup Series races, Stewart finished in the top 10 308 times. He racked up 49 victories. He ran his first race in 1999 at the Daytona 500, where he was in the running until car problems proved costly and he finished 28th. Stewart earned his first Cup Series win at the Exide NASCAR Select Batteries 400 in Richmond.
Stewart was named the Richard Petty Driver of the Year in 2002, 2005, and 2011. He was inducted into the Motorsports Hall of Fame of America in 2019. Last year, Stewart was inducted into the NASCAR Hall of Fame.
Stewart's sarcastic interview in 2012 was classic
Although Tony Stewart didn't have one of his best performances on the track at Talladega back in May of 2012, he shined in the post-race interview. Stewart finished in 24th place that day but put on a show to the media afterward. It was an interview performance that certainly would have taken first place as The Oscars.
During the interview, Stewart showed his impressive acting skills. He fielded questions and answered them with a straight face, even though his answers were completely sarcastic.  "I'm just sorry we couldn't crash more cars today," he said, according to USA Today. "We didn't fill the quota for Talladega and NASCAR.
"Honestly, if we haven't crashed at least 50 percent of the field by the end of the race, we need to extend the race until we crash at least 50 percent of the cars. It's not fair to these fans to not see any more wrecks than that, any more torn-up cars. I mean, we still had over half the cars running at the end, and it shouldn't be that way. I had a blast. It would have been a lot more fun if I could have gotten caught up in one more wreck. If I would have done that, it would have been perfect."
Stewart gives props to his own interview
Back in 2016, Tony Stewart was prepping to make his final visit to Talladega Superspeedway as a driver. The trip sparked memories of his classic 2012 interview. Even Stewart was impressed with the way he handled his sarcastic comments with a straight face.
In a 2016 USA Today story, Stewart said he was still hearing about the interview even though it had taken place four years earlier. He even said he went back to check it out and gave himself an A-plus for his performance.
"I had to look at it a couple times this week myself, just to remind myself how good of a job I did on that one," Stewart said. "It was the greatest of all time, I have to admit."