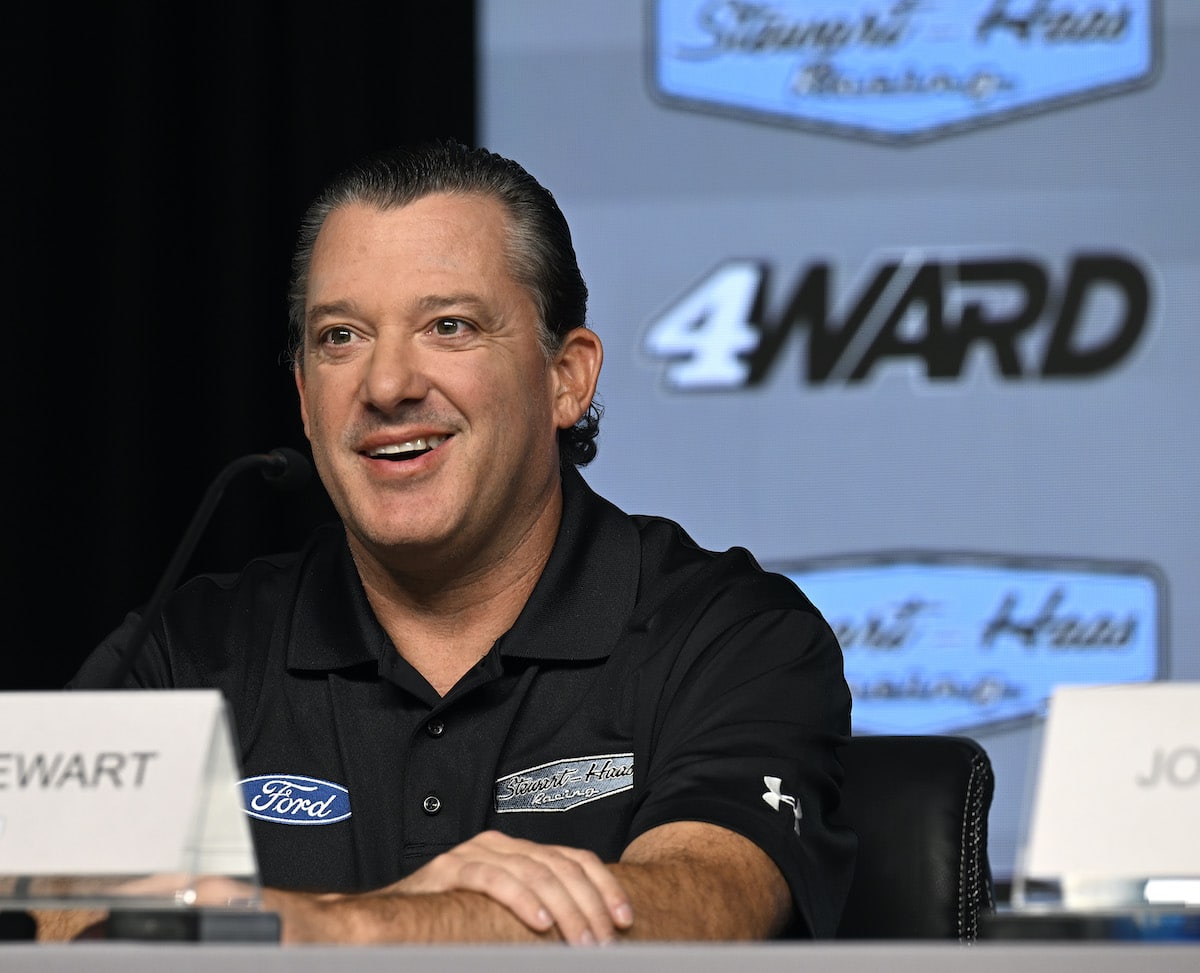 Tony Stewart Reviews Some of His Most Memorable Media Moments With Chase Briscoe in a 'Training Session,' and It's Pure Comedy
Tony Stewart had many memorable interviews in his NASCAR career. He reviews some of the best with Chase Briscoe and it's absolutely hilarious.
Tony Stewart has never been one to shy away from sharing what's on his mind. Throughout his career, the three-time Cup Series champion candidly shared his thoughts with the media on a variety of topics. However, there were multiple occasions when reporters asked the NASCAR Hall of Famer bizarre, odd, and, yes, sometimes stupid questions. And each time, Stewart delivered a response. 
This week, Stewart-Haas Racing shared a video on YouTube with the team co-owner in a "media training" setting with driver Chase Briscoe, where the pair revisited some of those most memorable moments. And it was pure comedy.
Tony Stewart responds to question about no wrecks and Dale Jr. tries to hide his reaction 
There's an old saying — ask a stupid question, get a stupid answer. During Stewart's racing career, he mastered the art of providing ridiculous answers to ridiculous questions. That was the case in a post-race press conference at Richmond in 2012.
"This is the third straight race there's been no wreck," the reporter began. "I mean, does that amaze you? Have you ever seen anything like that?" 
"David, only you'd think of stuff like that," Stewart answered, as Dale Earnhardt Jr., sitting next to him, put his hands to his mouth to hide his reaction. "I don't know about what you think of during the race, but I try to figure out how to win the race and make my car go fast. I don't sit there and think about that petty crap that you think of. Glad to see you're back to form."  
In reviewing that interview, Stewart pointed out how the reporter asked a bad question. Briscoe agreed. 
"So what do you do when you get a bad question?" the team co-owner asked his driver. 
"You give a great answer like that," Briscoe said. 
"You give them a really great bad answer," Stewart replied. 
The driver then asked if Stewart was aware of Earnhardt's reaction to the exchange with the reporter. 
"Absolutely," he said. "I was actually trying to get him to laugh, laugh and he just never did."
Stewart delivered one of most memorable NASCAR interviews and included a polite ending
A year later, at Auto Club Speedway, Stewart had one of his most memorable interviews with the late Steve Byrnes when talking about an incident with Joey Logano. 
"Tony, what angered you at the end of the race?" Byrnes asked as he walked alongside the driver. "What did you take issue with?"
"What the hell do you think I was mad about? Dumb little son of a b**** runs us clear down to the infield. He wants to b**** about everybody else. He's one that drives like a little b****! I'm gonna bust his ass."  
"Thanks, Tony," the veteran reporter concluded the interview. 
"Thank you," the driver responded.
Back in the training session, Stewart reviewed the interview with Briscoe.
"So there. Guy asked legitimate questions," he said. "He has to ask the tough questions. Gave him the answer. Is polite at the end and I felt like I needed to extend the the same courtesy."
There are a couple of other exchanges in the video, including one when a New York Times reporter asked if NASCAR was too safe. Stewart covered his face while watching the old clip.
There's another old saying — there's no such thing as a stupid question. Tony Stewart disagrees.
To stay up to date on the latest happenings in NASCAR, including breaking stories you can't find anywhere else, follow Kyle on YouTube and Twitter.