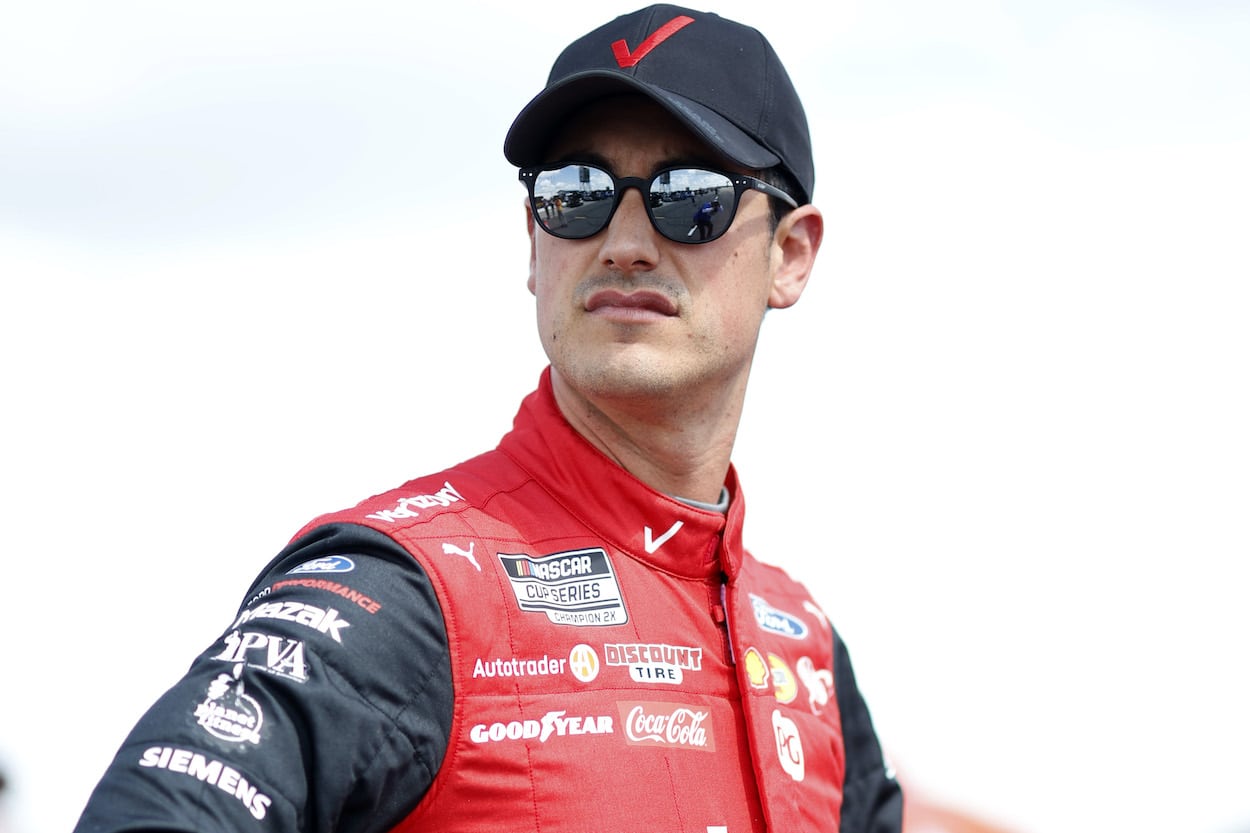 Furious Joey Logano Goes Absolutely Ballistic in a Profanity-Laced Tirade at Pocono Directed at a Group of Unsuspecting Workers
Joey Logano goes absolutely ballistic at Pocono in a profanity-laced tirade directed at a group of unsuspecting track workers.
Joey Logano admitted earlier this year that he's two-faced in response to comments made by Kyle Busch. The Team Penske driver acknowledged he is aggressive and can be an assh*** when the helmet is on but has the ability to turn off the switch when off the track.
On Sunday at Pocono Raceway, the two-time Cup Series champion showed another side when he went absolutely ballistic, including a profanity-laced tirade, after being involved in a wreck to start Stage 2. Interestingly, his anger wasn't directed at another driver but instead at the tow truck workers tasked with bringing his severely wounded car back to pit road.  
Joey Logano goes ballistic at unexpected group of workers
Joey Logano was impressive in Stage 1 at the Tricky Triangle, taking over the lead from pole-sitter William Byron on Lap 11 and never relinquishing it through the end of the stage. 
Unfortunately, any good feelings about his No. 22 car came to an abrupt halt just after the start-finish line to begin Stage 2 when Michael McDowell aggressively pushed from behind around the same time Tyler Reddick, who was in front to the right, came down. With the combined contact, the Penske car wiggled to the left before getting sideways, moving up the track for a glancing blow on the outside wall, and sliding backward down the track. As noted on the NBC broadcast, the car suffered minimal damage. 
However, that was all about to change when the tow truck arrived. That's when the driver got into a heated discussion with the crew about the towing of his car, and it was all captured over the in-car camera audio. 
"What's the f****** truck doing? What's the truck? Who the f*** is that? Come here!" Logano ordered a person standing nearby.
"What do you want?" the person asked the driver.
"Push this thing out!" the Team Penske driver replied.
"We're pushing," the voice echoed.
There are a few seconds of inaudible communication.
"Come here. Come here. I can't drive it," a calmer Logano said. "I need a tow truck. Tow me in. Pick it up!" the driver commanded. 
"Lift it up," the voice repeated.
"Pick it up," Logano confirmed. 
"Goddamn it! Stupid sons of b******!" the frustrated driver said to himself.
"We're going to hook you from the rear and take you to pit road," the worker informed him. 
"Yeah, that's what I've been asking for," Logano replied. 
"God. Stupid sons of b******," the driver repeated his frustration with the situation seconds later.
Logano addressed the damage to his car with the media
After making the lengthy trip back to pit road, Logano visited with the media and was asked if there was any damage to his car other than the tires before he was towed back.
"Yeah, there was some damage from hitting the wall. The left-rear toe link. I think some control arms also got bent, but towing the car two miles didn't do any favors, for sure," he said. "It just doesn't make any sense. We've been fighting these cars for two years now with four flat tires when a car spins out, and you get this long, horrible ride back. It's rough. Your head is bouncing around in there. 
"It's stupid. It's just really dumb that we can't just put four tires on a truck. I saw a whole bunch of them earlier today. I did something for Verizon and I saw at least 25 trucks. If we can put four tires on one of them with a jack and an impact that can just change the tires and let us come back, instead of dragging the car two miles around the racetrack, it's just stupid. 
"It's not fun for anybody. The poor guy driving the tow truck. The poor driver getting his head knocked around for two miles and the poor team that's got to fix the underbodies of these things after they get dragged around. It's dumb. I don't know. It is what it is, but it seems like it has a very easy fix. I've brought this up before, but I guess it doesn't matter."
Talks about past incident with Kevin Harvick and keeping it from the kids
Just a couple of years ago, Logano admitted becoming a father forced him to rethink his approach and intentionally try to reduce his number of appearances on NASCAR Race Hub's "Radioactive," which features drivers and their teams sometimes using colorful language over the team radio.
Coincidentally, this past weekend at Pocono, Kevin Harvick presented a check to Logano for his foundation, the money coming from proceeds raised from the sale of Harvick's "I Wear the Firesuit in the Family" t-shirts, a phrase the driver said about Harvick's wife following a dispute with him at the same track in 2010.
"It's great to see what you guys did with it because, especially looking years down the road, for me, that you guys were able to make a positive out of it, out of our little feud that we had," Logano said. "We got some good jokes out if it and highlight films forever. And I don't think they have any idea what this is about, the kids." 
"No, that's good," Harvick said.
"I'm trying not to let them see this one," the Penske driver responded. 
"Well, I will give you some bad news, though," the 2014 champion said. "There's this thing called YouTube and my son comes in and he says, 'Dad, what happened here?' And I say, 'Well…' And I have to explain."
Logano will likely have some explaining to do years from now about that angry outburst he had at Pocono with a group of tow truck workers.
To stay up to date on the latest happenings in NASCAR, including breaking stories you can't find anywhere else, follow Kyle on YouTube and Twitter.