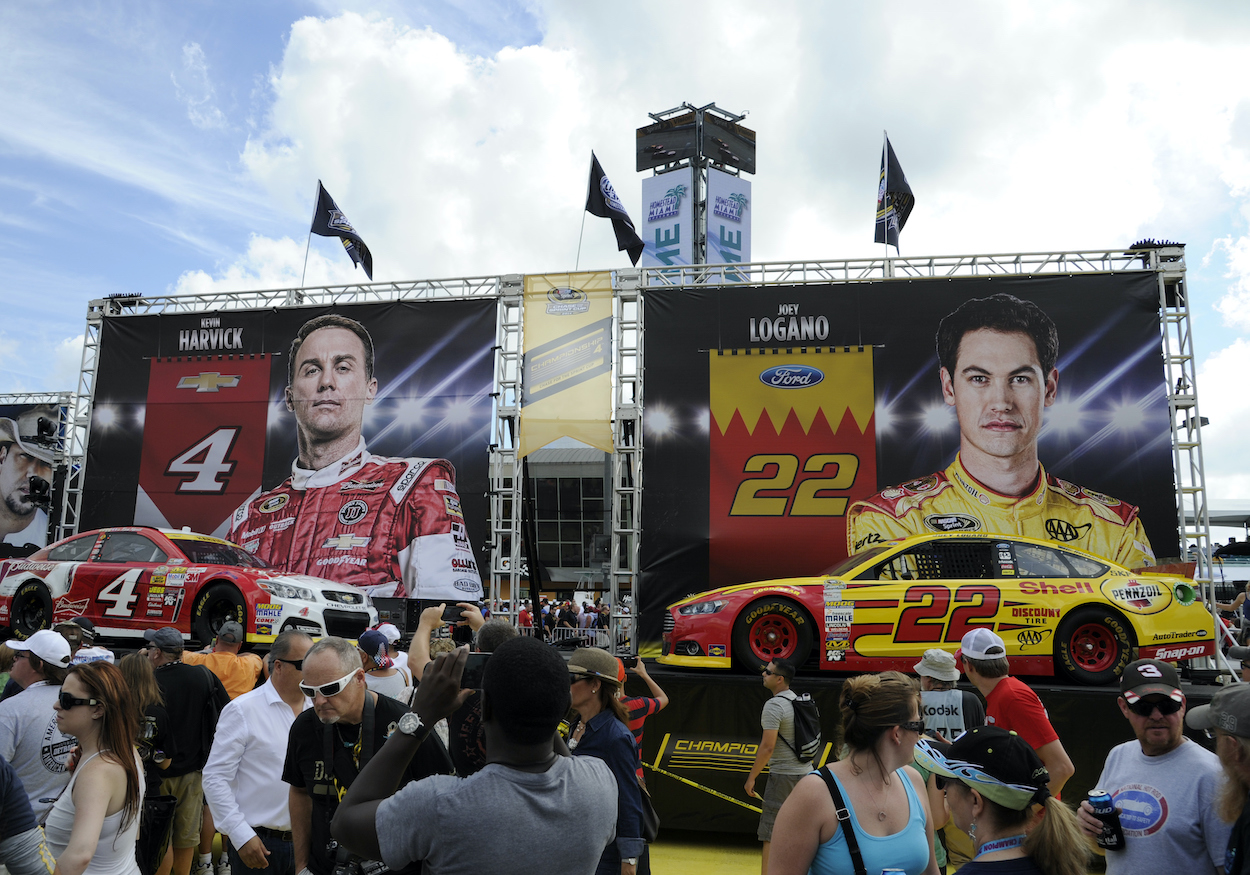 The Bitter NASCAR Rivalry Between Joey Logano and Kevin Harvick Once Went Too Far: 'His Wife Wears the Firesuit in the Family'
Joey Logano and Kevin Harvick used to have one of NASCAR's biggest rivalries, but Logano took the beef too far by mentioning Harvick's wife.
Joey Logano and Kevin Harvick used to be bitter rivals on the NASCAR Cup Series circuit. They've gone bumper-to-bumper numerous times on the race track over the past decade, which has resulted in some heated exchanges on pit row. In one instance, Logano took the beef a little too far by insulting Harvick and his wife in the same sentence. But even after all their arguments in the cutthroat sport that is NASCAR, Logano and Harvick have squashed their beef and are surprisingly good friends today.
Joey Logano and Kevin Harvick used to have a heated NASCAR rivalry
There's no shortage of NASCAR beefs in the Cup Series, and that's been the case ever since auto racing began. In a sport with such high speeds and even higher stakes, it's not hard to find a rivalry on the racetrack.
One of the most famous rivalries over the past 10 years has been between Joey Logano and Kevin Harvick. Their beef began in 2010, but they've engaged in multiple run-ins on the track and verbal arguments on pit row.
In 2015 at the Sprint Unlimited at Daytona International Speedway, the two drivers got into a heated exchange after Logano nudged Harvick's No. 4 car with two laps remaining in the race.
"He's just Kevin," Logano said after the race. "He's an instigator, right? It's the same thing he is every other time he talks to someone. It's the same old crap. It just happens all the time. It's no big deal."
"He thinks he was helping, but you can't just drive somebody straight in the corner into the fence," Harvick said. "He kind of did the same thing to me at Talladega. I told him, 'The karma train is coming after you.' And it bit him right in the [butt]. … I just didn't appreciate just getting straight drove into the wall."
But the worst of the rivalry happened five years prior.
Logano took the rivalry too far by bringing in Harvick's wife
The Joey Logano-Kevin Harvick feud can be traced back to Pocono Raceway in 2010. During the Gillette Fusion ProGlide 500, Harvick nudged Logano's No. 22 car from behind and sent him spinning out of the race. After the dust settled, Logano angrily confronted Harvick in the pits and initiated a scrum between the two teams.
Logano was interviewed after the dust-up, and he took an unwarranted shot at Harvick and his wife.
"I don't know what his deal is with me, but it's probably not his fault, you know, his wife wears the firesuit in the family and tells him what to do," Logano said. "I don't know what I've ever done to piss him off, but he's apparently stupid."
Joey Logano and Kevin Harvick have since squashed their beef
Amazingly, Logano and Harvick have settled their differences over the last few years and are actually considered good friends today. They both understand that racing is a temper-spiking sport, and all they both want is to win.
"Kevin and I, actually we are friends now," Logano said in 2017. "We get along good actually. Believe it or not, I know that's probably surprising to everyone in here, but there have been multiple times throughout speedway racing that we've ended up working together.
"Obviously we've had our differences because we both are hard racers," Logano continued. "That's what it's going to be. We both want to win really bad, and we both do what we've got to do to win. Obviously, we're not going to see eye to eye on some things in the past. But that's in the past, and I respect him as a race car driver. I believe he respects me as a race car driver. We have the same goals, and we really kind of go through things the same way."