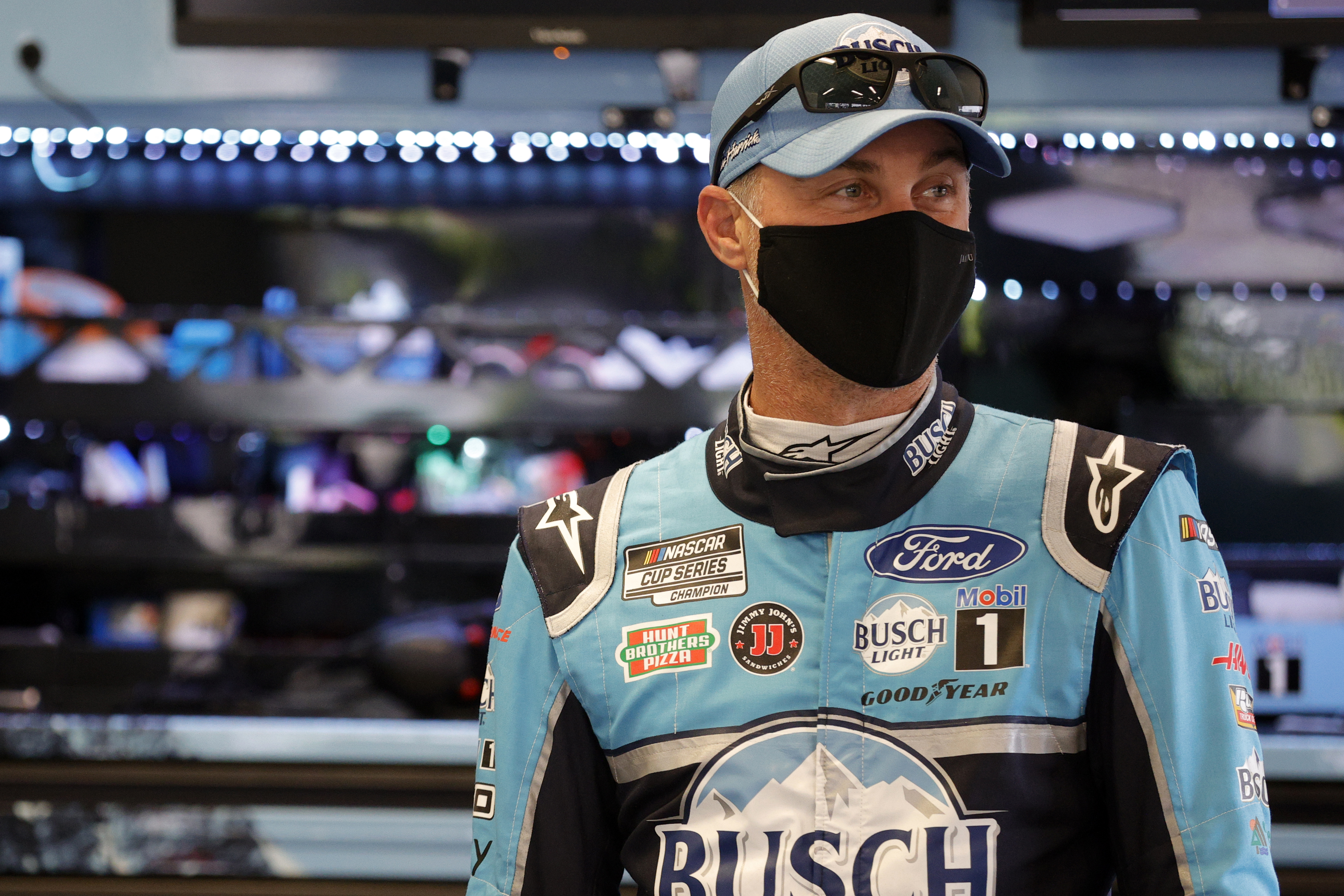 Kevin Harvick Sends Strong Message to NASCAR and His Fans Are Thrilled
At 45 and the oldest Cup Series driver, many wonder when Kevin Harvick plans on retiring. He answered the question before the Daytona 500 and sent a message to his competition.
Kevin Harvick has been driving with NASCAR for more than 25 years. Now 45, and the oldest driver in the Cup Series with Jimmie Johnson's departure, the question of retirement has shifted to Harvick. The 2014 Cup Series champion was asked about it during the pre-race show of the Daytona 500 and he sent a strong message to his NASCAR competition when he answered the question. 
Kevin Harvick's successful NASCAR career
After making his NASCAR debut with the Truck Series in 1995, Kevin Harvick joined the Xfinity Series in 1999, and during his first season, he collected 16 top-10 finishes, three wins, and earned Rookie of the Year honors.
During the 2001 season, Harvick intended to run a limited Cup Series schedule. That all changed when Dale Earnhardt tragically died in the Daytona 500. Harvick took over the following week and drove the renumbered No. 29 Chevrolet. 
Three weeks after Earnhardt's death, Harvick won the Cracker Barrel Old Country Store 500, narrowly edging out Earnhardt's rival Jeff Gordon for his first Cup Series victory. He won a second time that season in Chicago. 
In 2014, Kevin Harvick reached the pinnacle of his career, winning five races and, more importantly, winning his first Cup Series title. Since his championship, Harvick has one second-place, three third-place finishes, and a fifth-place finish in 2020.
Retirement has been a topic of discussion for years 
Despite Kevin Harvick's consistency, finishing near the top of NASCAR in the season-ending standings the last six years with almost 30 wins, he's been dogged by retirement questions for years.
In 2019, Harvick was questioned about taking off the helmet one final time. Speculation swirled that he might be headed to the broadcast booth to replace a retiring Darrell Waltrip. 
"I'm not getting out of the race car," Harvick, 43, said in March 2019 at Texas Motor Speedway. "I feel really comfortable with where I'm at, in the race car, where my home life is. I feel fairly confident that being a part of TV side of things is something I want to do in the future but it's not going to happen in the next couple of years, I can tell you that. We have a lot of things that are going really well; the race car is one of them. There's no way that happens."
Kevin Harvick sends message to NASCAR and his fans are happy
Kevin Harvick was true to his word in 2019 when he said there was no chance he was leaving for the broadcast booth. With 13 wins in the last two seasons, he's proven, despite his age, there's been no decline in his skills or level of success. It's the same description the football world was making about Tom Brady a week ago.
During the Daytona 500 pre-race show, Chris Myers brought up Brady winning the Super Bowl across the state at age 43 last Sunday. He asked where Harvick viewed his own career.  
"I'm happy where I'm at. Everything's going good right now. We have got a great team and a great organization that supports everything that we do. So, why not? Let's just go out and keep racing," he said emphatically. "Everybody wants to keep putting the retirement talk — no matter who it is — into the equation. And we're just here to race and not given any indication of not racing."
Those latest comments indicate Kevin Harvick isn't going anywhere anytime soon and send a strong message to the competition since he signed a new deal with Stewart-Haas Racing in February 2020 that lasts through 2023.