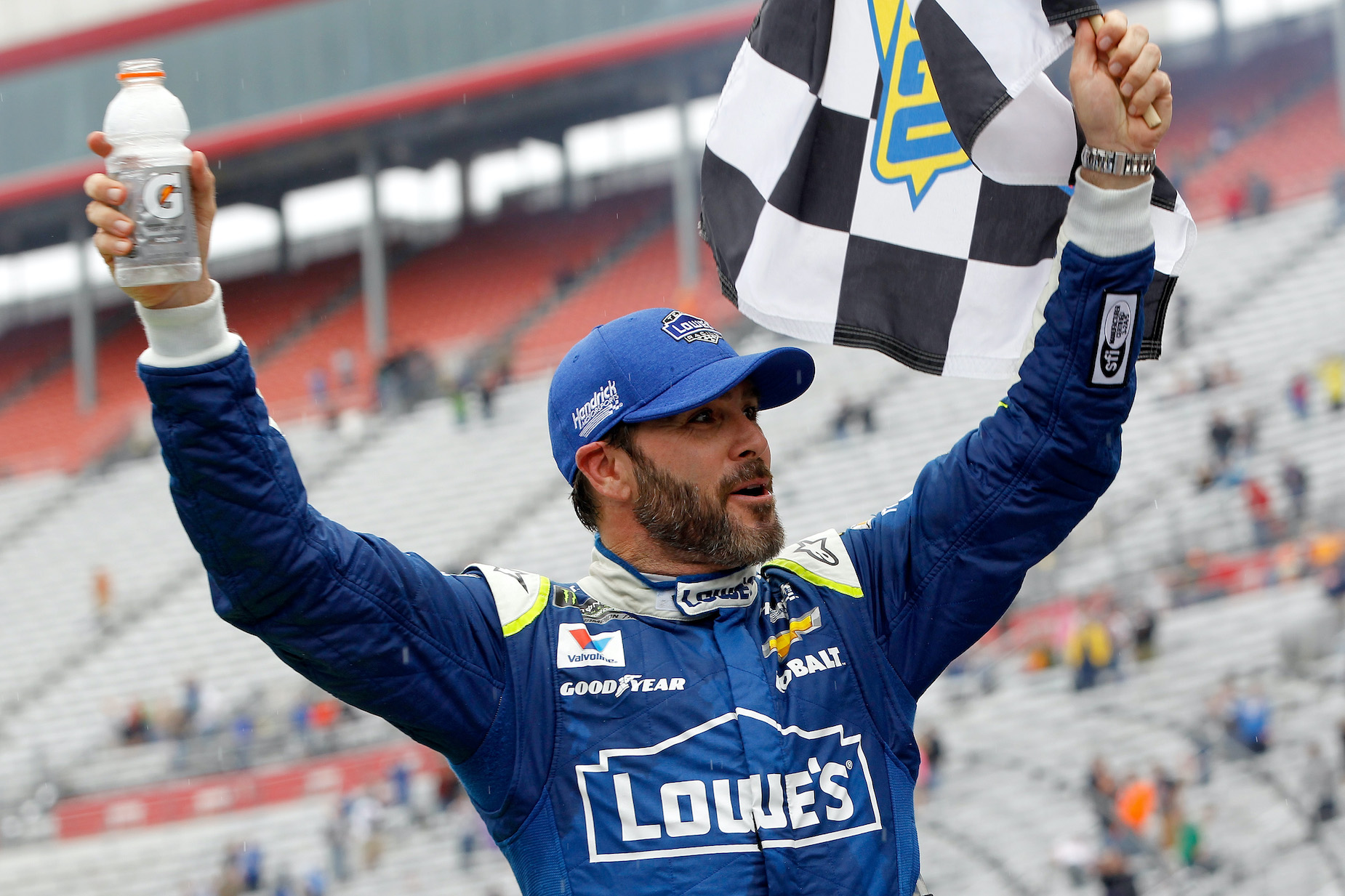 Jimmie Johnson Created a Classy Tradition that Binds NASCAR's Cup Series Champions Together
Not only did Jimmie Johnson win seven NASCAR Cup Series titles, but he created a classy tradition to connect current and future champions.
Every sport has its own special traditions honoring champions. After winning the Super Bowl, for example, the game's MVP usually finds his way to Disney World with the Lombardi Trophy. In the NHL, every member of the Stanley Cup-winning team gets to spend a day with the trophy. In the world of NASCAR, Cup Series winners can thank Jimmie Johnson for creating a tradition of their very own.
During his time behind the wheel, Jimmie Johnson has done more than his fair share of winning. With that in mind, the motorsports legend decided to start his own tradition in 2011, binding NASCAR's Cup Series champions together with a classy gesture.
Jimmie Johnson knows a thing or two about winning NASCAR titles
When you think of NASCAR royalty, names like Earnhardt and Petty are probably at the top of the list. Jimmie Johnson, however, has proven himself more than worthy of being one of motorsports' biggest stars.
After starting out in off-road racing, Johnson eventually transitioned into stock cars. He raced in the American Speed Association in 1997 and joined NASCAR's Busch Series the following year; in 2002, he made his Cup Series debut driving for Hendrick Motorsports.
Johnson adjusted pretty well to the competition, finishing second in overall points during the 2003 and 2004 campaigns. That success, however, was only the beginning.
In 2006, Jimmie Johnson finally broke the seal and clinched the Cup Series crown; that would start a run of five consecutive titles. He also claimed the top spot in 2013 and 2016, giving him record-tying seven championships.
Creating a NASCAR Cup Series championship journal
During his time on the NASCAR circuit, Jimmie Johnson spent plenty of time as the Cup Series champion. While he was sitting on top of the heap, however, he came up with an idea to make claiming the top spot even more special.
"After winning a few championships, I was curious why there wasn't something passed down from champion to champion," Johnson wrote in a 2017 Instagram post. "I chatted with [NASCAR Vice Chairman] Mike Helton about it, and he gave me the idea of a Champions Journal."
The idea of the journal is that each Cup Series champion receives the book after they claim the crown. Then, when their reign is over, they'll write a message inside and pass it to the new top dog.
The tradition began in 2011 when Johnson gave the journal to Tony Stewart. Since then, it's changed hands according to plan at the end of each season.
Jimmie Johnson began the Champions Journal with a classy message
Jimmie Johnson didn't just create the NASCAR Cup Series Champions Journal, though. He also had the distinction of writing the book's first message; it turned out to be fittingly classy.
"It's hard to believe something like this journal wasn't done before," Johnson wrote, according to NASCAR.com. "I thought it would be a great tradition to start between champions, and I'm honored to be the first entry. My thought is the outbound champion writes a letter to the inbound champion. From there, the champ keeps the book until the NASCAR awards ceremony and then passes it along."
While we don't know what other drivers have written, the tradition is still going. With each passing season, the journal will carry additional notes and become a bigger and bigger piece of NASCAR history.
Over the years, Jimmie Johnson has done just about everything possible behind the wheel. Creating the Champions Journal, however, is still a pretty cool tradition to leave behind.