Joey Logano Flips Script and Surprisingly Agrees With Kyle Busch Comments That He Drives Like an 'Assh***' and Is 'Two-Faced'
Joey Logano rubs a lot of drivers the wrong way, as evidenced by consistently being voted "most frustrating to race against" in the informal annual survey by USA Today of Cup Series drivers. The new two-time champion has made it clear in the past that he's not at the track to make friends but to win. It's worked pretty well thus far.
The sport's other active two-time champ, Kyle Busch, has had his share of run-ins with the Team Penske driver and probably been the most outspoken about his dislike for the aggressive style. The Richard Childress Racing driver reiterated those feelings over the weekend in LA following the Clash at the Coliseum when he called the No. 22 driver an "assh***" and "two-faced." 
Logano has responded to Busch and, surprisingly, completely agrees.
Joey Logano spins Kyle Busch at Clash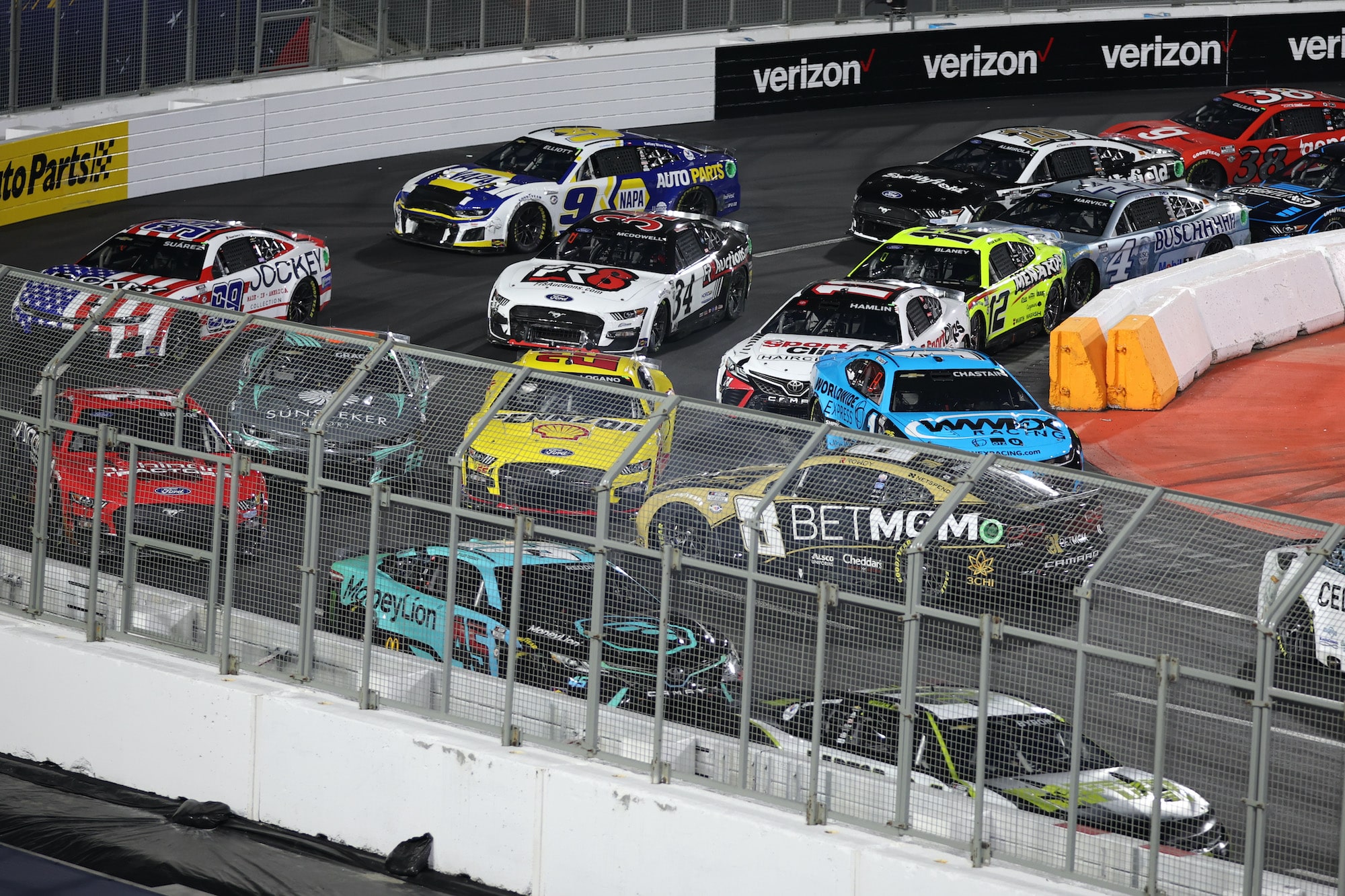 Joey Logano and Kyle Busch are both considered potential candidates to bring home the 2023 Cup Series championship. The pair joined 25 other competitors last Sunday for the exhibition Clash at the Coliseum in some hardcore beating-and-banging short-track action on the quarter-mile track. 
Past the halfway point and 65 laps remaining, the No. 22 car continued the race trend of aggressive driving when he drove it hard into the turn, somehow navigated a narrow gap between William Byron to his outside and Austin Dillon in front of him, and ran directly into the left-rear of the No. 8 car, which then went for a spin. 
"22 just dumped him on purpose," a frustrated Richard Childress said over the team radio. 
Busch doesn't hide what he thinks about Logano
Following the race, Kyle Busch joined Austin Dillon as the second- and third-place finishers for the postrace press conference. During that session with reporters, the 37-year-old addressed the incident with Logano. 
"Logano didn't get hit by nobody," Busch pointed out. "He just flat out drove through me so he's got another one coming. I owe him a few."
Those remarks were Busch's G-Rated thoughts. He saved his PG-13 comments for an interview with Claire B. Lang of SiriusXM NASCAR Radio.
"It's really unfortunate to be raced by guys that are so two-faced," the driver told the reporter. "We were in the TV booth earlier and nice together and when we're all done with that, he's like, 'Hey man, good luck tonight.' I'm like, 'OK. Great. Thanks. Yeah. Whatever.' And then, lo and behold, there you go, he wrecks me. Don't even talk to me if you're going to be that kind of an assh*** on the race track."
Logano responds and surprisingly agrees
This week Joey Logano made his first in-season appearance on SiriusXM NASCAR Radio for his Behind the Wheel segment on The Morning Drive. During that conversation, the Penske driver was asked about Busch's remarks. The 32-year-old's lengthy response was candidly self-aware and defusing to all his haters. 
"Did I make a mistake? Yes, I overcooked it into the corner. I got loose," he admitted. "Was it on purpose? Obviously not. I was out of control into the corner. I did not clean my tires off good enough and got to the point where I sent it in there too hard and I had the slide for life going and tagged him in the left rear. 
"Should he be mad at me? Yes. Yes, he should be. It was a mistake. It wasn't on purpose, but I did wreck him. Thankfully, he got back up there. Made it a little better. Am I sorry? Yes, I am. Am I two-faced? Yes, I am. Do I think anything's wrong with that? No, I don't.
"That's where I'm at with it guys. I've said this a million times on this show. I've said it throughout my career. I've heard Kyle say it before that I'm two-faced and that's fine. I have a switch that I flip when it is time to go racing, I am out there to win and yes, I have to do what I got to do to win. I made a mistake. I didn't want to do that. 
"But I'm still going to be an intense racer no matter what. Luckily, I know how to shut that off to where, when I get out of the race car, in Kyle's words, I'm not a complete a-hole all the time. That's better than being an a-hole 100% of the time. At least it's only when I'm in the race car." 
Joey Logano will always have his detractors, including Kyle Busch. But it's hard to argue against his point and, more importantly, his success. He just won his second championship. That didn't happen by accident. It happened because he's not afraid to make aggressive moves and ruffle a few feathers along the way. And he has no plans of changing that approach anytime soon.