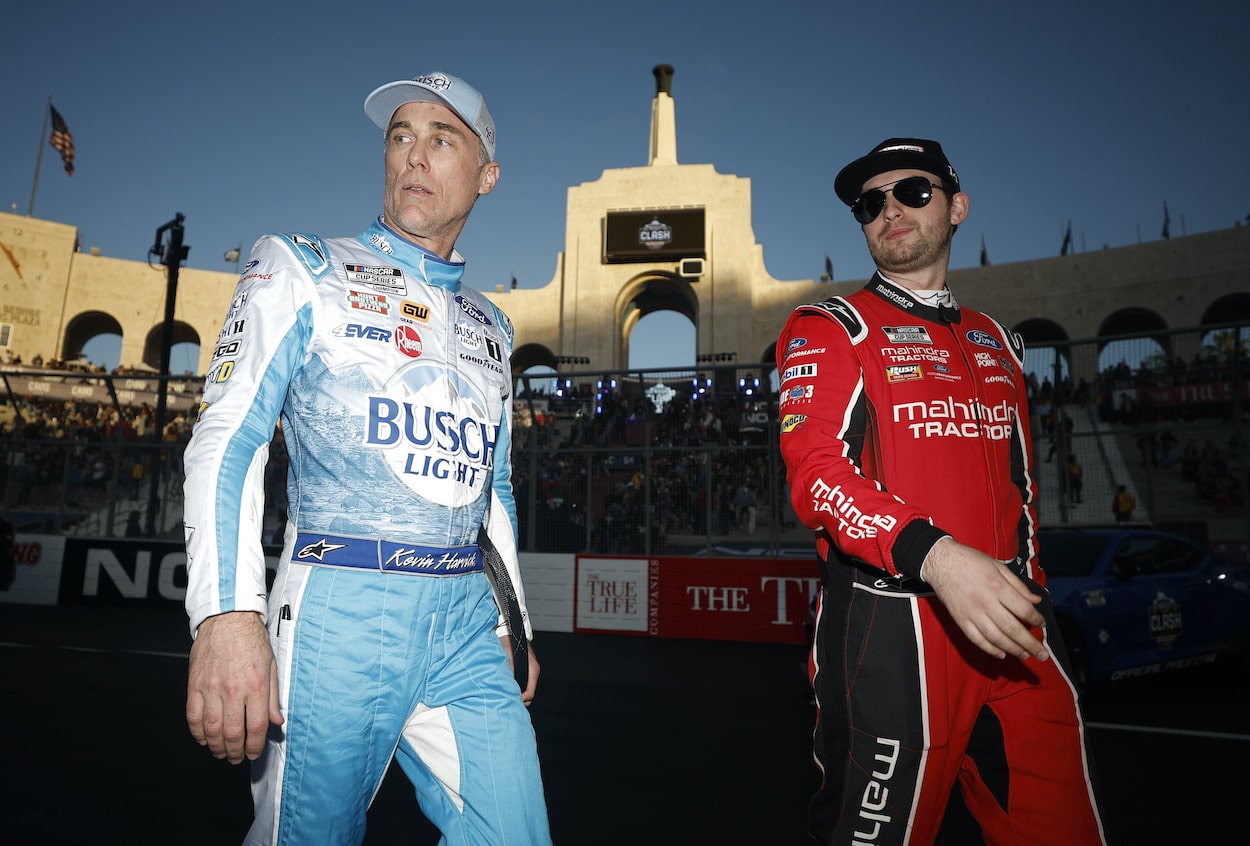 Kevin Harvick Disagrees With Chase Briscoe and Thinks 'Popping Someone in the Face' Isn't Best Way to Address Lack of Respect, but NASCAR Has Surprisingly Sided Recently With Younger Driver
Kevin Harvick doesn't agree with his SHR teammate Chase Briscoe who suggested getting physical and punching another driver will restore respect in the garage. NASCAR has sided with the younger driver in the last year.
The lack of respect in the NASCAR garage has been a hot topic of conversation in recent weeks. Drivers have offered various reasons for its development, the exact timing of such development, and, more importantly, potential solutions to remedy what is universally viewed as a problem. 
Kevin Harvick is the longtime veteran, in his 23rd and final year of a Hall of Fame career with 60 wins and the 2014 championship on his resume. Conversely, his Stewart-Haas Racing teammate Chase Briscoe is the new kid on the block in his third full-time season and has a single win to his credit. 
Both sounded off recently with their thoughts on all the disrespect issues and were in total disagreement on the solution. Interestingly, NASCAR has recently sided with the younger driver's more forceful and physical approach. 
Chase Briscoe recommends 'getting punched in the mouth' as solution 
When Chase Briscoe spun Denny Hamlin late on the Indianapolis Road Course in 2021, he had a somewhat tense conversation with the Joe Gibbs Racing driver after the race, but that was it. Both walked away and moved on to the next race. 
Last season, after a last-lap incident where he took out Tyler Reddick and himself on the Bristol dirt and gifted Kyle Busch the win, the Stewart-Haas Racing driver received a similar response. Reddick was even friendly in the exchange and accepted partial responsibility. 
Briscoe recently admitted that wasn't the reaction he expected from the former Richard Childress Racing driver. 
"I've had my run-ins before, but even at Bristol with Reddick. I was fully expecting to get punched in the mouth and I was willing to accept that because I deserved it," Briscoe said. "You just don't really see that anymore. I think if you had that, I think there'd be a lot more respect." 
Kevin Harvick thinks fighting is a thing of the past
Fans of Kevin Harvick will always remember him for his many wins, but many NASCAR fans will recall the headlines for the multiple conflicts he was a part of, including going full spider monkey on Greg Biffle, instigating a brawl between Brad Keselowski and Jeff Gordon, and the Chase Elliott kerfuffle in 2021. Merry Offseason. 
In all of those instances, Harvick didn't throw a punch. He holds that same position today regarding resolving on-track disputes while restoring respect amongst drivers. He admitted as much recently when Fox's Bob Pockrass asked him why aren't more drivers willing to get physical and resolve their differences through fisticuffs.   
"How many guys have you really seen get popped in the face?" Harvick answered the reporter's question with a question. 
"I thought in the 90s," the reporter said before Harvick interrupted. 
"We aren't in the 90s. How many guys have you really seen get popped in the face in the last 10 years?" the driver asked.
"I'd say two or three," Pockrass answered. 
"At the most," Harvick said. "So that's really not — is that really realistic in today's society to walk over and punch a guy in the mouth? Is that real?"
NASCAR has recently followed hands-off policy when drivers take hands-on approach
Pockrass suggesting there have been two or three drivers punching another in the face is accurate, but only if you narrow that 10-year window down to one, as in last year. 
There were two headline-making conflicts in the Xfinity Series. The first coming at Martinsville in the spring when Ty Gibbs didn't like how Sam Mayer raced him at the close of the race and the pair met afterward on pit road, where the JGR driver kept his helmet on while connecting on a couple of blows, including one that left the JR Motorsports driver bloodied over his eye. 
NASCAR fined Gibbs $15,000, but only for making contact with the No. 1 car on pit road after the race, not for throwing any punches.  
In the second visit of the season to the same track, Myatt Snider didn't like how Austin Hill had spun him in the race and confronted him on pit road following the event. That was a big mistake as video shows the RCR driver delivering a haymaker that knocks Snider backwards. 
Penalty? Nope. Not at all. 
So as much as Harvick thinks getting in a fight that includes actually throwing punches is a thing of the past, recent evidence suggests otherwise. And as much as NASCAR hints that it frowns on such behavior, its actions don't necessarily agree. 
For the latest breaking news and information about NASCAR's three national series, check out @kdsportswriter on Twitter.