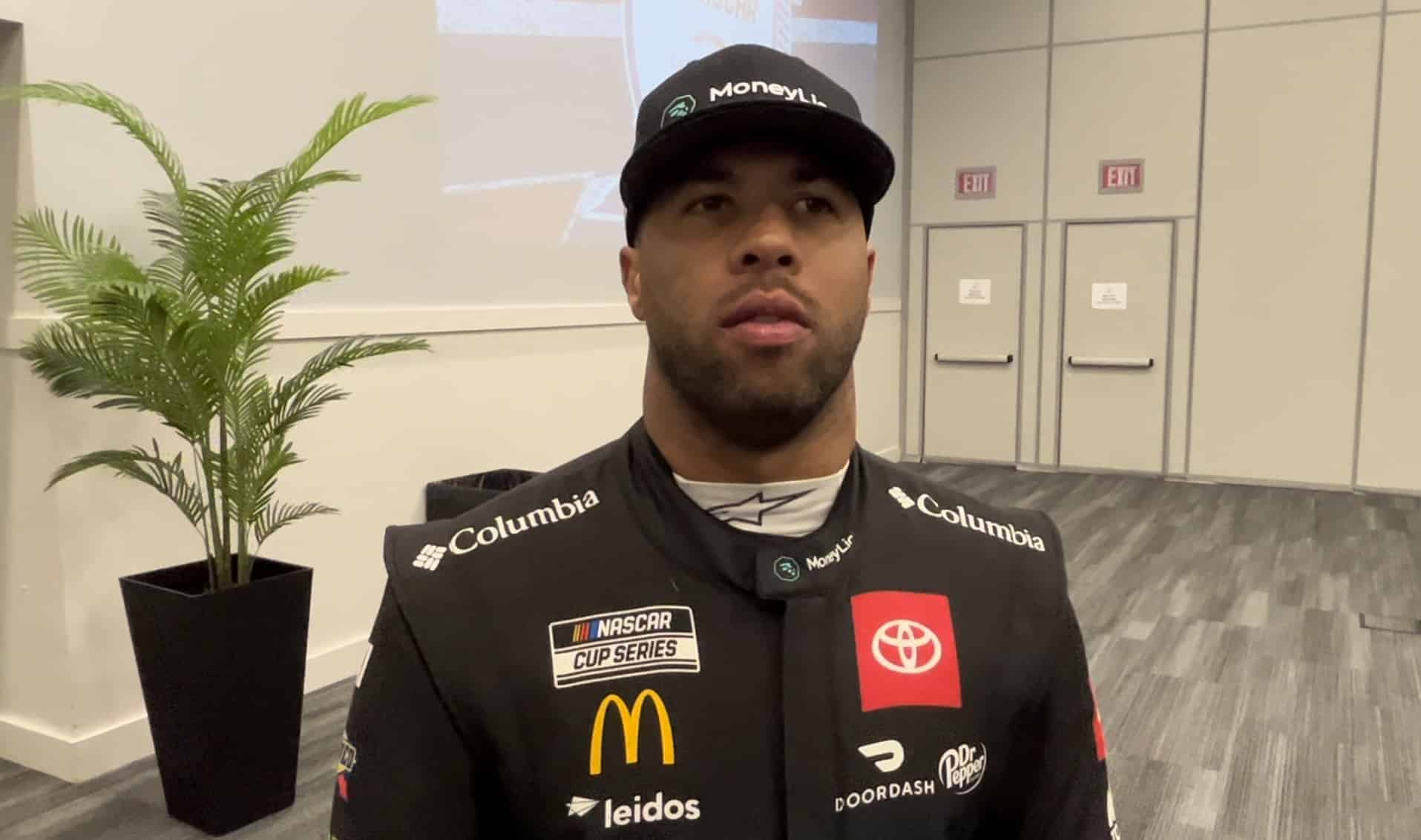 Bubba Wallace Points Finger Directly at Veteran Drivers for Lack of Respect Issues While Other Younger Drivers Offer Their Own Interesting Reasons
Bubba Wallace didn't hesitate in blaming veteran drivers for the lack of respect in the garage while several of his younger competitors offered their own interesting reasons for the increased disrespect.
Bubba Wallace heard the recent comments of his 23XI Racing team co-owner Denny Hamlin and former Toyota teammate Kyle Busch about the lack of respect in the garage. He also heard both veterans reveal that they had talked to younger drivers about the situation, and their words had fallen on deaf ears. 
This past weekend before the race at Circuit of the Americas, Wallace and several other younger drivers sounded off on the matter. The driver of the No. 23 was the most pointed in his remarks and didn't sugarcoat his thoughts, suggesting the veterans are the very source of the problem, not the other way around.
Kyle Busch starts lack of respect conversation 
A couple of weeks ago at Atlanta, Kyle Busch talked about his former Joe Gibbs Racing teammate Denny Hamlin intentionally wrecking Ross Chastain at Phoenix, and then took a detour, discussing how today's racing is considerably different than years past.
"Now you're going down the right path because we have completely lost any sense of respect in the garage area between drivers at all," Busch said. "That's where the problem lies is nobody gives two s**** about anybody else, and it's just a problem where everybody takes advantage of everybody as much as they can. We're all selfish, granted.
"But there was an etiquette that once did live here. Mark (Martin) started it. I think Tony (Stewart) really lived by it. I think Jeff (Gordon) lived by it. Bobby Labonte. Rusty for the most part. Dale Jarrett for sure. It did exist. That's gone."
When asked if he's tried to take on a leadership role and advise the younger drivers on proper etiquette, the two-time champion offered a sharp response. 
"I've tried to talk to guys," he said. "They don't listen so I've lost interest in talking to them."
Hamlin later agreed on his podcast about the lack of respect and mentioned how he had also attempted to talk with younger competitors about the subject, but no one was in the mood to listen.
Bubba Wallace says disrespect in garage is a top-down problem
Based on the remarks of Busch and Hamlin, it sounds like the youth are the aggressors on the track and also the cause of the communication breakdown, unwilling to listen to their older counterparts to try and make the situation better.
When asked about the lack of respect and the source of it before the race at Circuit of the Americas, 29-year-old Bubba Wallace offered a very different perspective.
"It's from the top down. We talk about this is a new age but you can't even talk to some of those guys that have been here for a long time," Wallace candidly admitted. "It's just lack of respect from the top down. It's just how it's always been and I think Todd (Gilliland) talked about how the younger generation has kind of always raced. It's been cutthroat.
"I know Kyle (Busch) and I have had our run-ins going back to Watkins Glen in 2019. And he was like, 'I caught you a couple of races ago at Texas.' He said, 'Have you ever heard of the Mark Martin rule?' I'm like, 'What's that?' He's like, 'When I catch you, you lay over.' I'm like, 'No, I don't race like that pal.' 
"If you can get on the inside of me, you can get there. It's just a totally different style of racing. It's kind of like butting heads. I agree with both sides. There's no respect in the garage, but I try to race everybody with respect. Some guys go out here and just run you up the track, run you off the track. If I do that, it's by mistake. It's not by design. But it's from the top down."
Chase Briscoe says there are no consequences
Bubba Wallace referred to Todd Gilliland's remarks from Atlanta, where the 22-year-old driver at Front Row Motorsports said that he didn't think that respect had gone away like the veterans had suggested, but instead, it's the way younger drivers have raced growing up. 
Chase Briscoe, who has been involved in his share of aggressive incidents, including Hamlin on the Indy Road Course in 2021 and Tyler Reddick on the Bristol dirt last year, agrees. 
"I think it starts how we grow up now," the 28-year-old Stewart-Haas Racing driver said. "You got a lot of the racetracks growing up, and kids don't even necessarily have a respect for the car they're driving, let alone the guys they're racing against. A lot of the people driving these days have a lot of money, and they just come up, and they've always got other cars sitting there. If they tear that one up, they don't have to respect the car. 
"If you haven't had respect your whole career, why would it change here? How you have to race now. It's so cutthroat. Before, it was a lot easier to pass. You had comers and goers. Track position was obviously important, but it wasn't nearly as important as it is today. Now you can't even allow anyone to get by you because it takes you 30 laps to get back by them. You have to race so cutthroat that a lot of the respect goes out the window right there because of how hard you have to race right now."
Interestingly, Briscoe said he thinks there's one quick way to restore respect, and that's if there were consequences for the on-track behavior.
"I think it's just gotten to where there's no one really enforcing it," he said. "If you knew that you got into the guy, you were going to get a black eye, you probably wouldn't run in there and do it, right. So when you lose guys like Tony Stewart and guys like that that weren't afraid to come down there and punch you in the mouth, there's no consequence at that point. I think there's a lot of guys that definitely know that and they just go in there and know there's not going to be a consequence. 
"A lot of guys when they have an issue they say we're going to go talk about it. Nobody ever talks about it so it just goes under the rug and go to the next one and it happens again and again. I think there's a few guys in the sport that definitely have a lot of respect. I've had my run-ins before but even at Bristol with Reddick, I was fully expecting to get punched in the mouth and I was willing to accept that because I deserved it. You just don't really see that anymore. I think if you had that, I think there'd be a lot more respect."
Corey LaJoie says increased disrespect because drivers aren't worried about hurting or killing fellow competitors
Corey LaJoie has a broader perspective of the sport than most of the younger guys, having watched his father race in the 1980s and 90s. The 31-year-old interestingly suggested that the lack of respect is a sign of progress.
"It's just a progression of the sport," the driver of the No. 7 Spire Motorsports car said. "The cars are safer because back in — to Kyle's point, he brought up guys like Mark Martin, Tony Stewart, guys that started racing in the mid-80s to early 90s, all the way through a decade ago — you had to legitimately think about someone's well-being if you wrecked them. If you wrecked someone, that might be the last time you ever saw them if they hit the wall at Texas at 195 mph with no safer barriers. Their eggs are scrambled. 
"There's not that. People want to say the cars aren't safe. They're safe enough to where you can wreck somebody and not worry about their well-being. That's where we're at, and I think as you see the driver injuries go down, the respect level obviously goes down, too. Because if you wreck somebody intentionally, you're not worried about actually hurting that person. You're just worried about that person's particular day not having a good result." 
Bubba Wallace, Chase Briscoe, and Corey LaJoie all provided legitimate reasons for the decline of respect in the garage. All of them adding up to a general feel where each driver is effectively fending for himself without concern for others. While some drivers might not be happy with the tension-filled situation, there's no denying it leads to conflict and some entertaining drama on and off the track. Just ask Trackhouse teammates Ross Chastain and Daniel Suarez.
For the latest breaking news and information about NASCAR's three national series, check out @kdsportswriter on Twitter.