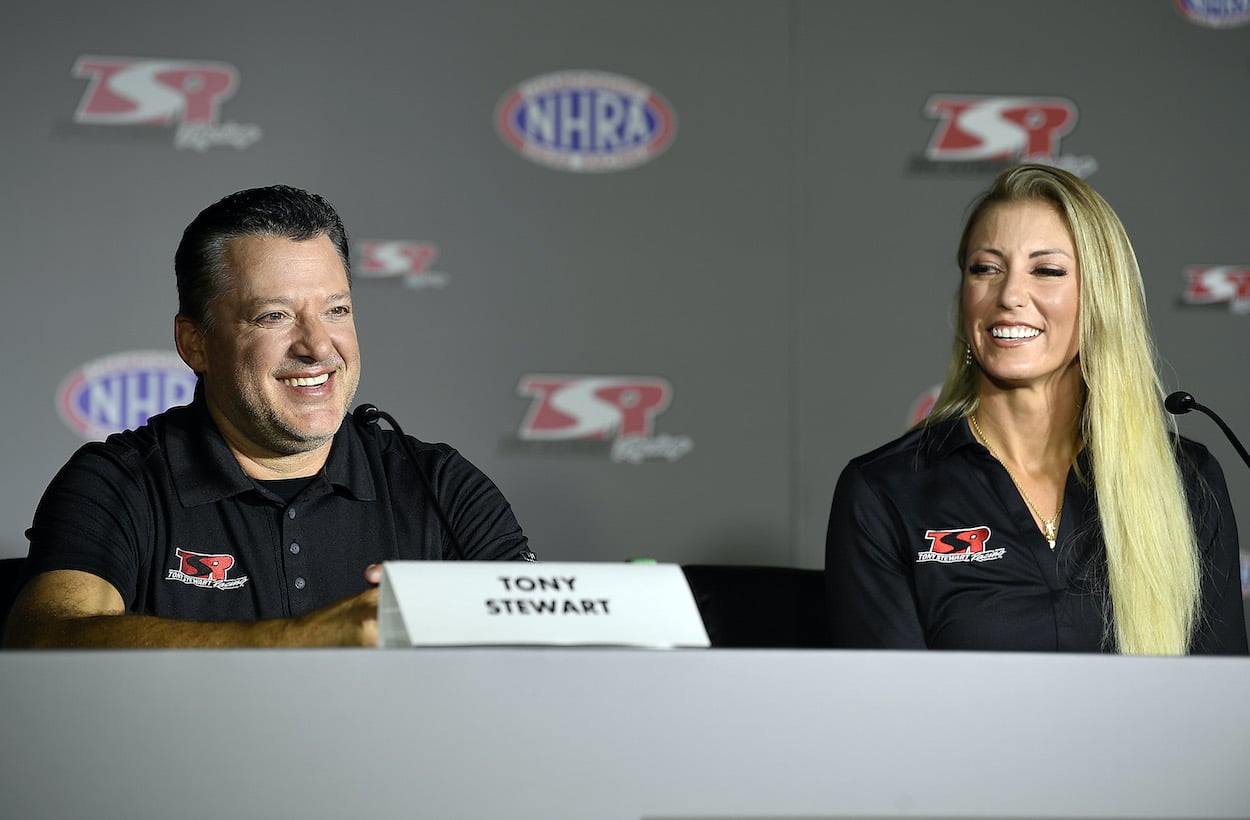 Tony Stewart Calls Out Media for 'Click-Bait Times' and Shuts Down Rumors on His Personal Life
Tony Stewart took aim at the media recently, calling out the "click-bait times" and shutting down a rumor spreading online about his personal life.
Tony Stewart has never been one to sugarcoat his thoughts. NASCAR, other drivers, and reporters have all been in his sights in the past. This past week, it was the media, as the three-time Cup Series champion took to Twitter and called out these "click-bait times" while shutting down a rumor about his personal life.  
Tony Stewart has been busy since retiring from Cup Series
Tony Stewart retired from full-time Cup Series racing after the 2016 season. Since that time, he's still been plenty busy. 
For the last several years, in addition to his role as co-owner at Stewart-Haas Racing, he's served as a regular guest analyst on Fox in its first-half coverage of the season. But that's just his NASCAR work.
He's also co-owner of the Superstar Racing Experience, which he launched in 2020. In late 2021, Stewart married top fuel drag racer Leah Pruett. Several months later, he launched an NHRA team with his new wife as one of the team's two full-time entries. 
This year, the 52-year-old has taken his NHRA involvement to a new level, strapping in behind the wheel and earning his first win in a top alcohol dragster.
Stewart talks about the possibility of becoming a dad
With so much racing business, he's never slowed down enough to have kids. Interestingly, that subject was brought up in a recent interview with Autoweek, and the NASCAR Hall of Famer was candid about the prospects of fatherhood.
"I freaked out about the whole process, to be honest," Stewart laughed, when admitting he's leaving the decision up to his wife on the timeline of getting pregnant. "I can't even take care of myself. She has to take care of me."
Stewart also acknowledged that he's looking forward to one day taking on that role. 
"I'm not gonna lie, I'm excited about it," he said. "But I want it to be when the timing is right for us. I'm already so old now anyway, my poor kids are going to be at their high school graduation, there's kids that aren't gonna know who I am and they're gonna go, 'Oh, your grandfather came.' My poor kids are gonna have to say, 'No, that's my dad.' So it's just like, whatever, it is what it is, but I'm excited about the possibility, sure, absolutely."
Shoots down rumors
This past week, Stewart took to Twitter and addressed rumors that have sprung up online following his remarks in the article.
"In these click-bait times, we often have to set the record straight," he tweeted. "Despite a headline in a recent article, @LeahPruett_TF is not pregnant and I am not "freaked out." Our lives are the same now as when we started this season. Thanks… carry on."
Tony Stewart being candid is his best version. And you can only imagine his child, whenever that happens, will likely be the same way.
To stay up to date on the latest happenings in NASCAR, including breaking stories you can't find anywhere else, follow Kyle on YouTube and Twitter.