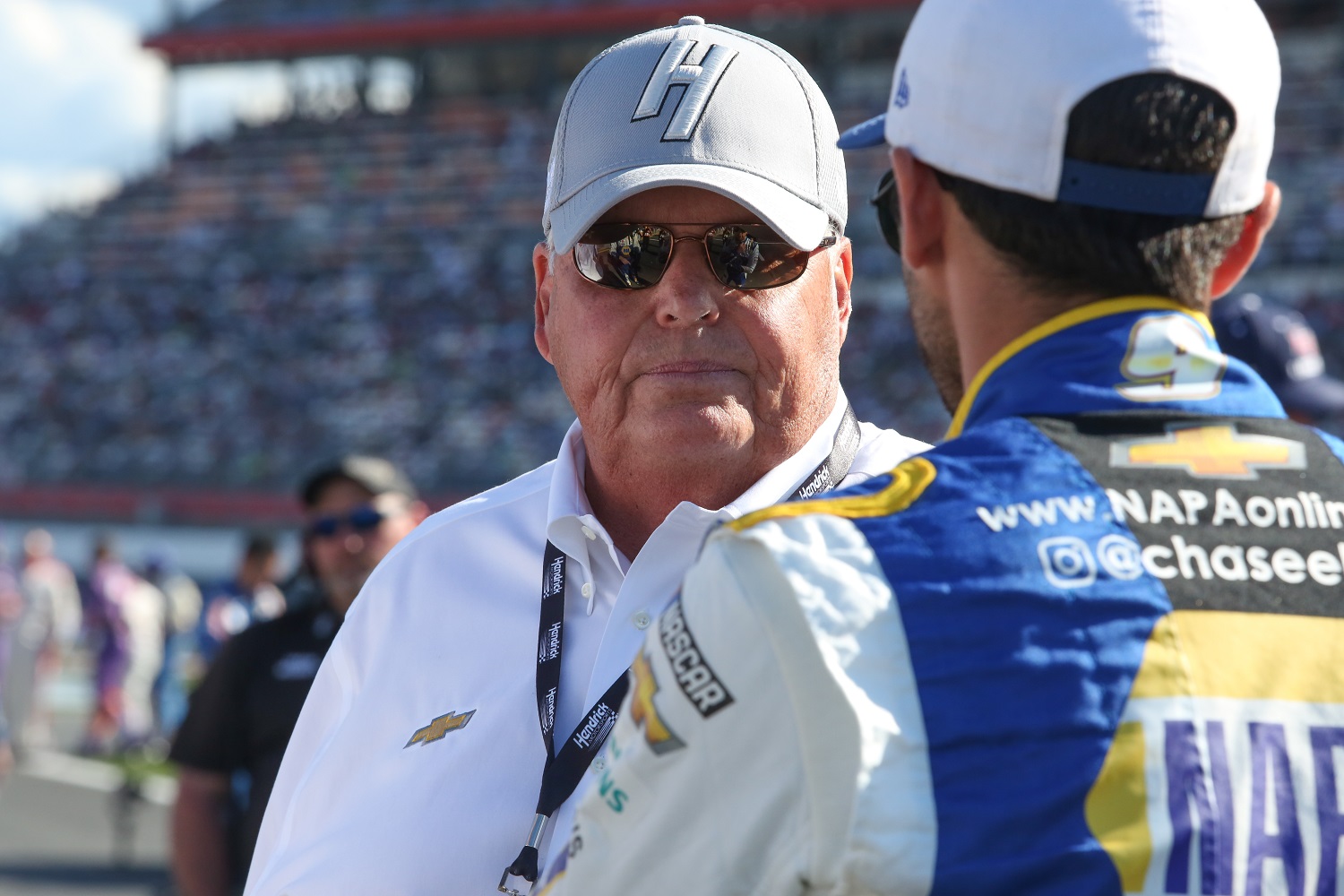 Rick Hendrick Was Convinced by His NASCAR Teams' Inspired Work at the Roval: 'I Think We're Going to Win the Deal'
Rick Hendrick saw the NASCAR Cup Series elimination race at the Charlotte Roval as a defining moment for a season that could end with a championship for Kyle Larson or Chase Elliott.
It's one down and one to go for Hendrick Motorsports. The team's star driver continued his dominating season Sunday by winning at Texas Motor Speedway, and the defending champion gets two more cracks at qualifying for a shot at another NASCAR Cup Series crown. Rick Hendrick isn't holding aces over eights, but he does have Kyle Larson and Chase Elliott in the fold, and that looks like a winning pair right about now.
Kyle Larson is in the Championship 4, Chase Elliott remains in contention
Putting Kyle Larson on a 1.5-mile track like Texas Motor Speedway was as good as advancing him to the NASCAR Cup Series Championship 4. His victories this season include races at Las Vegas and on the Charlotte oval, as well as the slightly shorter track at Nashville.
It's not as though he needed to win to advance, though. Larson brought a sizeable points advantage into the third round of the playoffs, which will cut the field from eight to four. But Larson won in Fort Worth, anyway, as rivals Martin Truex Jr. and Joey Logano found trouble.
Chase Elliott only placed seventh in the race and sits eight points below the cutline heading to Kansas and then Martinsville, tracks where he finished fifth and second, respectively, during the regular season.
Should it come down to a must-win situation at Martinsville, Hendrick Motorsports practically owns the track with 17 victories there this century. There's a sneaking suspicion that Larson would yield to Elliott at the white flag if that was the only way left for the latter to advance.
The Roval may have been a defining moment of the season
There was a time this season when people wondered whether Hendrick Motorsports cars might take all the spots in the Championship 4, turning Phoenix into an intramural competition.
Alex Bowman didn't make it out of the Charlotte Roval, an elimination race. William Byron made an inspired run that afternoon but came up short. Kyle Larson and Chase Elliott made it through, but not without drama.
Larson's car experienced early electrical issues that required swapping out a battery and alternator belt. There was a concern that his day might end early, leaving him short on points despite a dominating regular season. By late in the race, however, Larson had worked his way back to near the front of the pack. He took the lead off the final restart and won the race.
Kevin Harvick made a mess of Elliott's car by sending him into the wall on lap 55. His bumper, hanging on by a thread (or several rolls of duct tape), finally fell off late in the race, and the caution benefitted Elliott. His 12th-place finish wasn't great, but it was enough.
"I've been doing this almost 40 years, and I have never seen us overcome those kinds of obstacles in a race," owner Rick Hendrick said. "To break a belt, to have to put a belt on a car and change a battery and not lose a lap was an amazing feat. When they said it was going to take three minutes to get around the track, and we got two minutes to do all this work, I was just shocked that (the No. 5 team) could get it done.
"And I can't believe how Chase was able to finish. I didn't even think we could continue. … I'm so proud of the crew chiefs and the planning, the strategy, and everything they did. And the drivers just did an awesome job."
Rick Hendrick: 'I think we're going to win the deal'
Kyle Larson's win at Texas Motor Speedway was the 14th of the season for Hendrick Motorsports drivers, whose season also included a first-through-fourth sweep at Dover. No team had done that in a race since 2005.
Along the way, Hendrick surpassed Petty Enterprises as the winningest Cup Series outfit ever.
"We've had the kind of year that you dream about," Hendrick said. "We haven't had this kind of momentum with all the teams in years. I think we've got an awesome chance.
"If we can get one in (the championship race), it would be awesome. If we get two in, that would be unbelievable.
"But I think we're going to win the deal. I feel really good about it."
Chase Elliott gave Hendrick its 13th season champion in 2020. Regardless of how the next two weeks shake out, Kyle Larson will be the favorite in Phoenix and could become No. 14.
Like Sportscasting on Facebook. Follow us on Twitter @sportscasting19.