Rick Hendrick Has Mastered Managing His Most Important NASCAR Team, and It's Not Kyle Larson or Chase Elliott
By the time that Kyle Larson, Chase Elliott, William Byron, and Alex Bowman had all won races, Hendrick Motorsports was the season's No. 1 story in North American motorsports.
They closed the regular season with a combined 11 victories, and Hendrick will remain in the spotlight to start the NASCAR Cup Series playoffs this weekend. All four drivers qualified, which is great news for owner Rick Hendrick since it keeps his most important team of all pleased.
The Kyle Larson gamble paid off for Rick Hendrick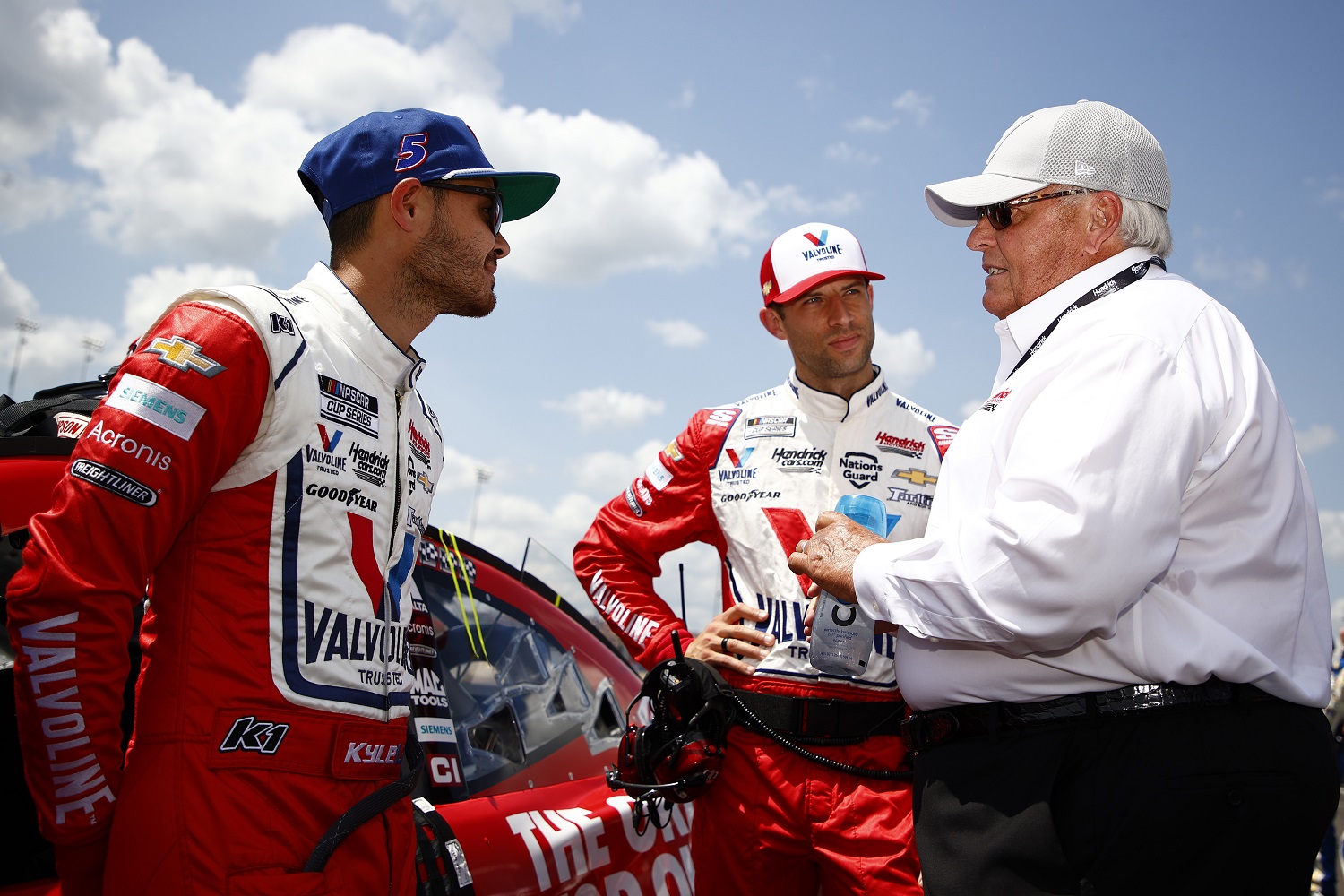 The NASCAR driver lineup never remains static from year to year. In fact, driver deal announcements come for one season before the preceding season even ends. Brad Keselowski and Kurt Busch are two 2021 competitors who'll be changing addresses beginning at Daytona next February.
Late last year, nearly all the 2021 seats were spoken for by the time Hendrick Motorsports made two big moves. With Jimmie Johnson retiring, they moved Alex Bowman into the fully sponsored No. 48 Chevy, put Bowman's old No. 88 into mothballs, and signed Kyle Larson to drive the new No. 5 car.
Larson represented a gamble. Coming off a NASCAR suspension over the use of a racial slur that ended his season in April, he was untouchable for many owners. They recognized both Larson's talent and the financial reality associated with signing him: Sponsors did not want to be associated with a controversial figure.
However, Rick Hendrick held a card that other owners lacked, signed Larson, and has reaped the benefit of five victories in points races and a triumph in the All-Star Race. His gamble has paid off to a degree that even Hendrick could not have imagined.
Kyle Larson's Chevy is a rolling billboard for the team's owner
Guys like Kyle Larson and defending NASCAR Cup Series champion Chase Elliott win races. The pit crews make it possible on Sundays, but it's the sponsors who are the stars of the show the rest of the week. That's because prize money does not cover the full cost of operating teams, and those decals covering the beautiful paint jobs make up the difference.
Ally Financial is the primary sponsor on Alex Bowman's No. 48 car, NAPA Auto Parts carries much of the freight on Elliott's No. 9, and Axalta and Liberty University foot most of the bill on William Byron's No. 24. While Hendrick cobbled together secondary support for Larson, he had to break open his own piggy bank for primary sponsorship.
Hendrick, who has built his fortune on nearly 100 dealerships across the country, slapped the HendrickCars.com decal on the No. 5 Chevy. Larson has led 1,566 laps, nearly twice as many as Denny Hamlin, giving that website enormous visibility in television on Sundays and helping Hendrick pay himself back.
Rick Hendrick has mastered managing his most important team
Rick Hendrick understandably loves what he's seeing. His four cars have all visited victory lane and are among the top eight seeds in the NASCAR Cup Series playoffs.
Appearing on SiriusXM NASCAR Radio, Hendrick ran down the list of what has him excited:
"I think just watching a crew chief like Chris Daniels blossom and seeing Kyle just drive the wheels off of the car, seeing William from where he was with no more experience than he's had and where he's racing, Alex winning three and Chase is just fast everywhere. And, so, I think we're set for the future. You can always be better. You're never quite where you think you should be. But, boy, I'm happy with the chemistry and the culture of the teams right now."

Rick Hendrick
Not insignificantly, the relative balance between the four teams has made it easy for Hendrick to manage the people helping him pay the bills.
"It's pretty hard to face your sponsors and folks when you have four cars, and one car is winning all the races," he said. "You hear all those things like, 'Why don't you give those other guys the motor? Why don't you give those other guys the same car?' Now, I think we've kind of shown everybody they're all close, and they're just alike as close as we can get them.
"And then we let the crew chiefs and the drivers settle it."
We've got 10 weeks to find out how that will shake out.
Like Sportscasting on Facebook. Follow us on Twitter @sportscasting19.