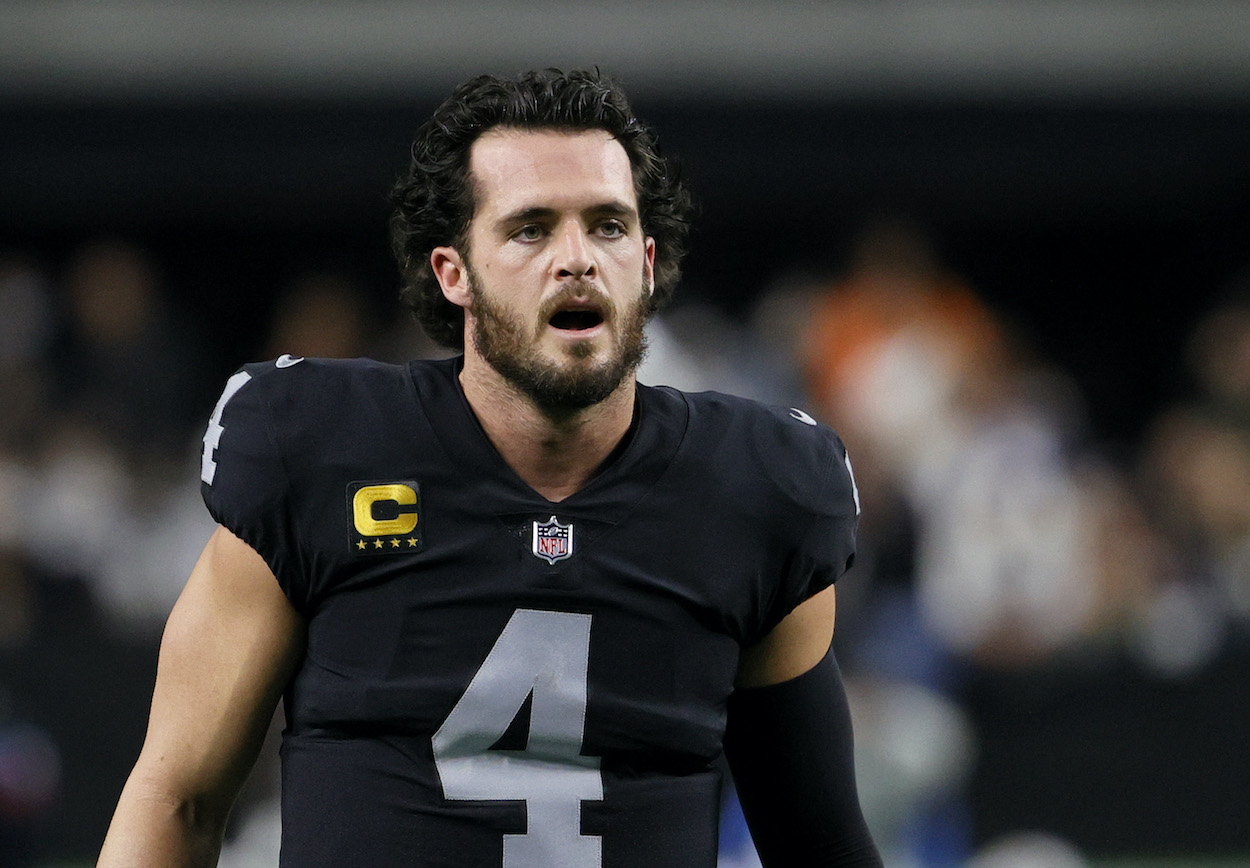 Derek Carr May Request a Trade if Rich Bisaccia Doesn't Get the Las Vegas Raiders Job, According to NFL Insider Ian Rapoport
Derek Carr had possibly the best season of his career in 2021 but, depending who the LAs Vegas Raiders next coach is, he may be on the move in the 2022 offseason.
Before the season, Las Vegas Raiders quarterback Derek Carr said he'd rather retire than not be a Raider. After facing one of the most tumultuous seasons in NFL history and leading his team through it, Carr now seems to be singing a different tune. NFL insider Ian Rapoport is now reporting that Carr and the Raiders will make a mutual decision whether he stays or goes this offseason.
Derek Carr had a career year in 2021 with the Las Vegas Raiders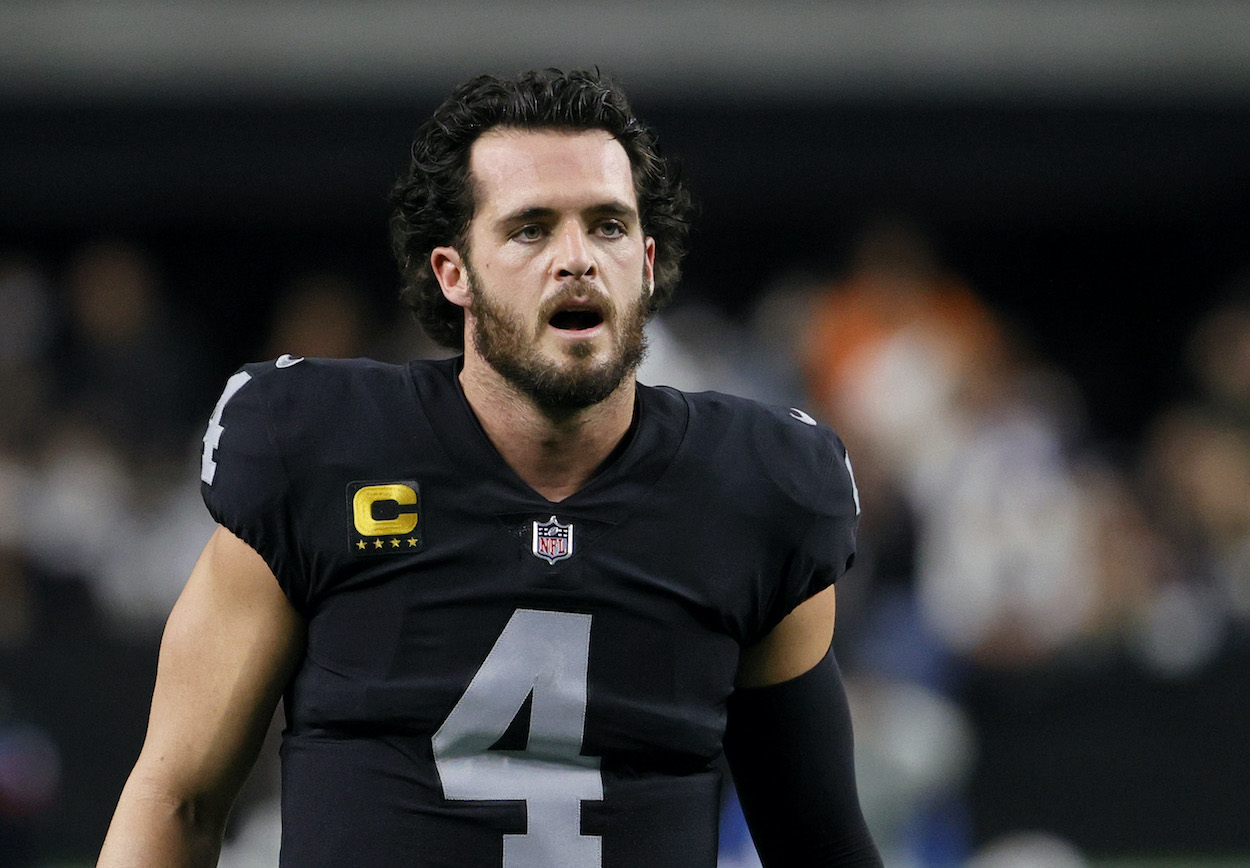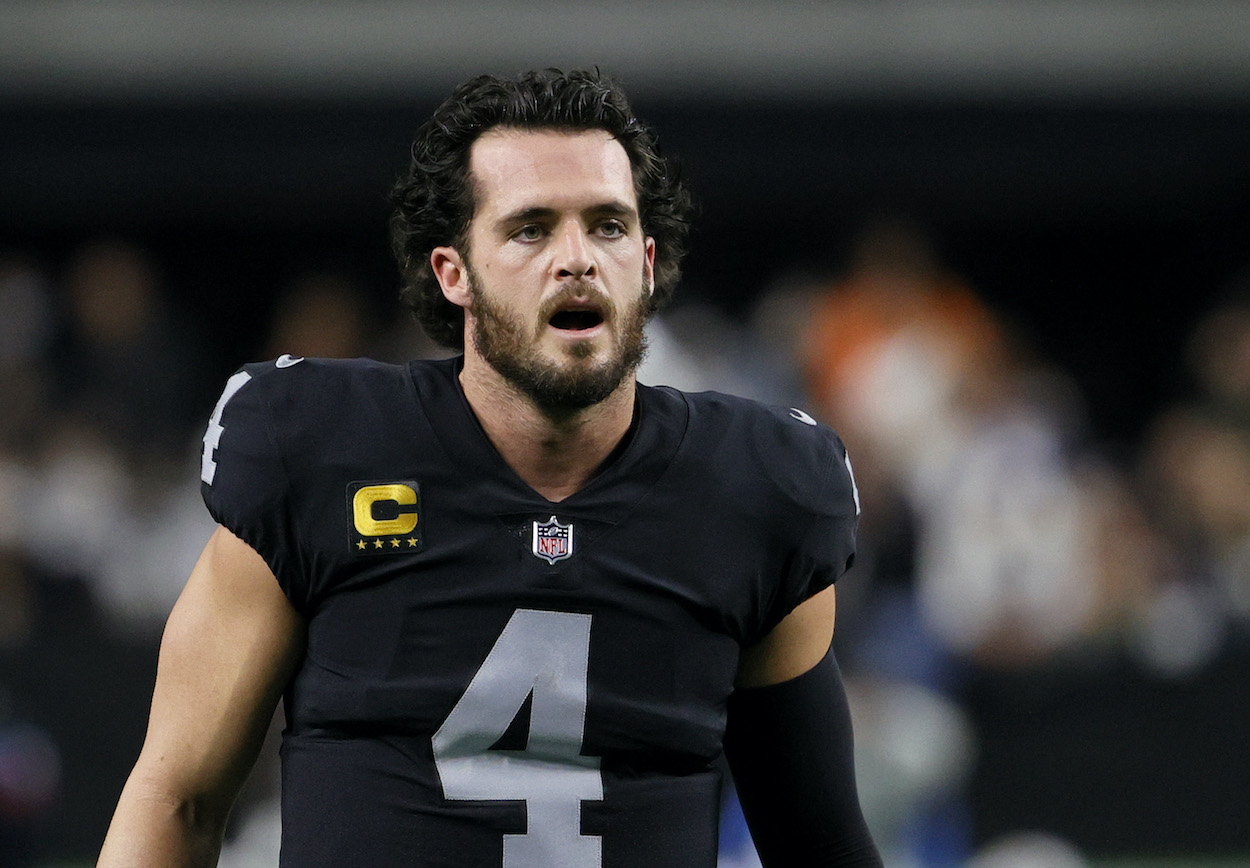 Las Vegas Raiders QB Derek Carr carried the team on his shoulders this season. The often-maligned signal-caller led his team through controversy, tragedy, injury, and all manner of distractions to make the playoffs.
Because of Carr's leadership, his teammates even call him the MVP.
The veteran QB hasn't just shown off his skills in the locker room, though. He's led through his steady play on the field as well.
Carr played all 17 games. He completed 68.4% of his passes, had a career-high in passing yards with 4,804, and threw 23 touchdowns to 14 interceptions. He led a valiant comeback in the team's Wild Card game vs. the Cincinnati Bengals. The Raiders QB was 29-of-54 for 310 yards with a TD and an INT.
Possibly Carr's best quality of all this season was his grace under fire in close games. This season, the team won four overtime contests and five other one-score games.
The 2021 season was the best complete season Carr has ever played in the Silver and Black. Now, though, his time in Las Vegas may be coming to an end as the entire franchise is currently in flux.
Ian Rapoport reports that Carr may not be back in 2022
One of the most surprising tidbits to come out after the Las Vegas Raiders lost 261-9 to the Cincinnati Bengals on Super Wild Card Weekend is that Derek Carr and the Las Vegas Raiders might consider parting ways after the season.
The NFL Network's Ian Rapoport reported that Carr and the Raiders would make a "mutual decision" about the QB's future with the franchise after the season. He also says that the choice of head coach could play a major factor in Carr's fate:
My understanding is that [Carr's] future is uncertain in Las Vegas. As it is explained to me, the Raiders and Derek Carr have a mutual decision to make this offseason. And the choice of head coach will, I'm told, be a factor. Derek Carr has said very publically and several times that his preference is to stay with the Raiders.

Ian Rapoport on Derek Carr's future with the Las Vegas Raiders
Rapoport also said that, with one year left on his latest deal, Carr is due a "near top market extension." If Carr is not happy with what the Raiders do this offseason, he could ask for a trade, according to Rapoport. The insider says he would "draw significant interest in the trade world."
The reporter named the Houston Texans, the New Orleans Saints, and the Indianapolis Colts as potential trade destinations.
Who will be the Raiders' next head coach?
It seems like Derek Carr's preference for the next Las Vegas Raiders head coach would be his current interim head coach, Rich Bisaccia.
The former special teams took over when Jon Gruden stepped down in disgrace. He guided the team to a 7-5 record under challenging circumstances and came just one score away from a playoff win.
Despite the success, multiple reports say that owner Mark Davis will conduct a thorough search for the organizations' next head coach. Bisaccia will be a legitimate candidate, but he will have to contend with some big names to get the job.
The Las Vegas Review-Journal is reporting that, along with the usual hot names from this coaching cycle, Davis is also considering Michigan's Jim Harbaugh, Clemson's Dabo Swinney, and Stanford's David Shaw for the job.
Additionally, NFL names like Tampa Bay Buccaneers OC Byron Leftwich, Dallas Cowboys DC Dan Quinn, Las Angeles Rams DC Raheem Morris, and Green Bay Packers OC Nathaniel Hackett are all connected to the job.
With the Raiders franchise pointing in a positive direction for the first time in a long time — even with the turbulent season — this is a crucial hire for Davis.
Trying to upgrade from Carr and/or bring in a big-name head coach isn't necessarily a bad idea. But if he shoots his shot and loses Carr in the process, he best not miss.
All stats courtesy of Pro Football Reference