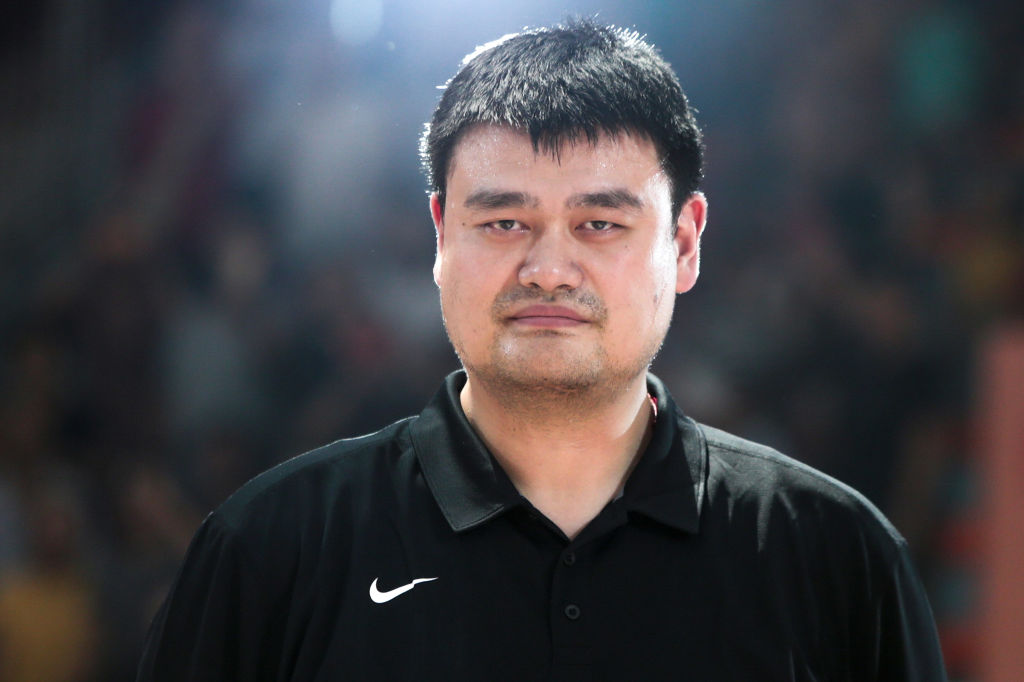 Despite $120 Million Net Worth, Yao Ming Is Anything But Extravagant
Yao Ming is a cultural icon and Hall of Famer who's amassed a huge net worth. Unlike other NBA stars, he keeps a relatively low profile.
Yao Ming is a cultural icon and Hall of Famer despite injuries curtailing the end of his NBA career. His play on the court combined with his background allowed him to make a lot of money from basketball. But unlike many star athletes and despite his huge net worth, Ming keeps a relatively low profile. He spends much of his public life helping out the less fortunate.
Did Yao Ming live up to the hype?
The NBA had never experienced a phenomenon quite like Ming when he entered the league. Nearly a decade after his retirement, he remains a singular type of star. Ming arrived in America with a lot of excitement and little information.
The internet had not shrunk the world to the degree it does now. There weren't YouTube highlight reels of every baller. People were also more skeptical of foreign players back then, especially one from a country with no track record of sending players to the league. (Wang Zhizhi was the first Chinese player to come to the NBA. He arrived only a year before Ming did.)
The only thing most people knew about Ming was that he was a giant man from China. A lot of doubters believed he'd struggle against the competition. When the Houston Rockets drafted him No. 1, he became the first international player selected first without playing college basketball.
Ming became a star. He made six All-Star games and five All-NBA teams. His best year was the 2006-07 season, where he averaged 25 points, nine rebounds, and two blocks a game. Sadly, his prime was cut short by a series of foot and ankle injuries forced him to retire in 2011 at the age of 31.
As impactful as Ming was on the court, he was a bigger deal off of it. His presence drew new fans to the NBA and forged a relationship with China. Ming also fought against racial stereotypes of Asian people. He was a tough, confident, and charming personality that earned several big endorsement deals. In 2016, Ming entered the Basketball Hall of Fame.
What has Ming done since retirement?
Ming didn't let his early retirement depress him for too long. He simply found new goals. The now-39-year-old uses his foundation to improve schools and educational opportunities for disadvantaged children in China.
In 2017, Ming was named the president of the Chinese Basketball Association. He owns a team in the same league, the Shanghai Sharks — the same team where he started his professional career. He also owns a highly-regarded winery in Napa Valley called Yao Family Wines.
But Ming spends his time working for charitable causes. Most of these pursuits revolve around animal rights. He's an ambassador for elephant conservation and participated in a documentary, The End of The Wild. Ming is also a spokesman for the group WildAid. He used his stardom in China to help decrease the amount of sharks hunted and sold in restaurants.
Yao Ming's net worth hasn't changed his personality
Ming accrued over $93 million in NBA contracts and has a current net worth of $120 million. This can easily make a person more materialistic, but Ming has managed to stick to his principles. For a national hero with a lot of wealth, Ming has always lived a surprisingly modest lifestyle.
His former home in Houston was certainly impressive — a 12,00 square foot, six bedroom estate in Hunter's Creek Village — but it was far from the most garish home you've ever seen from a pro athlete. He rarely uses social media. When he does, it's usually to congratulate basketball players for their accomplishments or to bring light to his charity work.
His modesty also extended to his choice of vehicle. He appears to only own one car, a midnight blue BMW 7-series sedan that he customized to fit his extraordinary frame.
China has tried to develop basketball stars to follow in Ming's footsteps, but haven't succeeded up to this point. It speaks to his uniqueness. People with his talent and temperament are hard to find.
During his jersey retirement ceremony, Ming told the story of how he keeps a $1 bill his Houston teammates gave him as a joke gift for Chinese New Year in his pocket "because I know no matter where I go, as long as that bill's in my pocket, home is with me." He always understood his name means something to millions of fans and he's never forgotten that fact.