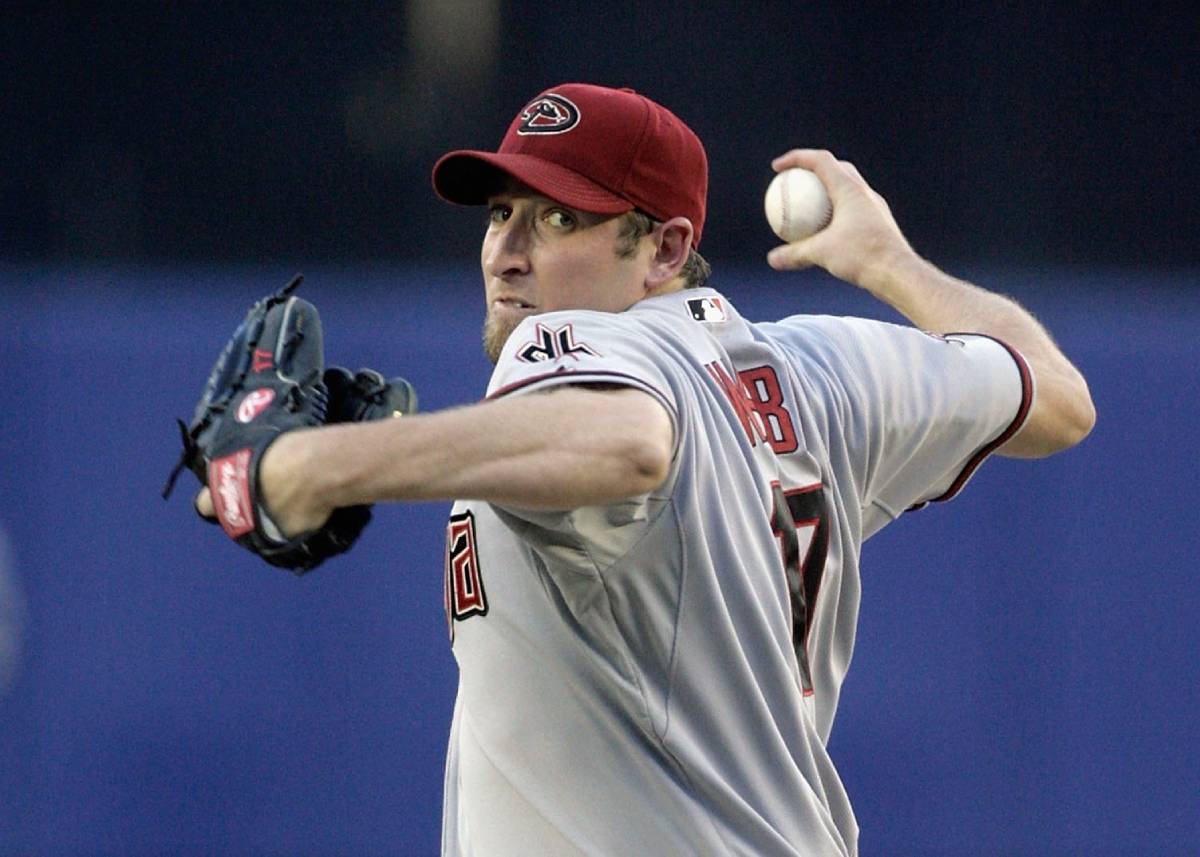 Diamondbacks Ace Brandon Webb Looked Hall of Fame-Bound Before a Mysterious Injury Struck
Brandon Webb was arguably baseball's best pitcher and appeared Hall of Fame-bound. Then, the Diamondbacks ace suffered a mysterious injury. What happened?
A sinker and workhorse arm made Brandon Webb one of baseball's best starting pitchers in the 2000s.
Like fellow Cy Young winners CC Sabathia and Roy Halladay, Webb was unhittable for most of the decade. As Webb neared age 30, the Arizona Diamondbacks ace appeared headed for the National Baseball Hall of Fame.
Then, a mysterious injury struck and ended Webb's career prematurely. Just what happened to Webb?
Brandon Webb was an All-Star pitcher
A 6-foot-3, 230-pound pitcher from Kentucky, Brandon Webb debuted in April 2003, a few weeks before he turned 24.
Webb went 10-9 with a 2.84 ERA in 29 games (28 starts) and finished third in NL Rookie of the Year voting.
After a 2004 season where he lost 16 games but still totaled a 3.59 ERA, Webb began an impressive four-year run in 2005.
From 2005-08, Webb went 70-37 with a 3.23 ERA across 134 starts. Webb struck out 727 hitters and only walked 246 in 927 innings, an impressive 182-62 K-BB ratio per year.
Even as baseball moved away from complete games, Webb threw 13 and pitched seven shutouts. Webb won the NL Cy Young Award in 2006 and finished second in each of the next two years.
Webb was on a Hall of Fame pace
Through the 2008 season, Brandon Webb had an 87-62 record with a 3.24 ERA in six seasons.
According to Baseball-Reference's Wins Above Replacement model, Webb was worth 33.2 WAR across those years. Even in 2004, when he lost 16 games, Webb was still worth 3.2 WAR on a Diamondbacks team that lost 111 games and fired manager Bob Brenly after 79 games.
Dan Syzmborski, creator of the ZiPS projection system at FanGraphs, recently partnered with The Athletic on a projection for the rest of Webb's career. The system projected Webb totaled a 3.42 ERA from 2009-20 and remained a workhorse through 2014, when he would have been 35.
The average Hall of Fame pitcher has a 69 WAR using Baseball-Reference's model. Webb would have come extremely close to that score if he didn't surpass it.
A mysterious shoulder injury ended Brandon Webb's career
The Athletic ran that projection because Brandon Webb's career ended so early.
A month shy of turning 30, Webb took the mound on opening day 2009 against Todd Helton and the rival Rockies. He lasted only four innings and allowed six runs before he left the game.
That was it for Webb. His shoulder gave out and Webb never made it back to the majors. Over 11 years later, no one is sure what happened.
At the time, doctors didn't see anything wrong aside from wear-and-tear. Although Webb had damaged tissue removed, that wasn't what led to his downfall.
At the path he was on, Webb could have developed a serious Hall of Fame case. He had the accolades and a high peak, two things that the current voters look favorably on.
Instead, much like former Cy Young winner Johan Santana, injuries knocked Webb out of action far too early. Webb didn't even finish with enough time in the majors to earn a spot on the Hall of Fame ballot.
All stats courtesy of Baseball-Reference.