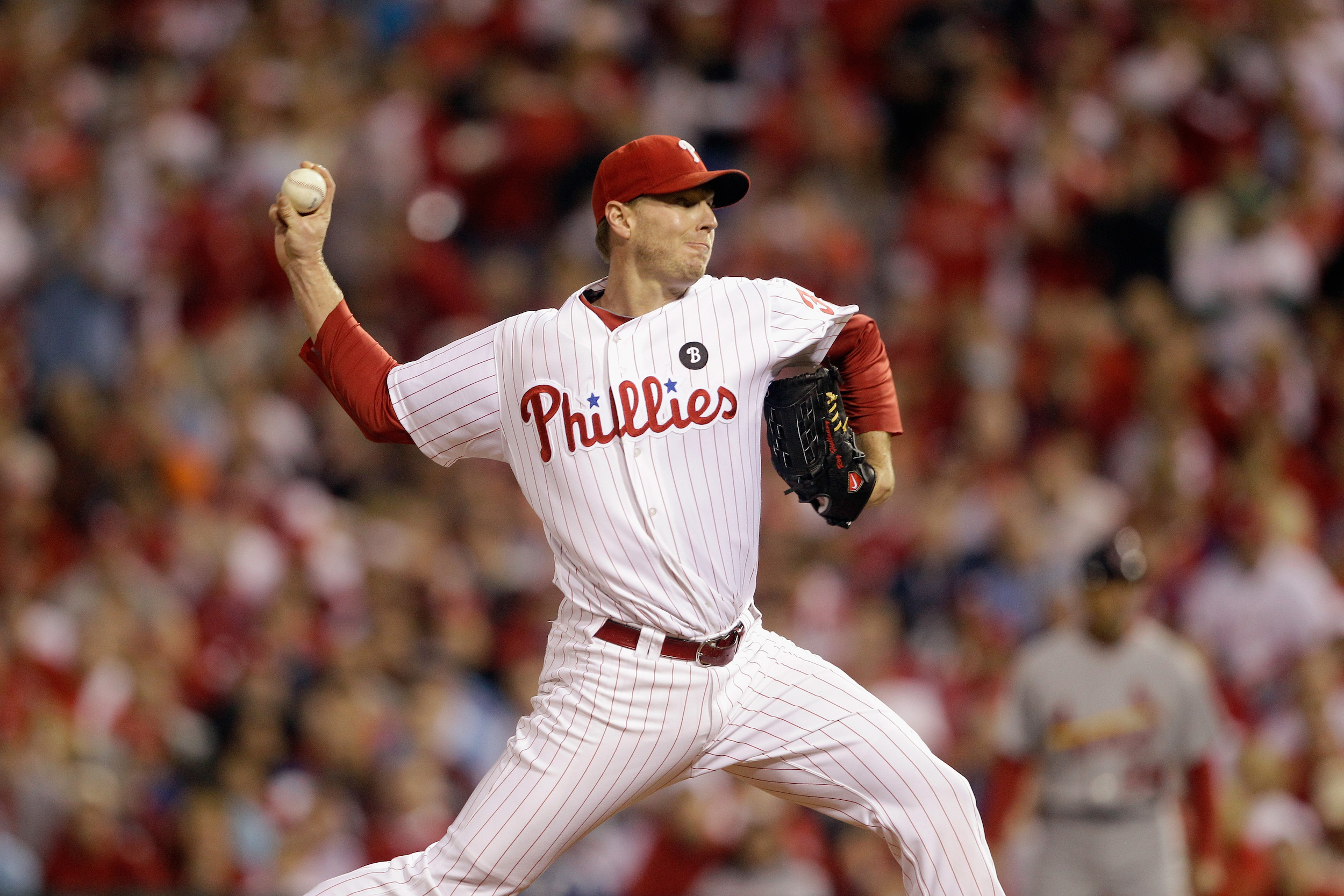 The Tragic Death of MLB Pitcher Roy Halladay
During his time in Major League Baseball, Roy Halladay established himself as an elite pitcher. His life, however, ended in tragedy.
While baseball fans may love home runs and high-scoring games, there's something special about seeing a pitcher work his magic on the mound. During his time the big leagues, Roy Halladay was one of the best around; whether he was taking the field for the Toronto Blue Jays or Philadelphia Phillies, the big righty proved to be one of the top hurlers in recent history.
Thanks to his skills on the field, Halladay became a larger-than-life figure, capable of taking over a game in the biggest moments. That image helps to explain why the pitcher's tragic death in 2017 rocked the baseball world.
Roy Halladay' rise to stardom with the Toronto Blue Jays
If you ask a baseball fan for their memories of Roy Halladay, they'll probably tell you about a dominant pitcher with a full repertoire of groundball-inducing weapons. His road to the top, however, wasn't completely straight forward.
In 1995, the Toronto Blue Jays selected Halladay with the 17th overall pick of the MLB draft; after some time in the minors, he made his big league debut in 1998. The rookie made the most of his September call-up, coming within an out of throwing a no-hitter in his second start.
Halladay didn't turn into a star overnight, though. In 1999, he went 8-7 with a 3.92 ERA; during the following season, he racked up an eye-popping 10.64 ERA in 19 total appearances. After that awful campaign, Halladay found himself in the minor leagues, trying to reinvent himself as a pitcher and save his career.
Halladay adjusted his delivery, started seeing a sports psychologist, and turned a corner. In 2002, he posted a 19-7 record with a 2.93 ERA; he followed that up with a 22-7 2003 season, claiming the AL Cy Young Award. Doc Halladay had officially arrived.
Finding postseason success with the Philadelphia Phillies
For all of Roy Halladay's success in Toronto, he never got a chance to take the mound in the postseason. At the tail end of 2009, the pitcher's career changed as the Blue Jays traded him to the Philadelphia Phillies.
In the City of Brotherly Love, Halladay immediately lived up to the hype. The pitcher went 21-10 in 2010, threw a perfect game, and finished the season with a 2.44 ERA; during his first-ever playoff appearance, he threw a no-hitter. The Phillies won the World Series that fall, and Halladay also claimed his second career Cy Young Award.
While Halladay posted a strong 2011 campaign—he went 19-6 and finished second in NL Cy Young voting—that proved to be his last dominant season. The big righty started to experience shoulder issues and retired in 2013. In total, he spent 13 seasons in the pros, winning 203 games, striking out 2,117 batters, and posting a 3.38 ERA.
The tragic death of Roy Halladay
Although injuries forced Roy Halladay to retire, the pitcher rode off into the sunset as a baseball legend. Away from the field, though, things would end in tragedy.
In November 2017, Halladay tragically died when his ICON A5 plane crashed into the Gulf of Mexico. A National Transportation Safety Board report noted that the pilot—who wasn't officially named, despite Halladay being the vehicle's only occupant—"used multiple psychoactive substances before the accident, including amphetamine, zolpidem, morphine, fluoxetine, and baclofen." The accident report concluded that those substances "most likely resulted in significant impairment that contributed to the pilot's decision to perform high-risk maneuvers." During those maneuvers, which the pitcher seemed to reference in a previous tweet, Halladay likely lost control of his plane and fatally crashed into the water.
Adding to the tragedy, Halladay's wife knew he was struggling and didn't want him flying. "Until I knew he was OK, I just didn't want him doing it," Brandy Halladay explained in Todd Zolecki's Doc: The Life of Roy Halladay, as shared by the Score. "He just needed to get everything else under control and focus on some other things. …We would talk about it all the time. It was an unnecessary risk."
During his time in Major League Baseball, Roy Halladay starred for two different franchises and made a name for himself as an elite pitcher. That reality made his untimely death all the more tragic.
Stats courtesy of Baseball-Reference