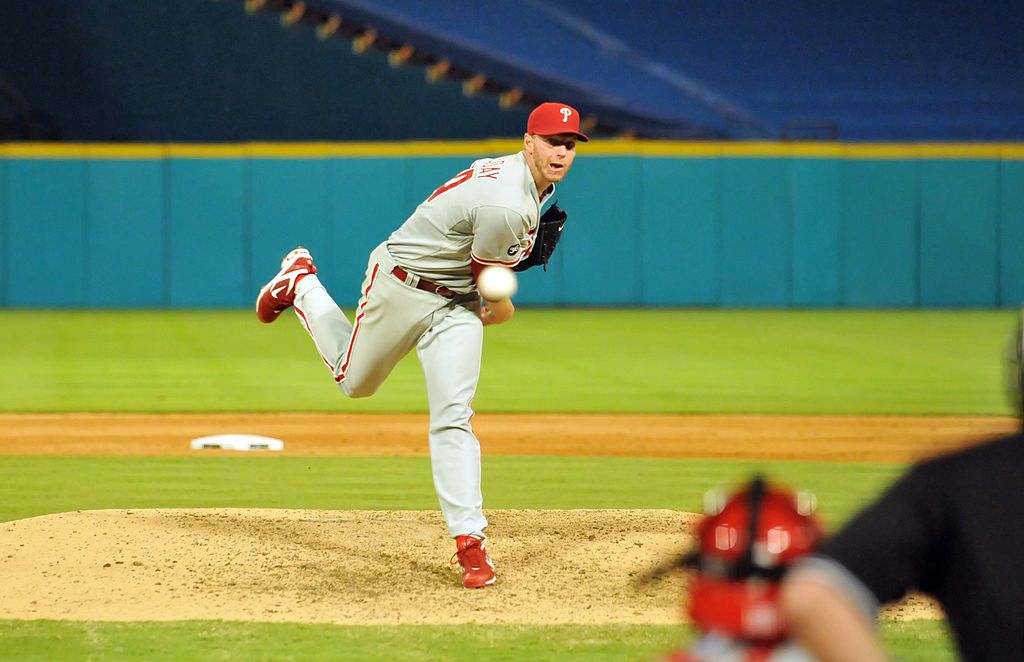 Roy Halladay Shocked Phillies Organization After Perfect Game With Expensive Gifts for Bat Boy and Others
After Roy Halladay pitched the 20th game in MLB history, he shocked the organization by giving luxury watches to everyone in the organization including the bat boy.
On May 29, 2010, Roy Halladay etched his name in the history books by tossing just the 20th perfect game in the 140-plus years of Major League Baseball. His performance that night in Florida made headlines around the world. What he did after his history-making outing shocked his teammates, coaches, and everyone in the Phillies organization.
Roy Halladay pitches perfect game
It was a humid Saturday night at Sun Life Stadium in Miami. The Philadelphia Phillies entered the game with a 27-20 record against the Florida Marlins, who hovered around .500 at 24-25. Roy Halladay took the mound with a 6-3 record facing Marlins pitcher Josh Johnson with a 5-2 mark. A lackluster crowd of 25,086 attended what would turn out to be a historic night.
Ironically, Halladay struggled to start the contest throwing 19 pitches in the first inning. It was the most he would throw in an inning all night. Over the course of the next eight innings, Halladay overcame seven three-ball counts and six full counts. He finished the evening throwing 115 pitches, 72 of them for strikes, and totaled 11 strikeouts, a season-high.
In the ninth, with pressure mounting, Florida's pinch hitter Mike Lamb hit a deep fly to center that would have been a home run in many parks, but Shane Victorino easily caught it for the first out. After pinch hitter Wes Helms struck out looking, Ronny Paulino grounded hard to Phillies third baseman Juan Castro, who hustled to his left, fielded the ball, then spun and threw it to first base for the final out. The celebration began.
Halladay comes up with surprise plan for organization
Days after the game, Roy Halladay enlisted the help of Frank Coppenbarger, the Phillies' director of team travel and clubhouse services. He told Coppenbarger he wanted to buy "all of the guys" luxury Baume & Mercier Riviera watches to commemorate his perfect game. 
Initially, Coppenbarger didn't understand the request and asked Halladay if he meant watches for the players and coaches. Halladay further explained he wanted to buy them for everyone—the bat boy, clubhouse kids, training staff, doctors. 
Coppenbarger created a list, and over the next few weeks, the list had grown to 67 people and included his agent, his family members, Blue Jays scout Bus Campbell, and even sports psychologist Harvey Dorfman, who had worked with Halladay. 
In August, Halladay shocked all the recipients when he presented them with the watches, which came inside a cherry box. On the exterior of the box was a gold plate that had the following engraved: "We did it together" Thanks, Roy Halladay. 
On the back of each watch was engraved PERFECT GAME, 5/29/10, the game's line score, and the name of the recipient. 
Roy Halladay's teammates and others remember his generosity
Since that historic day a decade ago, the watches have taken on more significant meaning after the death of Halladay in 2017. Multiple recipients of Halladay's generosity talked with The Athletic about the surprising gifts and what that history-making moment and the watches meant to them.
Juan Castro, who fielded the tough grounder to make the final out of the game, said he couldn't believe he got the watch for the perfect game. "Now, every time I look at it and see the watch, it means more because I remember him and it makes me go back and see the type of pitcher he was. Suddenly, he's not with us anymore, but I know he's up there, somewhere, watching everybody. For me, I'm just lucky enough to be part of that game."
Phillies bat boy Rob DiClementi watched Halladay achieve perfection from his bedroom in South Jersey.
"I figured that Roy would do something to thank his teammates and coaches who played a role in him achieving perfection. I never envisioned he'd include the bat boy, a 19-year-old college kid who was a 1,000 miles away during his perfect game. That speaks to the kind of man Roy was. I'll never feel like I did anything to truly deserve the watch, but I am going to treasure it for the rest of my life. I hope to eventually pass the watch down to my future children. More importantly, I'm excited to share with them the stories about the man who gifted it to me."

Phillies bat boy Rob DiClementi
Halladay made baseball history that May night in Florida. That could have been the end of it. Instead, he turned that moment that was largely a result of his own amazing performance and turned it into a memory and treasure that will last a lifetime for so many others. Roy Halladay was a great MLB pitcher. He was an even better human being.