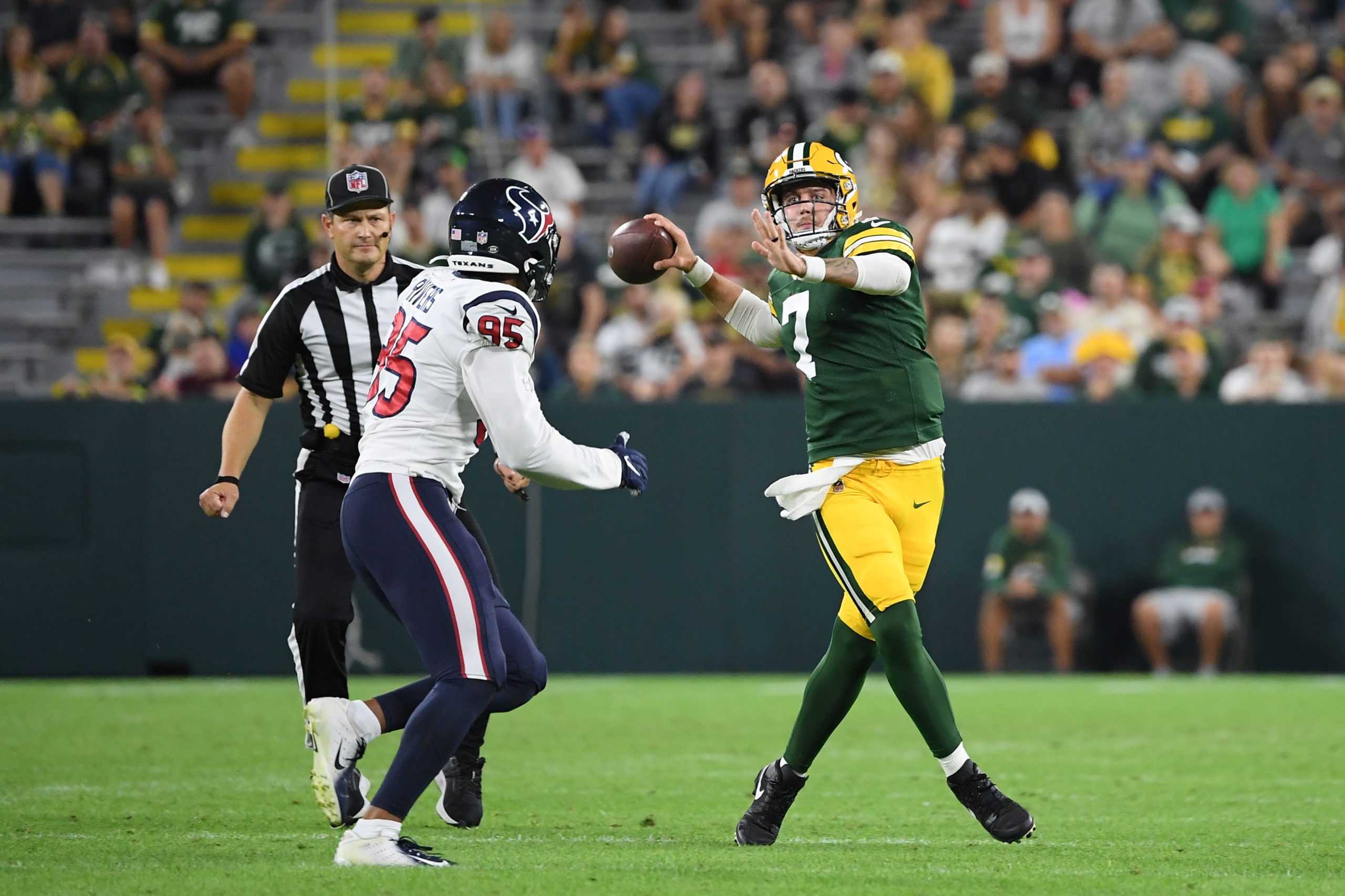 Did Kurt Benkert Secretly Want Aaron Rodgers to Remain Away From Green Bay Packers Camp? Not Quite
Kurt Benkert has a perfect opportunity to make a name for himself Saturday.
It would've been easier for Kurt Benkert to secure a spot on the Green Bay Packers had Aaron Rodgers stayed away from the team. Benkert doesn't know easy.
The quarterback out of Virginia has worked hard to get where he is. He doesn't want anything handed to him. Benkert's a team guy, and he knows Rodgers makes the Packers better. With Jordan Love banged up and Rodgers not expected to see action in Saturday's preseason game, Benkert has a perfect opportunity to solidify his spot in Green Bay.
Kurt Benkert should see plenty of action under center against the New York Jets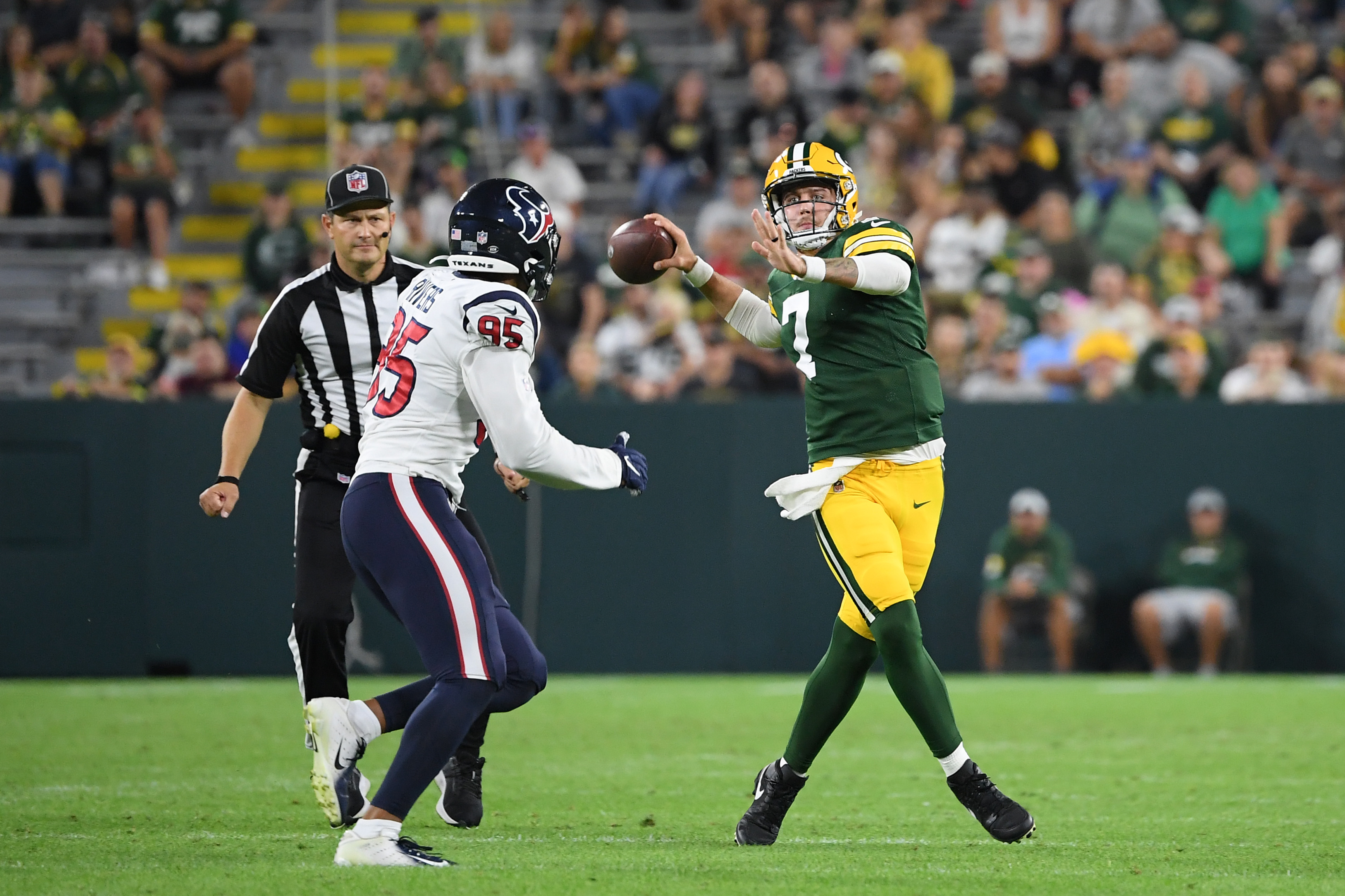 Benkert has waited a long time for this moment. He should have plenty of opportunities to shine Saturday when the Packers host the New York Jets in the second preseason game of the year. Rodgers isn't expected to see any action, and Love, the Pack's 2020 first-round pick, is nursing an injury after last week's game. Bring on Benkert.
The former Virginia quarterback who went undrafted in 2018 should see plenty of action, especially if Love is unable to go. Love was hurt during last week's game against the Houston Texans, and Benkert played the second half, going 8-for-12 for 88 yards and an interception.
Benkert is no stranger to fighting for a job. The Atlanta Falcons signed him to a free-agent deal in 2018 but was cut right before the season began. The Falcons put him on the practice squad the next day.
In 2019, a toe injury kept him out of action, and he was placed on injured reserve. Last year, he played well in camp, but again was a late cut. The Packers signed him to a deal in May.
Did Kurt Benkert secretly want Aaron Rodgers to stay away from camp?
Had Rodgers stayed away from the Packers, the possibility of Benkert seeing some playing time during the regular season would have been pretty good. With Love sidelined, the quarterback job would have been his. Benkert, however, doesn't work that way. He's a worker. During camp, he was asked if he hoped Rodgers remained away from the team.
"I hope he does come back," he said in an interview with Go Long. "I hope he comes back and gets me a ring. That'd be wonderful. Let me get the best of both."
Benkert knows what he has to do to earn his spot on the team.
"I just have to play well, do my thing and I'll be sitting pretty one way or another," he said.
Benkert has a perfect opportunity to do just that. Love is likely out of Saturday's game against the Jets, meaning Benkert would get the start and see plenty of time.
Benkert said he never lost focus with all the Rodgers talk during camp
Benkert was signed because Rodgers was holding out. He beat out Chad Kelly and Blake Bortles, and he was in the middle of all the Rodgers talk during camp. Benkert said he never saw it as a distraction because he was too busy trying to make the team.
"I'm fortunate that I was so deep in the playbook, learning new stuff, that I really didn't have time to worry about it," he said. "I know that directly affects my situation but I'm part of a team and I want to win. And he's the best player in the league and, in my opinion, the best to ever play the game. At that position.
"It's a cool opportunity to be part of a team that he's on. For me, it was easy to block out because — every day, every night — I'm in the building trying to learn the playbook."
Rodgers is back, and Benkert is proving himself worthy of a roster spot in the NFL. He's earned it.