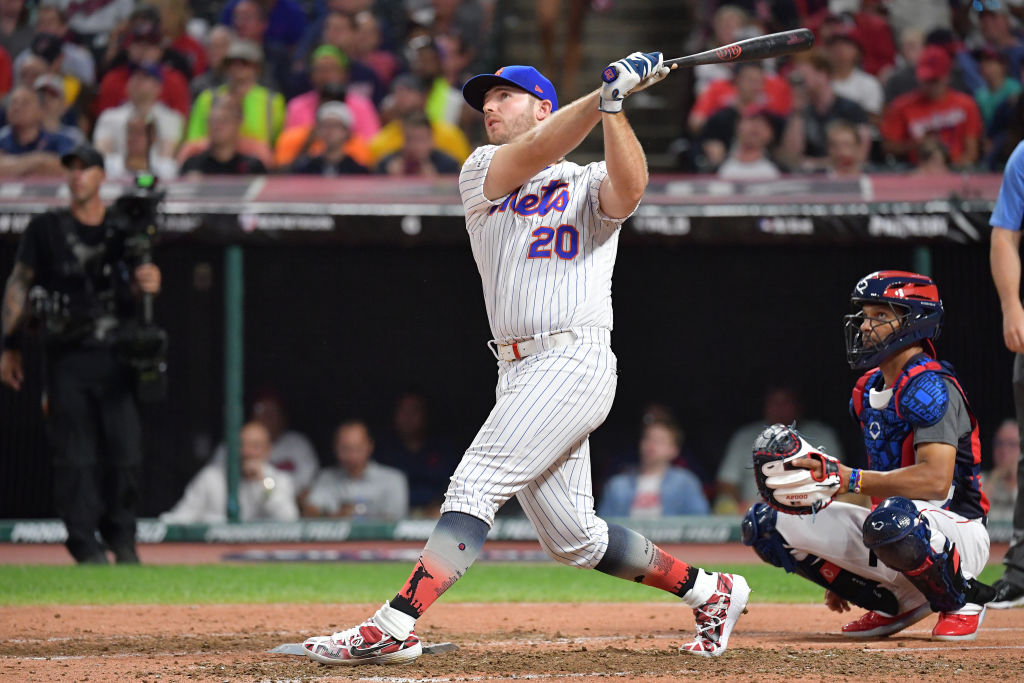 Dodgers' Justin Turner Proposes Home Run Derby to Shorten Extra-Inning Games in 2020
When the MLB season starts in 2020, Justin Turner of the Dodgers thinks a home run derby is a great option to shorten extra-inning games. Could it happen?
With the start of the MLB season delayed indefinitely, league officials are exploring all options for salvaging the 2020 season, if it happens at all. In an interview this week, Los Angeles Dodgers third baseman Justin Turner offered up his own thoughts in the case of extra-inning games. Instead of extra innings, Turner suggested the teams participate in a home run derby. Could it happen?
The home run derby generates excitement each year
Since 1985 the game's most prolific power hitters have gathered each All-Star break and treated fans to an offensive showcase blasting one towering moon shot after another in the home run derby. In many years, the excitement of the home run derby matches and exceeds the game itself. It's always one of ESPN's most-watched events of the entire year.
Over the years, the format has changed. The more notable changes have included the number of players participating and the different ways players advance. The most recent changes came in 2015.
In that year's contest, a time limit replaced the traditional outs. Eight players are seeded based on their season home run totals and given five minutes to hit as many home runs as possible. The winner of each head-to-head matchup advances until a final winner is determined. 
Justin Turner's home run derby proposal
In an interview with Spectrum SportsNet, Justin Turner proposed that instead of games extending into multiple extra innings, the teams play just one extra inning. After the 10th inning, if no one scores, then you go to a home run derby.
"You take each team's three best hitters and you give them all five outs and see who hits the most homers," Turner said. 
The 11-year veteran borrowed the idea from another sport and said a home run derby would only be used this year with a possible shortened season. 
"You wanna keep fans in the stands until the end of the game. I know when I go to hockey games, I actually enjoy watching shootouts. That keeps me in my seat, so maybe a home run derby will do that as well."
Like the derby during All-Star week, Turner suggested a coach would throw the pitches. That would allow each team's pitchers a chance to rest.
Could a home run derby actually happen?
At this point, MLB has indicated all options are on the table. Some other possible alterations for the 2020 season include changing the schedule to add in more seven-inning doubleheaders, as well as playing the postseason at neutral sites.
If Turner's proposal came to fruition, it wouldn't be the first time baseball experimented with rule changes. In 2018, minor-league baseball implemented a rule change for all extra-inning games. If a game is tied after nine innings, the 10th inning starts with a runner at second base in scoring position. It reduced extra-inning game times dramatically.
With a precedent, which is specifically designed to shorten extra-inning games, Turner's suggestion might gain some traction. In 2019, according to Baseball Reference, 208 games went into extra innings. Of those, 117 or 56 percent went beyond 10 innings and Turner's home-run derby rule would have gone into effect.
A home run derby might sound crazy, but in these crazy times, anything is possible. If there ever was a time to implement an idea like this, that time is now. If the television ratings every summer are any indication, the fans already approve.