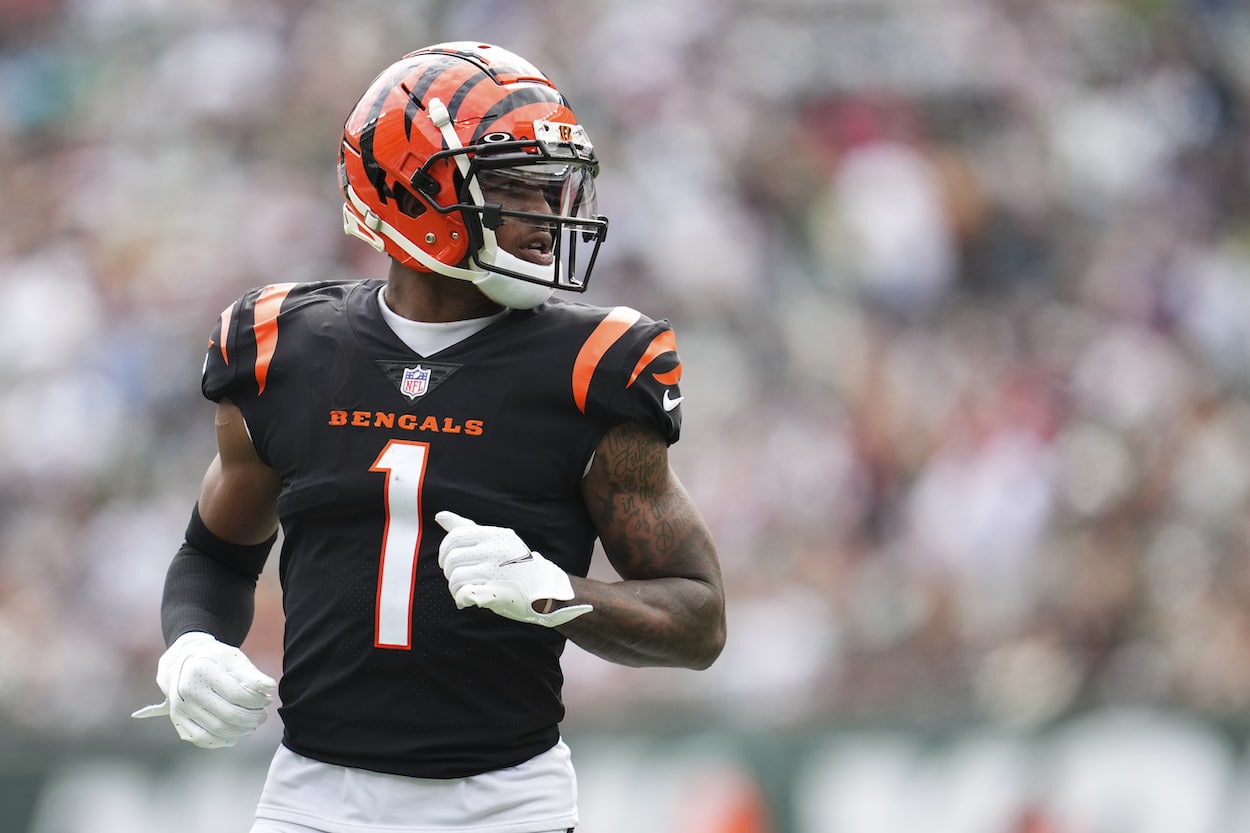 Dolphins vs. Bengals: 5 Key Matchups to Watch in the Faceoff Between Joe Burrow and Tua Tagovailoa
Keep an eye on these five matchups when you're tuned in to Thursday Night Football.
After beating a shorthanded Buffalo Bills team in dramatic fashion, the 3-0 Miami Dolphins will once again have their hands full against a franchise with legitimate Super Bowl aspirations. Whether Tua Tagovailoa and Co. remain undefeated depends largely on whether the reigning AFC champion Cincinnati Bengals can finally figure out how to keep Joe Burrow out of harm's way. 
Ultimately, the showdown between two former SEC stars could simply be a snapshot of what's to come. After all, both the Dolphins and the Bengals boast talented rosters that carry championship potential. So, which matchups will dictate the winner of the Week 4 edition of Thursday Night Football? 
Let's take a closer look at the biggest battles to watch in the faceoff between Burrow's Bengals and Tagovailoa's Dolphins.
1. Dolphins CB Xavien Howard vs. Bengals WR Ja'Marr Chase 
It doesn't get much better than this.
In what promises to be a physical matchup featuring two elite players, it'll be fascinating to see if 22-year-old Ja'Marr Chase gets the best of veteran cornerback Xavien Howard on more than a handful of occasions. The explosive receiver started his second NFL season with a bang by racking up 10 catches for 129 yards and a touchdown in a close loss to the division-rival Pittsburgh Steelers. However, Chase has only totaled 11/83/1 in his last two games. 
Meanwhile, Howard, a three-time Pro Bowler who's twice led the league in interceptions, remains without a pick through three games. Quarterbacks have completed 11 of 18 passes for 167 yards and one touchdown when targeting the 6-foot-1, 203-pound defender. In fact, opposing signal-callers have posted a 110.2 rating against Howard — a huge leap from 47.9 and 72.6 in 2020 and 2021, respectively. 
Will Chase get back on track against a corner who has plenty of motivation to prove he's worth $18 million per year? Or will Miami's most decorated defensive player utilize his experience and technique to hold Cincinnati's most dangerous weapon to a quiet night? 
The answer will hinge heavily on the winner of the next matchup…
2. Dolphins OLB Melvin Ingram III vs. Bengals LT Jonah Williams
If Bengals fans plan to celebrate a victory Thursday night, they better hope Joe Burrow's blindside protector plays up to his draft pedigree.
To this point, 2019 first-rounder Jonah Williams simply hasn't done that. The Alabama product has already surrendered four sacks on 237 snaps, and his overall PFF grade of 53.1 is a far cry from the 77.1 mark he earned in 2021. 
Unfortunately for Williams, he'll have his hands full in the form of three-time Pro Bowl pass-rusher Melvin Ingram III. The longtime Los Angeles Charger has looked revitalized in his first season with the Dolphins, totaling two sacks, two fumble recoveries, and two quarterback hits on 121 snaps. Although the 33-year-old may not be a star at this stage of his career, he clearly still has enough left in the tank to make an impact. 
Can Williams clean up his issues so Burrow has enough time to hit Chase down the field? If the fourth-year left tackle continues to struggle, the Bengals will be in major trouble. But if he's able to keep Ingram at bay, Cincinnati will be in prime position to make enough plays in the passing game to earn a home win on Thursday Night Football. 
3. Dolphins DT Christian Wilkins vs. Bengals C Ted Karras
The Dolphins may only rank 16th in points allowed, but don't underestimate their talent on that side of the ball. After all, stats don't always tell the whole story.
That's exactly the case with 2019 first-round pick Christian Wilkins — a tough, explosive interior lineman who remains a key cog in the middle of Miami's defense. Although he has yet to post a sack or quarterback hit, the 6-foot-4, 310-pound defensive tackle has earned an impressive grade of 72.2 from PFF thus far. 
Don't be surprised if Wilkins notches at least a few pressures Thursday, especially if he gets one-on-one rush opportunities against a player with whom he should be intimately familiar.
Veteran Ted Karras squared off against Wilkins in 2019 as a member of the New England Patriots before taking his talents to Miami in 2020. Following a one-year stint as Wilkins' teammate, Karras spent the 2021 season protecting Mac Jones. Now the starting center in Cincinnati, he holds the responsibility of making calls at the line of scrimmage, executing the snap, and preventing interior pressure from disrupting Burrow and the passing game. 
If Wilkins uses his power and quickness to his advantage, he can overwhelm Karras, who gets by more on technique and smarts than pure physicality. However, if the heady veteran holds his ground and wins this matchup, the Bengals should put up points against a defense that surrendered 38 to the Baltimore Ravens just two weeks ago. 
4. Dolphins LT Terron Armstead vs. Bengals DE Trey Hendrickson 
Talk about a matchup between two incredibly underrated stalwarts.
While the Bengals can't feel totally confident about their left tackle situation, the Dolphins can rest easy knowing they have a three-time Pro Bowler anchoring their offensive line. After suiting up for the New Orleans Saints since 2013, Terron Armstead relocated to South Florida this offseason, filling a huge hole in Miami's lineup. The 31-year-old has been mostly flawless through three games, which has obviously been a big boost for Tagovailoa. 
But will Armstead post another clean sheet this week? That's not necessarily a given based on who he'll likely face on a snap-to-snap basis.
Cincinnati counters with one of the most unsung stars in the NFL, Trey Hendrickson, who just so happened to spend the first four years of his career as Armstead's teammate. Coming off a 14-sack season and his first Pro Bowl berth, the 27-year-old defensive end has posted 2.5 sacks, six quarterback hits, and two forced fumbles on 157 snaps. 
In a battle between two ex-teammates, will it be Armstead who emerges victorious? Or can Hendrickson harness his strength and tenacity to get by Miami's new left tackle in key moments? 
5. Dolphins WR Tyreek Hill vs. Bengals CB Eli Apple
It's impossible to talk about this game without mentioning Tyreek Hill. As much as Dolphins fans should be excited about second-year wideout Jaylen Waddle, all eyes will be glued to the game-wrecking receiver who's made the Pro Bowl in each of his first six NFL seasons.
With 21 catches for 317 yards and two touchdowns in three games, Hill has already established solid chemistry with his new quarterback — and that's just the tip of the iceberg. 
The longtime Kansas City Chiefs star will be eager to showcase his rare speed against a foe with an equal level of motivation. In the aftermath of Miami's big win against Buffalo, Hill specifically noted that he "can't wait to go against Eli Apple," who prevented Patrick Mahomes' former No. 1 wideout from scoring on a pivotal play in last year's AFC Championship Game. 
You can bet Dolphins head coach Mike McDaniel will have a few tricks up his sleeve to highlight his team's most explosive weapon. At the same time, the Bengals should be prepared to give Apple some help over the top from star free safety Jessie Bates III.
Ultimately, if Hill spring frees for big gains, Cincinnati could suffer its third loss. But if Apple rises to the occasion, Burrow's squad might just hand Miami its first of the season.
Like Sportscasting on Facebook. Follow us on Twitter @sportscasting19.