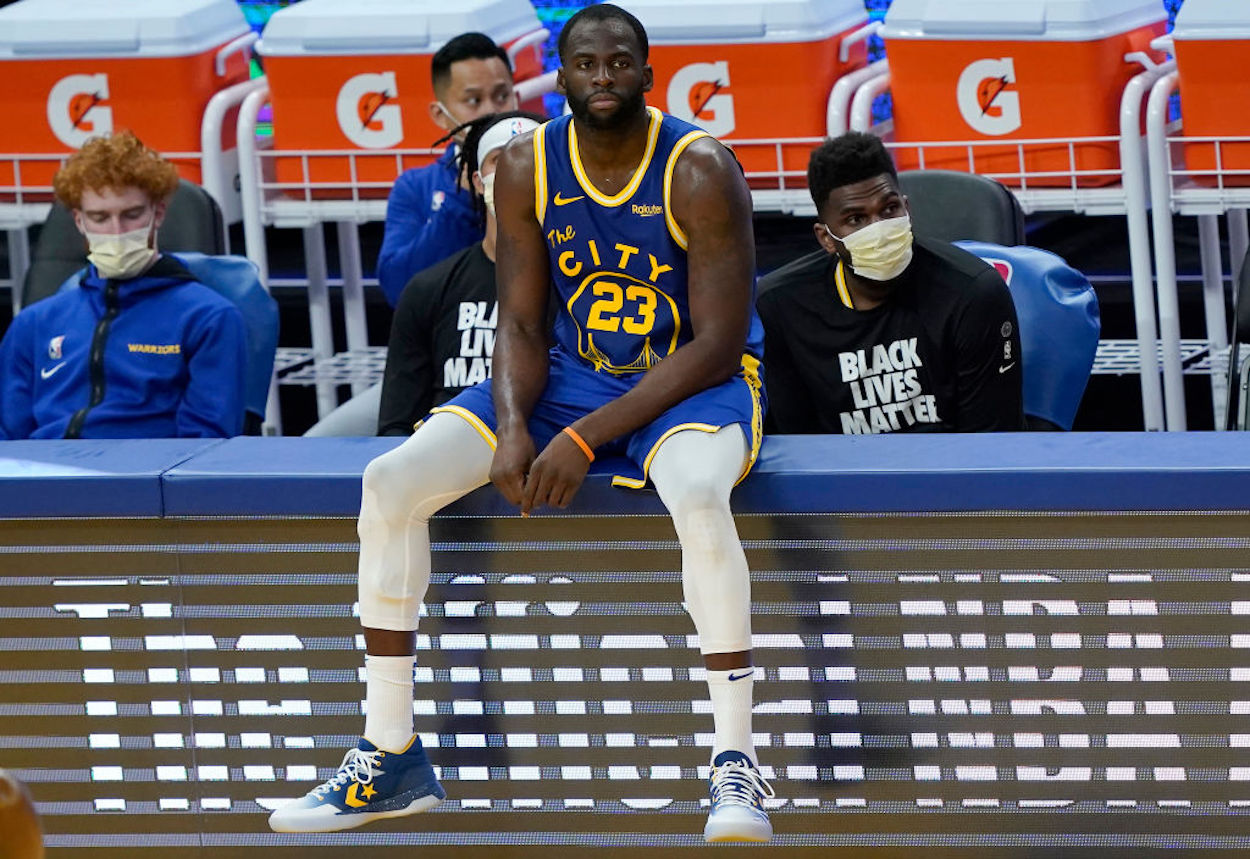 Draymond Green Eviscerates Rodney McGruder in Profanity-Laced Rant: 'Ain't Nobody Scared of No Damn Rodney McGruder'
After Rodney McGruder disrespected the Warriors on Saturday, Draymond Green didn't hold back on his feelings about the Pistons guard.
Draymond Green has always been one to speak his mind. If he has a problem with another player in the NBA, he won't hesitate to let you know about it. And that's exactly what he did Saturday night.
After the Golden State Warriors destroyed the Detroit Pistons, Green went on a captivating, profanity-laced rant targeting Rodney McGruder, and it might just be his best work yet.
Rodney McGruder starts beef with the Warriors
There are countless unwritten rules in the NBA today. One of the most sacred is that you don't talk trash after losing a game, especially if you get your doors blown off.
That was the case for the struggling Pistons on Saturday night. They were outplayed from the opening tip against the Warriors and went on to lose, 118-91. The game was never even close.
But Pistons guard Rodney McGruder evidently had a problem with one of Golden State's bench players, so he tried to approach him after the game. A group of Warriors saw him talking trash and approaching the team, so they quickly diffused the situation.
Klay Thompson, who was in the television booth commenting on the game Saturday, ripped into McGruder live on-air while the altercation was breaking up.
"I don't know, this dude might be out of the league soon. He might be mad about that," Thompson said. "Over here trying to start something like he's a good player or something. Like bro get outta here."
But Thompson's rant was just the appetizer to the delicious main course.
Draymond Green eviscerates Rodney McGruder
Draymond Green wasn't on the court when McGruder approached the Warriors' bench. It's a good thing he wasn't, too. That situation might've ended a bit differently if an angry Green was there to stick up for his teammate.
But Green did catch wind of the dust-up in the locker room, and he had a few choice words for the little-known Pistons guard in his postgame press conference. The sound bite is pure gold. Here's the beautiful quote in its entirety:
"I don't know. I was in the locker room. But apparently, he was taking up for Wayne Ellington," Green told reporters after the game. "When the f— did Rodney McGruder become the tough guy? I don't know, man, everybody in the league tough these days. It's crazy. I've seen a lot of tough guys this year. I don't understand it. And don't nobody do anything. Like if you really wanted to do something, you could have done it. Walking over there talking s— like he a tough guy. Get the hell outta here. F—ing tough guy Rodney. Tough guy. Also, I'm rocking with Juan [Toscano-Anderson]. Juan T was about to bring that Town Bidness s— out on him. Yeah, I'm rocking with Juan T on that one anyway.
"Also I think it was something Juan said in the first or second quarter to Wayne Ellington. You got nothing better to do that you're still thinking of something from the first or second quarter when you weren't in the game. So apparently, Wayne Ellington must have went over to the bench. I guess he went and told McGruder because he hadn't been in the game. Yeah, I don't know. There's too many tough guys in the league these days for me. But I know no one scared of no damn Rodney McGruder, like f—ing kidding me? Insane. But Klay [Thompson] said it best. Klay said it best. Leave it at that."
How did this beef even come about?
You wouldn't think there would be any drama following a 27-point win in the NBA, but this league tends to be overly dramatic every chance it gets. Apparently, McGruder was trying to approach Warriors guard Juan Toscano-Anderson and confront him about an incident from earlier in the game. McGruder was sticking up for his teammate, Wayne Ellington, so Thompson and Green had to stick up for theirs.
It's not a great look for a 5-15 Pistons team, but at least it produced one of the best sound bites of the season. Never change, Draymond. Never change.