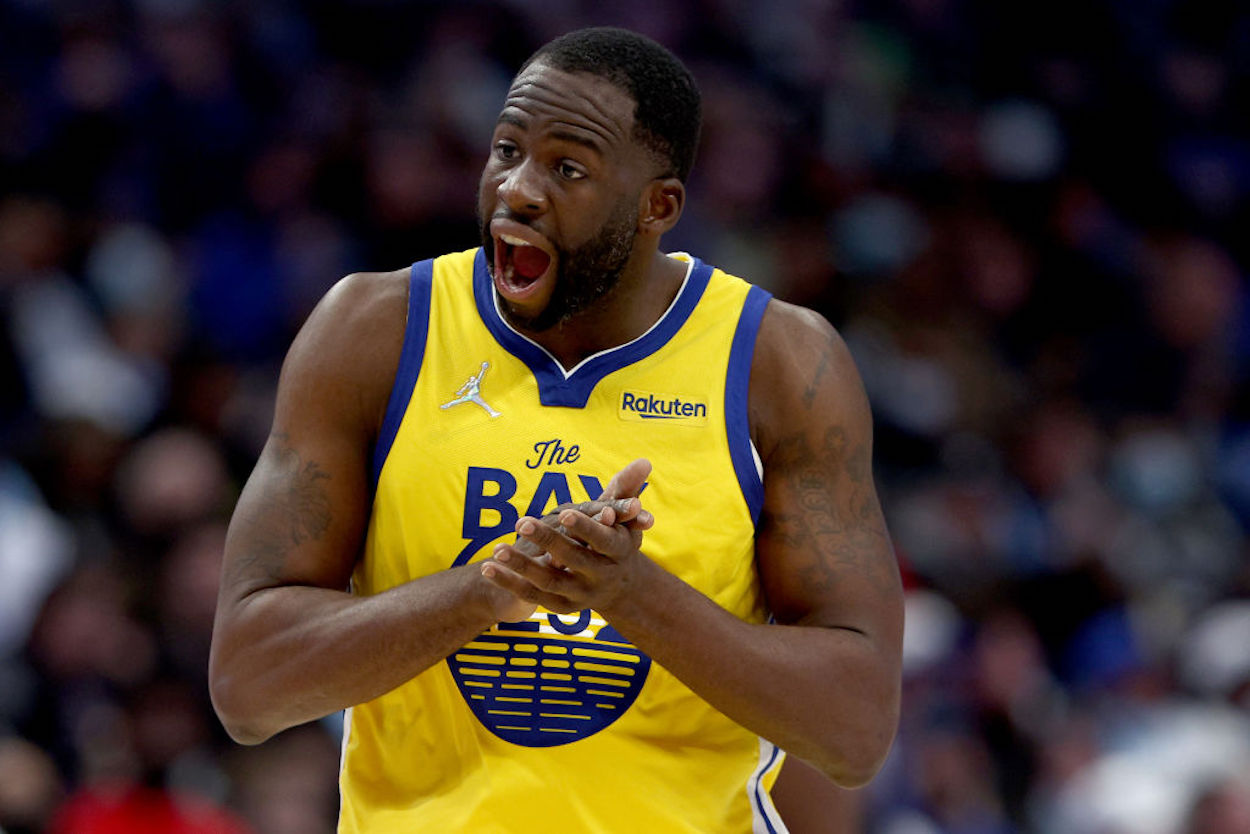 Draymond Green Is Missing the Point if He Thinks It's 'Ridiculous' for Lakers Fans to Boo Their Team
While Draymond Green doesn't play for the Los Angeles Lakers, he still didn't appreciate their fans' collective choice to boo.
It's safe to say the 2021-22 Los Angeles Lakers campaign hasn't gone as anyone in Hollywood planned. Despite having a star-studded roster, LeBron James and company aren't anywhere near the top of the Western Conference. Instead, they've slipped down the standings and, as things stand, could be in danger of missing the play-in game. As you might expect, their fans aren't too happy about that fall from grace and, on recent occasions, have been letting the team hear all about it.
Booing can be a contentious subject in sports — just ask Javier Baez and his New York Mets teammates about that — and Draymond Green decided to weigh in during a recent episode of his podcast. He called the behavior "wack," and even went as far as suggesting that Lakers fans were spoiled.
The Golden State Warriors star, however, is missing a valuable piece of context. For most fans, effort looms large as the line in the sand.
Draymond Green took issue with Lakers fans booing their team
During the Lakers' recent losing streak, boos have been ringing out at Crypto.com Arena. It's safe to say that show of dissatisfaction has made an impact; even Draymond Green, who plays about 400 miles away, has noticed them and felt a need to weigh in.
"From a team, from an organization that's had so much success, to start booing when things aren't going right, like, that's kind of wack to me," the forward said on a recent episode of The Draymond Green Show. "And then, everyone gets upset if a player comes out and says, 'Oh, well forget them fans,' or, like, 'They're not with us anyway.' Then everyone gets upset and uptight about it, but, as athletes, we're just supposed to sit back and be like, 'Oh, they're booing us.' Quite frankly, most of those people in that arena don't know how it feels to get booed."
In fairness to Green, he's right about that last point. Being booed by thousands of people is a unique experience and one that would probably bother the average person. Fans probably could do a better job of remembering that athletes are people too. The forward, however, didn't stop there and kept pushing on the validity of booing.
"Some boos rang out when 'Bron threw the turnover where he tried to hook the pass around to Talen Horton-Tucker in the corner," he continued. "I've seen LeBron make that pass several times, and it is an amazing pass. Didn't complete it yesterday, and the boos rang out. I thought that was pathetic. I thought it was extremely pathetic, and, like I said, I thought it was very distasteful from a fan base of an organization that has the most championships in the NBA. Like, let's not be so like spoiled brats. Like, it's OK to be spoiled. You can 100% be spoiled. We all get spoiled by things at times, at one point in our life or another. But let's not be brats. And that was about as bratty as something that I've seen. Considering that this team just won a championship, not even a full two years ago. And now you're booing? I thought that was utterly ridiculous."
Draymond Green seems to be overlooking the biggest issue in Hollywood
If we're speaking solely about LeBron, then Draymond Green does have a point. King James has proven his worth in Los Angeles and has been the club's stand-out performer this season; if anyone has the right to try a risky pass, it's him. When you extrapolate out to the bigger Lakers picture, though, the boos become a bit more valid.
While every fan has their own rules for when it's OK to boo, a general shorthand defaults to effort. If a team simply lacks talent but gives it their all, they probably won't feel the crowd's collective wrath. Instead, the ire is usually reserved for star-studded teams who fall short or, even more damningly, seem like they don't care.
It's impossible to get inside the head of every fan inside of Crypto.com Arena, but it's probably safe to assume that final point is raising the most eyebrows. The Lakers' slip down the standings has been accompanied by frustrating inconsistency and a seeming lack of effort. On a recent episode of Inside the NBA, for example, Shaquille O'Neal said that it looks like his former team is quitting. Dwyane Wade shared a similar sentiment, adding that the Lakers seemed to be playing without any pride.
Similar sentiments have ever emerged from inside the locker room. "Teams are coming in, playing harder, and I believe that's kind of their scouting report: Just play harder than them and see what happens," Russell Westbrook said after a recent loss to the Pelicans, according to ESPN. "And it's working. Until we determine and have the determination that we're not going to allow it, especially on our home floor, it will continue to happen to us."
Through that lens, the booing takes on a different light. It's not about being spoiled and expecting a championship every season — although Lakers fans are entitled to expect a team with their level of talent to be fighting for a title rather than a place in the play-in game — but seeing the players putting in the work. At the risk of delving a bit into cliche, fans want to see the players caring about the team as much as they do. While that's probably not a 100% reasonable expectation, effort is the bare minimum.
As a fan, if you feel like that baseline isn't being met and you're not making things personal or otherwise acting uncivilly, then pay no attention to Draymond Green. Boo away.