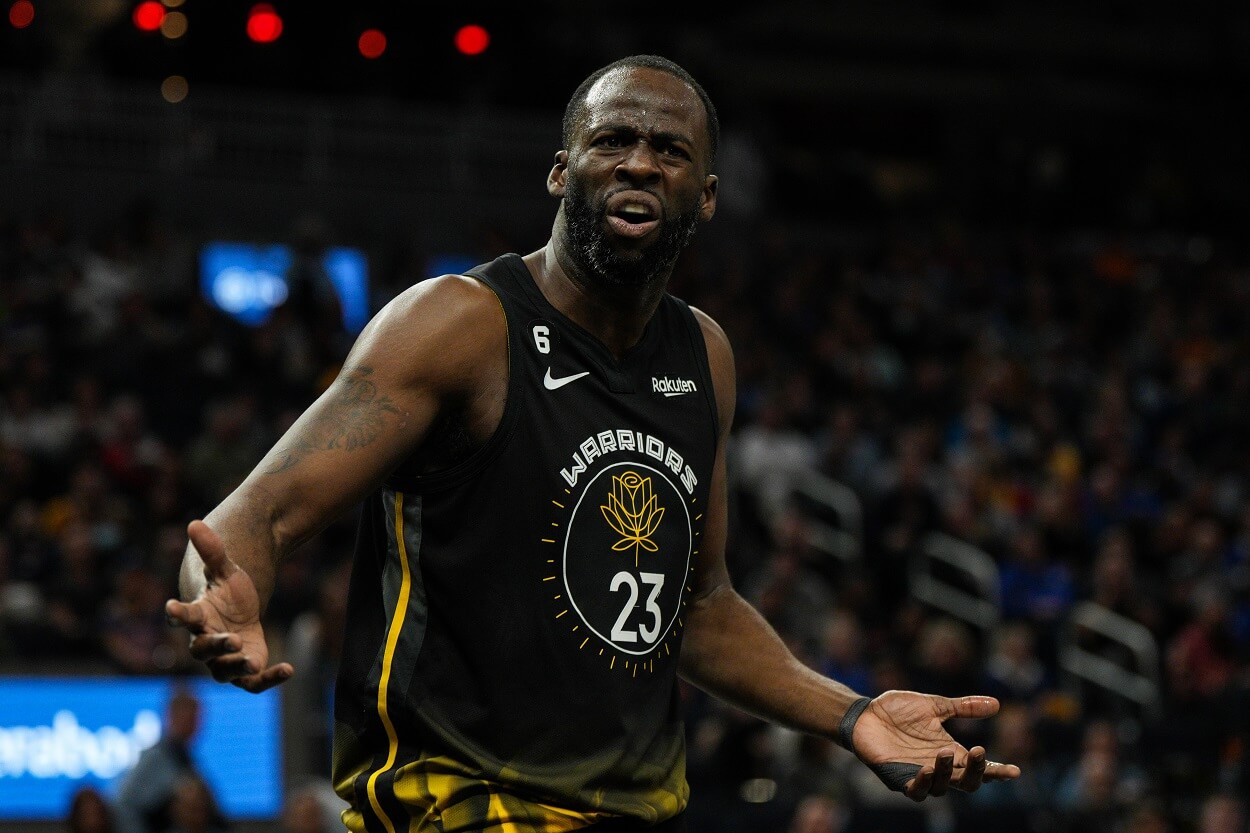 Draymond Green Sounds Off on the 'Most Ridiculous' Player Taken Ahead of Him in the 2012 NBA Draft
Draymond Green opines on the "most ridiculous" player taken ahead of him in the 2012 NBA Draft.
Despite a strong finish to his four-year run at Michigan State, where he averaged 16.2 points, 10.6 rebounds, 3.8 assists, 1.5 steals, and just under one block per game as a senior, Draymond Green sat and waited as 34 players were taken ahead of him the 2012 NBA Draft.
Even the Golden State Warriors, who took Green early in the second round at No. 35 overall, drafted two players ahead of him, selecting North Carolina small forward Harrison Barnes at No. 7 and Vanderbilt center Festus Ezeli at No. 30.
So as you can imagine, Green began his NBA career with a bit of a chip on his shoulder. And while it took a minute for that career to truly get rolling, the Michigan native has undoubtedly exceeded expectations as the years have progressed.
After starting just 13 games in his first two years in the Bay, Green joined the Warriors' starting lineup permanently in 2014-15 and hasn't looked back, helping Golden State to six NBA Finals appearances and four championships. He's been a four-time NBA All-Star, a two-time All-NBA selection (one Second Team, one Third Team), an eight-time All-Defensive selection (four First Team, four Second Team), and was named the 2016-17 Defensive Player of the Year.
Green certainly isn't the only player from his draft class to find success but is one of just six players to make at least one All-Star team, the others being Anthony Davis (No. 1), Bradley Beal (No. 3), Damian Lillard (No. 6), Andre Drummond (No. 9), and Khris Middleton (No. 39). And of those six, Middleton is the only player not to have earned at least one All-NBA selection.
What that means is Green has obviously had a far better pro career than the vast majority of the players selected ahead of him that night in Newark. But there seems to be one selection that still bothers him more than the rest.
Draymond Green names the "most ridiculous" player taken ahead of him in the 2012 NBA Draft
Draymond Green recently made an appearance on Paul George's podcast, Podcast P, and discussed several topics, including his new $100 million contract that will keep him with the Warriors for four more years.
George, an eight-time NBA All-Star himself, also brought up Green's draft position and asked Draymond to name the "most ridiculous" player taken ahead of him in 2012. And the 2012 Big Ten Player of the Year really didn't hesitate to respond.
The most ridiculous? Which one? I mean s***…Listen, not to throw salt at anybody, but Andrew Nicholson was drafted over me at No. 19. Like you don't even know how to pronounce his school.

Draymond Green
For those unaware, Andrew Nicholson, a 6'10" forward from Canada, attended St. Bonaventure, where he averaged 17.1 points, 7.2 rebounds, and two blocks per game during his four-year run. He was a three-time All-Atlantic 10 selection (two First Team, one Second Team) and was named the Atlantic 10 Player of the Year as a senior in 2012, a year in which he was also named an honorable mention All-American.
So it's not as if the guy didn't have a strong resume coming into the 2012 draft. But his NBA career just wasn't that strong. Taken by the Magic at No. 19, Nicholson spent four seasons in Orlando before signing a four-year/$26 million deal with the Wizards ahead of the 2016-17 campaign.
But after appearing in just 28 games for Washington, he was traded to the Brooklyn Nets, with whom he played just 10 games. Nicholson was traded in the summer of 2017 to the Portland Trail Blazers but was waived just over a month later. And that marked the end of his NBA career. In 285 games, just 36 of which were starts, he averaged 6.0 points and 3.0 rebounds while playing an average of 14.3 minutes.
Unable to find a team in free agency, Nicholson took his talents to China and currently plays for the Bay Area Dragons in the East Asia Super League.
Draymond Green went on to say that Nicholson simply didn't "even really look like a basketball player." He also mentioned that other selections bothered him, but that was the "one that really, really, really, really pissed me off."
Come on, Draymond. Change things up and tell us how you really feel.