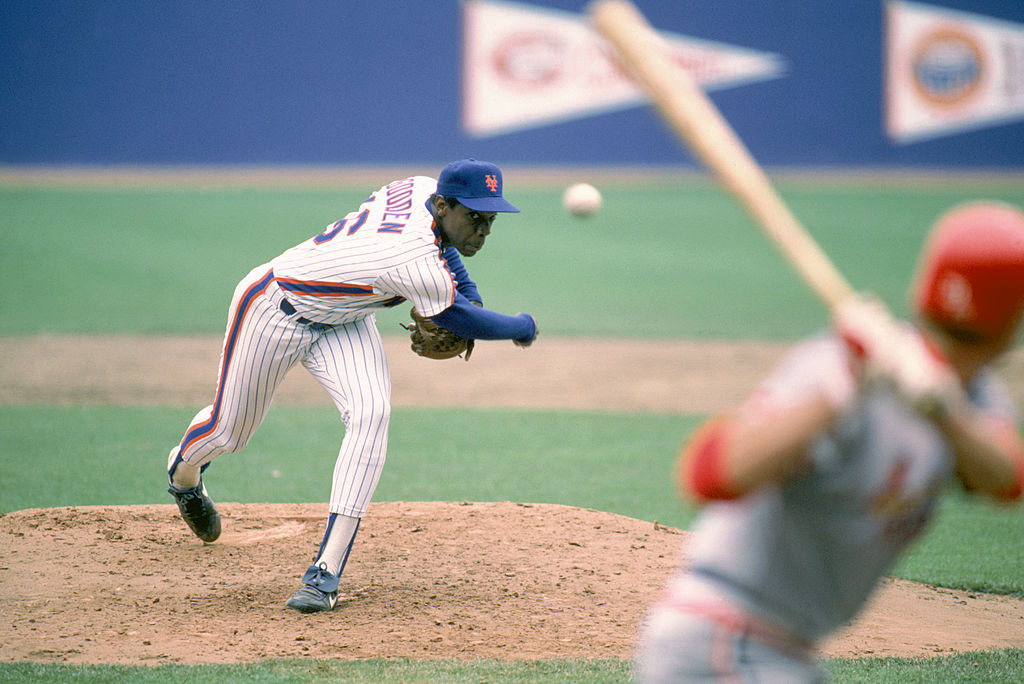 Dwight Gooden Held a Loaded Gun to His Head a Day After Being Suspended From Baseball
Former New York Mets and Yankees pitcher Dwight Gooden held a loaded gun to his head one day after being suspended from baseball.
Dwight 'Doc' Gooden was depressed. He was crushed when Major League Baseball acting commissioner Bud Selig suspended him for the entire 1995 season after failing multiple drug tests. Baseball was what he knew. It was what made him successful and wealthy. It was all taken away from him in 1995 and Gooden was very close to taking his own life, putting a loaded gun to his head one day after he was issued the suspension.
Dwight Gooden the young phenom
Dwight Gooden was the hottest young pitcher in the mid-1980s after he was drafted in the first round of the 1982 MLB draft by the New York Mets. Gooden, the hard-throwing pitcher from Tampa, Florida, made his big-league debut on April 7, 1984. He went on to win the American League Rookie of the Year after going 17-9 with a 2.60 ERA.
Gooden finished second in the American League Cy Young Award voting in his rookie season. In his follow-up year, he earned the award after leading the big leagues with 24 wins while compiling a 1.53 ERA. His 1985 season will go down as one of the best ever. He led the majors in strikeouts, innings pitched, and complete games while going 24-4.
"I knew I could get any hitter out in any situation that year," Gooden told NJ.com in May. "Didn't matter what the count was, didn't matter if they knew the fastball was coming – I'd still throw it right by them. I just wish I'd appreciated it more at the time. I had a good career, but man, I knew I should've had a great one."
Gooden's off-the-field troubles
It all began with a failed drug test during spring training before the 1987 season. Dwight Gooden entered rehab, avoiding a suspension from Major League Baseball. Gooden missed nearly three months of the season and still racked up 15 victories. That failed drug test, however, was the first of many to come. It was later revealed that Gooden missed the 1986 New York Mets World Series parade because he was doing drugs at the time.
In the strike-shortened 1994 season, Gooden, again, tested positive for cocaine and was handed a 60-day suspension. While serving the suspension, Gooden failed another drug test. Acting commissioner Bud Selig suspended the Mets pitcher for the entire 1995 season.
Today, Gooden still struggles with temptation. "I still have thoughts in my head about using, I won't lie about that," Gooden told NJ.com. "But the important thing is to be able to talk to someone and not feel ashamed, or think, 'What's this person going to say about me if I call and say I'm feeling the urge?' It's thoughts like that which can turn into a 3-5 day binge. But I'm in a good place right now, sticking with the program. I've got seven kids and six grandkids and I'm not even 60 yet."
The suspension nearly led to suicide
One day after Dwight Gooden was suspended for the entire 1995 season for multiple violations of the league's substance-abuse policy, Gooden considered taking his own life. In 1996, he told The Associated Press that he was alone in a room with a loaded gun to his head. Then his wife walked in.
"I was sitting in the bedroom with a gun in my hand,″ Gooden said. "My wife walked in, and I actually had the gun to my head, thinking about pulling the trigger. I was so destroyed by (the suspension). I was sitting there with the gun. I'd say, 'Go ahead and end it,′ but then I'd say, 'No, be a man and face up to your responsibilities, your wife and kids.′″
Gooden said his wife managed to pry the gun away from him. "I don't know if I ever would have actually done it, but then my wife walked in and she just freaked,″ Gooden said. "She started screaming, and she grabbed the gun from me. When I think about it now, it was crazy. The gun was loaded; it could have gone off. But she grabbed it from me, and then she ran and called my mom and told her to come over right away. When I think about it, the whole thing was terrifying.″