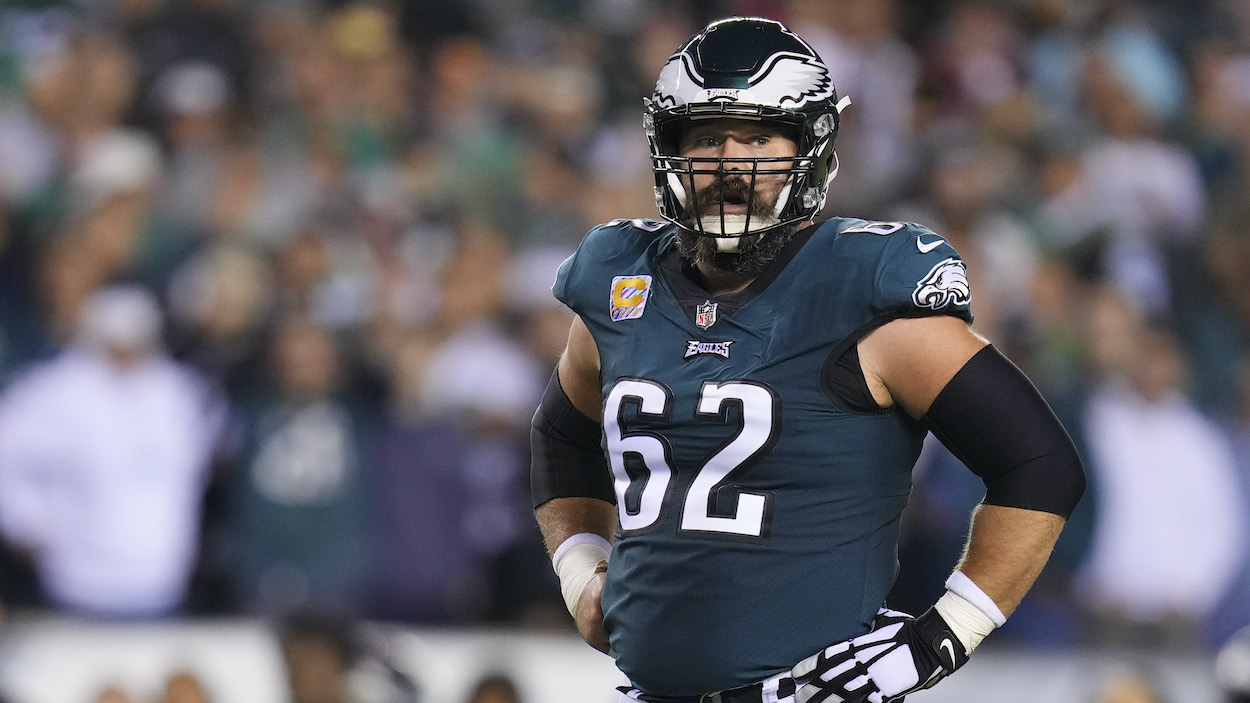 Eagles C Jason Kelce Hates QBs Yelling at Lineman: 'I Will Put You in That Trash Can!'
The undefeated Eagles have a bye in Week 7 but that didn't stop Jason Kelce from weighing in on Tom Brady's behavior with a hilarious rant.
One of the enduring images from the Week 6 NFL schedule was an irate Tom Brady screaming at his offensive linemen during the Tampa Bay Buccaneers' 20-18 loss to the Pittsburgh Steelers. The following week, Philadelphia Eagles center Jason Kelce shared his thoughts on quarterbacks yelling at offensive linemen on the sidelines, and, suffice to say, he's not a fan.
Jason Kelce shared his strong feelings on QBs yelling at OL 
In response to the video of Tom Brady yelling at his line in Week 6, Jason Kelce his thoughts on QBs yelling at linemen on his New Heights podcast with his brother, Kansas City Chiefs tight end Travis Kelce.  
Jason quickly admitted that if the best QB in NFL history was yelling at him, "I'd probably not say nothing, neither."
That said, the four-time Pro Bowl center noted that, outside of giving Brady a pass, he isn't a fan of quarterbacks yelling at offensive linemen.
"Playing O-line's hard. If there's one thing I do not like, it is quarterbacks getting into offensive linemen. It's like, 'Bro. I am f****** doing the best I can, brother! Get the f*** up out of my face! I will put you in that trash can over there if you don't shut the f*** up,'" Jason exclaimed as his younger brother cracked up. "The last thing I want is a mother***** that can't get hit, or it's called roughing the passer, to come up to me and tell me how to f****** wrestle somebody every play. Get the f*** out of here."
After that hilarious, profanity-laced rant, Jason again reiterated that Brady has earned the right to yell at whoever he wants with his seven Super Bowl rings. However, after seeing Jason Kelce's reaction to it, you have to question if even the great Tom Brady would try if Jason were his center.
Can the Eagles stay undefeated?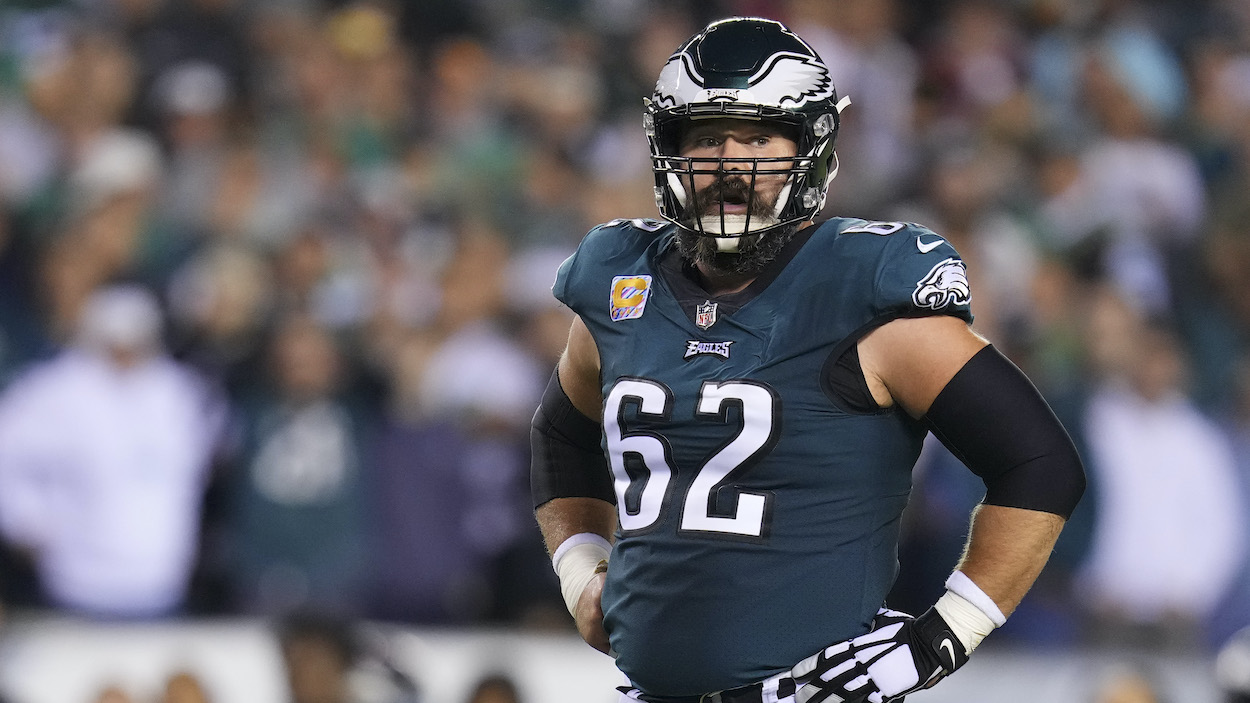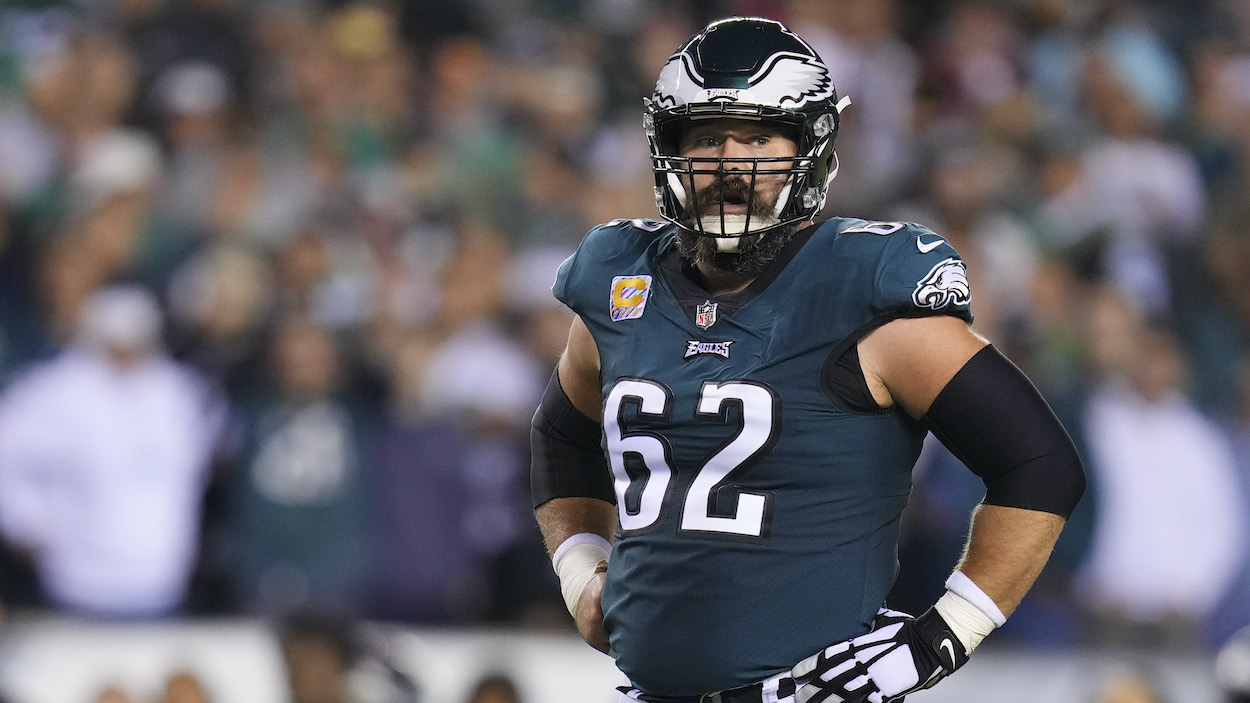 Week 7 brings Jason Kelce and the Philadelphia Eagles a bye as the team sits at 6-0 on the season. As the last undefeated team in the NFL, the questions as to whether the team can go all the way untarnished start to crop up.
The Eagles have several things going in their favor that suggest a perfect season is possible.
Outside of the team's talent and excellent coaching, the schedule is a major reason 17-0 is a thought.
The Eagles have 11 games after the bye. Five are against teams with losing records (Pittsburgh Steelers, Houston Texans, Washington Commanders, Chicago Bears, New Orleans Saints ), one is against a .500 team (Green Bay Packers), and five are against teams with winning records (Indianapolis Colts, Tennessee Titans, Dallas Cowboys, New York Giants x2). And only those two NFC East rivals are more than one game over .500.
Philadelphia will likely be the favorite in each of these last 11 contests. As we know, though, on any given Sunday…
The season is long, injuries happen, and weird games pop up all the time. Chances are, at some point, the 1972 Miami Dolphins will get to pop their champagne as they always do. However, with how well the Eagles are playing and the relatively easy schedule they have left, it's difficult to pinpoint the exact Sunday (or Thursday or Monday) they'll take their first L.
Have thoughts on this topic? Keep the conversation rolling in our comments section below.