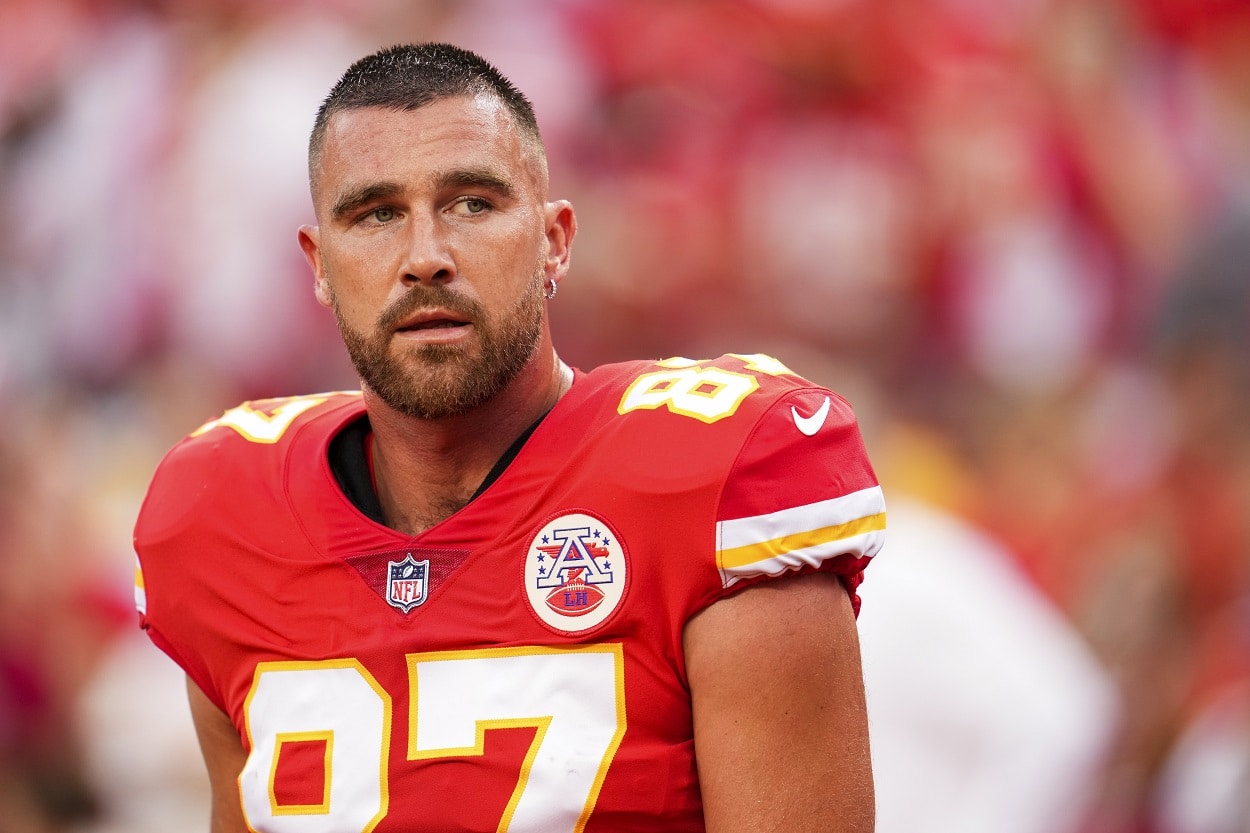 Travis Kelce Talks Retirement, a New Venture With His Brother, His Mount Rushmore of Tight Ends, and More (Exclusive)
Travis Kelce spoke with Sportscasting on a variety of topics.
Kansas City Chiefs superstar tight end Travis Kelce has had quite the big week.
In Sunday night's high-profile Week 4 matchup with the Tampa Bay Buccaneers, the future Hall of Famer caught nine passes for 92 yards and a touchdown as the Chiefs rolled to a 41-31 victory. During the second quarter, Kelce surpassed Rob Gronkowski for the fifth-most receiving yards by a tight end in NFL history. And he's played 12 fewer regular-season games than Gronk, so the accomplishment is that much more impressive.
A seven-time Pro Bowler and a six-time All-Pro selection, Kelce already owns the NFL record for the most consecutive 1,000-yard seasons with six and is easily on pace for a seventh.
And on top of all that, he celebrated his 33rd birthday on Wednesday, which is when we caught up with the Ohio native as he was out promoting his newest campaign with Tide, one of his many endorsement deals.
In addition to that, we spoke with the Super Bowl champ on a variety of topics, including what it's like to be on the field with Patrick Mahomes, when he'll retire, his Mount Rushmore of tight ends, and his new podcast with his brother.
Sportscasting's interview with Travis Kelce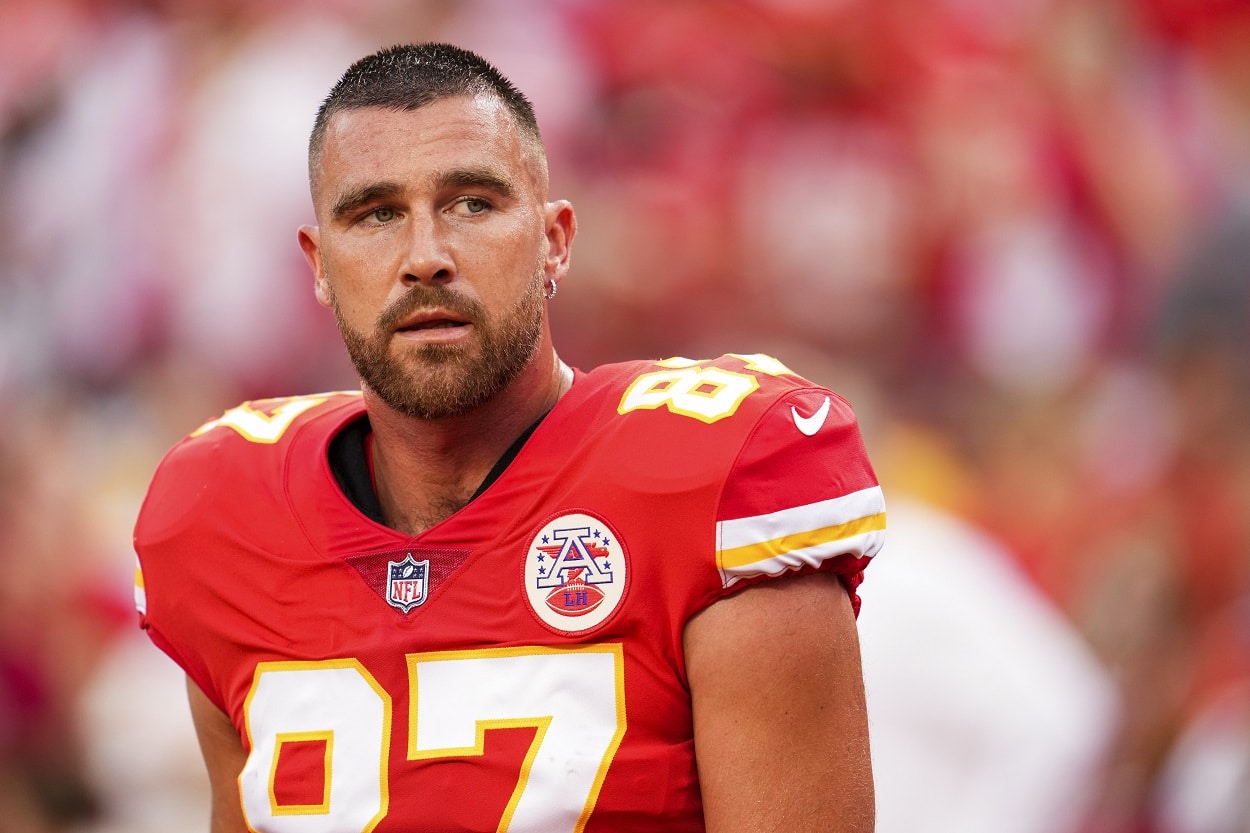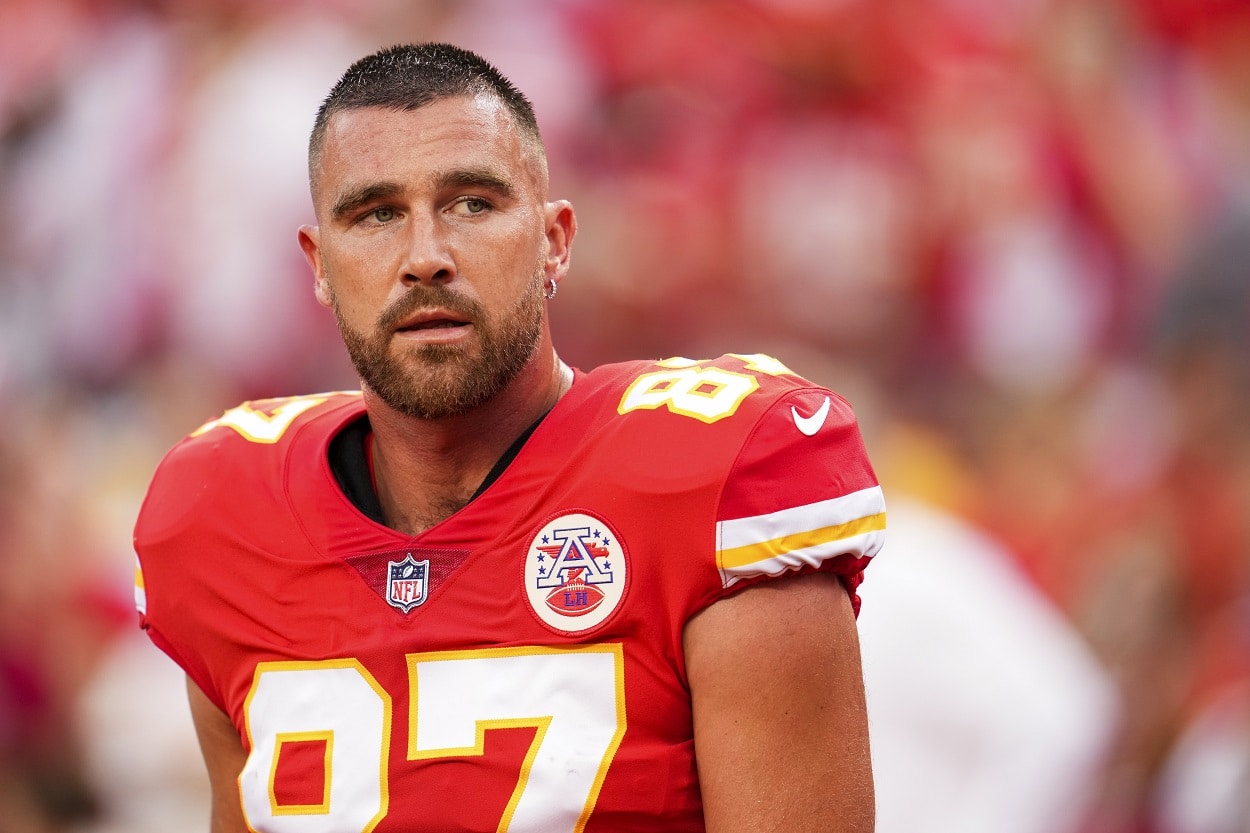 Sportscasting: So around this time last year — I'm sure you remember — you and I talked about Tide's #TurntoCold campaign, and now we've got the #LuckyJersey campaign going on, where you and others such as Davante Adams and Clay Matthews are offering incentives to fans to wash their superstitious jerseys. Can you tell folks a little bit more about what Tide is doing here and how people can get involved?
Travis Kelce: Oh yeah. So I'm once again teaming up with Tide and the NFL to tackle superstitions, baby. We know everybody's got those lucky jerseys or lucky clothing items that they just don't want to wash because they don't want to wash the lucky off of them. And I'm here to tell you that is no longer the thing because Tide has Hygenic Clean pods that will wash your jerseys and keep the luck on them so you can wear them week in and week out.
So we have a fun deal that we're doing on social media. I've already posted it on my Instagram and TikTok, where everybody can win grand prizes, tickets to a game, maybe a new jersey. Who knows what's in store? But if you go to the social posts and tell us what you would do, we'd love to hear what everybody has to say. So please go to my Instagram and TikTok and comment.
Sportscasting: So, what are some of the craziest ones you've heard thus far?
Travis Kelce: I'll tell you what. For the most part, everyone wants to get sideline passes or new jerseys of some sort. I've seen a few dinner proposals.
Sportscasting: Come on, you don't have to keep it clean with me, brother.
Travis Kelce: (Laughs) I know, right? Yeah, so there have been a few ladies that have jumped out and offered some interesting things. But for the most part, everybody wants things like Chiefs tickets or Super Bowl tickets, and that's pretty fun.
Sportscasting: Speaking of your Chiefs, you guys are coming off a huge win Sunday night in Tampa, where you didn't have much luck the last time you visited in Super Bowl 55. But you guys went in and took care of business against a really good defense. You had nine catches for 92 yards and a touchdown, and my wife thanks you for the fantasy football points.
And I want to circle back to what you did, but I have to ask about that play from Patrick Mahomes, and you know which one I mean. When you're out there with him, and he's doing all those video game-type stuff, what's going through your head? I mean, you can just never give up on a play when he's out there, can you?
Travis Kelce: To be honest, the play is never dead, like you said. You gotta stay on your toes and make sure you're always working for him because that guy can get himself out of some crazy situations and get the ball to you in a lot of different ways. So he's extremely fun to play with. It's like you're in the backyard, and you just see your friend or your brother going out there trying to make something happen.
And like I said, when he makes those kinds of plays, those are just daggers to the defense. And they're huge energy boosts to the offense. And what really makes him that much more special than any other player in the league is that he does that on a game-to-game basis.
At this point, I could say it doesn't surprise me, but I'm not even gonna lie, that touchdown he threw to Clyde, that one even surprised me. I was on the field, and when he let it go, I told myself, "No," like that wasn't gonna work. But sure enough, Clyde was just sitting in the back of the end zone.
Sportscasting: So you passed Rob Gronkowski for fifth all-time in receiving yards for tight ends this week. You're on pace for a seventh consecutive 1,000-yard season, adding to your own record. Do you pay attention to these things on a week-to-week basis, or are you just out there to win?
Travis Kelce: Yeah, I'm just out there to win. I leave it up to you guys in the media to really talk about these kinds of things. And the only time you'll really hear me talk about them is when I get asked about them in interviews (chuckles at me).
But I think it's 1000% an absolute honor. It was an honor when I was in sixth place behind Gronk. I've got all the love in the world for that guy and what he's done in his career, just as I do for the four in front of me. It's just an absolute honor, and I just keep going, man. I don't want to look at where I stand quite yet.
Sportscasting: So just reflect when you're done, right?
Travis Kelce: Exactly. I'll do that when I hang it up.
Sportscasting: So when is that going to be? Trying to get an exclusive here, brother.
Travis Kelce: (Laughing) That's a question only my body can answer, man. Right now, I'm living the dream. I'm very fortunate that I've been healthy up to this point and that I'm playing the game at the level that I am today. And sure enough, I'll just keep hacking away at trying to get better, man, and see where we end up through that.
Sportscasting: So you mentioned the four ahead of you, and I want to stick to the four theme with this next question. If you had to name four to put on the Mount Rushmore of tight ends, who would they be? And you can include yourself in there. You don't have to be humble with me.
Travis Kelce: I'll say Kellen Winslow was the first that I recognized with Dan Fouts out there in San Diego for the Chargers, who gave a player like myself the trust to be able to be that guy in an offense. He was getting 1,200 yards when it was unheard of for a tight end to even get 1,000. A guy like that helped me get to where I am today.
And then you put a guy like Tony Gonzalez in a Chiefs uniform for 12 years, and then he went to Atlanta. Just an absolutely unbelievable career year in and year out. I think he ended up with the fifth-most receiving yards in the National Football League with 15,127 when he was done (he's sixth, but close enough). And that's counting all the receivers, so you gotta put Tony G up there.
I'm a huge Gronk fan. I think Gronk has been one of the most dominant forces in the National Football League since the second he stepped in, so he's on my Mount Rushmore.
And then I would say myself, but I have to throw Shannon Sharpe in there. I made the mistake of saying myself on the New Heights show, but Shannon is one of the pioneers of the position, a guy that can get spread out one-on-one against a DB and beat him up, not only in the run game but get after him in the passing game. So, yeah, that's my Mount Rushmore.
I'm like the fifth guy that's being made.
Sportscasting: So just kind of hanging out waiting for that stone to get chiseled, right?
Travis Kelce: Exactly.
Sportscasting: Tell me about this podcast you're doing with your brother, Jason. It was mentioned the other night on the broadcast, and I know it's a new show, so tell folks a little bit more.
Travis Kelce: Yeah, so the New Heights show is both a show on YouTube and a podcast. You can subscribe on YouTube, and you can also follow us on our social channels or subscribe wherever you get your podcasts. We come out with a new episode every single Wednesday, and it's a lot of fun with me and my brother. I've had so much fun the first four or five weeks that we've been doing it together, and a lot of stories have been told.
Sportscasting: Now, whose idea was it? How'd you guys come up with this thing?
Travis Kelce: We've actually been trying to do some type of show or some type of podcast for the last couple years. Always wanted to show our personalities. A lot of people question how we're even brothers because we have very different images.
But if you watch the show, you can clearly see that we're brothers and have spent our entire lives around each other. And it's definitely fun to be able to showcase that. Everybody's been very, very cool, and we've gotten good reviews so far. Obviously, all the friends and family are a little biased, but it's been cool to see everybody react to it.
---
We'd certainly like to thank Travis Kelce for taking the time to chat with us, as well as our pals at Ketchum Inc. for setting things up.
Stats courtesy of Pro Football Reference
Like Sportscasting on Facebook. Follow us on Twitter @sportscasting19 and subscribe to our YouTube channel.