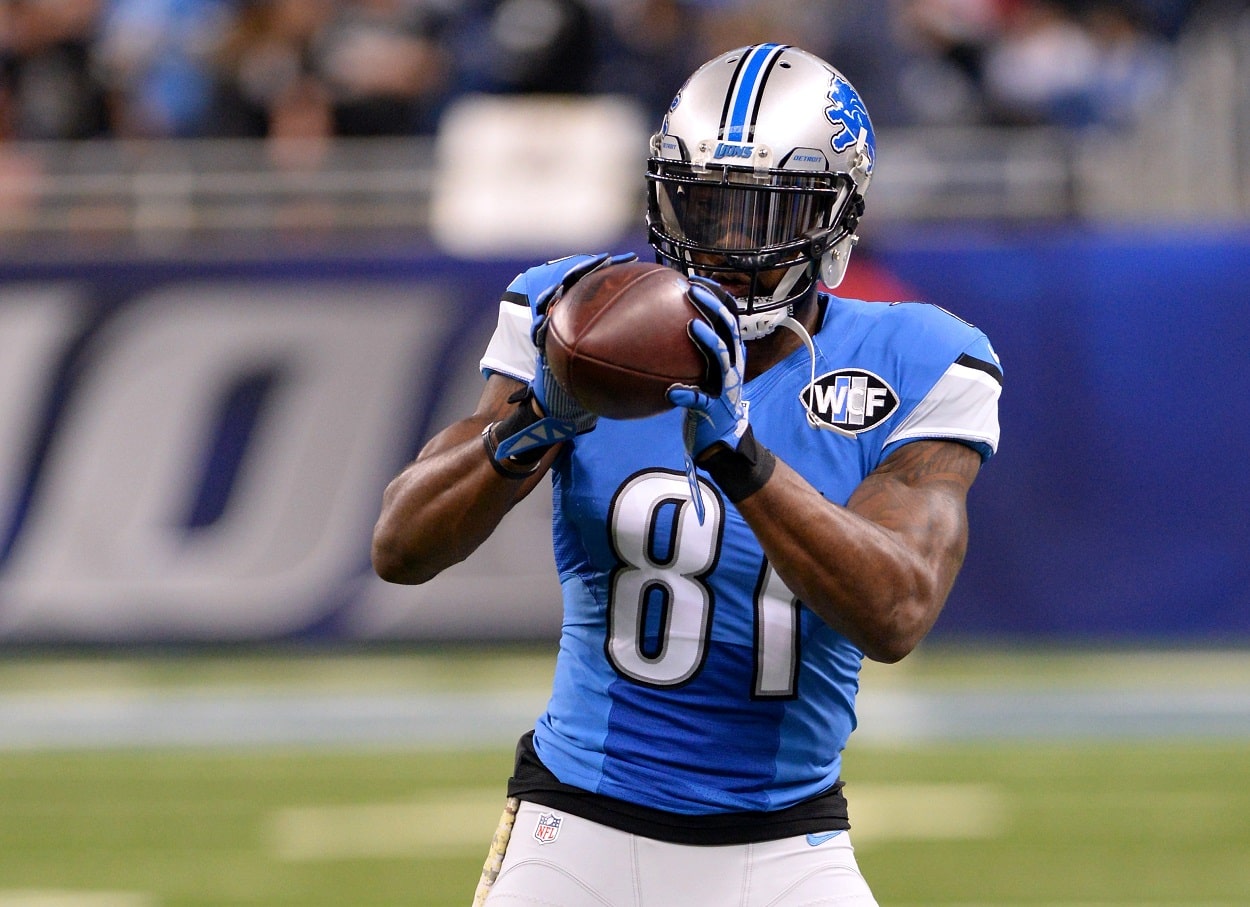 Who Has the Most Receiving Yards in a Single NFL Season?
A look at the five players with the most single-season receiving yards in NFL history.
Given the 17-game schedule and how the NFL is more of a passing league than ever, it's only a matter of time until a wide receiver breaks the 2,000-yard barrier. While eight different running backs have surpassed the mark, a wideout has yet to do it, although a few have come close. Perhaps this is the year.
To date, five have reached the 1,800-yard mark, four of those in a 16-game season. Cooper Kupp's Triple Crown 2021 campaign for the Super Bowl champion LA Rams is the outlier.
So let's take a quick look at the five with the most receiving yards in a single NFL season.
5. Antonio Brown, Pittsburgh Steelers, 2015 — 1,834 yards
Remember when Antonio Brown was simply known for being a phenomenal wide receiver?
A season after hauling in a league-leading 129 catches for 1,698 yards for the Pittsburgh Steelers in 2014, which put him in the top 10 all-time in both single-season receptions and receiving yards, Brown was even better in 2015.
The 2010 sixth-round pick hauled in 136 catches, tied for the most in the league, during the '15 campaign for 1,834 yards. Brown had eight receptions for 40 yards or more, tying him with Odell Beckham Jr. for the most in the NFL. But as you'll see in just a few moments, his yardage total was only second-best that season.
4. Jerry Rice, San Francisco 49ers, 1995 — 1,848 yards
The owner of just about every other NFL receiving record, Jerry Rice only sits in fourth place on this list.
A season after winning his third and final Super Bowl with the San Francisco 49ers, Rice had the greatest statistical season of his Hall of Fame career in 1995. He won his third consecutive receiving yards title with 1,848, which stood as the record for the next 17 years, while catching a career-high 122 passes.
And he did all of that at age 32. That's pure GOAT material right there, folks.
3. Julio Jones, Atlanta Falcons, 2015 — 1,871 yards
Remember how I said Antonio Brown didn't have the most receiving yards in 2015?
That's because Julio Jones beat him out. Like Brown, Jones had 136 receptions in 2015 for the Atlanta Falcons but edged him out in yardage with 1,871. Of his 136 catches that season, 93 were for first downs, easily the best in the NFL.
With those numbers, Jones earned the first of two consecutive First-Team All-Pro selections and five straight All-Pro selections overall.
2. Cooper Kupp, Los Angeles Rams, 2021 — 1,947 yards
Cooper Kupp became the NFL's latest receiving Triple Crown winner with a fantastic 2021 campaign for the LA Rams.
While Kupp put up solid numbers in previous years catching balls from Jared Goff, the Washington native took it to the next level when Matthew Stafford came to Hollywood. He caught 145 passes, the second-most in NFL history, for 1,947 yards, falling just 17 yards short of the all-time record. Kupp also led the league in touchdown catches with 16.
But, again, let's not forget that Kupp played 17 games while the other members of the list played 16.
1. Calvin Johnson, Detroit Lions, 2012 — 1,964 yards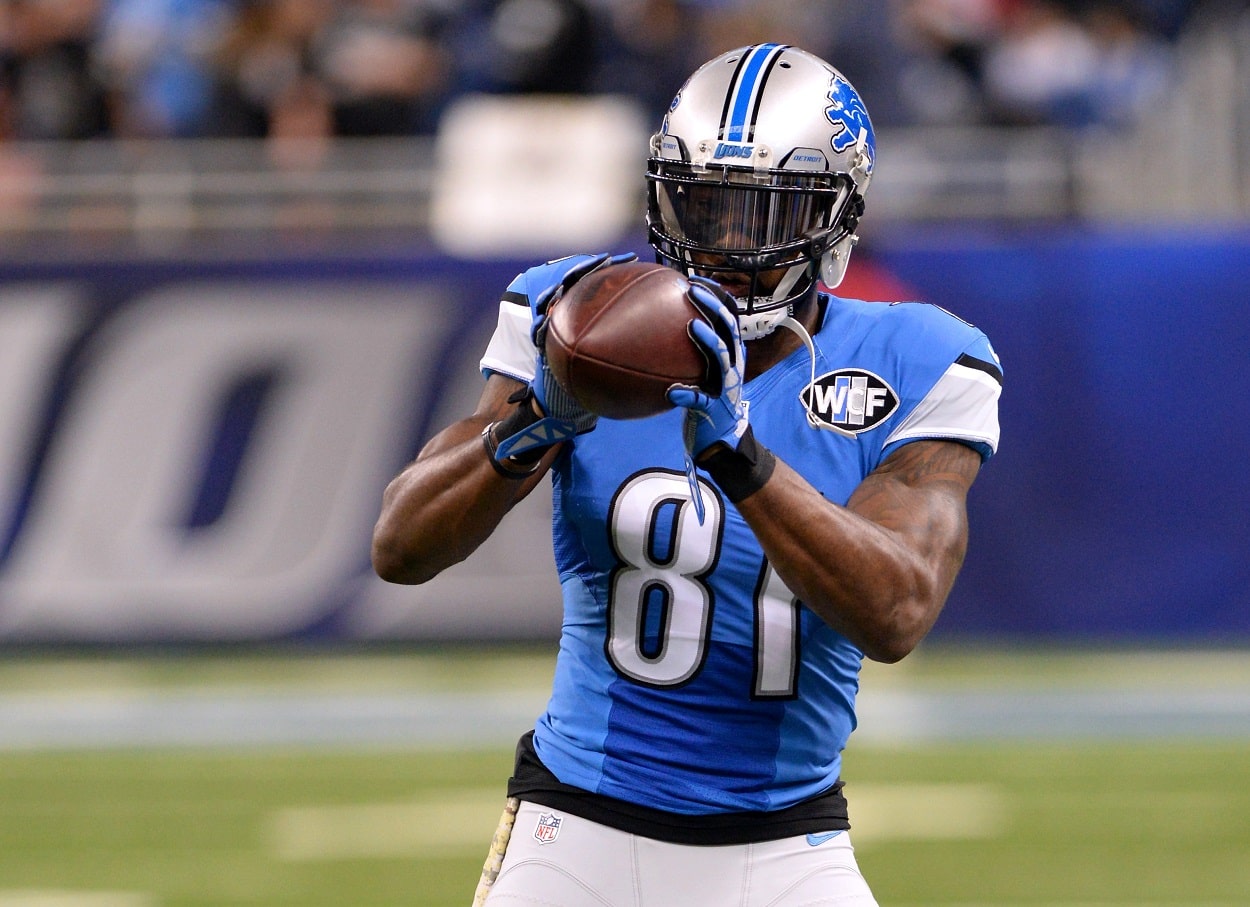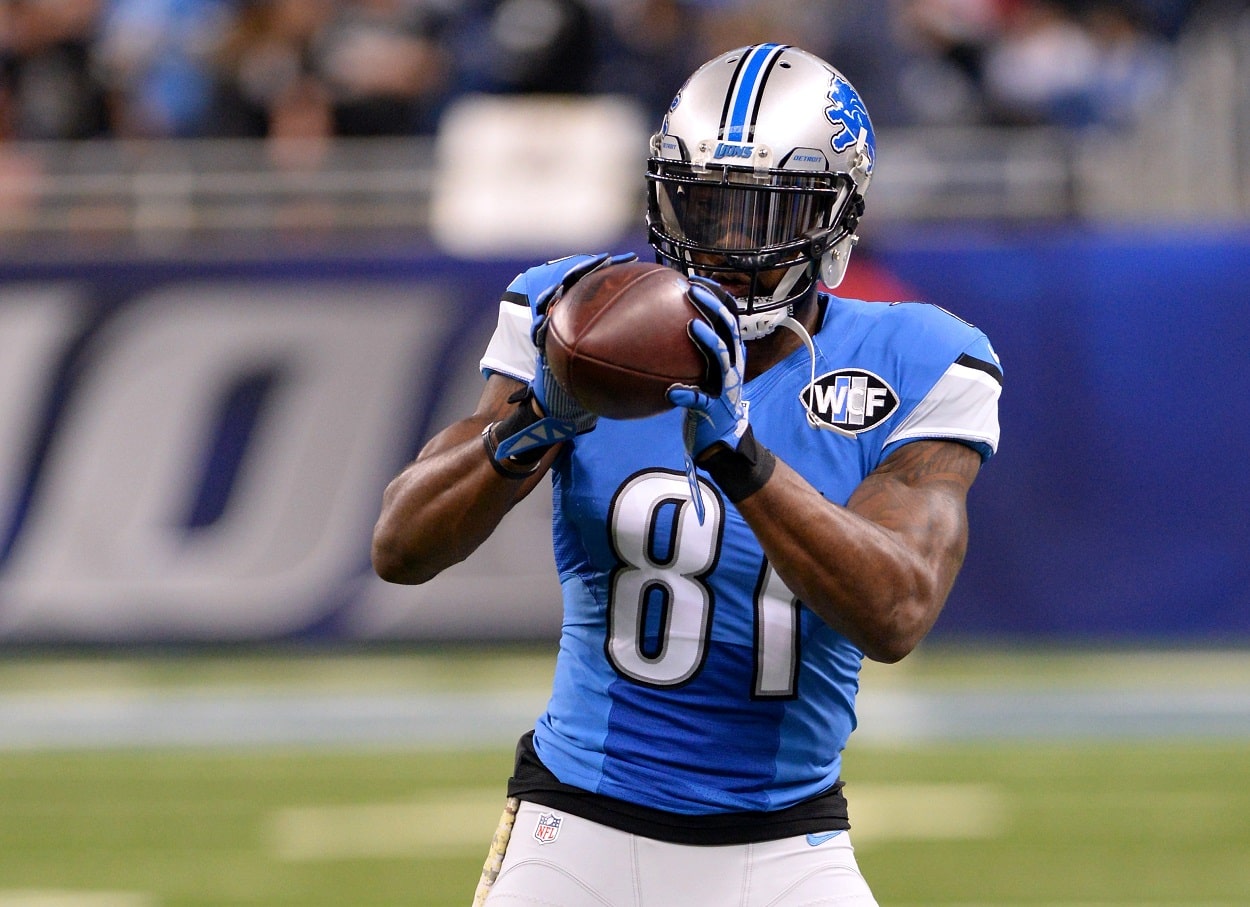 Coming in at No. 1 is another Matthew Stafford target, Calvin Johnson.
After leading the NFL in receiving yards for the first time in 2011 with 1,681, "Megatron" did so again in 2012 and came within just 36 yards of the 2,000-yard barrier. Johnson caught a league-high 122 passes that season for 1,964 yards.
He broke Rice's 17-year record in Week 16 with an 11-catch, 225-yard night for the Lions in a loss to the Falcons and finalized his yearly total with five receptions for 72 yards in a loss to the Bears. Despite Johnson's record numbers, Detroit took a dozen losses that year. And would you believe he only caught five touchdowns?
Stats courtesy of Pro Football Reference
Like Sportscasting on Facebook. Follow us on Twitter @sportscasting19 and subscribe to our YouTube channel.