How Many NFL Wide Receivers Have Won the Triple Crown?
Winning the Triple Crown as a wide receiver is no joke. Leading the NFL in receptions, yards, and touchdowns is no small feat, and it has not been done many times. Los Angles Rams wide receiver Cooper Kupp finds himself closing in on this achievement with just one weekend of regular-season action left to go.
Assuming he does bring home the Triple Crown, he'll be joining a shortlist of extremely talented wide receivers.
Only 11 receivers in NFL history have ever won the Triple Crown
If there was a specific room in the NFL Hall of Fame where only receivers who have won the Triple Crown could enter, the guest list would be extremely exclusive.
The receiver Triple Crown has actually been achieved 15 times in NFL history, but only 11 players have ever accomplished it. Those numbers are off because Green Bay Packers legend Don Huston should be considered the king of the Triple Crown, having it completed it five times. He did it once in 1936 and then had an incredible four-season stint that saw him win the Triple Crown each and every season from 1941-1944.
Most impressive was the 1942 season in which Hudson caught 74 receptions for 1,211 yards and 17 touchdowns. That's not bad for a receiver who played football in a leather helmet during an era in which running the football was in vogue.
The list of winners gets even more exclusive if you look just at the Super Bowl-era of NFL football. Only three receivers have won the Triple Crown in the Super Bowl-era, a list that features Hall of Famer Jerry Rice (1990), Sterling Sharpe (1992), and Steve Smith (2005).
Los Angeles Rams WR Cooper Kupp appears to be a lock for the Triple Crown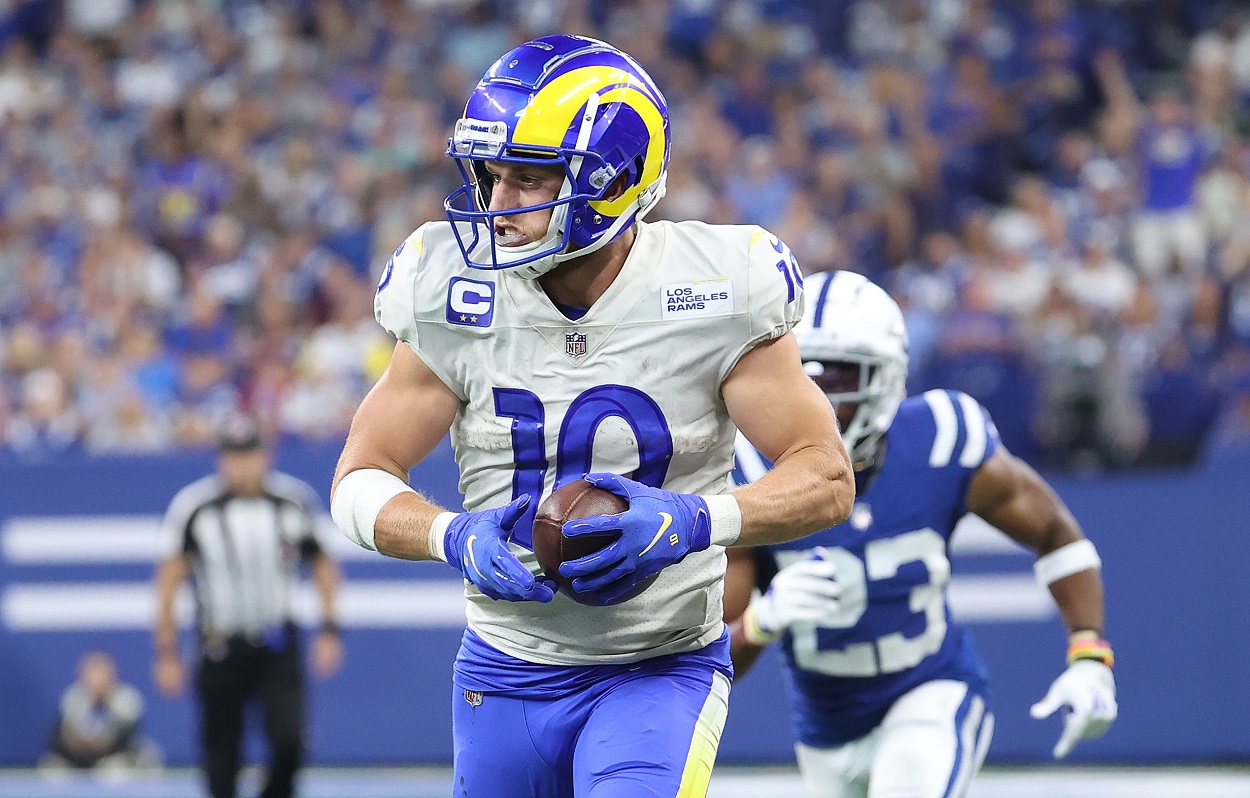 With one game to play against the San Francisco 49ers, Kupp has the opportunity to extend his lead in the Triple Crown race, and he'll likely lock it up by the time Week 18 is in the books.
Kupp has been on a tear this season for LA, and he's undoubtedly benefited from the offseason trade that brought Matthew Stafford over to the Rams from Detroit.
With Jared Goff throwing to him in 2020, Kupp finished the season with 92 receptions for 974 yards and three touchdowns. At the time of this writing, Kupp has 138 receptions for 1,829 yards and 15 touchdowns in the 2021 season.
He's certainly stepped up his play this season, but without a doubt, having Stafford as his quarterback, who can really chuck the football, has played a role in this huge increase in production.
Is Kupp the best wide receiver in football right now?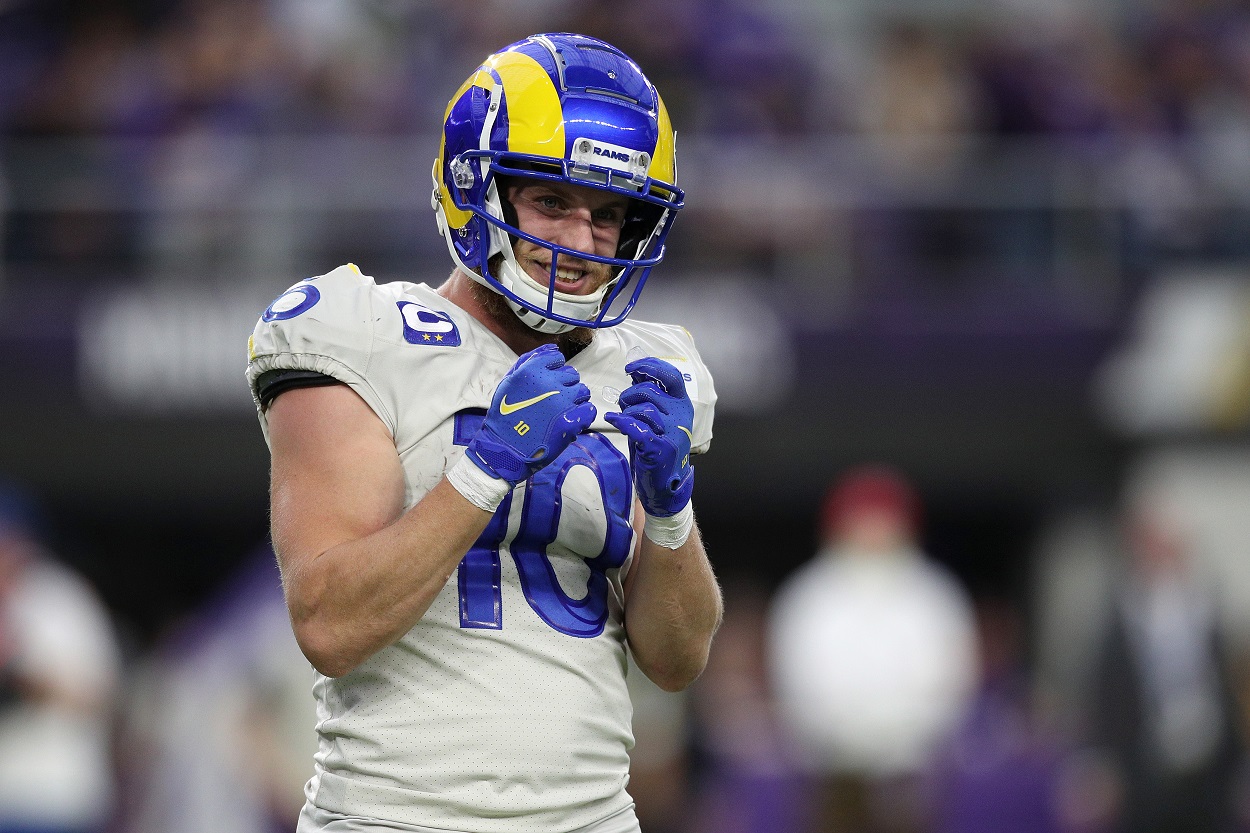 It's hard to argue against Kupp being the best wideout in football because once he locks up the Triple Crown, he'll have entered rarified airspace. Being on a list with Rice and Hudson is always good news if you're a receiver, and it gets even more impressive when you think bout all the great wide receivers that have been in the league that have not won the Triple Crown. We're talking about elite receivers like Randy Moss, Terrell Owens, Chris Carter, Calvin Johnson, Larry Fitzgerald, and the list goes on and on.
The one receiver who could make a case that he's better than Kupp right now is Davante Adams of the Packers, and that's just from a pure talent and dominance standpoint. Adams is the best route runner in football and puts up consistently dominant numbers despite the fact that he's usually double or even triple-teamed by opposing defenses. Even so, even Adams is looking up at Cupp in the Triple Crown standings down 21 receptions, 331 yards and four touchdowns. It would take a historic bad day from Cupp and an all-time great day from Adams in Week 18 in order for the Green Bay receiver to threaten Kupp's hold on the crown. Spoiler alert: That's not going to happen. Adams may play in Week 18, but the Packers would be wise to keep him out for much of their game against the Detroit Lions. They've already got the No. 1 seed in the NFC locked up, so there's no reason to play Adams much.
The only other place where things could get close is in touchdowns, where Cincinnati Bengals star Ja'Marr Chase has 13 to Cupp's 15. With that said, there's a chance the Bengals don't play Chase in their Week 18 clash with the Cleveland Browns. They've already won the AFC North, and quarterback Joe Burrow won't even be playing as he rests a sore knee ahead of the playoffs.
What that context, that stat seems safe as well.
No matter how it shakes out, Kupp seems to understand the gravity of what he's about to accomplish.
"It would be a pretty incredible thing," he said Kupp, via ESPN. "There are a lot of good football players in this league, a lot of really good receivers who I've got a ton of respect for, so it would be very cool."
Stats courtesy of ESPN and Pro Football Reference.