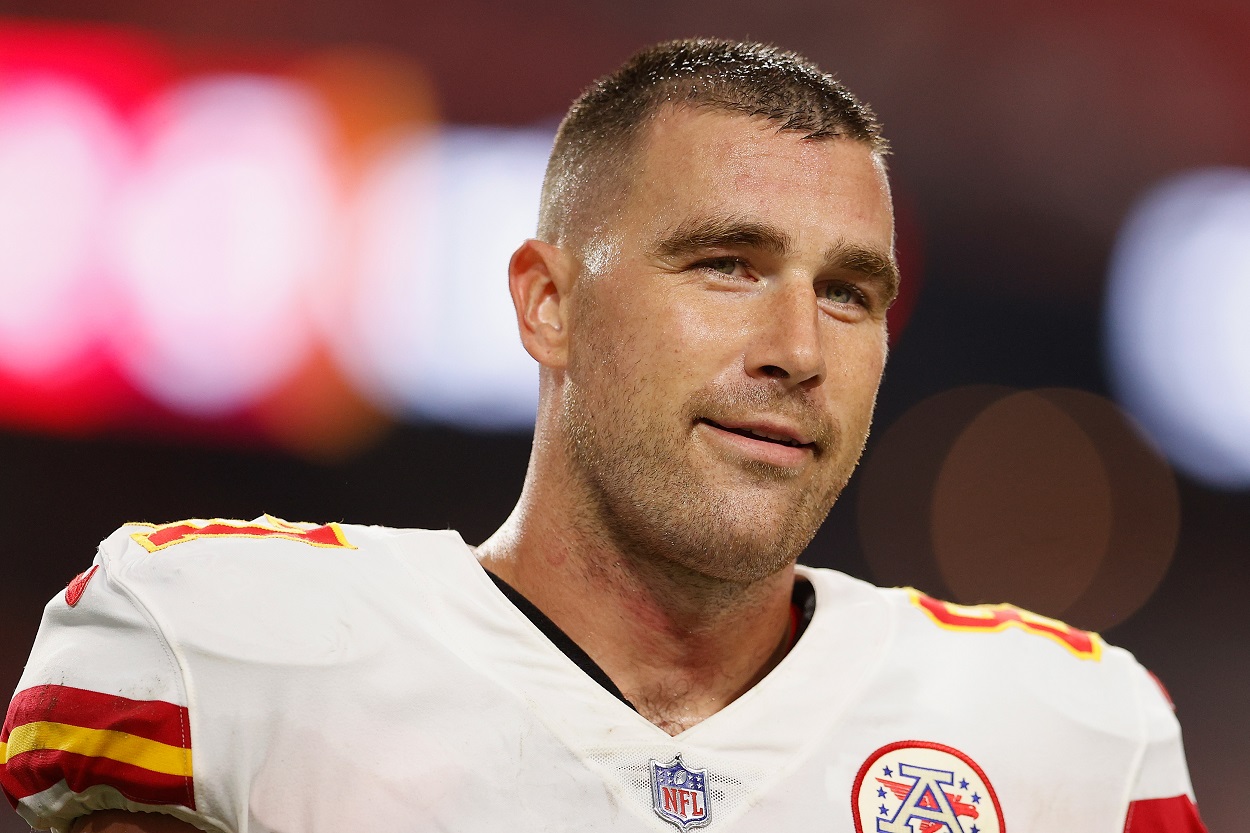 Travis Kelce Speaks on His 'Awesome' Moment at Arrowhead, His Appearance With the Mannings on 'Monday Night Football,' and His 'Cold' New Campaign To Save the World
Kansas City Chiefs tight end Travis Kelce discusses playing in front of a packed house at Arrowhead, hanging with Eli and Peyton Manning, and his new partnership with Tide in an interview with Sportscasting.
Kansas City Chiefs All-Pro tight end Travis Kelce has had quite the opening week to kick off the 2021 NFL season.
On Sunday, he caught six passes from Patrick Mahomes for 76 yards and two touchdowns, including the game-winner, as Kansas City came from behind to defeat Baker Mayfield and the Cleveland Browns in front of a packed house at Arrowhead Stadium. You know, a typical day at the office for the six-time Pro Bowler.
On Monday, he made headlines with an entertaining appearance on ESPN's parallel broadcast of Monday Night Football featuring Eli and Peyton Manning, where he became the first to drop a little NSFW language while watching the Las Vegas Raiders defeat the Baltimore Ravens, the latter of whom the Chiefs play this Sunday.
And on Tuesday, Kelce joined us here at Sportscasting to discuss the aforementioned topics while also filling us in on his fantastic new partnership with Tide, in which he's joining several other big names in an effort to dramatically reduce greenhouse gas emissions.
Travis Kelce says it was 'absolutely awesome' to once again be playing in a packed Arrowhead Stadium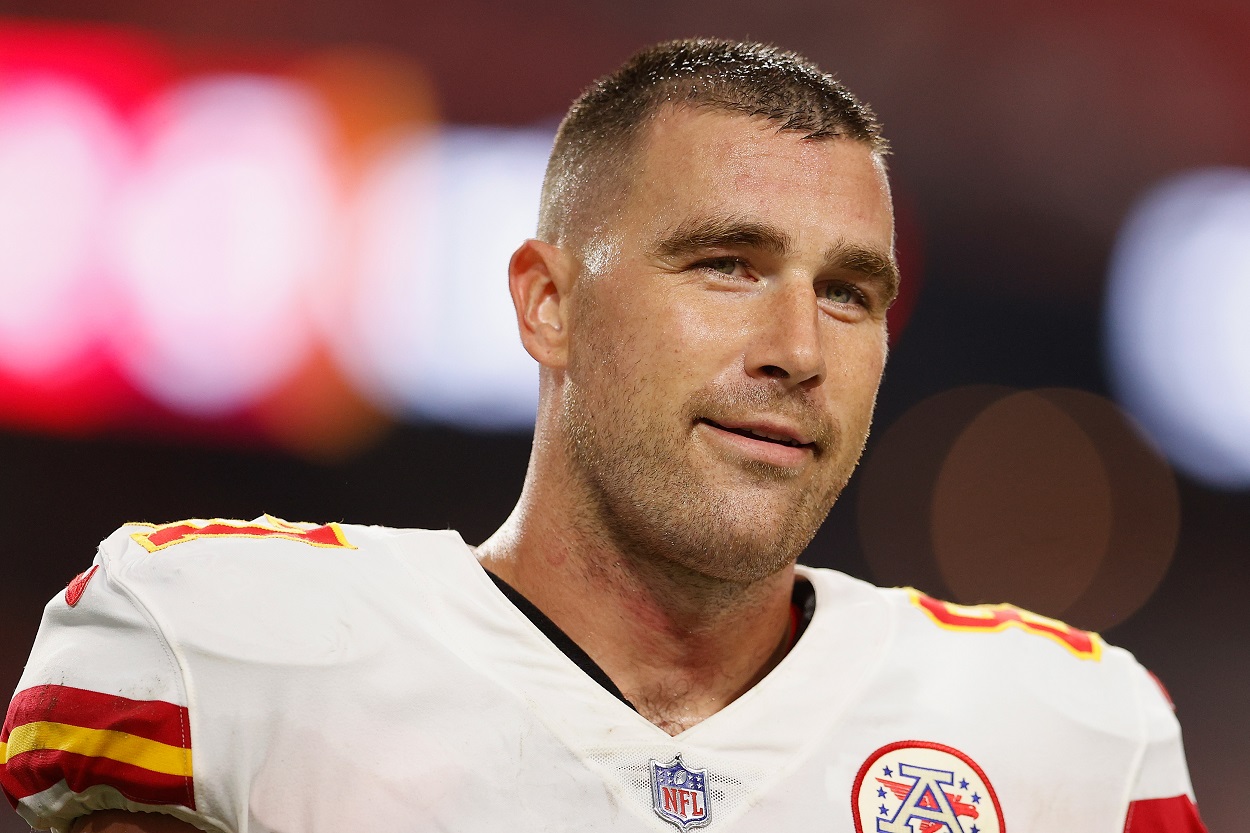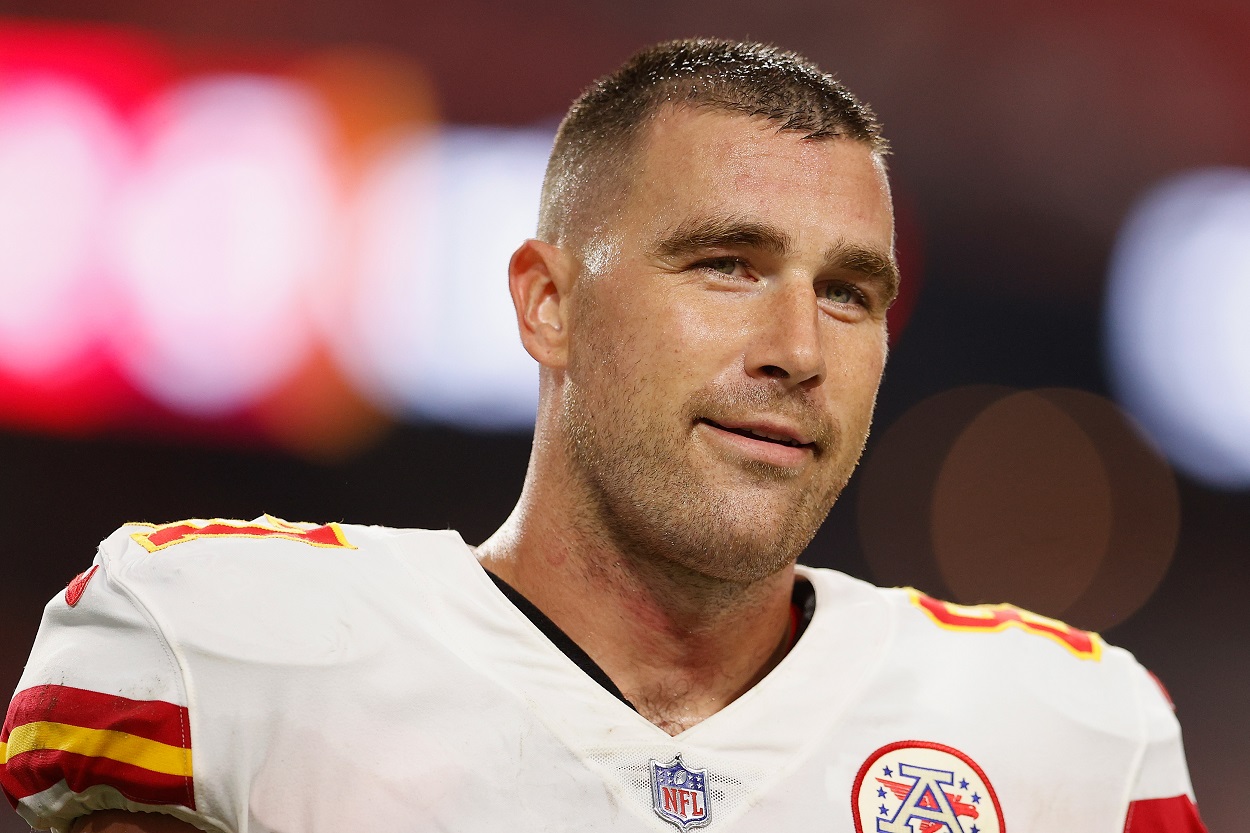 In 2020, the Kansas City Chiefs were one of the teams to allow fans in the stands, but Arrowhead Stadium was never at full capacity, not even for their AFC Championship Game victory over the Buffalo Bills. However, if you watched the Chiefs-Browns showdown on Sunday afternoon, it was clear to see there wasn't an empty seat in the house.
Nearly 73,000 people watched as Kansas City fought back from a 12-point deficit to claim a 33-29 victory, capped off by Kelce's eight-yard touchdown reception with just over seven minutes remaining. We asked Kelce what that feeling was like and he was just as jacked up talking about it as he was when he was pumping up his home crowd on Sunday.
"It was awesome, man. It was absolutely awesome. It was what I missed, and it made it feel like it was the first time I'd ever played in front of a packed house at Arrowhead. I experienced it all over again for the first time. Arrowhead is a special place, and it's a true home-field advantage when we have everybody in there, and I have to give a shoutout to all the Chiefs fans.
"It was rocking, and I appreciate everybody for doing it knowing that it was a home-field advantage for us. There's nothing like 70,000 in Arrowhead going crazy on a third down for the defense or how they react to a big-time touchdown in the fourth quarter to take the lead. Those are feelings and moments that I'll remember for the rest of my life."
Hanging with the Mannings
If you didn't watch the Monday Night Football parallel broadcast featuring Eli and Peyton Manning, be sure to remedy that next week, as it was truly entertaining and better than anyone could have expected. A number of guests were brought in as the Las Vegas Raiders and Baltimore Ravens took part in an early Game of the Year candidate, Travis Kelce being one of them.
And just as he became the first tight end in NFL history with five 1,000-yard seasons, he made history on the broadcast by becoming the first person to cuss on the Mannings' new show. When discussing how he and Mahomes occasionally ad-lib plays/routes, Kelce said he'll sometimes look at his quarterback to say that he's "about to make some s*** up right here," which he and I had a nice laugh about.
He said he got a "little too comfortable" on the broadcast and simply let it slip. Kelce says he loves what the Mannings are doing in retirement and says he jumped at the chance to appear when asked by ESPN.
Breaking down the Baltimore Ravens defense
We then got to chatting about the Ravens' defense, which gave up 33 points in the loss to the Raiders on Monday night. I asked Kelce if that made him feel better about going into Sunday's matchup with them, but he was quick not to compare Kansas City with Las Vegas.
"You've got to separate week to week. You can't compare yourself to any other team. You have to find ways that you can have success within the offense. You might be able to take away some of the ways that the Raiders attacked them on the offensive side, but at the end of the day, that team is very confident in what they do.
"You know, they blitz a lot. They try and create pressure and try to create panic with that pressure, trying to create sacks and turnovers with all that. And then, on top of that, you've got to be ready for man coverage. You've got to be ready to beat man coverage and get open on time knowing that they're liable to bring pressure. And they've got a good front four to get to the quarterback."
Unable to resist the urge, I told him when that happens he could "just look at Patrick and tell him that you're running this s***," to which he smiled and hit me with a classic Travis Kelce comeback: "Chaos, baby."
Travis Kelce has partnered with Tide for the #TurnToCold campaign
To close things out, we discussed Kelce's new partnership with Tide, specifically their #TurnToCold campaign. It's an effort to get all NFL fans to do their laundry in the cold setting, which is better for the environment and better for your wallet. The NFL reaches 80 million households in the United States and if each were to simply turn that dial to cold, approximately 16 billion loads of laundry would be washed on cold every year, resulting in a reduction of 5.6 million metric tons of greenhouse gas emissions. Simply put, it's the same as removing one million cars from the road.
You've likely already seen some TV spots for this campaign featuring the likes of WWE legend Stone Cold Steve Austin, rapper/actor Ice-T, and Atlanta Falcons quarterback Matt Ryan.
Kelce was very passionate in speaking about the project and is excited to be one of 10 different former or current NFL players to have his voice featured on the all-new Tide Cold Washer. Yes, Travis Kelce wants to be in your house urging you to help the environment.
"The #TurnToCold campaign is to make the planet a better place and save energy. Stop using hot water, which will then save your energy bill. There are a few different reasons to do this but, all in all, it's just to make this planet better and much more green.
"You can enter for a chance to win this washing machine where I'll be the voice. And I could hype you up every single time you turn that knob."
For full details on the #TurnToCold campaign, simply go to Tide.com, pledge to start doing your laundry cold, and enter to win.
We'd like to thank Travis Kelce for taking the time to speak with Sportscasting and we certainly wish him and Tide the best of luck with this wonderful initiative.
Stats courtesy of Pro Football Reference