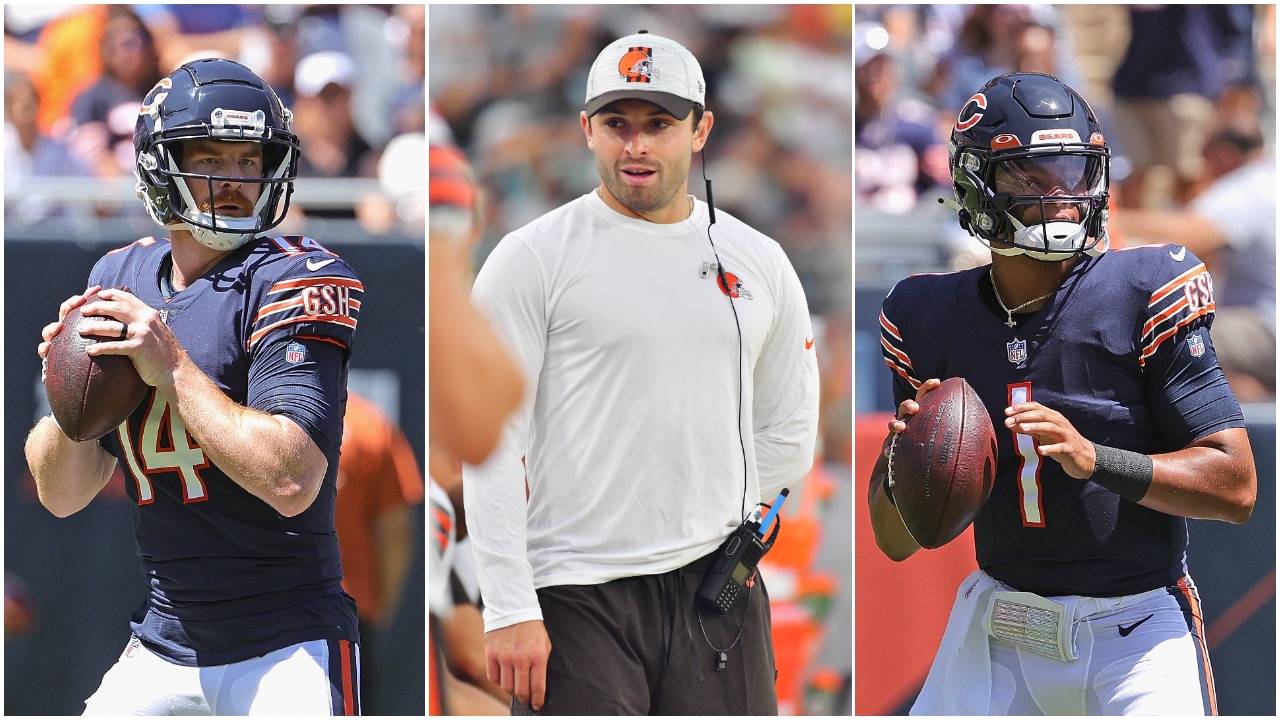 Baker Mayfield Sticks up for Andy Dalton After the Bears QB's 'My Time' Comments About Justin Fields Got Blown Out of Proportion
Baker Mayfield stood up for Bears quarterback Andy Dalton after his "my time" comments about Justin Fields were blown out of proportion.
It's certainly no secret that Chicago Bears rookie Justin Fields is the quarterback of the future in the Windy City. That became evident when Chicago moved up nine spots to take him with the 11th pick in this year's NFL draft. But Bears head coach Matt Nagy has also made no secret that 10-year veteran Andy Dalton, who signed a one-year deal in March, will be the starter when the Bears kick off the 2021 NFL season against the Los Angeles Rams on Sept. 12.
But while Dalton clearly gives Chicago the best chance to win right now and, by all accounts, has been an incredible mentor to Fields thus far, many Bears fans and many in the media (not this guy) think the former Ohio State superstar should be QB1 right now. So, naturally, Dalton often has to field questions about his protege and had to do so again on Wednesday.
But while Dalton had nothing but great things to say about Fields, the majority of the focus went to one part of one sentence he uttered in which he said, "It's my time." As you can imagine, some in the media and plenty of people on social media twisted those comments to make it sound as if the Bears have some sort of quarterback controversy, which they don't. And Cleveland Browns quarterback Baker Mayfield didn't like it.
What did Andy Dalton say about Chicago Bears rookie quarterback Justin Fields?
For those who missed it, Fields received a standing ovation when he made his NFL debut in the Bears' preseason opener against the Miami Dolphins. While he struggled against the Dolphins' starting defense, he did look solid against the second unit, completing 14 of 20 passes for 142 yards and a touchdown with 33 yards and a score on the ground. And one preseason game is apparently enough for some to think he deserves a starting job in the NFL.
On Wednesday, Dalton was asked about the Fields hype taking over Bears training camp (the "awkwardness of the Justin excitement" was how the question was phrased), and this was his full answer:
"You can't focus on that. If you focus on that, then that's going to beat you down. I know who I am. I know who I was created to be. I know where my identity lies. And so, do I want the fans behind me and this team and all that kind of stuff? Yes. Do I want them behind Justin? Absolutely, I do.

But that's not my focus. I can't focus on all that right now. Like I said before, Justin's gonna have his time, and Justin's gonna have a great career. But right now, it's my time, and so my focus is on being the best player I can be for this team and do everything I can to help this team win."

Andy Dalton on Justin Fields
Nothing malicious about that, right? Just a quarterback … excuse me … a starting quarterback saying an unproven rookie is going to have a great career down the line and that he's doing everything in his power to help his team win. Only some in the media and plenty of folks on social media want you to believe Dalton is some bitter old man telling Fields to get off his lawn.
And that's where Mayfield jumped in.
Baker Mayfield stuck up for Dalton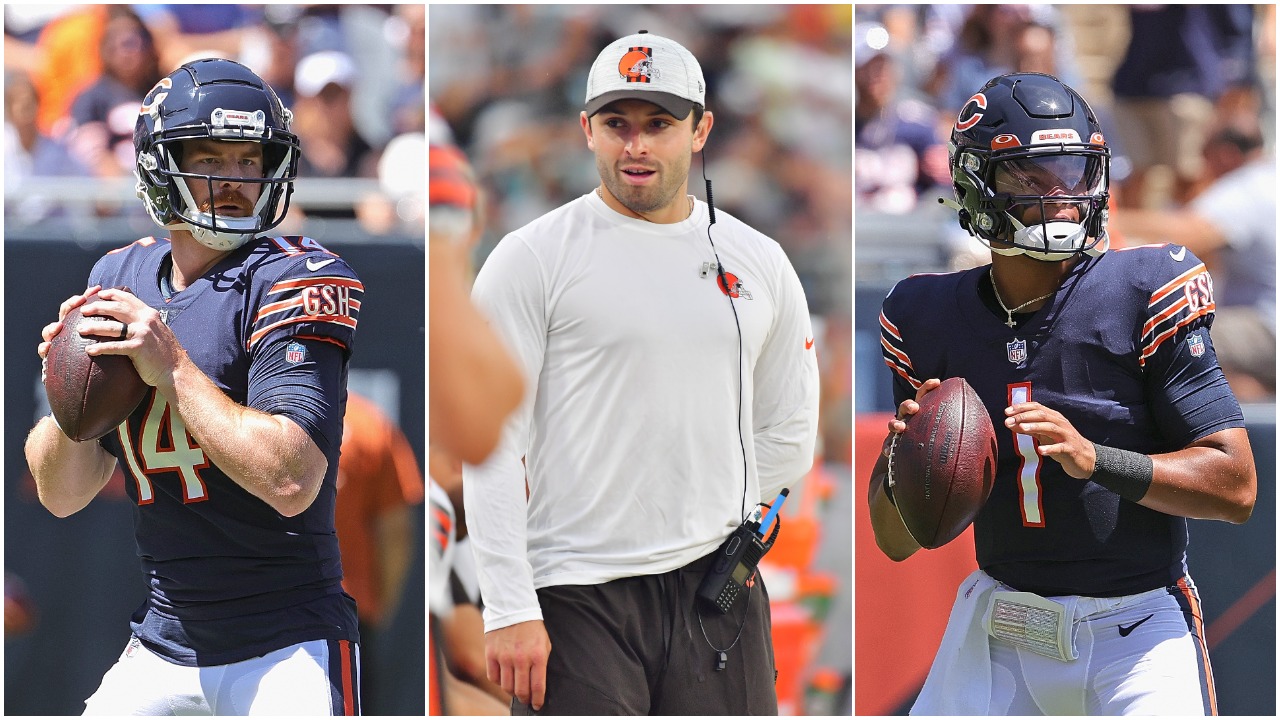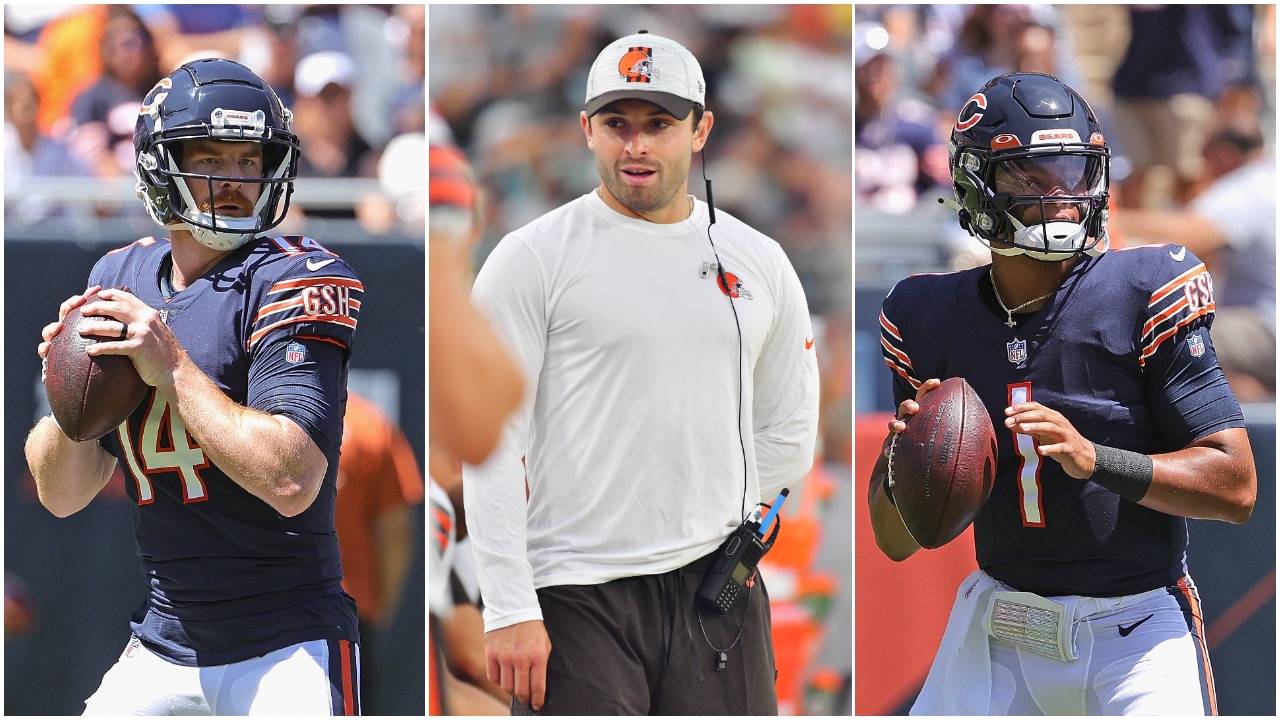 Not long after Dalton's "it's my time" comments began making the rounds, Mayfield, who certainly doesn't have a problem sharing his opinion on anything, chimed in on the matter. Posting to his Instagram story feed, the Browns QB used a picture of an article that mentioned the Dalton/Fields comments and captioned it with this:
"TYPICAL CLICKBAIT BS REPORTING. QUOTE THE WHOLE INTERVIEW. DON'T PUT THIS AS A HEADLINE TO TRY AND STIR THE POT. SMDH."

Baker Mayfield on Andy Dalton comments on Justin Fields
Mayfield has certainly seen a few of his comments over the years taken out of context, and he's apparently sick of it, as he should be. Again, Dalton's comments on Fields weren't malicious in the slightest and shouldn't be portrayed as such. They were, however, a little eerie.
The Red Rifle's comments were reminiscent of those made by former Bears QB Mike Glennon before he got benched for Mitch Trubisky
Four years ago, just as they did with Fields this year, the Bears moved up in the NFL draft to select a quarterback. Of course, that was Mitch Trubisky, who, like Fields, had a solid preseason but opened his rookie year as a backup to Mike Glennon.
Now, Glennon certainly didn't have the accolades or the experience that Dalton does, but do you remember what he said when folks were clamoring for Trubisky to be named QB1 in Chicago in 2017? Take a look (h/t USA Today):
"My focus is on right now getting better every day to get ready for the start of the season because this year is my year, and I'm not going to worry about the future."

Former Bears QB Mike Glennon in 2017
So that's fun. And how'd that work out for Glennon? He was benched for Trubisky after four games and was released after the season.
And maybe that's how things play out for Dalton and Fields. But for right now, it is Dalton's time and Fields is his backup, which is how it should be. And the two apparently have a great relationship. So even if Dalton does get benched for Fields at some point, he's a pro's pro and would be the first to show support for the youngster, just as he did with his comments on Wednesday.
Stats courtesy of Pro Football Reference