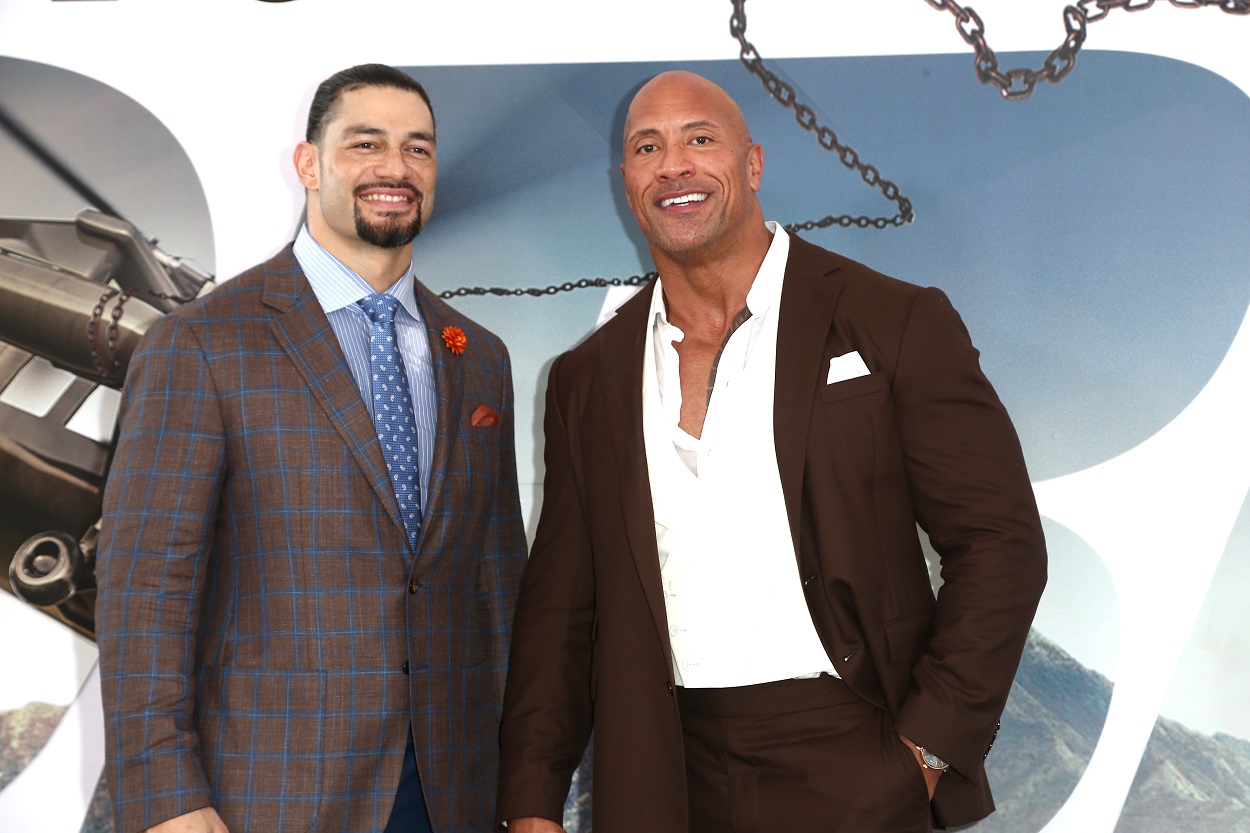 Which WWE Star Had the Better Football Career, Dwayne 'The Rock' Johnson or Roman Reigns?
A look back on the football careers of WWE superstars Dwayne 'The Rock' Johnson or Roman Reigns, who are both members of the legendary Anoa'i dynasty.
Although not related by blood, Dwayne Johnson and Leati Anoa'i, otherwise known to WWE fans as The Rock and Roman Reigns, respectively, consider themselves to be cousins given the special bond their families share.
What the two also share is essentially the exact same career path. Both Johnson and Reigns (yes, we're going to use the Roman Reigns name for the majority of this article) set out to be football stars and both succeeded in that path for a while, at least at the collegiate level. The NFL never panned out for either but both spent a short time in the CFL before finally joining the family business, which brought both massive fame and fortune in WWE.
And it certainly won't be a surprise to see Reigns follow Johnson to Hollywood at some point…well, follow him more as he already starred in a supporting role alongside "The Rock" in the Fast & Furious spinoff, Hobbs & Shaw.
But the focus here today is football. So who was actually the better player, Dwayne Johnson or Roman Reigns? Actually, before we get to that, let's quickly go over how the two are related without actually being related for those who are unaware of the connection between their two families.
How are Dwayne 'The Rock' Johnson and Roman Reigns related?
So, for those unaware, the Anoa'i family is the Samoan professional wrestling dynasty that has produced some of the biggest names the industry has ever seen, including former WWE stars The Wild Samoans (Sika is Roman Reigns' father), Yokozuna, Rikishi, Umaga/Jamal, Roman's brother Matthew, who went by Rosey, and current stars such as The Usos and Nia Jax.
Now, how Dwayne Johnson and his family fit in starts at the top with Roman Reigns' grandfather, Reverend Amituana'i Anoa'i, who was "blood brothers" with Johnson's maternal grandfather, "High Chief" Peter Maivia, who adopted Johnson's mother, Lia, at a very young age after marrying her mother. Lia then married wrestler Rocky Johnson, much to the chagrin of the "High Chief."
As Maivia is seen as a blood relative and included in the Anoa'i family lineage, Rocky Johnson and Dwayne Johnson are included in that lineage as well. So that's why you'll hear people say the The Rock and Roman Reigns are cousins.
Easy enough, right?
Dwayne 'The Rock' Johnson won a national championship at the University of Miami
Dwayne Johnson moved around quite a bit during his high school years given his father's profession but still managed to become a highly-recruited defensive tackle and accepted a scholarship to the University of Miami ahead of the 1991 season, a season in which Dennis Erickson's Hurricanes won a national championship.
Johnson was seen as having a lot of potential and worked extremely hard at his craft. Unfortunately, the man just ahead of him on the depth chart was a guy named Warren Sapp, who would simply go on to become one of the greatest defensive players in NFL history. Johnson ended up starting just one of the 39 games in which he appeared and recorded 77 tackles and 4.25 sacks in his four-year career with the 'Canes.
The NFL wasn't really an option for Johnson after he graduated from Miami in 1995 so he took his talents to Canada and signed with the CFL's Calgary Stampeders. But that didn't work out either as he never made it to the regular-season roster. Johnson spent two months on the Stampeders' practice squad before leaving his football career behind. He debuted in WWE the following year, his career skyrocketed, and he's now the biggest movie star on the planet.
Roman Reigns was an All-ACC First-Team selection at Georgia Tech
As for the football career of Roman Reigns, who went by the name Joe Anoa'i (his middle name is Joseph) growing up, he was also a solid prospect coming out of high school and was a defensive lineman as well. He accepted a scholarship to Georgia Tech and joined the Yellow Jackets in 2003, the same year his cousins, The Usos, signed letters of intent to play at West Alabama.
While Reigns' teammate, a young wide receiver named Calvin Johnson, who enrolled at GT in 2004, received most of the attention for the Yellow Jackets during Reigns' tenure in Atlanta, Roman put together a nice resume of his own. He became a starter as a sophomore, recorded 25 tackles (5.5 for a loss) and 2.5 sacks as a junior, and was then named a team captain in 2006 as a senior, a year in which he recorded 40 tackles (nine for a loss), 4.5 sacks, and recovered two fumbles, stats that earned him All-ACC First-Team honors.
Reigns was projected as a late-round pick in the NFL draft in 2007 but his name was never called. However, he signed as an undrafted free agent with the Minnesota Vikings in May but didn't make it out of rookie camp and was released. He was picked up by the Jacksonville Jaguars in late August but was cut just five days later.
Just as "The Rock" had done, Reigns gave football one last shot and signed with the CFL's Edmonton Eskimos in 2008. Only he actually made the main roster, although his stat line wasn't overly impressive as he recorded nine tackles in five games (three starts) before being released. And just as his cousin had done, Roman Reigns joined the family business.
He signed with WWE in 2010 and after spending time in developmental, Reigns made his main-roster debut at Survivor Series in 2012, the very same event at which Dwayne Johnson had debuted with the company 16 years earlier.
Stats courtesy of Sports Reference and CFL.ca