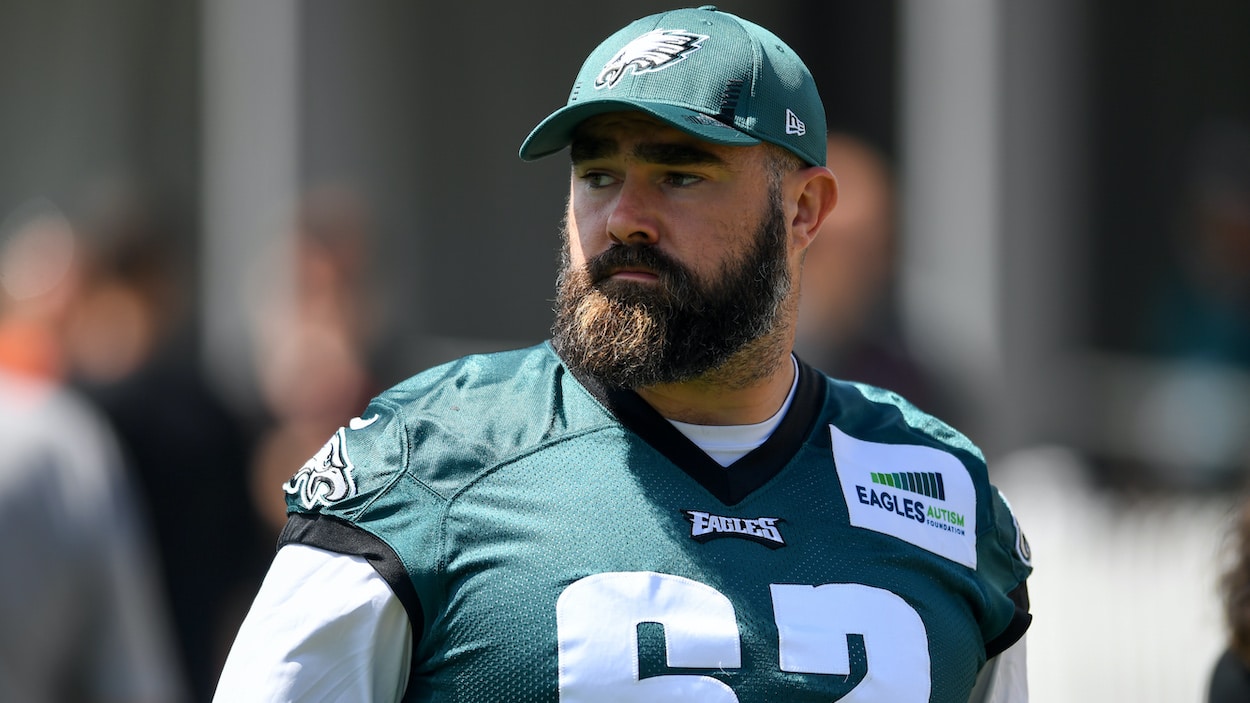 Eagles C Jason Kelce Reveals Hardest Position In NFL: 'White People Can't Even Do It'
Jason Kelce told his brother, Travis Kelce, on their podcast there is an NFL position so hard and entire race isn't able to play it.
Every position in the NFL comes with its own challenges. As a running back, you have to run into a wall of 300-plus-pound men. As a defensive end, your No. 1 job is to sack the quarterback, and nowadays, you have to lay him down gently on the ground when you get him. And as a quarterback, you have to process the game with the mental speed of a chess master. Despite all the unique challenges each position offers, Philadelphia Eagles center Jason Kelce recently told his brother — Kansas City Chiefs tight end Travis Kelce — that one football position is so difficult they don't even let "white guys try to play" the position.  
Jason Kelce thinks cornerback is the hardest position in football now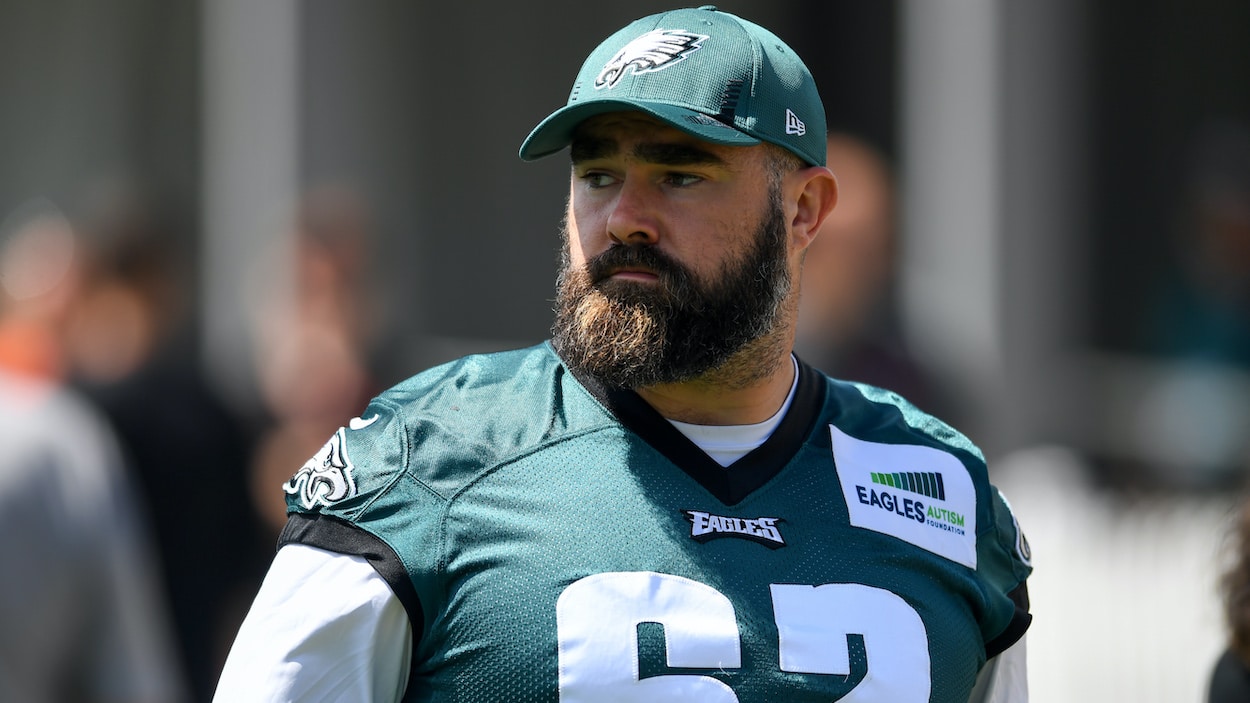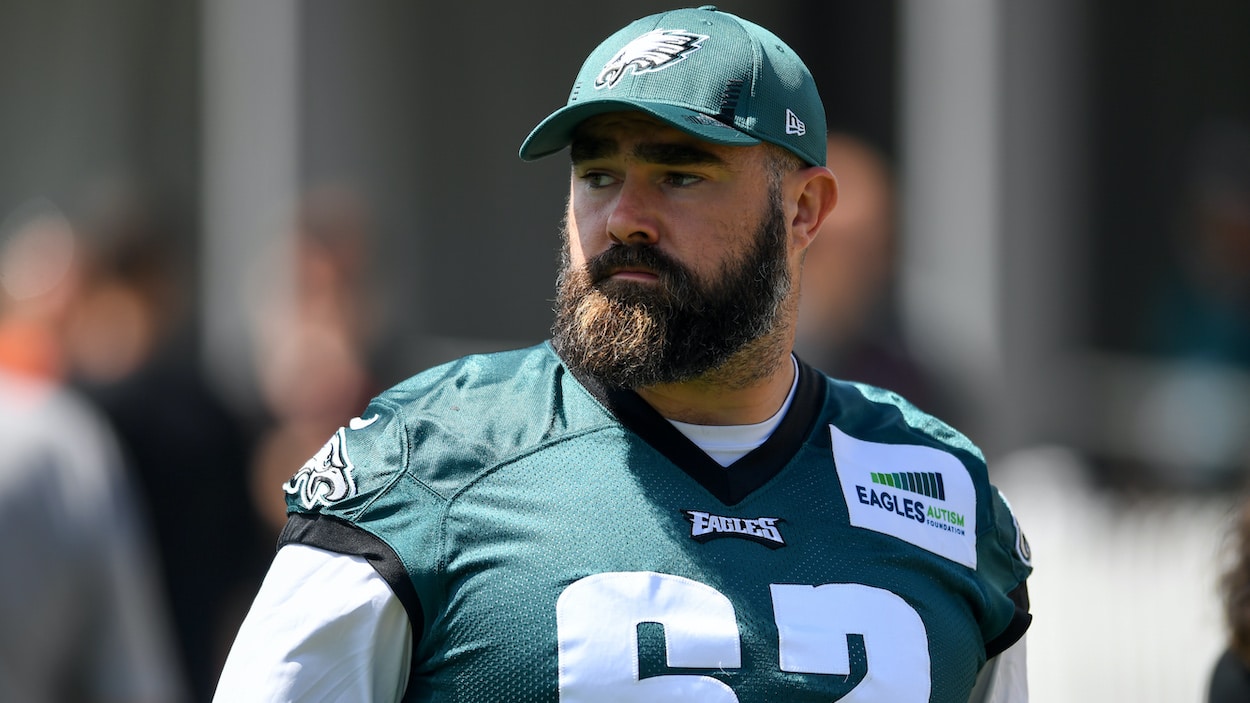 It seems like these days, everyone and their brother has a podcast, and that's true for Eagles center Jason Kelce and his All-Pro TE brother, Travis. The Kelce brothers started a podcast in September 2022 called New Heights with Jason & Travis Kelce.
The pod promises that "Football's funniest family duo" will "give fans next-level access to life in the league as it unfolds."
On the October 12, 2022, episode, the former Cincinnati Bearcats started talking about what position groups in the NFL talk the most trash. The Kelce brothers agreed that defensive backs are absolutely the group that yaps the most on the field.
However, when Jason asked if it is "because their job is so hard," Travis took exception. "You think they have the hardest job?" the TE asked the lineman.
"You don't think a DB is the hardest job in the NFL? What's a harder job? Maybe quarterback," Jason asked.
Travis was gracious to his brother, an undersized lineman who became a four-time All-Pro. "I'll say a center if you're like a 260-pound center."
Jason laughed at the compliment but stayed steadfast in his belief that defensive back is the toughest position and went off on his rant about it:
Dude, you've gotta mirror somebody throughout the whole field. Like, what's harder than playing Cover 1 and just staying in somebody's hip? You can't give up a yard of separation, otherwise, it's a completion. It's so good that white people can't even do it, Travis. That's how you know it's the hardest position. They don't even let white guys try and play cornerback anymore.

Jason Kelce on white cornerbacks in the NFL
It was a funny line from Jason Kelce, but also one that makes you wonder, are there any white cornerbacks in the NFL in 2022?
Are there any white cornerbacks in the NFL in 2022?
Jason Kelce was joking about white football players playing cornerback, but he was also correct. In 2022, there are no full-time white corners in the NFL.
The last white CB to make a 53-man roster was Troy Apke in 2021. Apke played defensive back at Penn State before the track star ran a 4.34-second 40-yard dash at the 2018 NFL Draft. That was fast enough for the Washington Commanders (then Football Team) to draft him in the fourth round that year.
The team listed Apke — who was primarily a special teams standout — as a safety for most of his career. However, in 2021, he made the team as a cornerback, and that stood out.
With that move, Apke became the first white cornerback to make a 53-man roster in 19 years, per Newsweek. Prior to his inclusion on the Washington roster, the last white CB was Jason Sehorn. He was a second-round pick out of USC in the 1994 draft who played seven seasons at corner with the New York Giants and St. Louis Rams.
In August 2022, the Commanders cut Apke, and, as Jason Kelce alluded to, there are now no white cornerbacks in the NFL.
Have thoughts on this topic? Keep the conversation rolling in our comments section below.