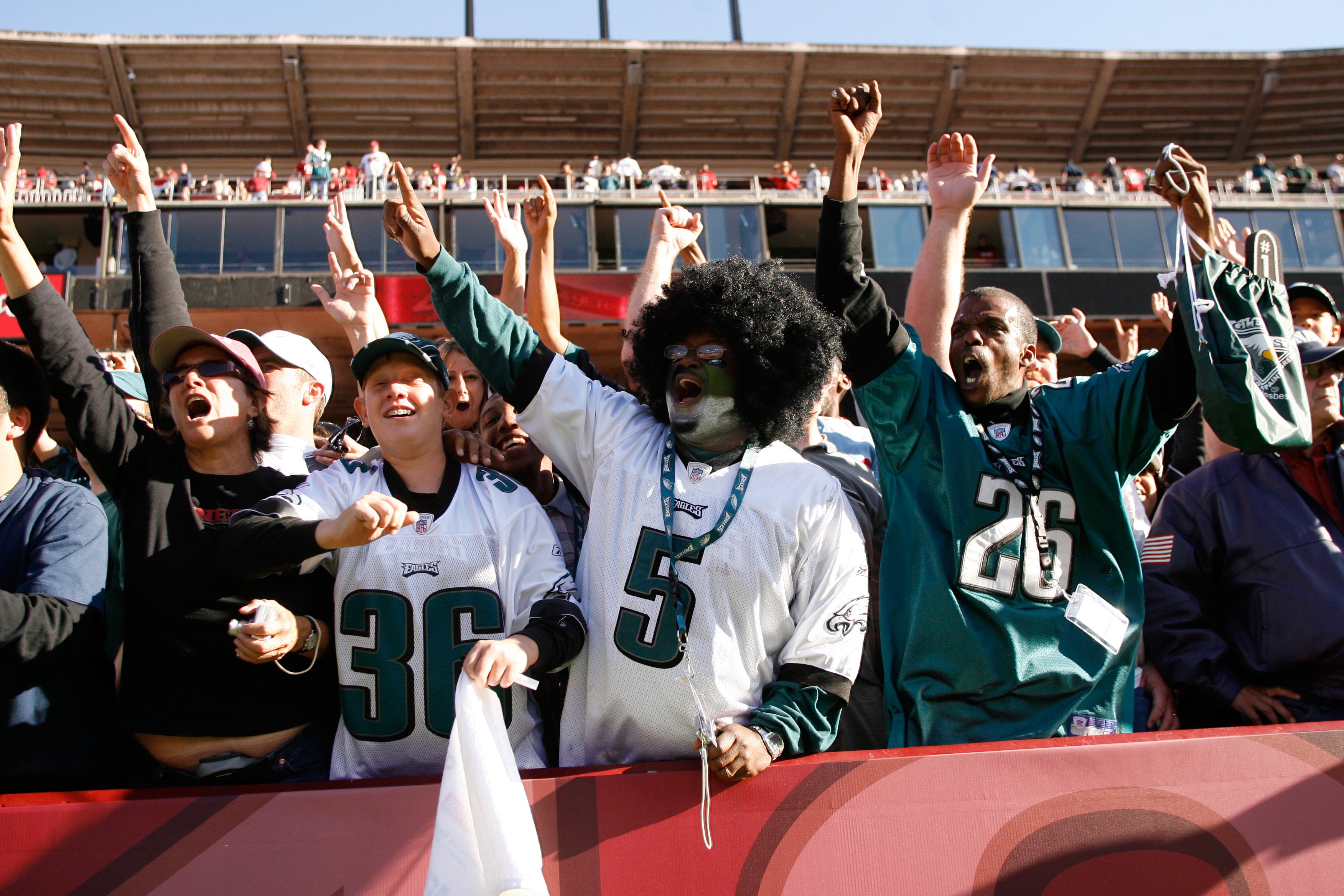 Eagles Fans Show Why They Get a Bad Rap After Trolling Young Carson Wentz Fan
On Wednesday, some Philadelphia Eagles fans weren't helping their image of being some of the worst fans in sports.
It's one thing to boo Santa Claus and pelt him with snowballs, but to blast a 13-year-old kid with a rare genetic condition for wearing the jersey of his favorite player might be going too far. Giovanni Hamilton, a huge fan of both the Philadelphia Eagles and Carson Wentz posted a photo of himself wearing a brand-new Indianapolis Colts Wentz jersey that the Colts sent him. Wentz was officially traded to the Colts on Wednesday and a few Eagles fans quickly took some shots at Hamilton.
Giovanni Hamilton and Carson Wentz developed a special bond
Giovanni Hamilton is a 13-year-old Philadelphia superfan. He loves all things Philly, but he became Carson Wentz's biggest fan during training camp in 2019. Hamilton has a rare genetic condition called Schwartz-Jampel Syndrome. Hamilton was on the sidelines in his wheelchair during camp, courtesy of a foundation called Bianca's Kids, and he and Wentz developed a friendship that continues today.
When Hamilton met Wentz back in 2019, it made quite an impact on the then-11-year-old Hamilton. Hamilton has gone through numerous surgeries and his mother, Shannon, told ESPN that her son lives in pain daily. But meeting his hero helped soften those blows.
"He lives with pain daily," Shannon said. "It's awful to watch. But Carson … he wants to be a football coach because of Carson. He said, 'Mom, I will work for the Eagles one day.'"
Hamilton was emotional when Wentz was traded to the Colts
In mid-February, it was reported that Carson Wentz was traded to the Indianapolis Colts. Wentz had been benched near the end of the 2020 season in favor of Jalen Hurts. When superfan Giovanni Hamilton woke up the morning of Feb. 18 and heard the news of the trade, he was very emotional. He went to Twitter and posted a tearful goodbye to his hero.
"You're still my hero and you always will be," Hamilton said tearfully before turning and pointing to a picture on the wall. On that wall was a photo of Hamilton meeting Wentz for the first time in 2019. "That moment is what matters."
In December, when Wentz was benched, Hamilton put out another Twitter message, telling Wentz he was still his hero. Hamilton said Wentz was like Rocky and Hamilton was like Mickey, still in his corner cheering him on. Wentz even responded to the tweet. "You're the man Giovanni," Wentz wrote on Twitter. I appreciate and look up to you! Never change man!"
Some Eagles fans troll Hamilton after he wears Wentz's Colts jersey
Although the news of Carson Wentz being traded to the Indianapolis Colts was reported in February, the Colts didn't officially announce it until Wednesday. Hours before the official announcement, Giovanni Hamilton took to Twitter and broke the news of Wentz wearing a different number. Hamilton sported a blue Colts jersey with WENTZ across the back and a No. 2 on it.
While he was proud to be wearing his favorite player's new jersey, some Philadelphia Eagles weren't too happy with Hamilton. While most of the comments were supportive of Hamilton and his new Colts jersey, there were a few Eagles fans who showed why they have a reputation for being some of the worst fans around.
"I love u man but please take that jersey off we bleed green," one Twitter user said. Another one wrote, "Use that jersey for toilet paper. Carson is soft and he's a bum." That was followed by, "Giovanni I can't support the Colts jersey. Don't let them buy your love." One Eagles fan even used several expletives in his comment before telling Hamilton, "but sure, keep supporting him." While most of those on social media were praising Hamilton, a small group of embarrassing folks certainly wasn't helping the image of Eagles fans.