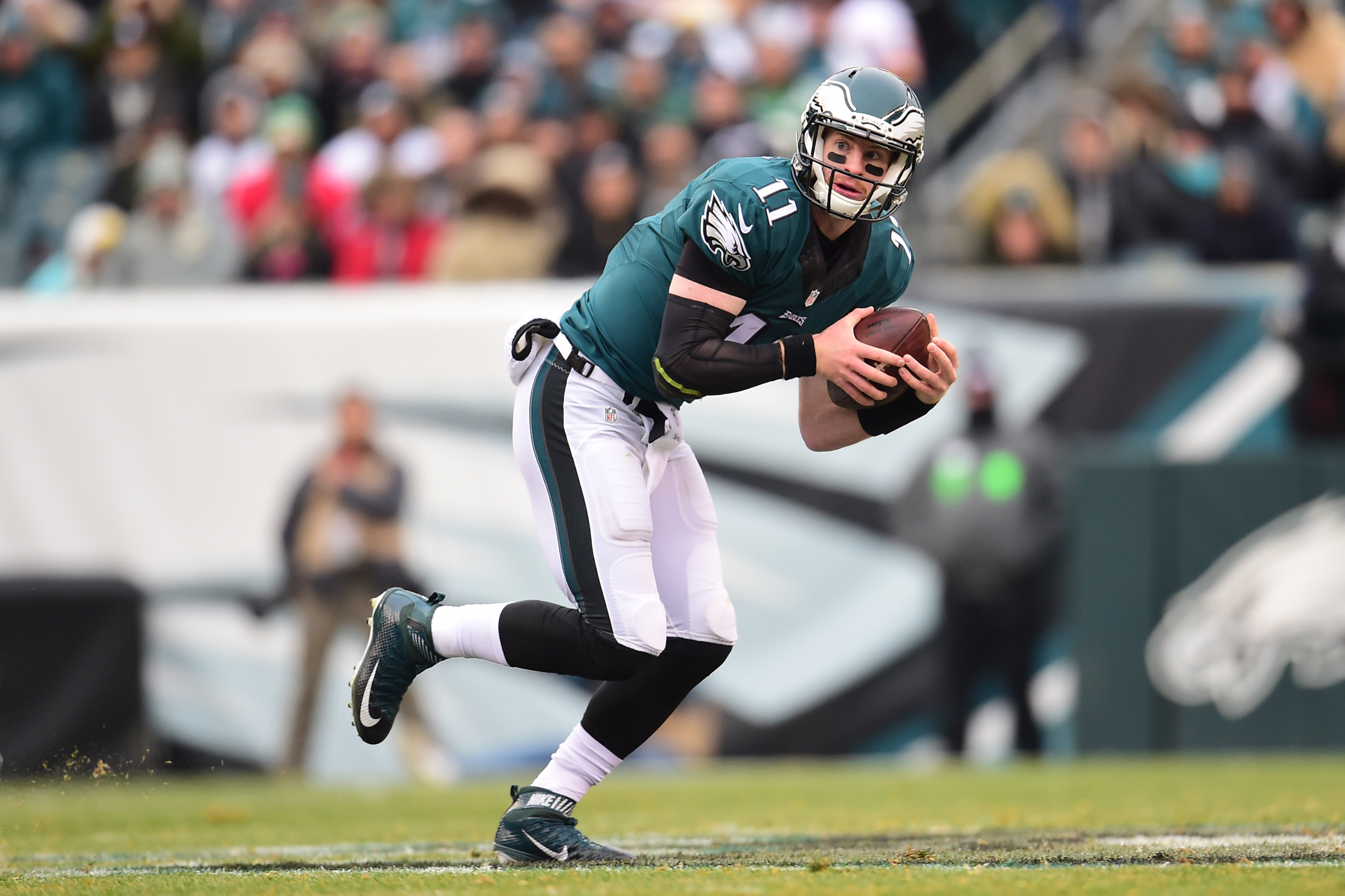 Carson Wentz's New Jersey Number Revealed By Superfan Giovanni Hamilton
Carson Wentz's new jersey number was revealed by his superfan Giovanni Hamilton.
Carson Wentz and his new home became official Wednesday. Although the Philadelphia Eagles and Indianapolis Colts agreed to a trade for the quarterback last month, it was officially announced at 4:30 p.m. Wednesday. Hours before the official announcement, Wentz superfan, Giovanni Hamilton, took to Twitter and showed off his new Colts jersey with Wentz's new number.
Who is Giovanni Hamilton?
Giovanni Hamilton is a Philadelphia sports fan. He's 13 years old and has a rare genetic condition called Schwartz-Jampel Syndrome. According to ESPN, Hamilton's mother, Shannon, his condition is like a combination of muscular dystrophy and dwarfism. Hamilton drew close to then-Philadelphia Eagles quarterback Carson Wentz during one of the Eagles' training camps.
Hamilton, a diehard Eagles fan, was at camp wearing a Wentz jersey. He was sitting in his wheelchair and was able to attend the camp and be on the sidelines through a foundation called Bianca's Kids.
Hamilton had gone through numerous surgeries and was able to muster up the courage to mentally prepare for them because of Wentz. Wentz suffered a torn ACL at the end of the 2017 season. One of Hamilton's surgeries was a jaw painful jaw distraction in 2019. "It was really painful and just awful," Shannon told ESPN. "But he told me, he said, 'Mom, I'm going to be strong like Carson. Look at how he's doing with his knee. Look at how he's doing with his back.' And it just meant everything for him to finally meet Carson."
Giovanni Hamilton was crushed when Wentz was traded
Last month, the Philadelphia Eagles agreed to trade quarterback Carson Wentz to the Indianapolis Colts. Wentz would be getting a new beginning after getting benched in favor of Jalen Hurts. While Wentz seemed excited about his opportunity for a new start, his biggest fan wasn't all that thrilled.
Giovanni Hamilton is Wentz's biggest fan. Ever since their training-camp meeting, Hamilton and Wentz developed a bond. Hamilton put out an emotional video on Twitter on Feb. 18 and said a tearful goodbye to the player he called his hero.
Hamilton said he just woke up to the news that "Carson was gone" and admitted, "this hurts." He remembered that day in training camp and implied their bond will forever be strong because of it. "You're still my hero and you always will be," he said before pointing to a picture on the wall of their meeting at the 2019 training camp. "That moment is what matters."
Wentz gets a new jersey number and Hamilton lets fans know what it is
Indianapolis Colts wide receiver Michael Pittman wears No. 11, Carson Wentz's old number with the Philadelphia Eagles. Pittman said all along that he wouldn't give it up. Wentz was fine with it and moved on to a different number. Wentz's trade to the Colts couldn't become official until March 17 and it wasn't announced until 4:30 p.m., according to The Indianapolis Star.
Hours before the official announcement, Wentz superfan, Giovanni Hamilton, went on Twitter sporting a new Wentz Colts jersey with the No. 2 on it. Yes, Giovanni Hamilton broke the news.
In his post, Hamilton thanked the Colts and wrote, "I am so happy to have my guy @cj_wentz new jersey."