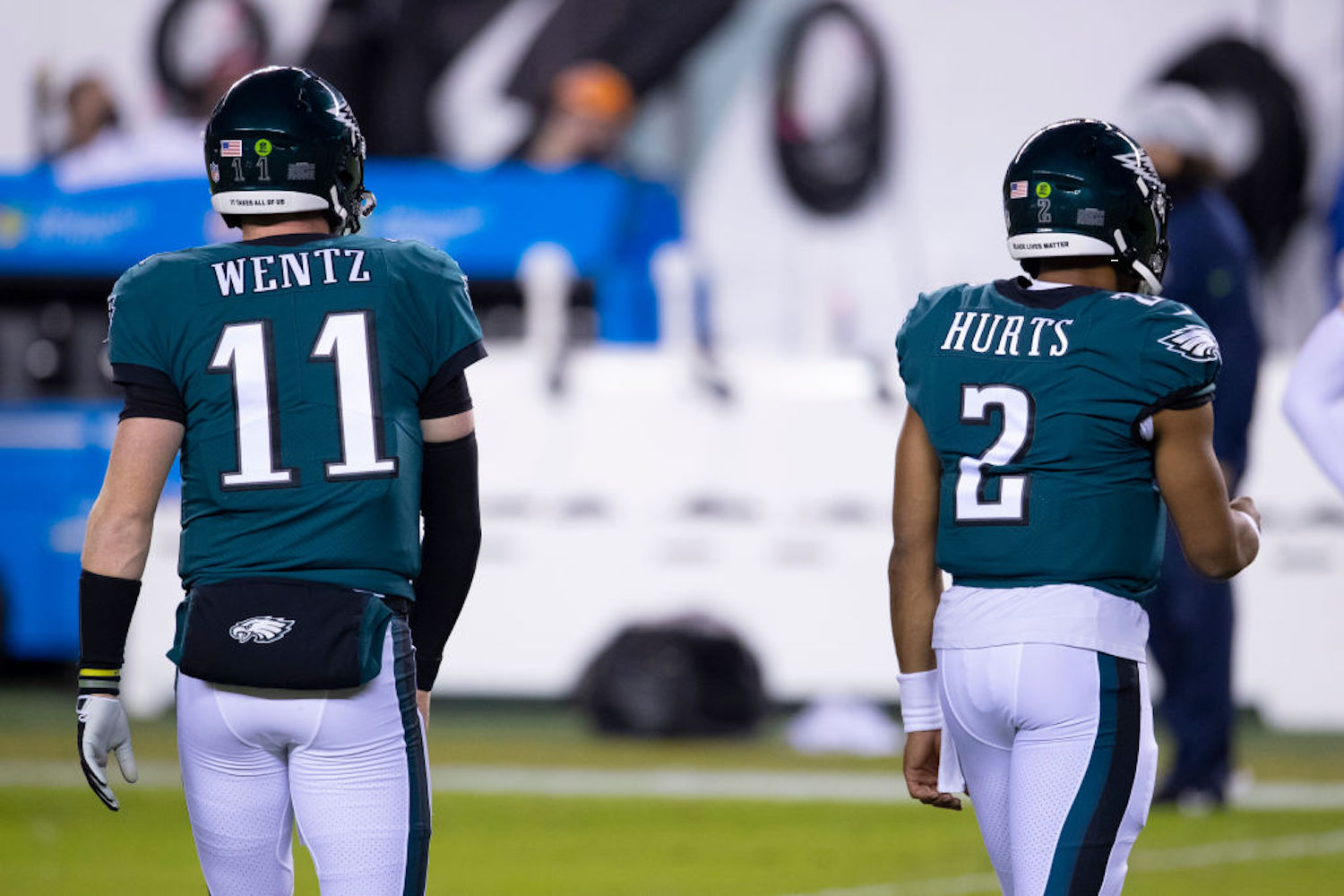 Carson Wentz Sends an Encouraging Message After Getting Benched for Jalen Hurts
Philadelphia Eagles QB Carson Wentz has been benched for rookie Jalen Hurts, but the former Pro Bowler is still in high spirits.
When Carson Wentz was replaced by Jalen Hurts last Sunday against the Green Bay Packers, Wentz was the first one to celebrate Hurts' first touchdown pass in the NFL.
The Philadelphia Eagles later announced that Wentz has been benched for Hurts ahead of this Sunday's game against the New Orleans Saints. Most franchise quarterbacks would be fuming about such a decision, but Wentz is remaining in good spirits. The QB sent an encouraging message to the Eagles' biggest fan about losing his starting job to a rookie.
Carson Wentz has had a rough 2020 season
After the way Carson Wentz played to finish the 2019 season, Eagles fans were excited to see what he could do with a rejuvenated roster in 2020. Wentz heroically led the Eagles to a playoff berth last year with backups surrounding him from every angle on offense.
But the season hasn't gone exactly as planned. Philadelphia currently sits in third place in the NFC East at 3-8-1, and Wentz has been statistically one of the worst quarterbacks in the entire NFL.
Through 12 games, Wentz has thrown the most interceptions in the league (15). He's completing a career-low 57.4% of his passes, and he's led the Eagles to one of the most inept offenses in the NFL this season. Philadelphia is averaging just 21.1 points per game, which ranks 26th out of 32 teams.
Carson Wentz has been benched for Jalen Hurts
After weeks of poor play and cries from the fan base to make a change, head coach Doug Pederson announced this week that rookie QB Jalen Hurts will get the start over Carson Wentz on Sunday against the Saints.
The decision couldn't have been easy. Sure, Wentz has struggled, but the entire offense has been in disarray all season. The offensive line can't stay healthy, the wide receivers can't get separation, and the play-calling hasn't been built to help Wentz thrive.
Not to mention Wentz's disastrous contract that's set to kick in next season. The Eagles signed their franchise quarterback to a four-year, $128 million extension last offseason, and he's due $34.6 million next season whether he starts or not.
Contract aside, Wentz just wasn't getting the job done this year. The Eagles need to see what they have in Hurts, and this Sunday will go a long way to shape the future at the quarterback position in Philly.
Wentz sends an encouraging message to the Eagles' biggest fan
Many quarterbacks would sulk and complain after getting benched for a rookie, but Wentz doesn't have that personality.
The Eagles' biggest fan, Giovani Hamilton, who has a rare disease called Schwartz-Jampel syndrome, reached out to Wentz via Twitter this week. He posted a video telling Wentz to keep his head up and that he was still his hero.
A day after getting benched, Wentz actually replied to the superfan.
"You're the man Giovanni," Wentz tweeted in reply. "I appreciate and look up to you! Never change man! And don't worry— God's got a plan for me and I'll keep pushing through this like I always do— trusting HIM and giving it everything I got!"
Despite his troubles this season, Wentz is staying positive through it all and still believes God has a plan for him in the NFL.
All stats courtesy of Pro Football Reference