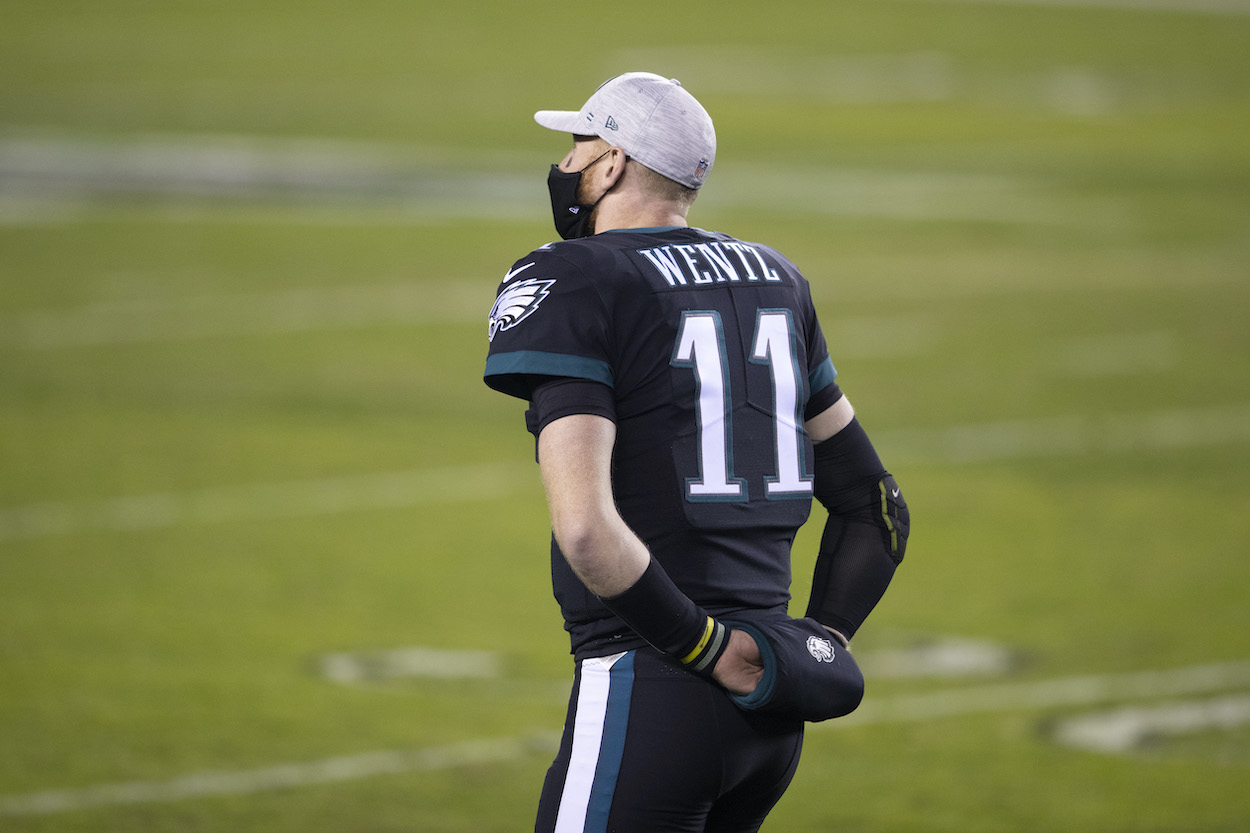 Carson Wentz Sends an Emotional Goodbye to Philadelphia Eagles Fans After Getting Traded to the Indianapolis Colts
Carson Wentz finally got his wish by getting traded to the Indianapolis Colts, but he still left Philadelphia Eagles fans a heartfelt message on his way out.
After an up-and-down tenure with the Philadelphia Eagles, Carson Wentz has been shipped out of town to join the Indianapolis Colts. The trade didn't come as a surprise, but it was still hard for Wentz to bid farewell to the Eagles fans that had his back since he entered the NFL. After the deal became official, Wentz sent an emotional goodbye to the Philadelphia faithful on Instagram as he gets set to begin a new journey.
The Eagles trade Carson Wentz to the Colts
Carson Wentz is no longer a Philadelphia Eagle. After a season filled with drama, subpar quarterback play, and a surprise benching, Wentz was traded to the Colts Thursday for a 2021 third-round pick and a conditional 2022 second-round pick. The conditional second-rounder becomes a first-round pick in 2022 if Wentz starts 75% of the Colts' offensive snaps next season or if he plays 70% of their snaps and Indianapolis makes the playoffs.
The trade was a long time coming for an Eagles team that once believed Wentz would be their franchise quarterback for years to come. Wentz was once considered a superstar in the league and a perennial Pro Bowler for the next decade, but it's hard to believe how quickly things have changed. Philadelphia gave up five draft picks to move up and snag Wentz in the 2016 NFL draft. The team bid farewell to him five years later for the price of just two picks.
Wentz and the Eagles can finally go their separate ways, but not before the QB said goodbye to the Philly faithful.
Carson Wentz sends an emotional goodbye to Philadelphia Eagles fans
Wentz's relationship with the Eagles organization may have been fractured over the past few months, but he still has plenty of love for the city and fans that welcomed him into the NFL. Philadelphia is where Wentz's dreams came true. Where he started a family with his wife, Madison. Where his charity organization, the AO1 Foundation, was born.
Wentz will always have a special bond with Philadelphia, and he sent an emotional goodbye to the city via his Instagram.
"To the City of Philadelphia—Thank you," Wentz wrote in the post. "You have been my home for the past five years. It has been everything a kid from Bismarck, North Dakota could have dreamed of. My family grew here, had a lot of fun, ate a lot of great food, got to be a part of an incredible church, and so many more memories off the field. On the field, we brought the Lombardi trophy home to Philly and hopefully brought a lot of joy to the city over the years. Thank you to the amazing Eagles fans across the World that have supported my family, our foundation, and our football team through all of the wins and losses. It was an honor to play in a city whose passion and love for their football team is unrivaled. Thank you for supporting my family and our AO1 foundation—we hope we have made a positive impact in the communities in Philly and look forward to continuing our efforts to impact the area!"
Carson Wentz turns to faith to lead him into his next journey with the Colts
At long last, Carson Wentz can scrub last season from his memory and try to resurrect his career in a new city. No more pressure. No more drama. Just football.
During this career transition, Wentz is turning to his faith to lead him into this next journey. At the end of his Instagram post, Wentz included the Bible verse "Hebrews 12:1-2," which reads as follows:
"Therefore, since we are surrounded by such a great cloud of witnesses, let us throw off everything that hinders and the sin that so easily entangles. And let us run with perseverance the race marked out for us fixing our eyes on Jesus, the pioneer and perfecter of faith. For the joy set before him he endured the cross, scorning its shame, and sat down at the right hand of the throne of God."