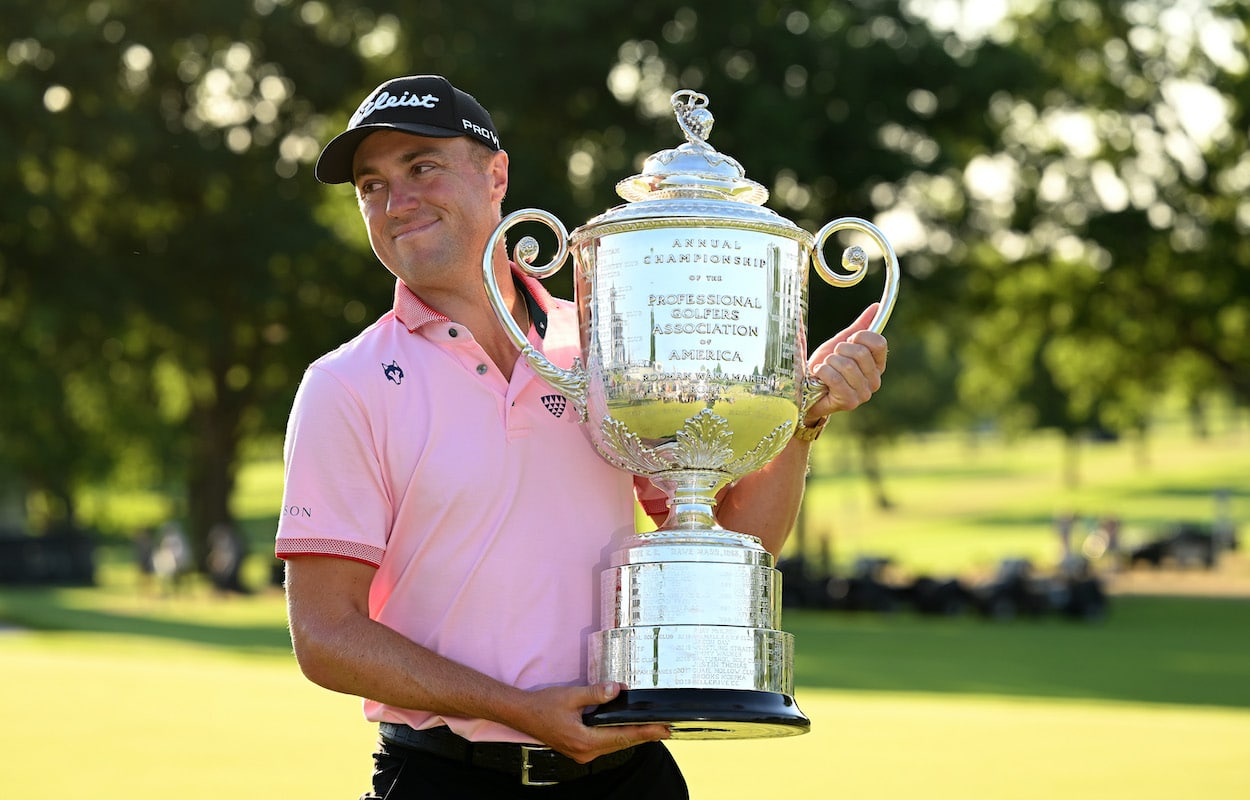 How an Embarrassing Shank Propelled Justin Thomas to a PGA Championship Victory and a $2.7 Million Payday
Justin Thomas wouldn't have been able to force a playoff at the PGA Championship if not for the best bogey of his life.
When the highlight tapes are edited for Justin Thomas' heroic comeback win at the 2022 PGA Championship, they'll prominently feature his brilliant shots during the three-hole playoff against Will Zalatoris. Without his tidy approach shot on 13 to set up a crucial birdie, his precise tee shot on the par-4 17th that found the green, or his two perfect strikes on 18 (the toughest hole on the course) that led to a stress-free par, Thomas wouldn't have ended his Sunday with the Wanamaker Trophy in his hands.
One shot that surely won't be included on those tapes, though, is his stone-cold shank on the par-3 sixth hole that nearly pushed him out of contention. But what happened next was the "best bogey" of Thomas' life that propelled him to one of the greatest comebacks in PGA Championship history.
Justin Thomas made the "best bogey" of his life after an embarrassing shank
Thomas' PGA Championship triumph will be remembered for his Sunday 67 that matched the lowest score of the final round and erased a seven-stroke deficit. No one saw that performance coming after his shaky start, however.
It's easy to forget Thomas made a sloppy bogey on the third hole to fall eight shots back of the lead. After a bounce-back birdie on 5, he stepped up to the par-3 sixth tee and did something rarely seen in professional golf: He completely shanked a 5-iron into the trees.
JT had 121 yards left to the pin on the 218-yard hole, and he clipped a tree on his second shot to end up in a bunker. Thomas could feel his already slim chances slipping away on one hole, but he somehow got up-and-down from the sand 109 yards away to save bogey in inconceivable fashion.
"I just cold shanked it," Thomas said after the round, per Yahoo Sports. "I don't really know how else to say it. It was the best bogey I've ever made in my life, that's for sure."
"It was a shanky-barkie-sandy," Jim "Bones" Mackay, Thomas' caddie, joked after the round. "At least that's what we'd call it at the club."
Thomas rebounded in epic fashion to win PGA Championship and $2.7 million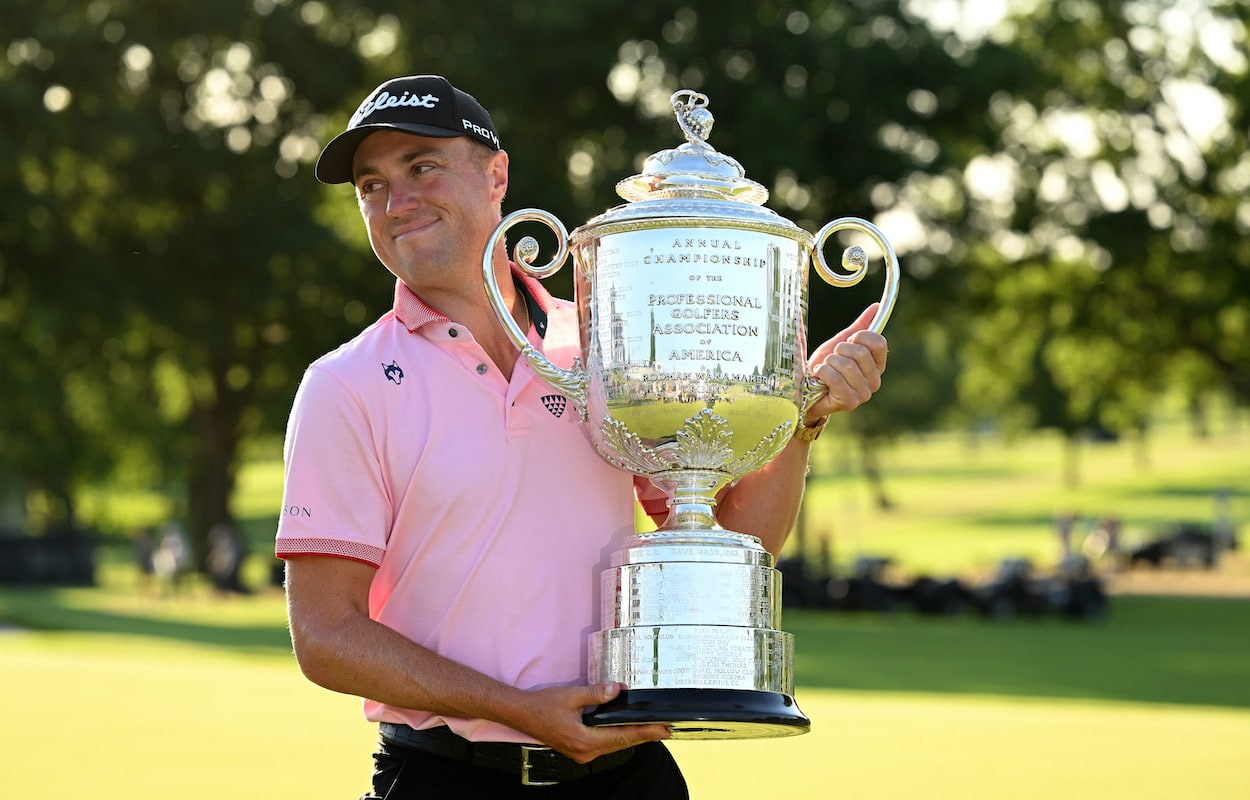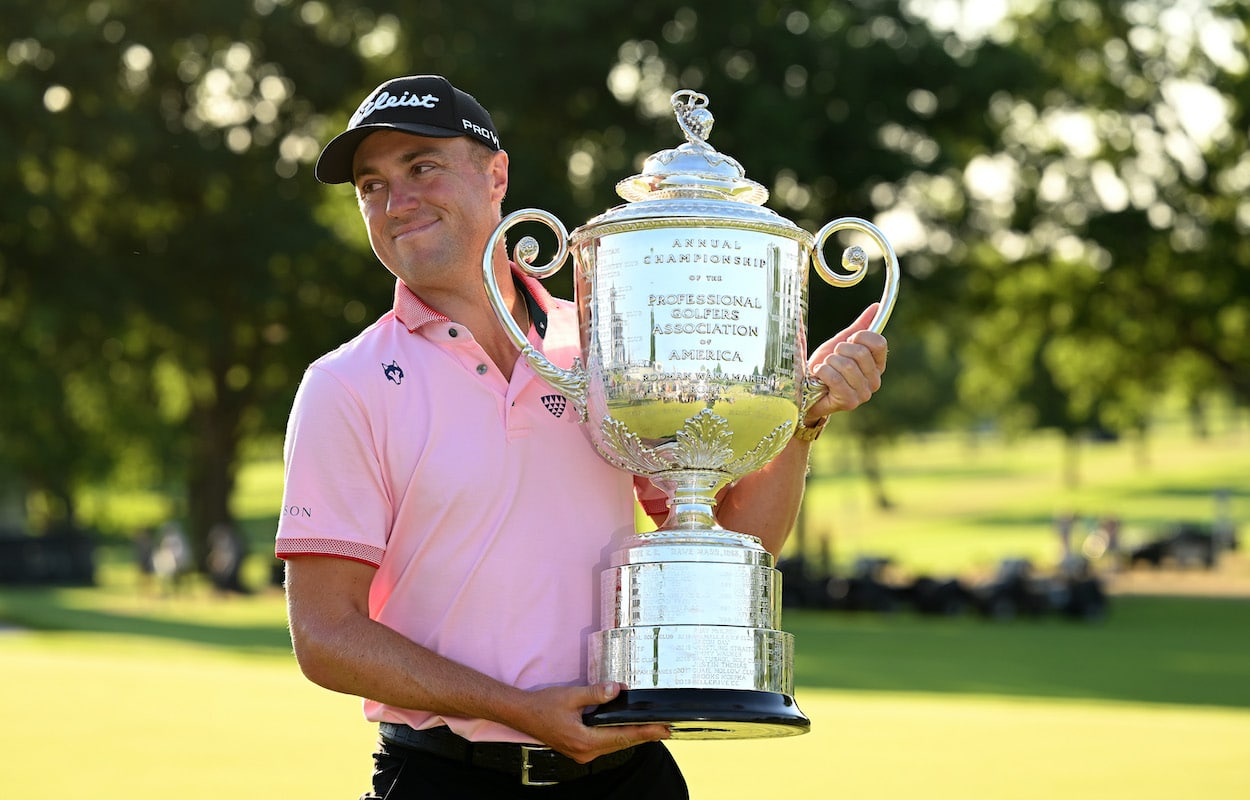 Thomas' incredible bogey save after his shank on the sixth hole kept him in the tournament. He had a chance to redeem himself with a 5-iron on the very next hole, and that's exactly what he did.
"So, very next hole, water right of the green, green sloping left to right, he's got to step up and hit a shot with the club he shanked 20 minutes ago," Mackay said, "and he hit arguably his best shot of the day. We were remarking that it was his best full swing of the week and he hit it to 10 feet."
From there, Thomas finished with six birdies and zero bogeys over his last 13 holes to tie the largest final-round comeback in PGA Championship history and secure the Wanamaker Trophy for the second time in his career. The World No. 5 also won $2.7 million with the victory, which is the largest cash prize in tournament history.
All after one of the worst golf shots he's ever hit in his life.
Like Sportscasting on Facebook. Follow us on Twitter @sportscasting19.