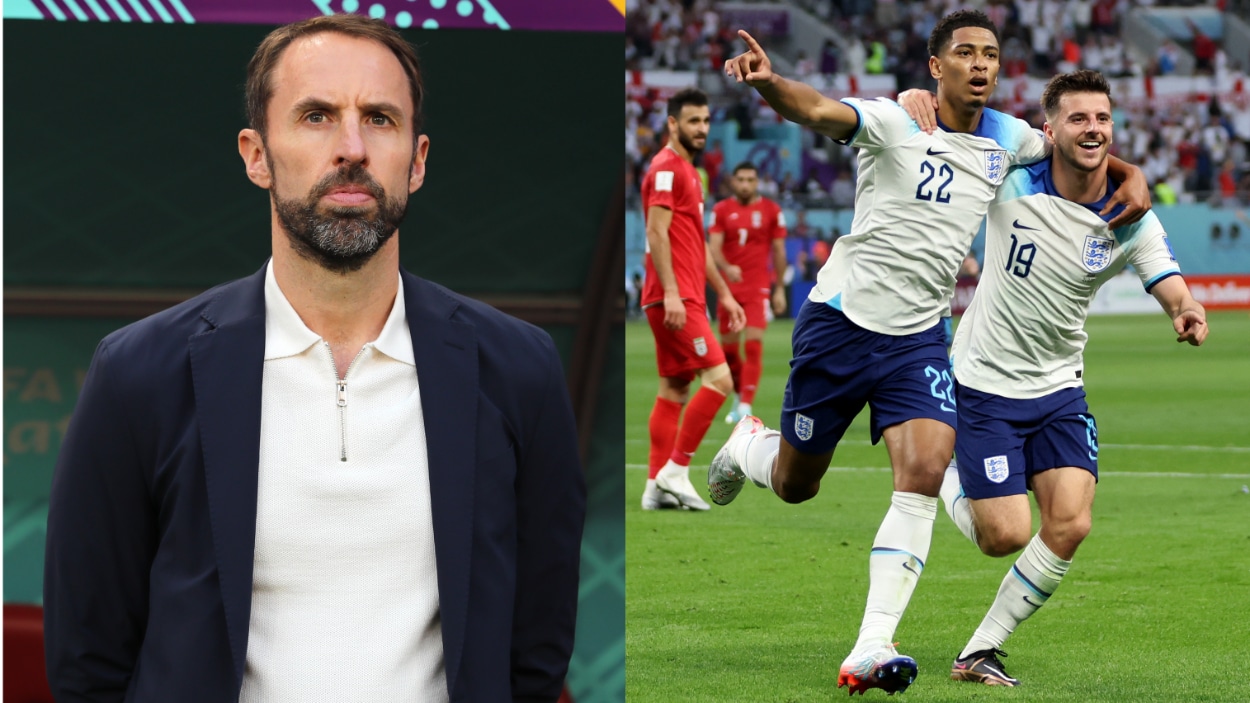 'A Bit Disappointed': England Manager Gareth Southgate Not Satisfied With His Squad After 6-2 Win vs. Iran
England beat Iran 6-2 in its World Cup opener in Group C, but Three Lions manager Gareth Southgate wasn't totally happy with the performance.
Opening a World Cup with a 6-2 victory would be a dream for most managers. And, in fairness, England manager Gareth Southgate admitted he felt that way, too. However, after a late flourish by Iran that led to a four-goal margin, as opposed to a six-goal margin, Southgate said his team still has a ways to go if they hope to have football coming home from the world's biggest soccer tournament in Qatar.
England dominated in their opener vs. Iran 
The Three Lions started their Group B 2022 World Cup campaign in incredible fashion, scoring early and often vs. Iran to get the three points and work up a big goal differential to help them grab first place in the group.
There was never much doubt in this one, even as England took a little over 30 minutes to notch their first score. When the barrage finally did start, it came from a handful of Englishmen who've never scored a World Cup goal before.
Jude Bellingham — the 19-year-old Borussia Dortmund phenom who is the only player on the team who doesn't ply his trade in the Premier League — kicked things off for the team with a beautifully headed goal.
After that, the floodgates opened, and England got goals from Arsenal's Bukayo Saka (43′), Chelsea's Raheem Sterling (45'+1′), Saka again (62′) Manchester United's Marcus Rashford (71′), and Manchester City's Jack Grealish (90′).
Iran is by no means a great team. In fact, they are squarely the worst team in Group C. That said, scoring six goals on anyone is impressive. And if England won 6-0, manager Gareth Southgate would have been impressed.
However, England won 6-2, and Southgate says that's not good enough.
Gareth Southgate wasn't impressed with his team letting in two goals
The problem with England's romp over Iran came in the last 25-plus minutes of the match. After going up 4-0, Iran scored in open play with a slick pass and finish right in-between defenders Harry Maguire and John Stones.
And then, in stoppage time and after two more England goals, Stones pulled on an Iranian player's jersey on a corner kick and got called for a penalty that Iran's Mehdi Taremi converted.
After the game, reporters asked Gareth Southgate his overall takeaways from the match. The manager told reporters that he wasn't as happy as he thought he'd be.
"If you'd said to me we'd have been able to play that way and score the number of goals that we did and start the tournament like that, I'd have been really happy," Southgate admitted before also saying, "I'm a bit disappointed with it all. With the end of the game, really. We're going to have to be better than that."
In the end, it's probably good that England wasn't perfect vs. Iran. This gives Southgate and his staff things to harp on ahead of the next match and keeps the team on its toes. That said, it doesn't seem like England has all that much to worry about after the Wales vs. USA match later in the day.
England is firmly in control of Group C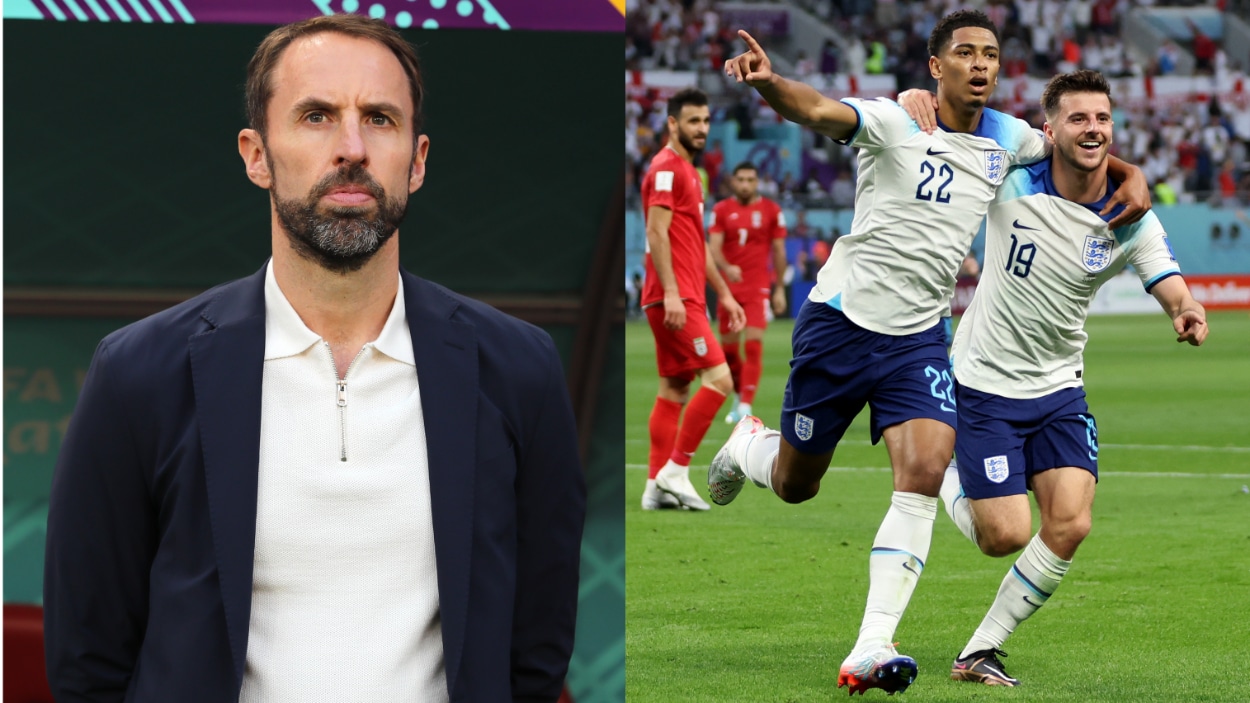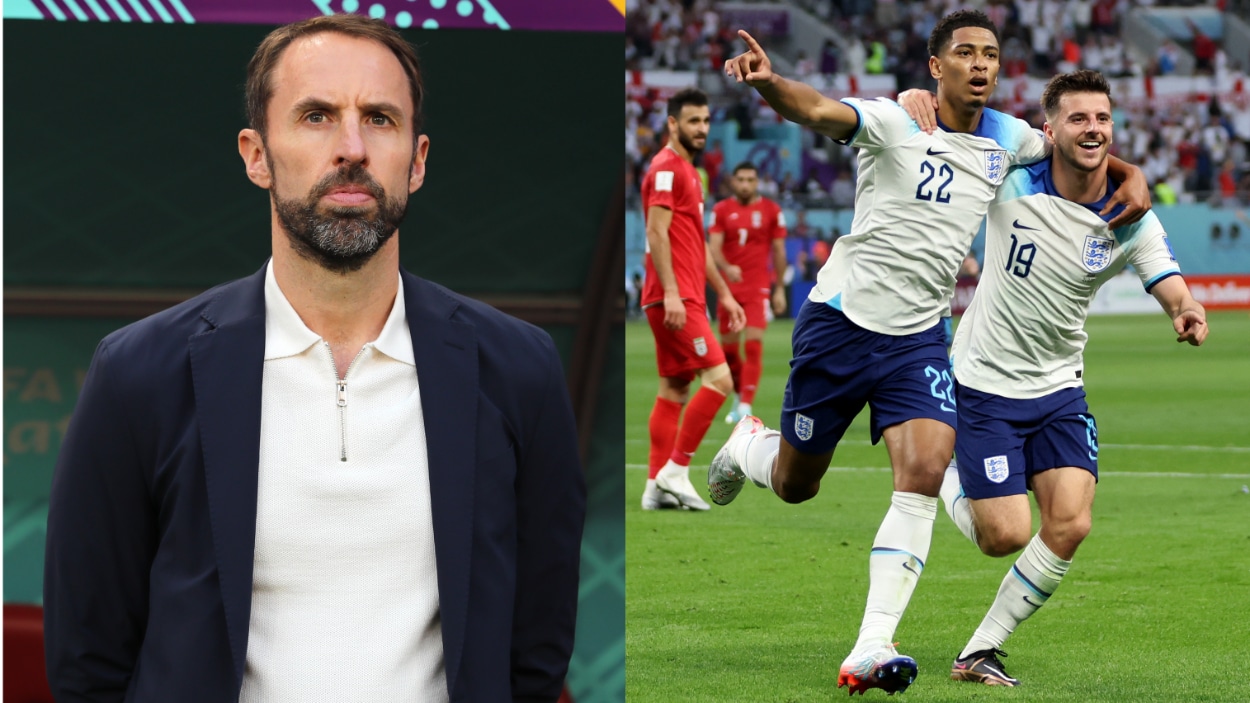 After England's complete dominance of Iran on Monday morning, there was nothing complete about USA vs. Wales on Monday afternoon.
In the first half, the USMNT dominated Wales, holding the majority of possession, creating more chances, and scoring a goal to go up 1-0. The whole game flipped in the second half, and Wales dominated the possession and chances.
Then, in the 82nd minute, USMNT center-back Walker Zimmerman made the blunder of the tournament so far. One-on-one with Wales superstar Gareth Bale, Zimmerman tackled him in the box for a penalty. Bale promptly blasted the kick past goalkeeper Matt Turner, and the game ultimately ended in a draw.
While both teams played well for 45 minutes, neither played nearly as well as England, albeit against an inferior team.
Now, if England beats both Wales and the USMNT, it will come down to which side can beat Iran by more to see who moves on in Group C with the Three Lions.