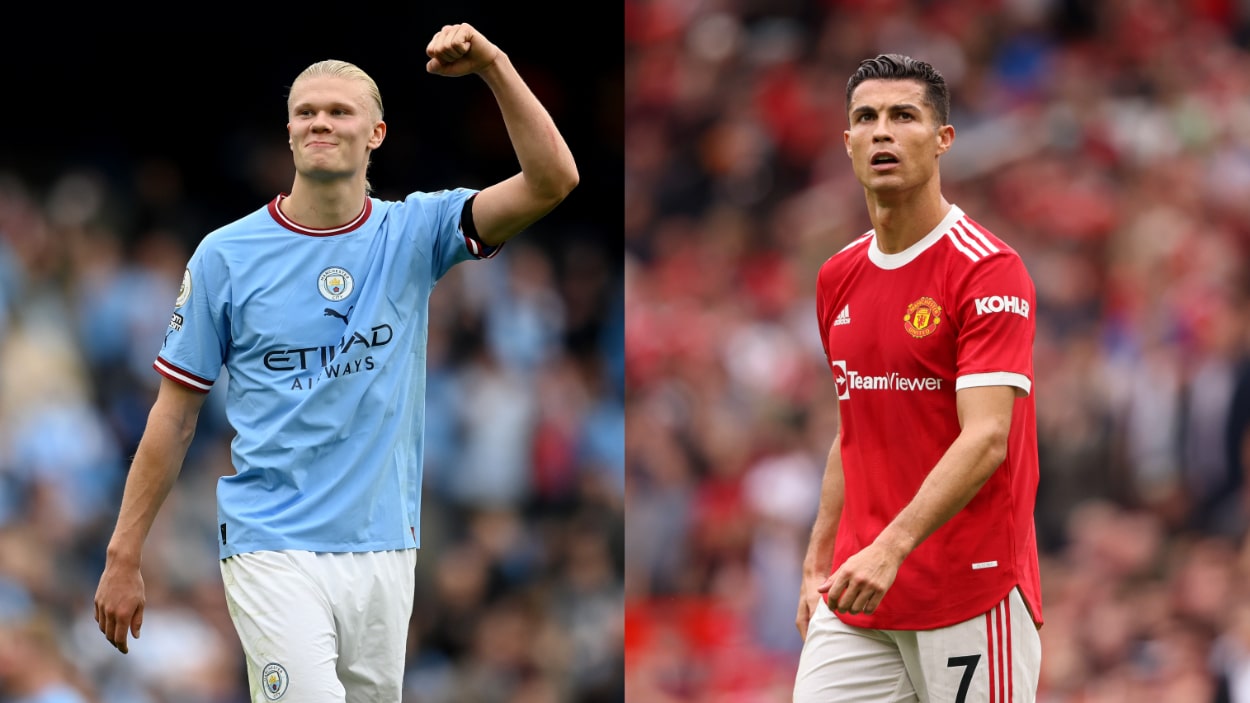 Erling Haaland Just Did Something in 8 Games it Took Cristiano Ronaldo 8 Seasons to Accomplish
After netting a hat trick against Manchester United, Manchester City striker Erling Haaland is on pace to smash Premier League records.
In the 2022 Manchester derby between bitter rivals Manchester United and Manchester City, the sidelines told the story of football's past, present, and future. On one side, you had United's Cristiano Ronaldo, one of the greatest players in soccer history. On City's side, you had Erling Haaland, the 22-year-old wunderkind who has lit the English Premier League — the toughest league in the world —on fire in his first eight games.
City took the match in dominant fashion, winning 6-3, but Haaland was the big story. The striker netted three in the contest at Old Trafford, bringing his league-leading goal total to 14 so far this season. Interestingly, though, as Ronaldo looked on, Haaland equaled a mark in just eight matches that the United star has had 232 matches to set.
Erling Haaland scores another hat trick in the 2022 Manchester derby 
Cristian Ronaldo joined Manchester United as an 18-year-old in 2003. During his first eight matches with the Red Devils, he played 486 minutes and only had one yellow card to show for it. He didn't net his first Premier League goal until his ninth match of the season.
Erling Haaland is four years older than Ronaldo in his debut EPL season, which is partly why his numbers are so much more impressive. In eight Premier League games with City, Haaland has 14 goals and three assists in 664 minutes.
Despite the slow start, things worked out pretty well for Ronaldo and United. From 2003 to 2009, then again from 2021 to today, Ronaldo played 17,207 minutes for Man U in 232 Premier League matches and tallied 102 goals and 39 assists.
During this time, Ronaldo scored three hat tricks. The first three-goal performance came against Newcastle in a 6-0 route on January 30, 2008. Hat trick No. 2 was on March 12, 2022, against Tottenham. The hat trick of Ronaldo's hat trick just over a month later when he netted three against Norwich City on April 16.
Cristiano Ronaldo has 232 games in the Premier League and three hat tricks. Erling Haaland just turned in his third three-goal performance in match No. 8.
The big Norwegian scored hat tricks on his fourth and fifth matches vs. Crystal Palace and Nottingham Forest. Then, in the Manchester derby on Saturday, Haaland put on a virtuoso three-goal, two-assist performance, announcing to Ronaldo and all the world he is the future of football.
The Man City striker is on pace to crush the Premier League single-season goals record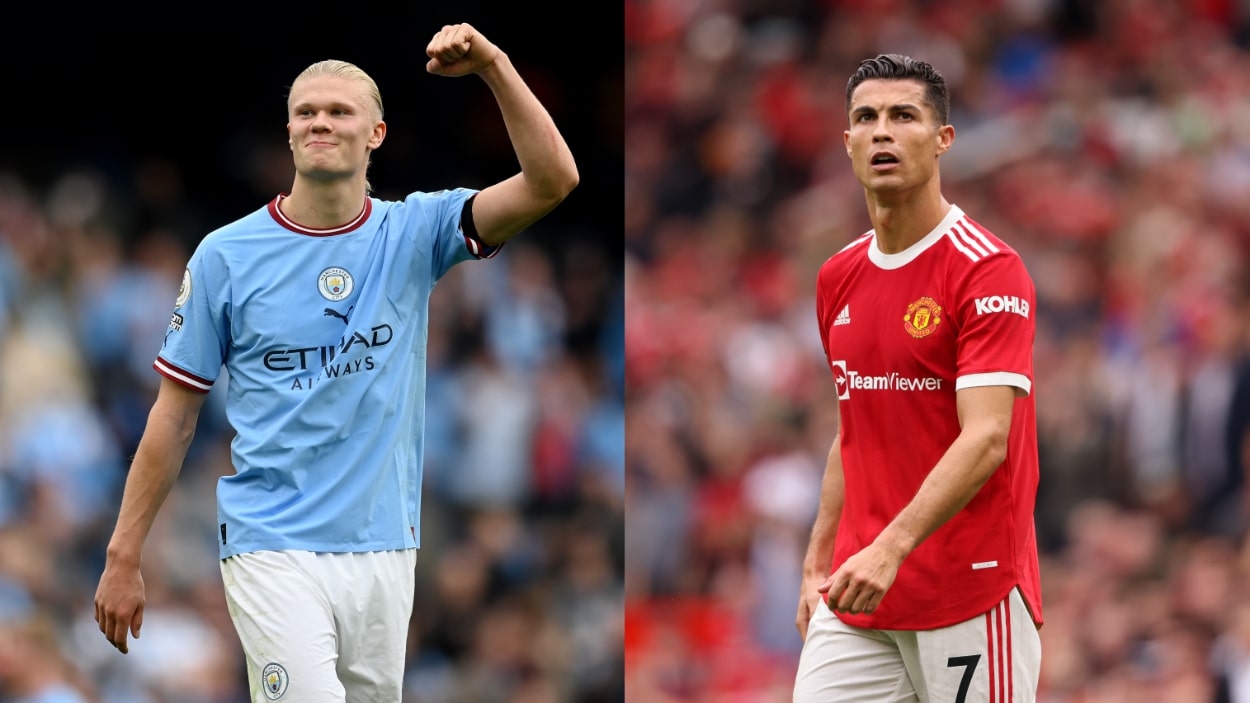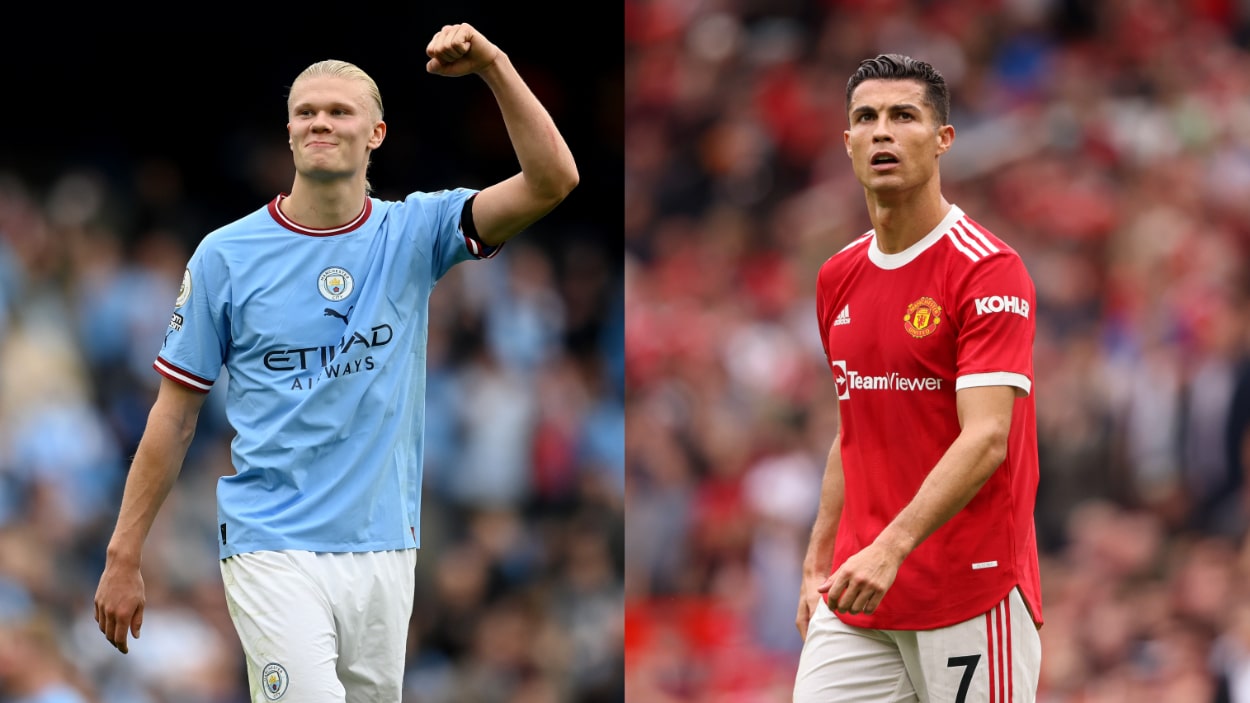 As good as Cristiano Ronaldo was for Manchester United throughout his career, he had his best years in Spain with Real Madrid. He did have 31 goals in the 2007-08 season, which was only three off the all-time single-season mark for the Premier League.  
Two players currently share the single-season EPL goals mark with 34. That's well over the current Premier League record of 34, which Andy Cole — who hit that number with Newcastle in 1993-94 — shares with Alan Shearer, who netted that many for Blackburn Rovers in 1994-95.
The twist here is that they both did it in seasons with 42 games, as opposed to the 38 there are today. The Premier League made this change for eth 1995-96 season, the year after Shearer hit 38.
With his scorching start, Erling Haaland is on pace not just to break the record but to smash it. He's currently scoring 1.75 goals per game, which would give him 66 or 67 on the season if this pace continues.
Haaland scoring 60-plus goals is nearly impossible. His pace will likely slow, especially with the league going on a World Cup break in November and December to halt his momentum. Still, breaking the record is well within the young Manchester City striker's reach.
Considering that after about 20% of the season, Haaland is over 40% of the way to the record, it sure seems like we'll have a new single-season goals leader when the season comes to an end in May.
Like Sportscasting on Facebook. Follow us on Twitter @sportscasting19 and subscribe to our YouTube channel.