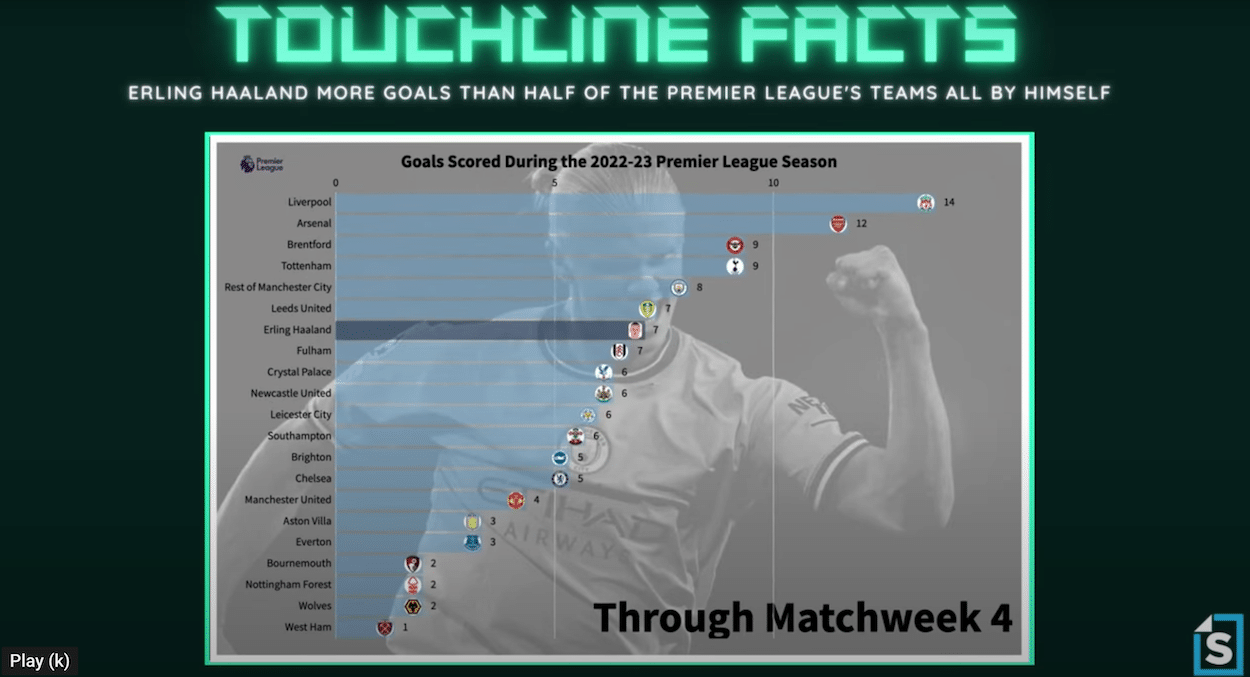 Erling Haaland Is Outscoring Most Premier League Teams by Himself
Erling Haaland is setting the Premier League on fire through nine matches and outscoring more than half the league by himself.
Manchester City striker Erling Haaland has taken the Premier League by storm. In the 22-year-old Norwegian striker's first nine games, he is on pace to almost double the all-time EPL single-season goals record. As Haaland makes his assault on history, though, he's also destroying 2022 Premier League sides. About a quarter of the way through the 2022-23 season, the Man City star amazingly has more goals than the majority of Premier League teams.
Erling Haaland has more goals than all but seven Premier League teams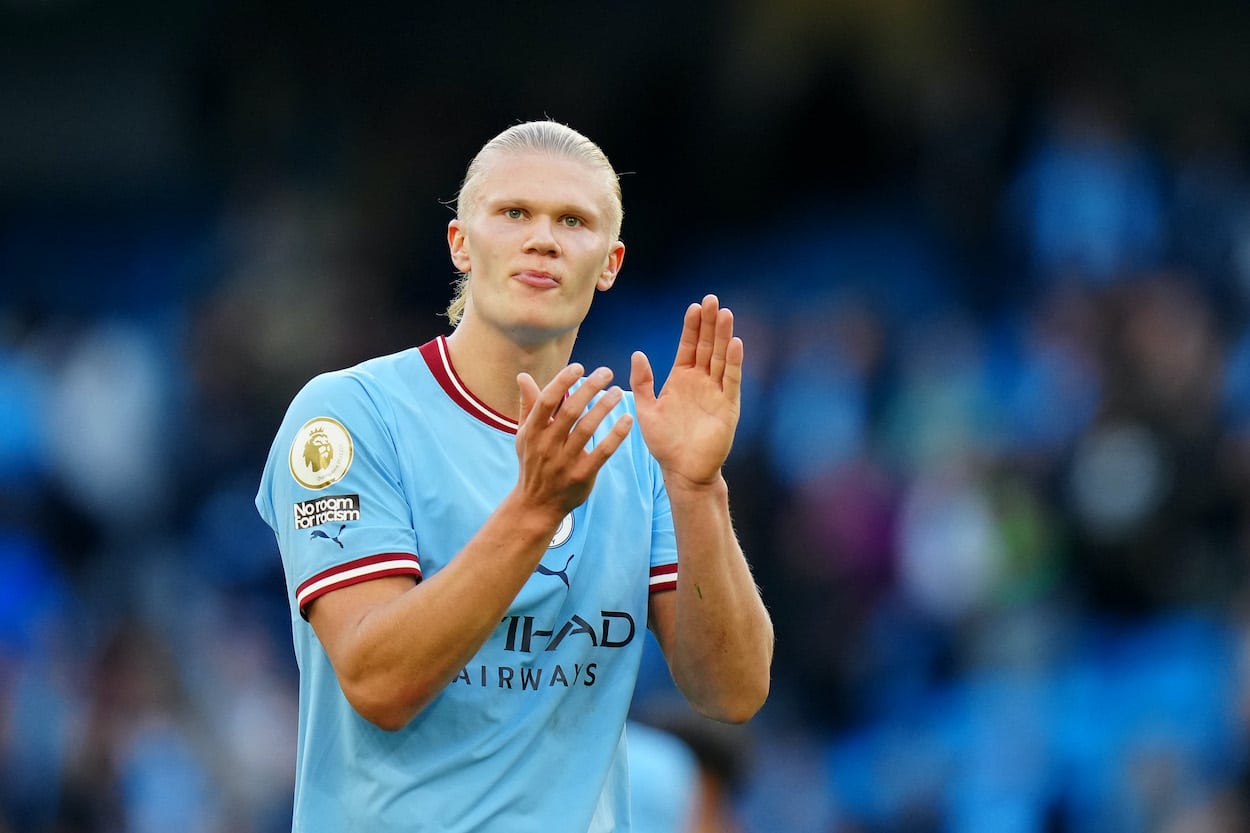 Manchester City wunderkind Erling Haaland is not just scoring goals in his debut Premier League season. He is scoring them in bunches. A brace in his opening match vs. West Ham was followed by his only goalless EPL game to date, a 4-0 City win over Bournemouth.
In the next seven contests, Haaland scored one goal vs. Newcastle, Aston Villa, Wolves, and Southampton. More impressively, he has three hat tricks, which came against Crystal Palace, Nottingham Forest, and in the most recent 2022 Manchester derby against Manchester United.
That gives Haaland 15 goals in nine games and puts him on track for 63 tallies this season. That would shatter both the 42-game EPL record of 34 by Andy Cole and Alan Shearer and the 38-game record of 32 goals held by Mohamed Salah.
While putting up these historic numbers, the Man City hitman is outscoring most Premier League teams. Through Matchweek 10, six EPL sides have more total goals than Erling Haaland.
The Premier League teams with more goals than Haaland are:
Arsenal: 23
Liverpool: 20
Tottenham: 20
The rest of Manchester City: 18
Newcastle: 17
Bretford: 16
Leicester City has 15 goals, equaling Halland's 2022-23 total thus far.
That leaves a shocking 13 teams that have put fewer goals in the back of the net this season than Haaland alone. This list includes two Big Six sides and three additional teams in the top half of the EPL table to this point. The Premier League teams with fewer goals than the Man City star are:
Brighton: 14
Fulham: 14
Chelsea: 13
Manchester United: 13
Leeds United: 11
Crystal Palace: 10
Bournemouth: 8  
Everton: 8
Southampton: 8
West Ham: 8
Aston Villa: 6
Nottingham Forest: 6
Wolves: 3
In addition to outscoring Premier League teams and threatening nearly two-decade-old EPL records, Haaland can make European football history as well.
The all-time single-season goals record in all competitions happened in 2011-12 when then-Barcelona star Lionel Messi scored 73 goals in 60 appearances. With 20 goals in 12 games, Erling Haaland is on pace for 100 goals if he plays in 60 matches like Messi did. At this current pace, Halland would best Messi in just 45 games.
Haaland sat out Tuesday, October 11, in Manchester City's Champions League 0-0 draw vs. F.C. Copenhagen. His next chance to add to his season total comes on Saturday, October 16, when City takes on EPL rival Liverpool at Anfield.
Like Sportscasting on Facebook. Follow us on Twitter @sportscasting19 and subscribe to our YouTube channel.