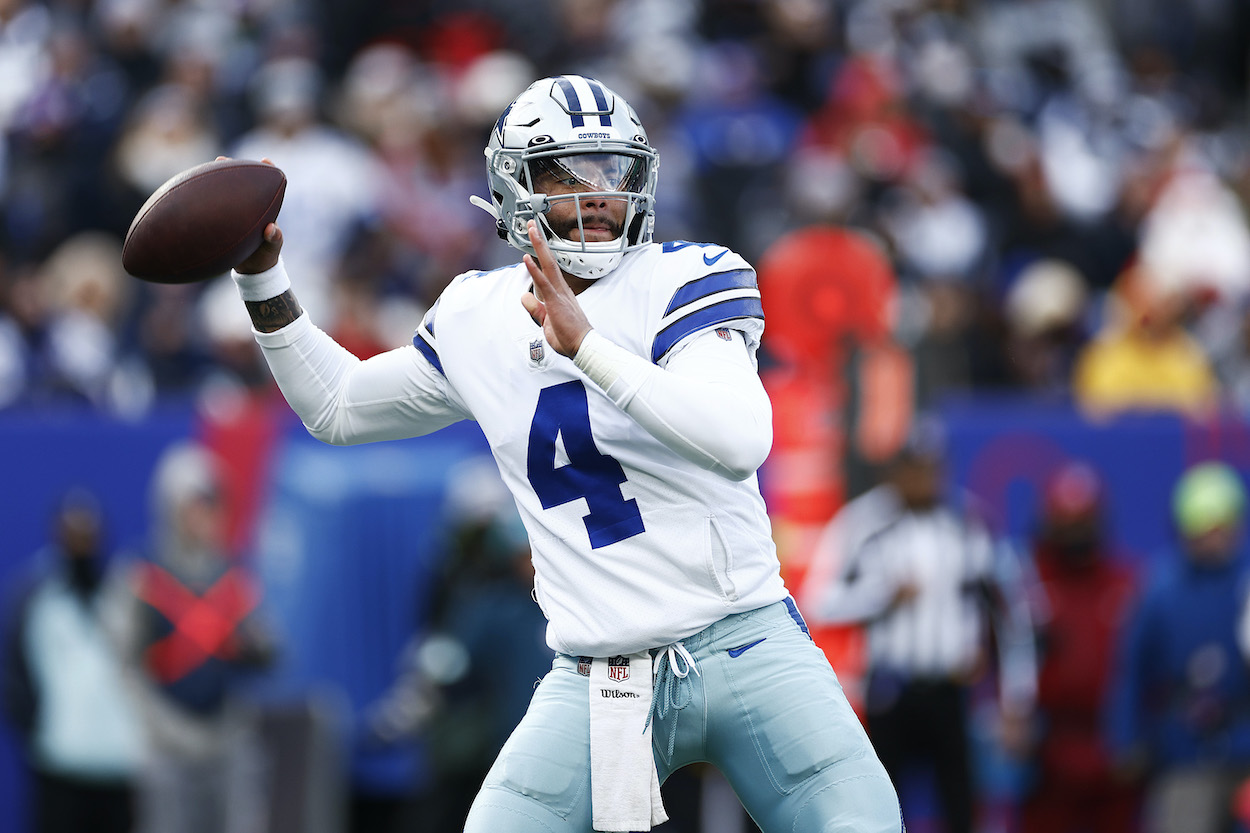 ESPN's Matt Hasselbeck Calls Out Specific Members of Dallas Cowboys Offense Except for Dak Prescott and Backs It Up With Video Evidence
ESPN's Matt Hasselbeck didn't mince words, calling out certain members of the Dallas Cowboys offense except quarterback Dak Prescott.
The Dallas Cowboys are in firm control of the NFC East and headed to the playoffs. After Dak Prescott and the Dallas offense started the season strong, the defense has been credited for the team's success in recent weeks. Many have suggested Prescott's calf injury has been a main reason for the decline in offensive production.
ESPN analyst and former quarterback Matt Hasselbeck has his own ideas of what's wrong with the Cowboys' attack. And during ESPN's Sunday NFL Countdown, he went off on a rant, calling out the unit's receivers and running backs, but, interestingly, didn't place any of the blame on the Cowboys signal-caller 
Dak Prescott suffers calf injury, and team's offense has struggled since
As the quarterback of the Dallas Cowboys, Dak Prescott knows there are always high expectations. He's only amped it up with success in his first five seasons. 
In the 12 games before Sunday's matchup against the New York Giants, the two-time Pro Bowler had led the Cowboys to an 8-4 record and posted some solid numbers, including 3,381 yards, 24 touchdowns, and 10 interceptions. 
However, in the second half of the season, Prescott hasn't quite looked like himself. Many attribute his drop in performance to a strained right calf injury that he suffered in mid-October, resulting in him sitting out a couple of contests. 
Since returning, the Cowboys have gone 3-3, including a couple of losses in which the offense managed to score 16 and nine points, respectively. Prescott struggled in both defeats.  
Matt Hasselbeck calls out Dallas receivers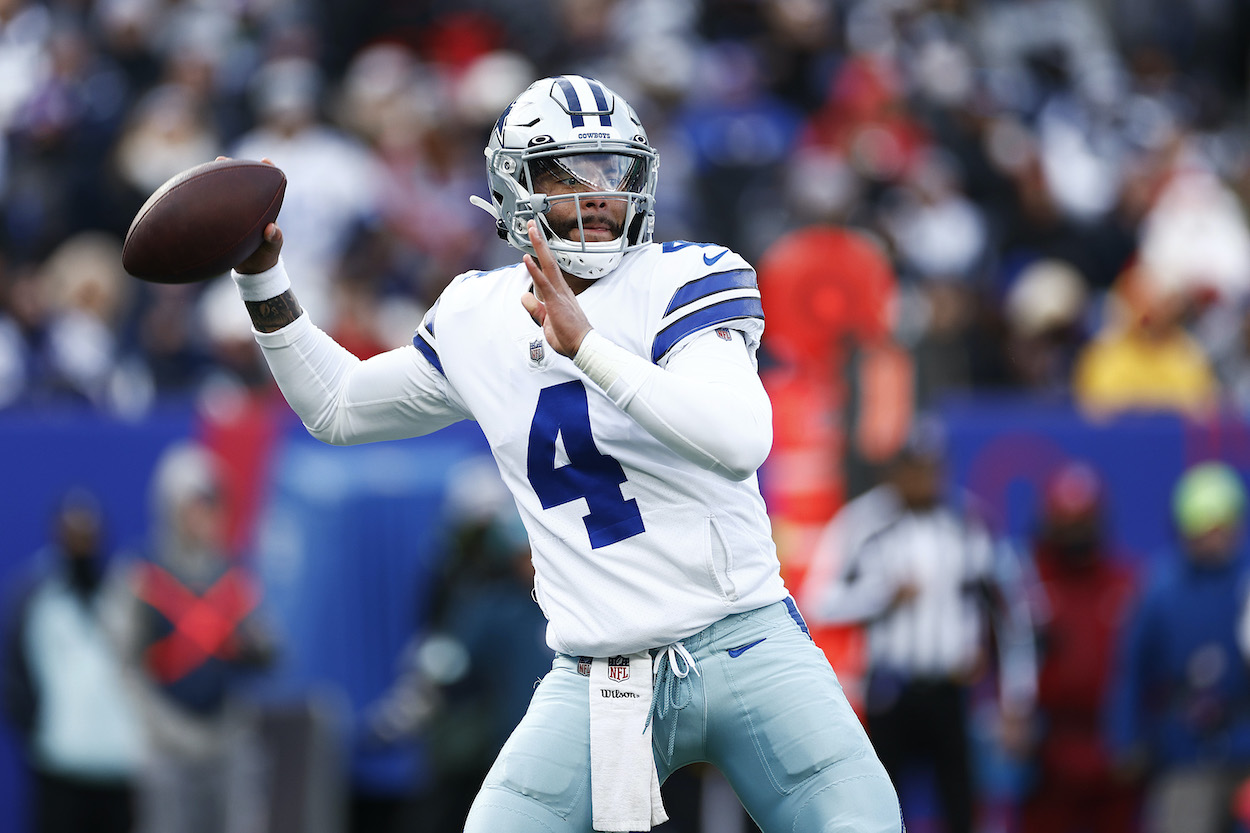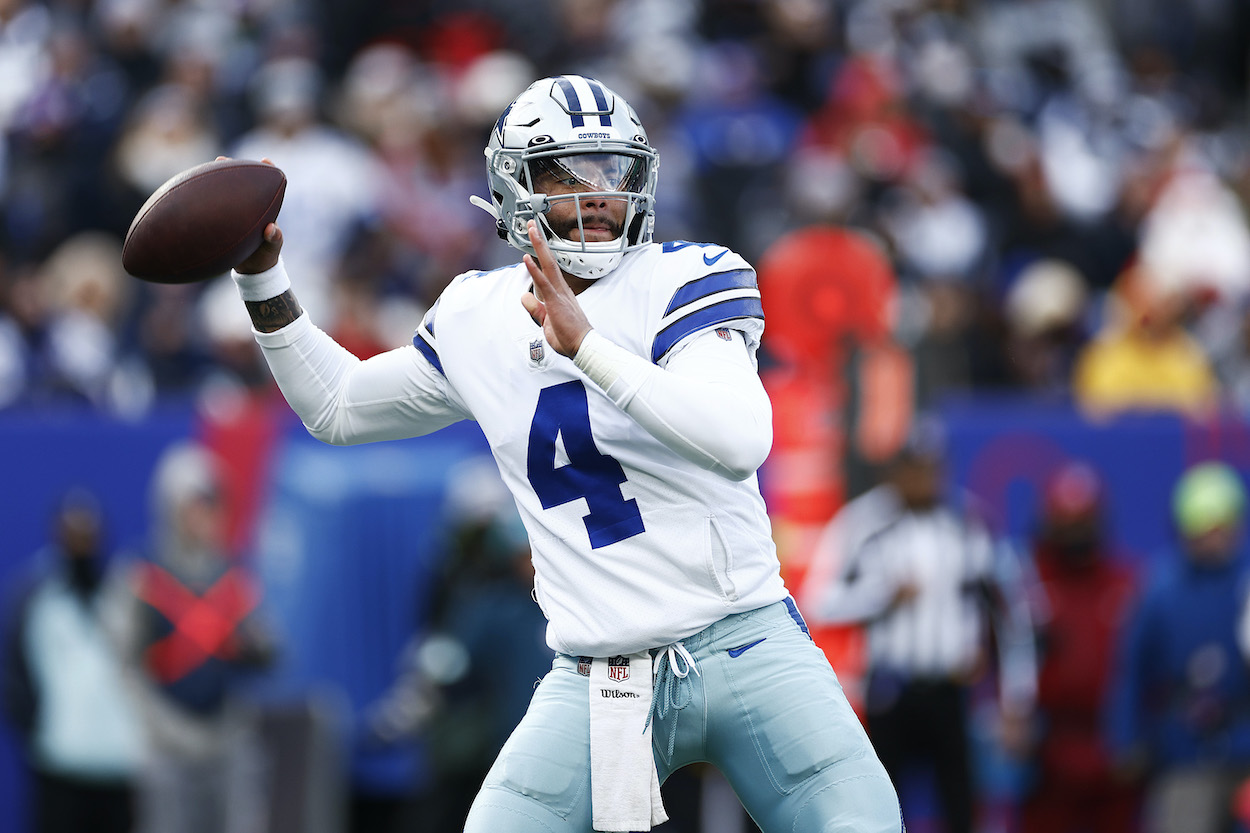 While it's undeniable that the Dallas offense hasn't performed at its optimum level, which can partially be attributed to Prescott's health, ESPN's Matt Hasselbeck isn't buying it. He said as much during ESPN's Sunday NFL Countdown.
"This narrative right now that Dak's not healthy. I don't get it. I don't see it. His numbers aren't good," Hasselbeck said. "I think the guys around him aren't helping. He misses Tony Pollard. He misses the o-line. But these wide receivers got to play better."
With video from a play in last week's game at Washington, Hasselbeck dissected the Cowboys' offensive woes, starting with a blown blocking assignment during which Prescott immediately felt pressure in his face. 
"Is this Dak's fault? No. Like, block. How's your calf? His calf's fine. He scrambles. He gets out there. Makes a perfect throw," Hasselbeck described as Prescott delivers the ball on the run to Michael Gallup, who drops it. "Catch the ball. These wide receivers lead the league in drops. Catch the ball."
Another video showed Amari Cooper running a route that wasn't crisp as the ball landed yards away from him. 
"What about just run the right route? Maybe it's miscommunication. Here's an out route. This is Amari Cooper, one of the best receivers in the game. What are you doing? This is professional football," Hasselbeck said. "And what's everyone want to do on like talk radio and all these shows. 'Oh, what's wrong with Dak Prescott? What's wrong with Dak Prescott?' I'll tell you what is wrong with Dak Prescott. In part, the guys around him aren't doing what they're supposed to do.
"You're supposed to be one of the best teams in all of football. I don't see it. And we want to talk about a calf injury. It has nothing to do with a calf injury. Everyone needs to step up and for sure the wide receiver group, the running back group, catch the ball. That is your job. Catch the ball."  
Cowboys could make a run in the playoffs with strong defense
After Hasselbeck's remarks, the Cowboys, once again led by a dominant defense, defeated the Giants and improved to 10-4, inching ever closer to the team's first playoff berth since 2018. Prescott had another pedestrian-like performance, completing 28 of 37 passes for 217 yards and a touchdown, and the offense had to settle for three first-half field goals. 
Prescott revealed his frustrations with the offense's inability to capitalize in the red zone after the game. 
"It's definitely frustrating. As I said, the defense is doing a great job giving us the ball, giving us the ball in plus territory, and we've got to find a way to get it in the end zone," Prescott said. " Simple as that, and I'm sure we'll do that." 
Whether the Dallas offense will actually start putting the ball in the end zone with any consistency remains unclear. As far as Hasselbeck is concerned, if it doesn't happen, it won't be Prescott's fault. 
Like Sportscasting on Facebook. Follow us on Twitter @sportscasting19.