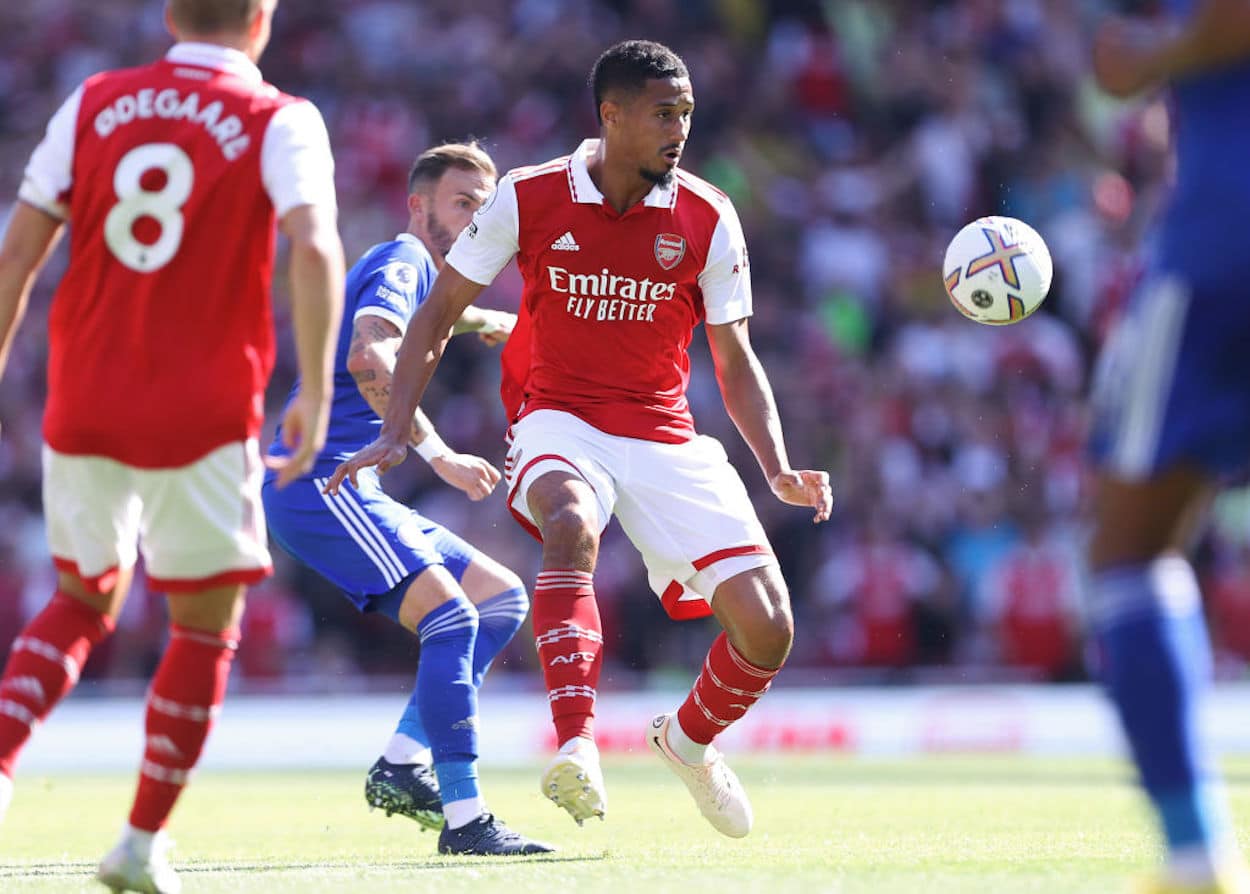 Everything to Know About William Saliba, Arsenal's Viral Star
After a long wait, William Saliba is making an impact at Arsenal. Here's everything you need to know about the centerback.
If you watched Arsenal play Bournemouth during Premier League Matchday 3, you probably came away with one of two thoughts. Either you were impressed by the soccer that Mikel Arteta's men are currently playing, or you have the tune to "Tequila" firmly wedged in your head. The latter point, of course, stems from the supporters' new tribute to William Saliba.
While there's nothing special about a player getting his own individualized song, it's not every day you hear the same tune being sung for the majority of the match. This Saliba fellow must be pretty special, right?
At the risk of painting with something of a broad brush: Yes, he is. Here's everything you need to know about William Saliba, the man (indirectly) responsible for Arsenal's new soundtrack.
Who is William Saliba, and how did he arrive at Arsenal?
William Saliba is a 21-year-old French defender who plays for Arsenal. While he only seized his place in the Gunners' starting 11 at the beginning of the 2022-23 campaign, he's technically belonged to the London club for a while now.
After he burst onto the scene at Saint-Étienne, Saliba signed a contract with Arsenal in 2019. While the deal was exciting — Gunners fans will remember countless times when Arsene Wenger tried and failed to land the next big star — it came with a catch. The defender was immediately loaned back to Saint-Étienne for the 2019-20 campaign.
Things didn't go according to plan during the next season, though, as Arsenal failed to loan their young defender out before the transfer window shut. He spent half the campaign with the Under-23s before joining Nice on loan in January.
If Arsenal fans were hoping to see Saliba after that loan, they would only be disappointed. He headed back to France again, this time spending the entire 2020-21 season with Marseille. The defender put together a fine season there, claiming Ligue 1 Young Player of the Year honors.
After that, Arteta, Edu Gaspar, and the rest of the Arsenal brass decided the prospect was ready. Saliba made his Premier League debut on 2022 opening night against Crystal Palace, but in a man-of-the-match performance, and the rest is history.
Why was he on loan for the better part of three years?
Although Saliba's loans have been a source of some disagreement among Arsenal fans, the choice to keep sending him back to France was likely due to a combination of personal and professional reasons.
For all of his talent, Saliba was still a teenager when he signed with Arsenal. Asking him to step into the center of a struggling defense at that point would have been a disaster. The Gunners lacked a solid defensive structure, and the fan base was at a relatively low point. Had Saliba made a few mistakes — it's safe to assume that, given his age, he would have — it could have gotten toxic. Returning to France allowed him to play every week and cut his teeth in a more familiar environment.
A personal component — moving abroad, learning a new language, dealing with a global pandemic, etc. — was probably also at play. As mentioned above, Saliba was still a teenager at the start of his Arsenal contract. Dealing with all of that at once, plus football, could have been overwhelming, so the North London club decided to play the long game.
If his early appearances in the Premier League are any indication, that was the right choice.
How good is William Saliba?
While it can be tough to properly assess a defender, the answer seems to be yes.
During his time in France, a clip of Saliba defending against Kylian Mbappe made the rounds on social media. Although you could argue that Youtube/Twitter highlights can make any player look world-class, the video in question did show some of the young defender's strengths.
Saliba is a big man, but that doesn't make him slow. He has a long, smooth stride, as shown by being able to keep up with Mbappe, and a strong ability to read the game. He's the sort of player who seems to know where danger will crop up and be one step ahead of everyone else. The Frenchman is also comfortable on the ball and, as we saw against Bournemouth, in possession of some incredible technique.
With that being said, though, Saliba is still quite young, especially for a defender. He can still be better in the air — during an episode of the Arsecast Extra, James McNicholas said (roughly paraphrased) that the defender did sometimes look like a player who was always bigger and more talented than his peers — and there will be general growing pains along the way.
With all of that being said, though, those are pretty small complaints.
What comes next for Saliba?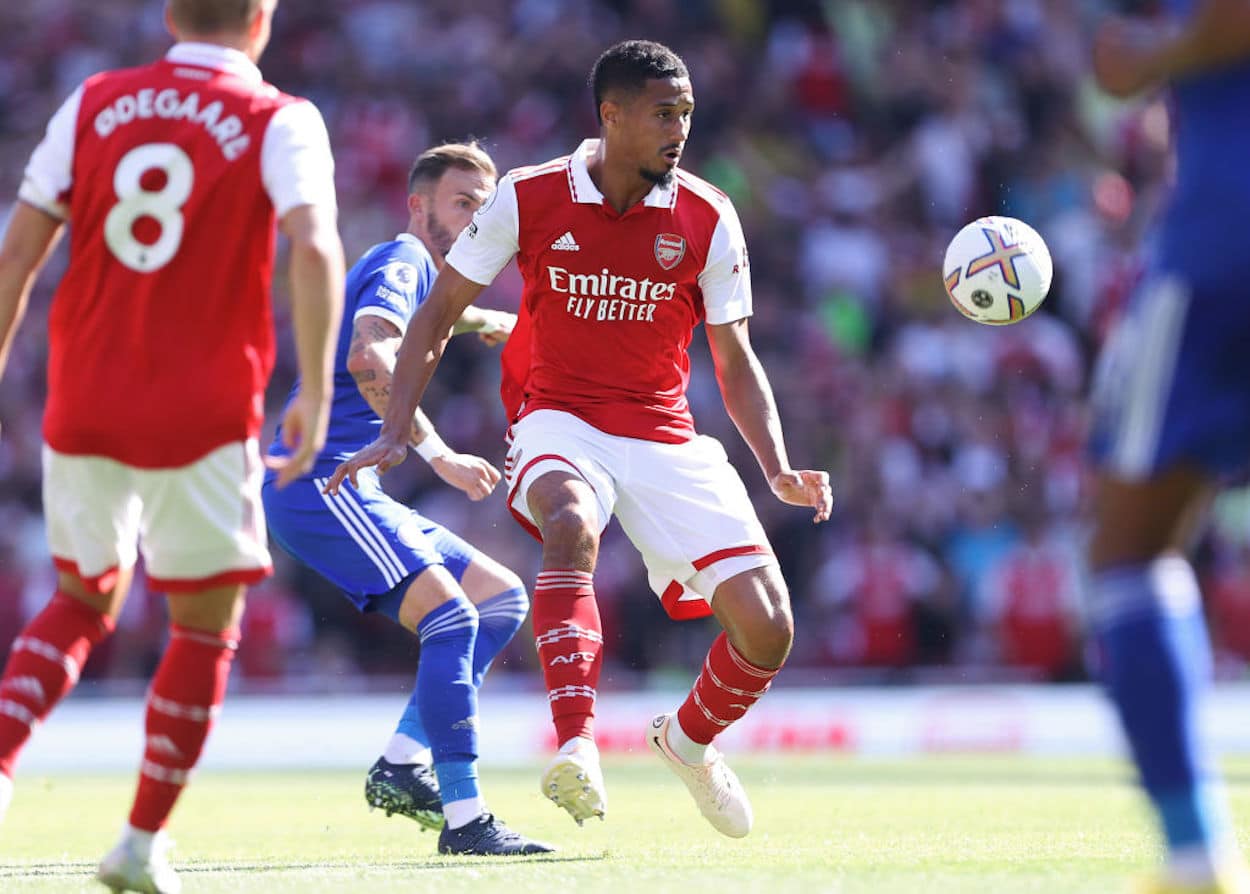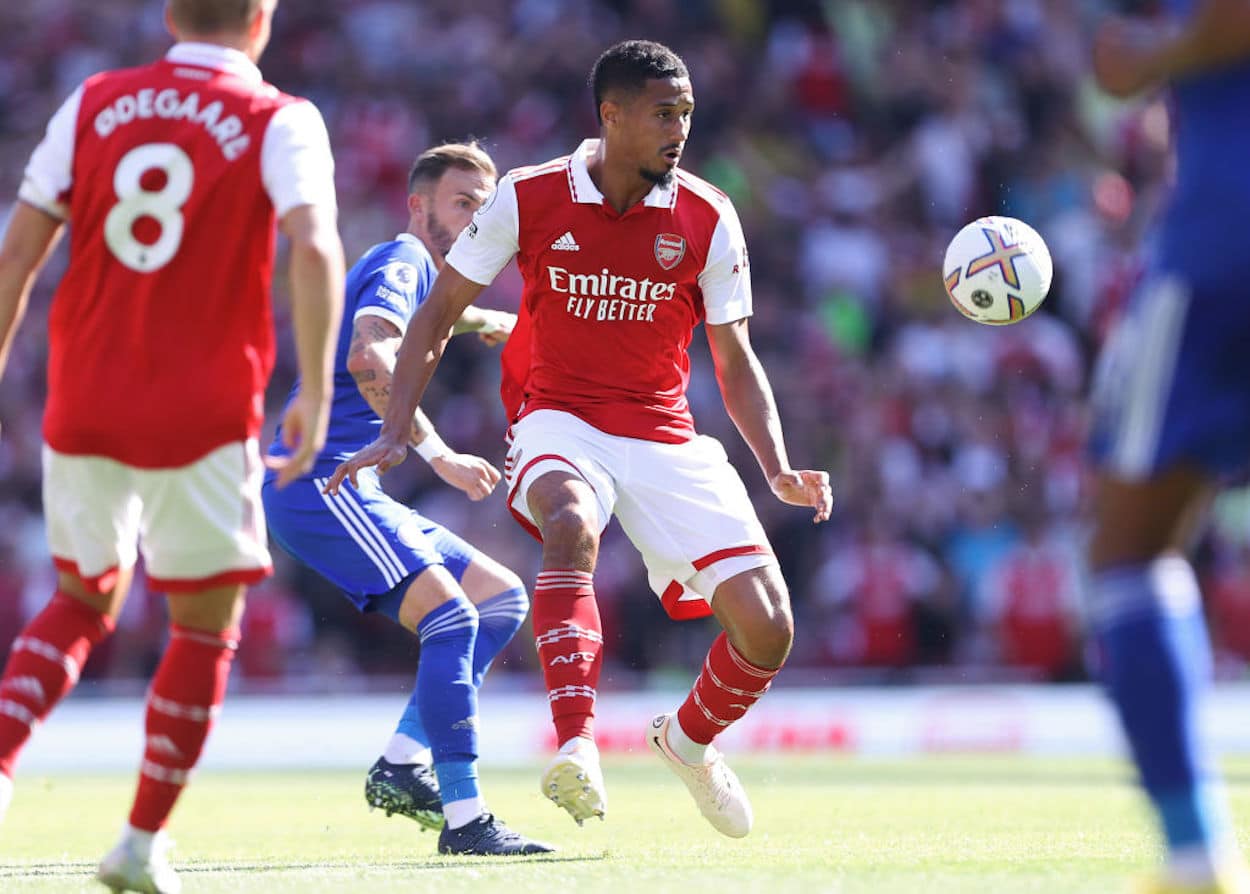 If you want the basic answer, the defender will want to solidify his place as a starter and then use that as a foundation for a successful trip to the 2022 World Cup. Beyond that, though, things get a bit trickier for Arsenal and Saliba.
While the 2022-23 campaign will only be Saliba's first full season in North London, his contract is running out. He'll hit the open market at the end of the 2023-24 outing, meaning that this summer is a crucial time. Arsenal will either need to ink him to an extension or sell the promising young star. Given the defender's time in France, rising international status, and start to life in the Premier League, the Gunners' brass can't afford to let him potentially leave as a free transfer.
With that being said, though, there has been some speculation in the Arsenal Twittersphere that the defender has already signed an extension. That announcement would be welcomed with open arms by Gooners everywhere, but nothing has been confirmed.
What about that beautiful/awful song?
During Arsenal's trip to Bournemouth, some supporters serenaded their young defender with a rendition of "Oh William Saliba." Before long, though, that died out and was replaced by a version of "Tequila," which swapped the titular drink for "Saliba." Since the Gunners were comfortably winning the game, the song persisted and was the main soundtrack to the remainder of the TV broadcast.
Given the supporters' collective excitement about Saliba and the growing feel-good factor around Arsenal, it's safe to assume that song will be the soundtrack for the rest of the season. Depending on your persuasion and mental fortitude, that's either great or terrible news.
Like Sportscasting on Facebook. Follow us on Twitter @sportscasting19 and subscribe to our YouTube channel.