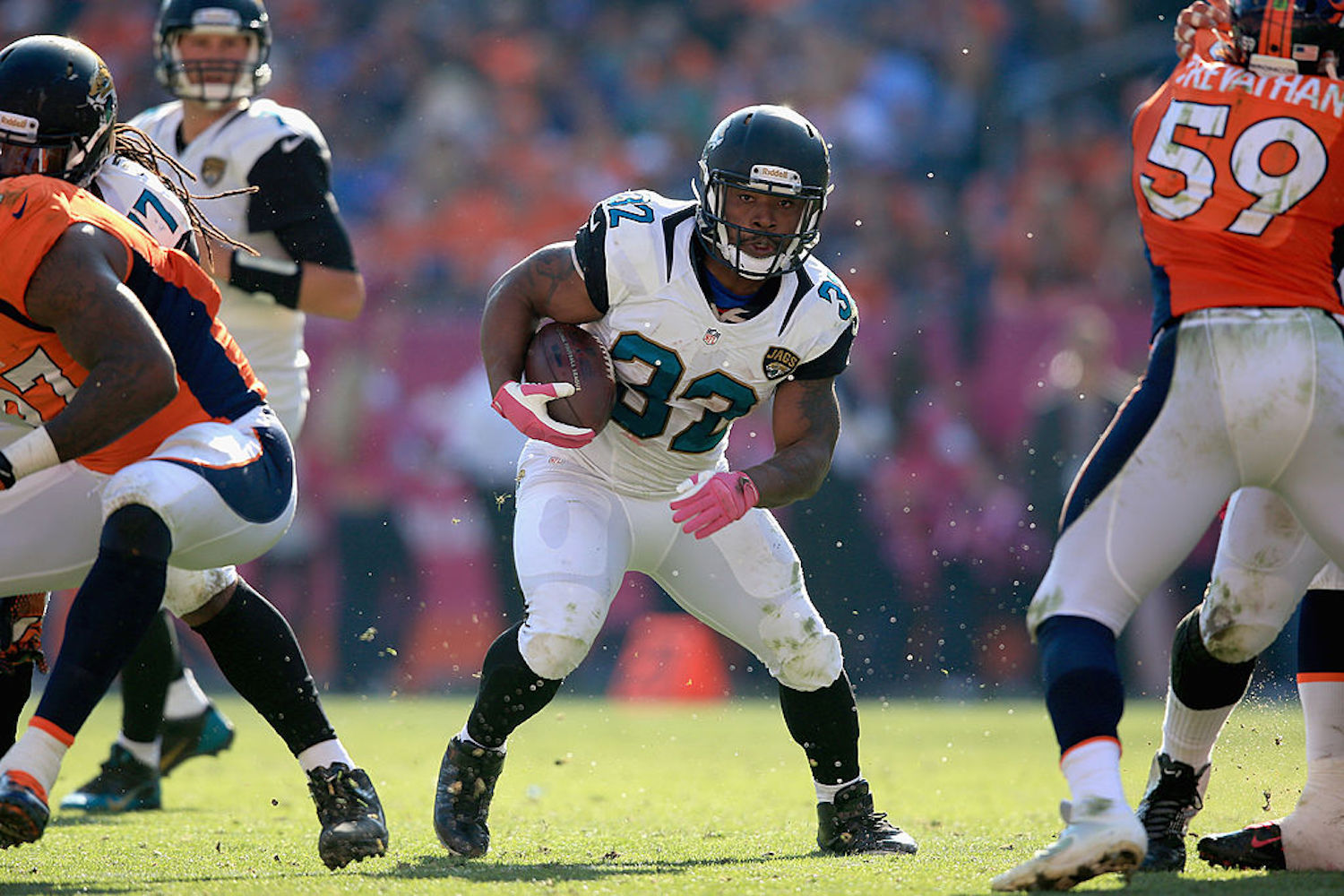 Ex-Jaguars RB Maurice Jones-Drew Rips His Former Team for Cutting Leonard Fournette
Leonard Fournette was unexpectedly cut by the Jaguars Monday, and Maurice Jones-Drew didn't hold back when asked what he thought of the move.
The Jacksonville Jaguars sent shockwaves throughout the NFL by cutting star running back Leonard Fournette on Monday. The Jaguars drafted Fournette with the fourth overall pick in the 2017 draft, and they discarded him like an undrafted free agent just three years later.
Maurice Jones-Drew knows a thing or two about leaving Jacksonville for another team, and he didn't hold back when asked about the way his former team treated Fournette.
Maurice Jones-Drew played for the Jaguars for eight years
Before Fournette, Jones-Drew was the Jaguars' franchise running back for nearly a decade. Jones-Drew spent eight years in Jacksonville, and he was even considered one of the best running backs in the league during the prime of his career.
From 2009-2011, Jones-Drew rushed for 4,321 yards and scored 34 total touchdowns for Jacksonville. He made the Pro Bowl in all three seasons, and he even received First-Team All-Pro honors in 2011. Jones-Drew led the entire NFL in rushing the same season.
After eight seasons with the Jaguars, the team let Jones-Drew walk in free agency without much of an effort to sign him back. The RB lasted just one more season in the NFL before officially retiring in 2015.
A few years later, the Jaguars are back to mistreating their star running backs. This time, it involves Fournette.
The Jaguars cut Leonard Fournette just three years after drafting him No. 4 overall
Less than two weeks away from the start of the 2020 NFL season, the Jaguars released Fournette in a shocking preseason move. Just three years ago, Jacksonville drafted the RB No. 4 overall in the 2017 NFL draft.
Fournette was supposed to be the heir to Jones-Drew in the Jaguars backfield. He came out of LSU as the clear No. 1 running back prospect in 2017, but he didn't even make it to year four with the team that drafted him.
The Jaguars have made it clear they won't be competing for a playoff spot in 2020. By trading star DE Yannick Ngakoue and now releasing Fournette, the Jags are almost in full-on tank mode.
Jones-Drew, who still has love for his old team, wasn't happy with the move to say the least.
Jones-Drew rips the Jaguars for releasing Fournette ahead of the 2020 season
When the Jaguars waived Fournette on Monday, Jones-Drew was not very happy with his old team. He talked to TMZ Sports about why he disagrees with the decision.
Leonard Fournette is one of their best players on their team. How are you better without him, how does that happen? How do you get rid of this guy? To me, in this league, it's all about you have to have a talented team to win. You can't win in this league without talent.

Maurice Jones-Drew
Jones-Drew said he was 'shocked' at the decision. He dealt with the Jaguars' mistreatment of running backs personally, and now he's sticking up for a fellow Jacksonville alumnus.
All stats courtesy of Pro Football Reference