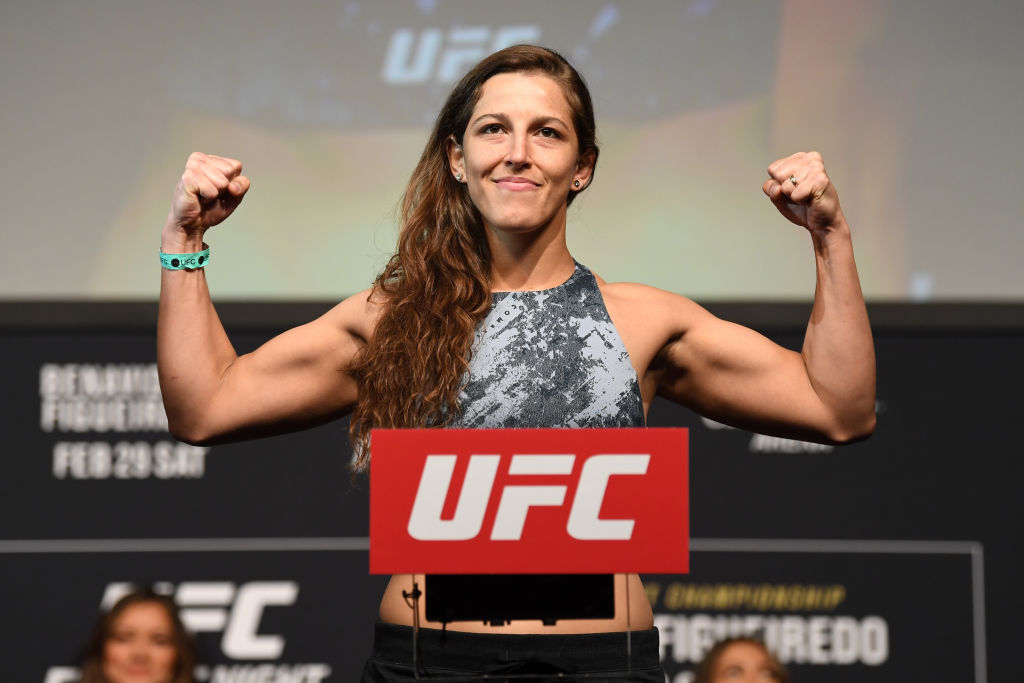 Felicia Spencer Is a Fighter by Night and You Would Never Guess Her Day Job
Felicia Spencer is a huge underdog going into her fight against Amanda Nunes. She doesn't mind. She has the numbers on her side and she knows a little something about numbers.
Felicia Spencer steps into the octagon tonight in the UFC 250 main event to face Amanda Nunes as a decided underdog. No one expects Spencer to have a chance. For Spencer, she believes in herself and her ability. To her, it's a numbers game. And if there's anyone who knows about numbers, it's Spencer. She lives in the world of numbers during her day job.
Felicia Spencer's rapid ascent to the top of UFC
Felicia Spencer is the new kid in town. She has nine professional fights to her credit, including three in the UFC. Her overall record is 8-1. In the UFC, she's just 2-1 with a unanimous decision loss to Cris Cyborg. 
While many don't believe Spencer has a shot at victory over Nunes, her fighting history, despite it being relatively short, might suggest otherwise. In Spencer's eight victories, four of them have come convincingly by submission and rear-naked choke. By comparison, in Nunes' 17 victories, she's only had three by submission. 
Spencer's also coming into the match with confidence. Following her defeat to Cyborg, Spencer easily dispatched Zarah Fairn in February in the first round with a flurry of punches and elbows. And this won't be her first experience in a five-round title fight. She won the Invicta FC Featherweight Championship title fight via fourth-round rear-naked chokehold on Pam Sorenson.
"I feel like a lot of the experiences that I had—I fought for an amateur title and I fought for the Invicta title—I feel like they have led me to this moment," she said on the UFC Unfiltered Podcast.
Felicia Spencer has been an Algebra teacher for years
While Felicia Spencer is recognized in the sports world as one of the top-ranked female UFC fighters at night, by day Spencer has an entirely different mindset working as a sixth-grade Algebra teacher. 
For the last several years as the native Canadian has steadily climbed her way up the MMA ranks, she's taught algebra both in the classroom and online. Spencer said she never initiates conversations with students or parents about her "other" profession, but it has come up on occasion.
"If a kid brought it up or a parent then it was not anything I shied away from. I've been in the classroom as well and the first day in the classroom everyone knew that I was a fighter," she told Bleacher Report.
"In the virtual school, I think there was less Googling your teacher or just figuring out who your teacher is. So, I don't think that most knew of my other life, but usually it was students who were also aspiring to be a great athlete or stuff like that. It was cool to have conversations when they came up, but it was a lot more rare than I would have expected or that you would have guessed."
Spencer's expertise in numbers has helped in the UFC
Another reason Spencer might do better than experts are giving her a chance, she's trained exclusively for her fight with Nunes. After much deliberation, she resigned from her teaching job in May. She said her co-workers were very supportive of her decision and were actually surprised it had taken her so long to commit to fighting as her one job. She acknowledged the window of opportunity to fight is short, and she can always return to teaching in the future.
"They love me there (at school). I'm great at it. They'll take me back in a heartbeat. I can't come back to this," Spencer said on the UFC Unfiltered Podcast. When asked, Spencer said her knowledge of numbers has worked to her advantage when it comes to UFC, particularly negotiations. 
"I do try to be understanding of what I'm looking at with the numbers. I did a little bit of statistics and research when I presented my case for this fight, and for my contract I signed in March. I said 'You guys are putting me in the co-main event so I looked at the last year of co-main events and what fighters made. Let's base it on median and averages of what they made.'"
In her short time in the UFC, Spencer has quickly made her way to the top. What happens in the UFC Women's Featherweight Title fight, no one knows for sure, but oddsmakers are predicting a Nunes victory. Spencer doesn't worry about the oddsmakers or anyone else betting against her. She knows she's got the numbers on her side.