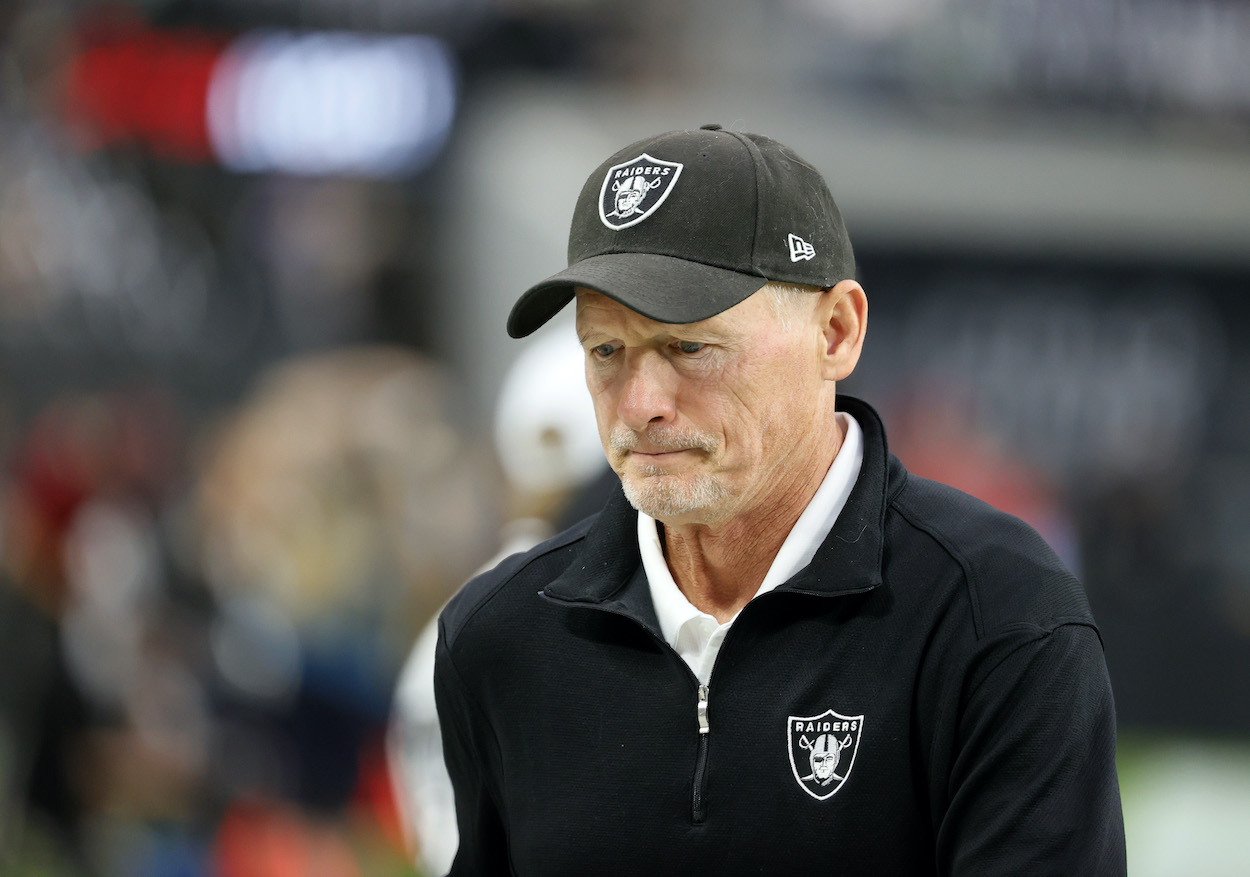 Fired GM Mike Mayock Dropped off His Las Vegas Raiders Gear to a Group of Local Heroes on His Way out of Town
Former Las Vegas Raiders GM Mike Mayock has a pretty cool story about what he did with his Raiders gear after getting fired by the team.
Mike Mayock parlayed his career as an NFL analyst into a job as general manager of the Las Vegas Raiders. His tenure with the team was a mixed bag, but he did leave as the GM of a playoff squad. However, owner Mark Davis fired Mayock at the end of the 2021 NFL season, a casualty of the Jon Gruden scandal.
His last act as a member of Raider Nation was pretty cool, though. He dropped off two big bags filled with his official Raiders gear to a deserving group of people.
Mike Mayock had ups and downs as GM of the Las Vegas Raiders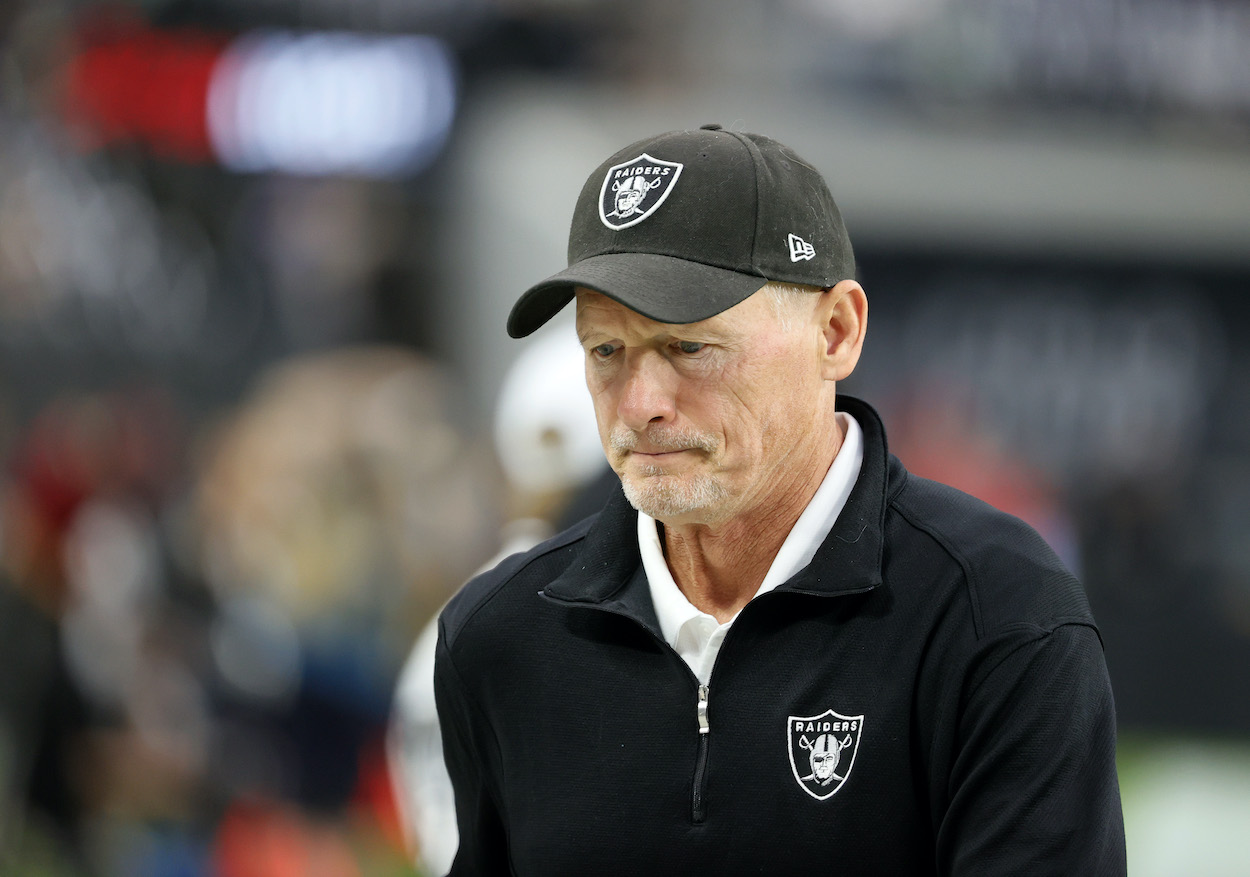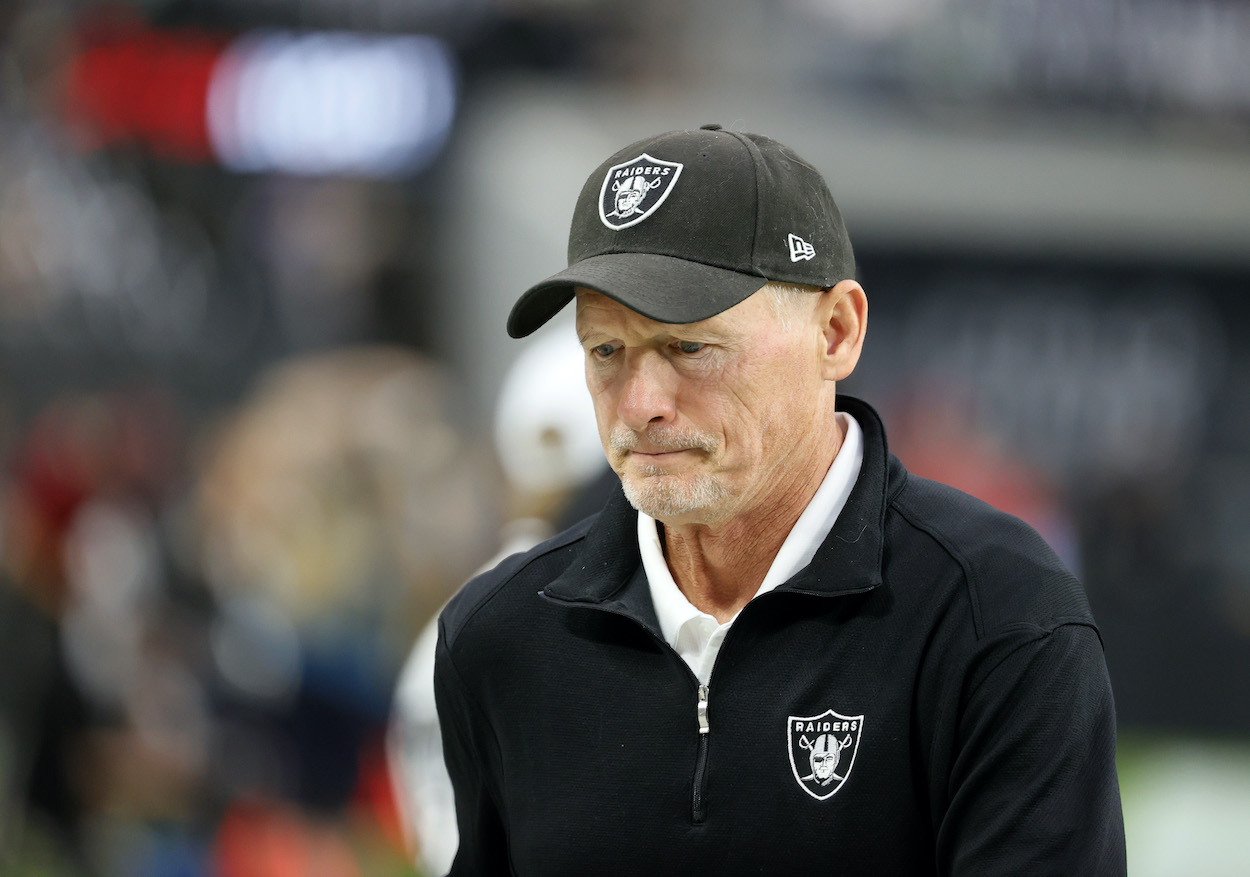 In 2018, new Las Vegas Raiders coach Jon Gruden plucked Mike Mayock from his position as an analyst for the NFL Network to become GM of the organization.
Mayock played defensive back at Boston College in the 1980s, then spent two seasons with the New York Giants. In the 1990s, he parlayed his football knowledge into multiple analyst gigs. The Pennslyvania native worked for CBS, ABC, FOX, ESPN, and the NFL Network over the next two decades.
In his three seasons at the helm in Oakland and then Las Vegas, Mayock had his fair share of hits and misses.
His first-round picks were not good. Josh Jacobs was the only real hit, while DT Clelin Farrell, WR Henry Ruggs III, CB Damon Arnette, and OL Alex Leatherwood were all failures in one way or another. However, he did make some excellent late-round selections. DE Maxx Crosby, WRs Hunter Renfrow and Bryan Edwards, and CB Nate Hobbs were all steals later in the draft.
Free agency was more of the same for Mayock. He made some solid signings, like Nick Kwiatkowski, Marcus Mariota, and Yannick Ngakoue. He also made more than a few bad ones, though. Antonio Brown, Vontaze Burfict, and Cory Littleton were just a few of these bad choices.
In the end, Mayock built a 2021 playoff team. But with his boss Gruden unceremoniously dumped after a host of his past emails came to light, the Silver and Black GM found himself out as well.
Mayock dropped his Raiders gear at a firehouse on his way out of town
Now without an NFL job, Mike Mayock is back making the rounds as a talking head and recently joined the Dan Patrick Show to discuss the league and the upcoming draft.
Toward the end of the interview, Dan Patrick threw Mayock a curveball and asked, "When people come up and ask, 'Why are you not the Raider GM any longer?' How do you answer that?"
"It's all about the owner has final say," Mayock responded. "And at the end of the day, [Mark Davis] decided me and Rich Bisaccia didn't get it done at the level he wants. Or that he felt like a couple other guys could get it done at a higher level going forward."
Patrick finished on a lighter note, asking Mayock if he could have all his old Raiders gear. The former GM laughed, then had a pretty cool answer:
You know what I did with it? You'll get a kick out of this. I took about 90% of it before we left Vegas, and I drove down to the local fire station. And I knocked on the door — and I didn't know anybody. I just knocked on the door — and this fireman answered the door, and I said, 'Listen, it might sound silly, but I just got fired as the Raiders GM,' and I had two huge bags with me. Like, trash bags. I said, 'I got all this brand-new gear, and I think some of you guys might like it. Or you can give it to the community. But I don't need it anymore.'… That's what happened to my Raiders gear.

Mike Mayock on the fate of his Las Vegas Raiders gear
Mayock might have been an average NFL GM, but after giving all his Raiders gear to a Las Vegas firehouse, he seems like a standup guy.
Like Sportscasting on Facebook. Follow us on Twitter @sportscasting19.