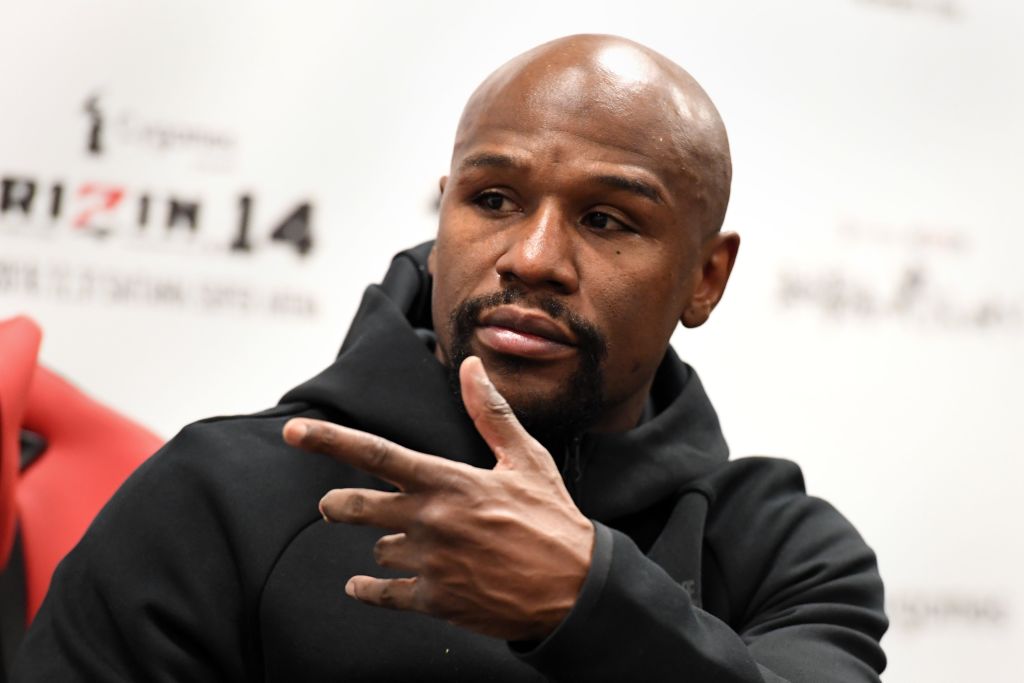 Floyd Mayweather in Personal Battle Facing Opponent Tougher Than Anyone He Ever Faced in Ring
Floyd Mayweather is facing a tough personal fight as his daughter recently called him out on Twitter questioning his parenting skills.
Floyd Mayweather Jr. never lost a fight in the ring. He was a perfect 50-0, which included 15 world titles. ESPN named him the best pound-for-pound fighter in the last 25 years in 2016. While Floyd Mayweather's record inside the squared circle is flawless, life outside of it has been anything but that. One of his children made that abundantly clear in a recent tweet questioning his parenting skills. 
Floyd Mayweather's multiple problems outside of the ring
Floyd Mayweather has had more than his share of run-ins with the law. He's faced multiple charges through the years on domestic violence and battery. He's been convicted of battery on more than one occasion. 
Josie Harris, Mayweather's former girlfriend and mother of three of his four children, described a harrowing incident to USA Today in September 2010. Harris said Mayweather entered her house late one evening, and "yanked her to the floor by her hair, then punched and kicked and screamed cuss words at her in front of their children."
The couple's oldest son, Koraun, who was 10 years old at the time, snuck out of the house and alerted a security guard who called the police. Mayweather was arrested and posted bail. More than a year later, Mayweather pled guilty to misdemeanor battery in exchange for prosecutors dropping the felony battery charge. He also pled no contest to two counts of misdemeanor harassment, resulting from threats to his children. He served 60 days of his 90-day sentence. 
That incident was one of seven alleged assaults Mayweather has committed against five different women that resulted in him being arrested or issued a citation.
Mayweather's son calls him a coward 
Several years after the incident in which Harris acknowledged that Koraun saved her life, the then 14-year-old told USA Today he had a good relationship with his father and attended his father's fights but didn't have any interest in boxing because he found it "boring."
"We just hang out. We either watch a movie or something or go bowling," he said. "I find (boxing) boring. It is just like how people sit in the ring and fight for 12 rounds, and it gets boring after a while."
Koraun also had some choice words about his father regarding the incident he witnessed in 2010, especially since his father refused to admit his abusive actions.
"He is a coward," Koraun said of his father.
Floyd Mayweather's daughter calls him out and he responds
In March 2020, Harris was found unresponsive inside a vehicle parked in her driveway. She was pronounced dead at the scene. In the days that followed, Mayweather posted multiple photos to Instagram describing Harris as "My Angel," "My Sweetheart," "My Sunshine," and "My better half."
Mayweather's 16-year-old daughter Jirah, the youngest of the three children he had with Harris, has struggled since her mom's death. In a recent tweet, she admitted as much and expressed part of that is a result of her father's actions or lack thereof. 
"going from a parent who put ur happiness before theirs to a parent who puts their happiness before yours is probably one of the most frustrating thing ever," she wrote.
Mayweather responded on Instagram, in a screenshot that was captured by The Shade Room. 
"@jirahmilan, I will always love you unconditionally and always know that you can accomplish anything you set your mind to. There is no limit to how far you can go in life. Always put God first and everything else will fall in place."
Parenting is hard work. It's much more difficult than the preparation for any world championship boxing match. Based on the comments of his children, Mayweather is finding that out the hard way.