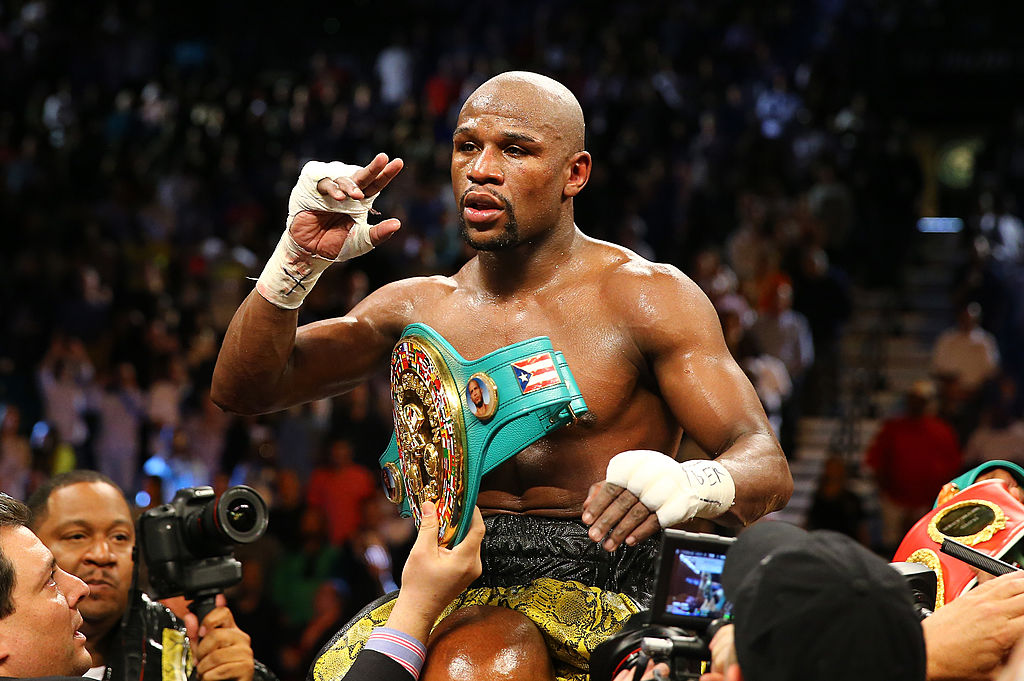 Floyd Mayweather Reveals His Top 5 All-Time Boxers and It's Got Some Surprises
Floyd Mayweather Jr. is recognized as one of the greatest boxers of all-time. But who does Floyd Mayweather list in his top 5 all-time greats? He's got some surprises.
Floyd Mayweather is one of the greatest boxers of all-time. It's hard to argue with a perfect record of 50-0. When it comes to a list featuring the greatest ever, who does Floyd Mayweather view as the top five greatest boxers? Does he include himself? Here's a look at Floyd Mayweather's top five of the all-time greatest boxers. Be warned. You're going to be surprised.
Floyd Mayweather has revealed top 5 list in the past
If you look on the Internet, you can see Floyd Mayweather has never been shy about offering his thoughts on the all-time best boxers. In fact, there are multiple lists. 
In 2015, on ESPN's First Take, Mayweather listed his top five in order: 5) Muhammad Ali, 4) Julio Cesar Chavez, 3) Pernell Whitaker, 2) Roberto Duran, and 1) Mayweather. Following the list, Skip Bayless mentioned that Mayweather has always had trouble accepting that the general public views Ali as the greatest instead of him. 
"He now continues to go out of his way to downgrade and criticize, the greatest, Muhammad Ali. It comes across as pathetic."  
Mayweather on Muhammad Ali
On a completely separate ESPN show several years later, Floyd Mayweather appeared on the ESPN set and listened to a pair of anchors describe their top five fighters. When one of them mentioned Muhammad Ali, Mayweather offered his opinion.
"What are we judging fighters on? If we're judging them for standing for a cause, then Ali is hands down (the greatest). If we're talking about taking less punishment and breaking our records, it's Floyd Mayweather. Muhammad Ali paved the way for me to be where I'm at today. He's a legend. We also got to talk about Ali lost his world title to a fighter with only seven fights (Leon Spinks). These are things that we don't look at," Mayweather argued.
Mayweather said the main reason he doesn't view Ali with as high a regard as others is because of Ali's style in taking punishment. Mayweather believes for top fighters, when it comes to punishment, it's better to give than receive. 
"The name of the game is to hit and not get hit. It's not about taking punishment. I love Ali, but sitting on the ropes, taking punishment like the rope-a-dope, that's not cool. The cool thing about my career is this — I retired on my own terms, without taking any punishment and made smart investments. Now I'm able to put my kids through college. Now I'm able to teach other people under my umbrella how to do the same thing."
Floyd Mayweather's most recent top 5
In Floyd Mayweather's latest list, he doesn't even include Ali in his top five. In his place, Mayweather includes Larry Holmes as the top heavyweight. 
"He beat everyone in his era," Mayweather said of Holmes on FightHype.com. "When he got beat by Mike Tyson, he got beat by a young hungry champion and he came out of years of retirement and got beat. He had the basic fundamental. He had the jab. Even now, he's made great investments."
There's that word investments again. Mayweather clearly measures a boxer not only by what he does inside the ring during his career, but what he's able to do outside of it years later with the money he's earned inside of it. 
In addition to Holmes and himself, Mayweather's top five includes two familiar names from his previous lists in Roberto Duran and Pernell Whitaker, and then there's the biggest surprise with Aaron Pryor. Pryor was a two-time light welterweight world champion in the early 1980s and finished his career with a 39-1 record. 
"The only reason he lost a fight is because of drugs. He lost only one fight because of drugs," Mayweather said impressed. 
Mayweather's top five, which excludes Ali and includes Pryor, raises more than a few eyebrows. But give it some time. It will change the next time he's asked and it just might include Ali.