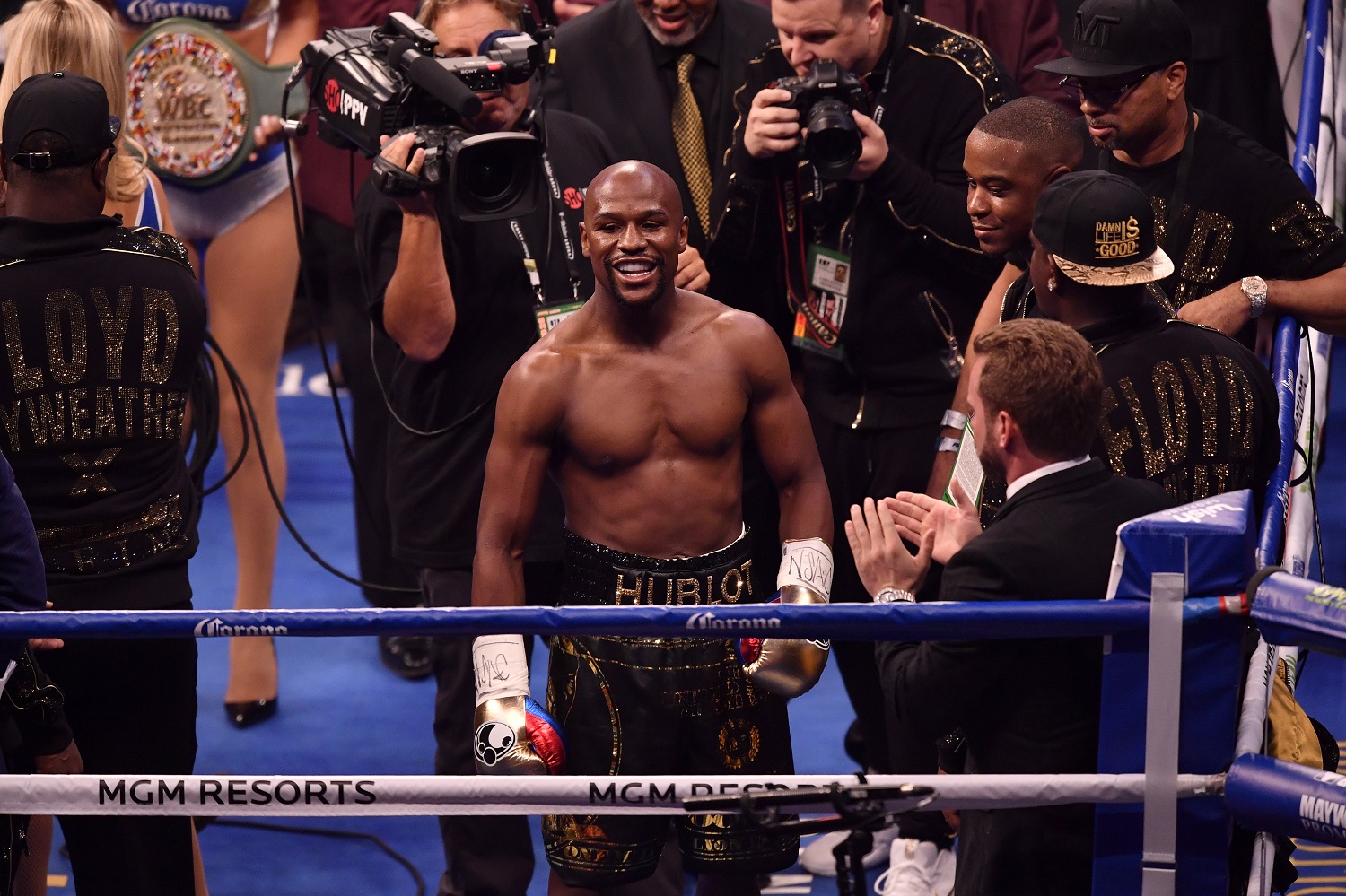 Floyd Mayweather Gives Fans a Look at His $10 Million Las Vegas Estate
Floyd Mayweather Jr. went on Instagram to show fans his $10 million Las Vegas estate and a portion of his car collection.
With his days as an active fighter behind him, welterweight boxing champion Floyd Mayweather Jr. may be reaching the point in his life where he realizes money doesn't grow on trees and the upkeep on a $25.5 million Beverly Hills mansion he bought in 2017 is murder on the checkbook.
Well, OK, maybe not. Estimates of Mayweather's net worth range from $560 million to $1 billion, so maybe the $10 million Las Vegas mansion he bought the following year isn't a sign of downsizing.
He recently allowed fans to see what a sweet crib it is. He could definitely settle in there for the rest of his life and not regret it.
He didn't have to pay full price in Beverly Hills
Shortly after a nine-digit payday in 2017 that pushed his record to 50-0 with a victory over Conor McGregor, Floyd Mayweather Jr. plucked down $25.5 million for a 16,000-square-foot mansion in Beverly Hills. No fool when it comes to business, Mayweather didn't make his move until the price came down from the original $38 million asking price in 2015. And his winning bid came in more than $3 million under the final listing price.
Not surprisingly, what he got for his money was impressive, starting with the balcony attached to the master bedroom. There are six other bedrooms, a wine cellar with a capacity of more than 200 bottles, and a swimming pool complete with a waterfall and pool house. According to Beam.land, the 20-person home theater eschews the usual recliners and instead offers the cinema-goers couches, coffee tables, and a snack counter.
Floyd Mayweather gets bang for his buck in Las Vegas
Don't be fooled by the price difference. Spending 60% less than what he paid the previous year, Floyd Mayweather Jr. got a lot more house when he took possession of a Las Vegas compound for $10 million in 2018.
The mansion has 11 bedrooms, 14 baths, indoor and outdoor swimming pools, and an underground garage with a 20-car capacity. Records list the main quarters at 16,357 square feet, and two guest houses in the complex add about another 4,500 square feet.
NBA veteran DeMarcus Cousins lived across the street at the time Mayweather took ownership, having spent $6.5 million for 15,816 feet of space in 2017.
Floyd Mayweather lets his fans take a look inside
Interest in Floyd Mayweather remains high even though he has almost certainly fought for the last time. In recent weeks, Mayweather has signed on with Fanmio.com and Cameo.com, sites that allow fans to pay to have live video chats with celebrities or have them record special messages such as birthday greetings. Mayweather is charging at or near the highest prices in each category.
Last month, Mayweather went on Instagram Live to give a tour of his Las Vegas estate as well as a look at his prized car collection. More than 25,000 people watched live. The tour included views of preposterously large walk-in closets, an all-marble kitchen, the indoor pool, and an outdoor fountain.
Maybe the best part was the garage tour. In a room full of high-end vehicles, including Bentley's and Bugatti's, Mayweather said his preferred ride is a Dodge RAM 1500 truck.