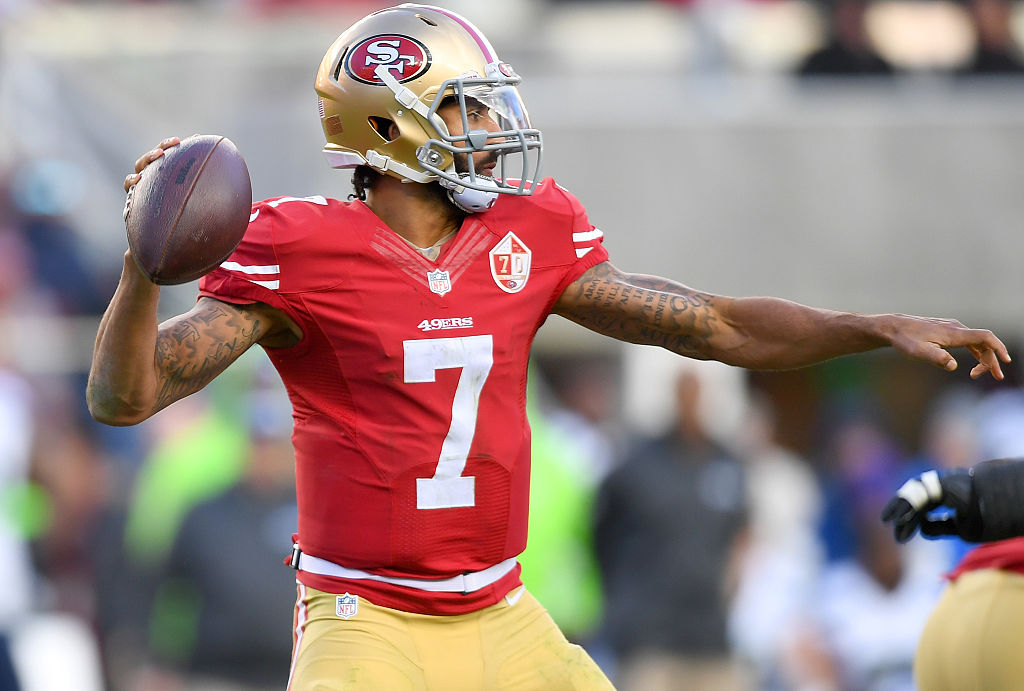 For Anyone Questioning Colin Kaepernick's Ability, the Numbers Don't Lie
For three years Colin Kaepernick has had his detractors saying he's not a very good NFL quarterback. His numbers tell a very different story.
It's been three seasons since Colin Kaepernick last took a snap in an NFL game. Since the 2017 season, there have been various reports of tryouts and teams expressing interest in his services only for him to come up empty. While there's a general acceptance that NFL owners colluded to keep him out of the league as a result of his pre-game protest of police brutality and systemic racism, some still try and argue that he just isn't good enough to play. Kaepernick's NFL career statistics tell a much different story.
The real reason Colin Kaepernick isn't playing in the NFL
It all started back in the 2016 NFL preseason when Colin Kaepernick decided to kneel during the national anthem in protest of police brutality and systemic racism in America. The response was immediate. 
Some players publicly sided with the quarterback, including teammate Eric Reid, who kneeled beside him. But much of the feedback was negative, including the response from the NFL offices and commissioner Roger Goodell. 
"Like many of our fans, we believe that everyone should stand for the national anthem," the commissioner wrote. "It is an important moment in our game. We want to honor our flag and our country, and our fans expect that of us." 
Despite Kaepernick stating from the start his protest had absolutely nothing to do with the flag or the military, the NFL followed the lead of the President, who had called Kaepernick's move "unpatriotic." 
Goodell apologized in June 2020 for the league's decision back in 2016, but didn't specifically apologize to Kaepernick. "We, the NFL, admit we were wrong for not listening to NFL players earlier and encourage all to speak out and peacefully protest." 
Kaepernick has struggled at times
While the kneeling protest was the real reason Kaepernick has been blackballed by the NFL and its owners the last three seasons, some still want to point to his lack of success on the field. There's no denying Colin Kaepernick has had his share of struggles as an NFL quarterback.
There were a couple of seasons where the San Francisco 49ers were not very good. In 2014, Kaepernick and the 49ers struggled to an 8-8 record. The 2015 and 2016 seasons were even worse. 
In 2015, after head coach Jim Harbaugh left San Francisco to return to Michigan, Kaepernick had his worst season statistically as a starter. Under new coach Jim Tomsula, he started eight games due to injuries and finished those games with a 2-6 record. He threw for 1,615 yards and had six touchdowns and five interceptions. 
The 2016 season was Colin Kaepernick's worst from a won-loss record perspective as the team finished the year at 1-10 under his leadership.    
Colin Kaepernick's numbers don't lie
When you take a closer look at Colin Kaepernick's down seasons, you understand it's a team sport, and the quarterback can only do so much. In 2016, the 49ers had the worst defense in football. Despite the woeful 1-10 record, Kaepernick threw for 2,241 yards with 16 touchdowns and four interceptions. Far from bad numbers.
In 2014, Kaepernick was sacked a team-record 52 times. Despite that, he still managed to throw for a career-best 3,369 yards, including 19 touchdowns and 10 interceptions. In addition, he rushed for 639 yards and one touchdown. 
What detractors conveniently forget about Kaepernick are the seasons when he was one of the best quarterbacks in the league. In 2012, his second year in the NFL, Kaepernick took over for an injured Alex Smith late in the season and never relinquished the starter role as he led the 49ers to the Super Bowl, where he threw for 302 yards, one touchdown, and ran for another, in a 34-31 loss to the Baltimore Ravens.
A year later, his first season as a starter, Kaepernick threw for 3,197 yards, 21 touchdowns, and eight interceptions. He also scored four rushing touchdowns and added 524 yards on the ground as the 49ers once again made it into the playoffs, losing in the NFC Championship game to the Seattle Seahawks. 
It's often said that quarterbacks receive too much credit or too much blame. That saying is accurate for Kaepernick, especially when you look at his numbers during the down years. Kaepernick's career numbers clearly show he's a better-than-average quarterback. Anyone who suggests otherwise either has an agenda or is willfully ignorant. 
All statistics courtesy of Pro Football Reference.