Colin Kaepernick Opened Eyes to Racial Injustice, but Should That Land Him an NFL Job?
It was Colin Kaepernick back in 2016 who began his kneeling during the national anthem that got the country talking about racial injustice. Many sided with the former San Francisco 49ers quarterback and many opposed his actions. Either way, racial inequality was brought to light and Kaepernick should be given all the credit in the world for giving social injustice the attention it needed. There are players now saying that until Kaepernick is on an NFL team, the league isn't sincere in its stance on race issues.
Carlos Hyde said the NFL should re-sign Kaepernick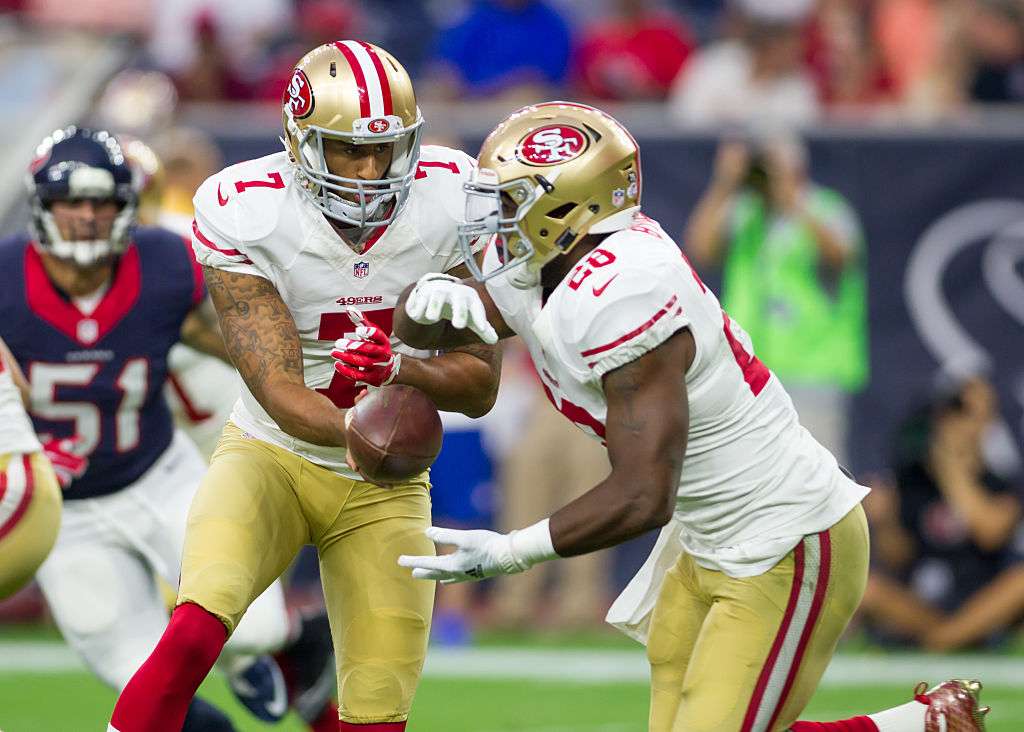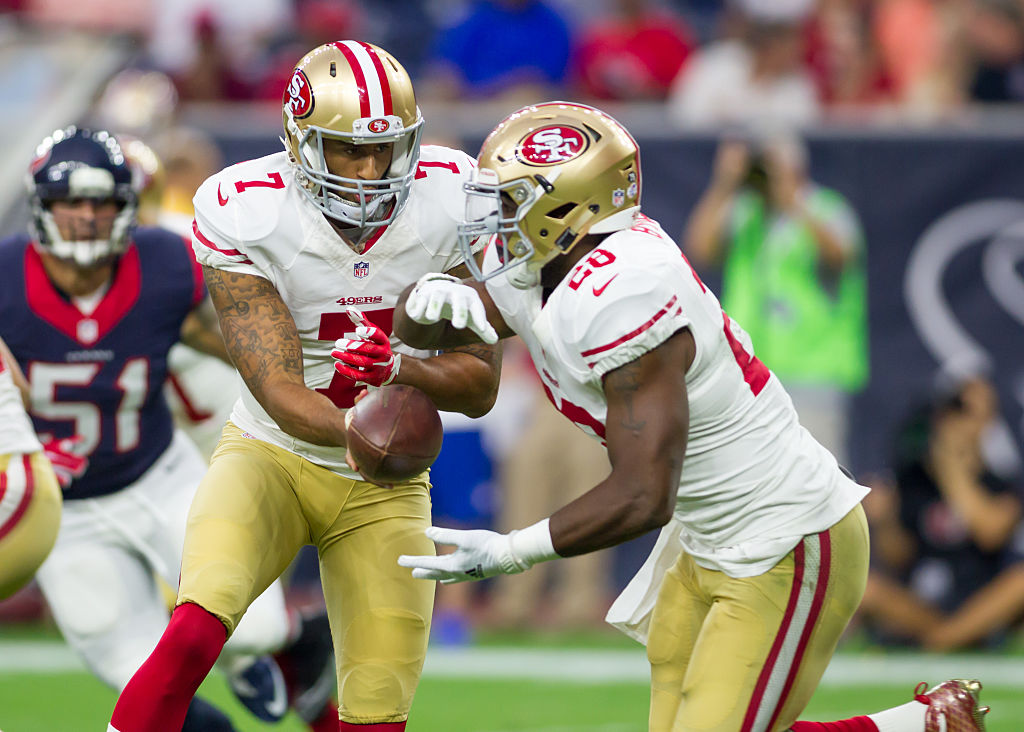 After George Floyd died because a Minneapolis police officer kneeled on his neck while Floyd was handcuffed during an arrest, racial tension in the country heated up once again. With racial injustice protests continuing daily throughout the country, Kaepernick's stance on the matter has been back in the spotlight.
NFL veteran Carlos Hyde, a former teammate of Kaepernick's with the San Francisco 49ers, said that the NFL needs to get Kaepernick back on a team. Hyde said if the league wants to be taken seriously on its stance against social injustice, it needs to bring Kaepernick into the league.
"I think the NFL can start by signing Kap back," Hyde said to ESPN. "I think if they sign Kap back, that'll show that they're really trying to move in a different direction. Because Kap was making a statement four years ago about what's going on in today's world and the NFL didn't bother to listen to him then, so I think they should start by doing that. After that, I'm not really sure what the NFL can do."
Malcolm Jenkins says NFL must address Kaepernick
Malcolm Jenkins, who days earlier blasted his teammate Drew Brees after Brees said he didn't respect anyone who disrespected the flag. Brees' comments were in reference to Kaepernick's kneeling in 2016 and Brees had been asked about the players likely kneeling again this year after the death of George Floyd.
Jenkins was asked on CBS This Morning if the NFL has now done enough after NFL Commissioner Roger Goodell admitted the league failed in listening to those who kneeled during the anthem. Jenkins said the NFL won't get it right until they properly address Kaepernick.
"I still don't think (the NFL has) gotten it right. Until they apologize, specifically, to Colin Kaepernick, or assign him to a team, I don't think that they will end up on the right side of history,"  Jenkins said. "At the end of the day, they've listened to their players, they've donated money, they've created an Inspire Change platform; they've tried to do things up to this point. But it's been one player in particular that they have ignored and not acknowledged, and that's Colin Kaepernick."
Should the NFL make sure Kaepernick is on a team?
When Colin Kaepernick replaced an injured Alex Smith midway through the 2012 season, Kaepernick went 5-2 for the rest of the regular season and guided the 49ers to a berth in the Super Bowl. The following season, Kaepernick was outstanding, going 12-4 as a starter. That was Kaepernick's only good full season as a starter in the league. In 2014, he went 8-8 and went steadily downhill from there. In his final two seasons, he went a combined 3-16 as a starter, including 1-10 in 2016.
Kaepernick never played in the league after the 2016 season – the year he went 1-10 and the year he kneeled during the anthem. Many say he was blackballed by the league because of his protests, while others claim three straight years without a winning season and a decline in play resulted in no team signing him after he opted out of his contract before the 2017 season.
Back in 2017, teams were likely unwilling to sign Kaepernick in fear of bringing the circus-like atmosphere that would've come with it. Would teams be willing to sign him now to show they are on board with his stance on racial injustice? Kaepernick has not played in the league in four years. Would he even want to be signed now if it's just to bolster an organization's image? Things could get even more interesting in the upcoming months.